Warming the heart of Europe
By Carl Muller
When they returned, these young artistes, some of them said, happily enough, that there was not a dance left in them! Not true, of course, but this could only be what Darshini Nanayakkara or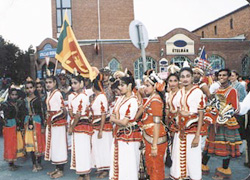 Charunika Randenigama must have felt after their performances in Europe.
On Sunday, August 8, I wrote of this dance troupe, 14 girls from Mahamaya and six boys from Dharmaraja, who together with three dancing teachers, went to Hungary and Austria. They are back home now, full of happy memories that have set into minds and smiles through their eyes. I could fill you in with the details of their tour but surely it would be better, surely, to listen to what they have to say.
To recap, it was Hungary's Summerfest International Folk Dance Festival at Szazhalombatta. Young students from 14 countries....and our young ones ready to carry the image of our island into many hearts. Then a visit to Austria. Then home again. That was the basic routine. Now let us listen to our young dancing envoys.....
Nadeeka Weerasinghe:
Very practical; able to keep her bubbling self to herself and will not be drawn to say things just for the heck of it. "When we arrived, we went to the small town of Rackeve where we were given accommodation in a school. Everything was done for us as if we were royalty or something. Special bus to get about on..... and there was Helga.
"Who's Helga?''
"Our Hungarian interpreter. She was with us all the time. She went with us to the bank also to change our money."
All the time you see a little dream creep into her eyes, then sneak away, and then Nadeeka's face softens. "There were Thai and Malaysian dance troupes with us at the school. Like doves, their voices. I still think of the smiles. Everywhere I looked there was somebody to share a smile with. How wonderful. So many strangers all around us and so ready to smile. I can never forget that....."
Dulsiri Walgama:
Still cannot stop talking of the eclipse. "It was 2.45 in the afternoon of the eleventh. We went to the banks of the Danube. Thousands came to watch the sun wear its hood. Like snuffing out a great big candle......"
Amodika Sumithraarachchi:
"All the shops closed for the eclipse but the thing is that anyway, in Hungary, all shops close at 2 p. m. I asked why, and someone told me that the shop workers are able to do two jobs. Some of them work in farms or in farm gardens after 2 p.m. So they have two incomes. The eclipse was marvellous. Suddenly, it was so dark that I was thankful for the candles and the torches. And the church bells kept ringing and ringing....."
Mahamaya's Vice Principal, Mrs S.S. Jayasundera: "I'd better give you some details because the girls may not think this important. We have a lot to be thankful for to Dr. Padma Gannoruwa, our Honorary Consul in Hungary, and Mr. P.S. Poolokasingham our Ambassador in Austria. They made our visit memorable. Mr. Poolokasingham sent his embassy staff for our performances and to make sure that we were faring all right. We were met on arrival in Budapest by Dr. Gannoruwa and there was a bus arranged for all our sightseeing...........".
Dilum Sikurajapathy:
"I didn't know there were so many Sri Lankans in Austria and Hungary. It was fun arranging for our mini-exhibition at the festival venue and we also had a real fun time at the Archaeological Park. That was on the 12th - the day after the eclipse."
"You watched it?"
"Yes. Everybody did. But too much excitement, I think. Night in the afternoon, night again in the night. You feel a
bit strange, no? having two nights in one day.......but I really liked the ride on the Danube. All the groups were on
board. A big cruise ship. It was wonderful, the water slipping by, the lights of Budapest, the sky, and everyone was really happy. They soon organised a disco session."
"And did you dance?" "No".
The other girls: "No." And why not, for crying out loud!
"We had more fun watching. And when in national costume, for some, disco dancing is not easy...... ."
Dulanjali Jayasinghe:
"I think I was a little shy.......anyway we stayed by the rail, watching Budapest gravely pass by and the night sky was all lit up and it was so beautiful..... I'll never forget it."
Anuradha Lokubandara:
"Everything was so well organised. The opening ceremony on the 13th began at seven in the evening. All the groups had to each give a five-minute performance. We went on stage when our turn came. Our national anthem was played. When we finished, everyone was clapping like mad and I felt as if a whole world of smiling faces was spinning round and round............."
Charitha Wijesinghe:
"Sunflowers! Yes, like sunflowers! In some of the fields we saw thousands of sunflowers. There are farms of sunflowers. The Festival was like that. Thousands and thousands of sunflowers all around us, cheering and clapping. They tapped to the music and how they loved our drum..........."
Eric Weerawarderne:
"We all went on stage at the end. All the groups dancing together. One music, one world. It was great!"
Sansala Silva:
"Homesick? Me? Well......not in the first week anyway. We rested the day after the opening ceremony and had a nice Sri Lankan dinner that Mr. Gannoruwa brought us. But later, I kept thinking more and more of home....."
Darshani Nanayakkara:
"I know we performed best of all. I liked the religious ceremony on the 15th. All of us wore gold-co1oured half sarees. This was at a church, but we were asked to pray in our own way and sing our own devotional song. The whole theme was peace among nations."
Charitba Wijesinghe:
"I liked the sightseeing. We visited Heroes' Square and a big shopping complex....."
Amodika Sumithraarachchi:
"Ah yes, the shops. The people are so disciplined. There is only one cashier in a whole shop. No security men, no shoplifting. Everything works on trust and dependability. And the towns and cities are so clean! No garbage, no dirty pavements, no hawkers. How wonderful if we can make our cities like that. We can, if we try!"
Oh certainly - but who is trying anyway?
The 17th of August was Sri Lanka Day at Szazhalom–batta. As Mrs. Jayasundera said, two of the troupe were interviewed, the interview televised; and another member gave details of our national dress. They spoke of Sri Lanka - its language, art, culture, history and geography and its natural resources and afterwards, taught Hungarian children to play some of our national games.
They then prepared and presented a "hathmaluwa"while the Panamanian and Egyptian troupes also prepared their national dishes. "It was so encouraging to see that Mrs. Deepika Subasinghe from the Austrian Embassy came to this performance; and also the Ven. Dr. Seelawansa Thero, who has been in Austria for 16 years. One thing I cannot say enough: Our consulate and embassy went every extra mile with us. Everything that needed to be done was done."
Chintani Samarasooriya:
"We gave performances most evenings. We danced along with Nigeria on the 18th, with Mexico on the 19th. We danced at Rackeve, at Eric and at Tokol. Something so wonderful about the Festival, the place.....we simply wanted to dance. And so many admired our costumes and our drum orchestra. I think even the African and the Caribbean drums did not come up to the way we could produce the many sounds on our drums...... "
So what did they all think? Yes, they were sad to leave Hungary. So many new friends, so much warmth and kindness. The closing ceremony was so poignant too.
Anuja Somaratne:
"We planted a commemoration tree. We gave a farewell dance in the open-air theatre; we were laden with gifts of flowers. Then, we each held a lighted candle as night fell and the last strains of music told us it was all over. Like a dream. It was then that I felt so homesick. If only all our families could have been there to share it all with us...."
Asanka Bakmeedeniya:
''Yes, I was sad too. But the next day we left for Austria, so there was a lot to do. What a fantastic trip that was! Old castles, mountains, roads like ribbons, heavy trees and heavy woods......."
They were met in Austria by Dr. Amal Rajapakse and his wife Amara. Dr. Amal is the Vice-President of the Austria-Sri Lanka Friendship Association and is at Graz University. The troupe was accommodated at a Youth Hostel and many Sri Lankans and Austrians turned up for the evening performance.
Madhu Thilini Subasinghe:
"I couldn't help thinking of Kandy - all the mountains around us. The Alps, breathing down on us wherever we were... ..."
Dulangi Galagoda:
"The food was the thing. That Hungarian goulash - I grinned and swallowed. I don't have to like it, do I? Nothing like our Sri Lankan food........."
Pramodini Makehelwala:
"But the desserts and sweets! I'm sure I have put on weight. Scrumptious!"
Janitha Kodituakkuarachchi:
"Sightseeing in Graz was super. We went to the highest point to see the whole city......"
Harshini Jayasundera:
"Yes, but those old buildings with their carvings and gargoyles.....very forceful. Stark. I thought of haunted churches. Not like our nice, gentle Kandyan architecture....."
Dilum Sikurajapathy:
"We went to Vienna also and to the UN International Centre and, on the last day, we gave a performance at an open-air theatre"
Dulanji Galagoda:
"I liked most of all, the visit to the Vienna Buddhist temple. Dr. Seelawansa Thero took us there. Like being at an oasis in the heart of the city. People talk German here. German newspapers also. The temple casts a blessing here....."
Aruna Wijeratne:
"What a show we gave on the 25th. So many Sri Lankans living in Austria. They all came, and they brought their Austrian friends. They all loved it."
The troupe flew back on the 28th - a very subdued troupe indeed, each boy and girl in the grip of a pang of parting. They had been showered with kindness, gifts, happiness and caring. Above all, love.
Amedika Sumithraarachchi:
"I loved the Panamanian costumes when they performed in Hungary. So much colour and so right for them..."
Aruna Wijeratne:
"Everything came really right when we arrived in Sri Lanka. This is home, and I had come back.... "
Charunika Randenigama:
"What did I think when I got out of Katunayake airport? I thought, now for some good home cooking!"
They danced and danced and came back. They left their imprint, their drum beats, their anklet music, the memory of their glowing faces and flashing smiles in the heart of Europe. Everywhere, they were told, and with deep sincerity, 'you must come again.' They found how well Sri Lankans in Europe live together with their hosts, how meaningful it is to live in accord, respecting each other's faith, culture and traditions. For these 14 girls and six boys, it was an experience in gainful life and living that will long be with them.
"We hope to go again," Vice-Principal Mrs. Jayasundera said. "It is important for us all to carry forth the message of our art, our culture, our traditions around the world, and none do it better than children in their simple spontaneous way."
---
Designed for success
By Wathsala Mendis
He started his career by designing puppets from fabric remnants he found on the floor of his mother's dress shop. For someone who started from scratch, he became a trademark for high style in the fiercely competitive international market. In short, he was to fashion what Steven Spielberg is to movies.
Any guesses?
It's none other than the fashion legend himself, Gianni Versace, who enjoyed huge success in the world of haute couture.
Got a passion for fashion? Ever dreamt of being a designer, with everyone rushing to buy a creation with your name on it? Then Versace should have got you going. Yes, if you're self-motivated with an upbeat attitude, it's time to pursue your heart's work of designing and creating beautiful clothes for the discerning and fashion conscious.
The creation of limited edition garments that have a strong influence on the trends and styles that ultimately appear in the high street is a talent not many people could boast of. On the other hand, talent and creativity alone do not make a good designer. It's a long tiring process from the design stage through to the finished product.
Meeting the demands of an extremely competitive marketplace means doing extensive market research and incorporating some of the ideas into your designs to make saleable products. Careful and well-thought out planning in every process from sketching design ideas to obtaining the right materials of the right quality at the right price is vital.
Having a thorough understanding of materials, manufacturing techniques including computer-aided manufacture (CAM), pattern technology, and cutting is as important as producing original designs.
It's an industry where schedules are tight. Sometimes it's all just rush, rush, rush. But it's also responsible work. Because material is expensive, lost production could be costly. The ability to keep calm under pressure will be a virtue.
You should be able to get the best out of the people who work for you, ensure they get their job right the first time. Effective communication is a key in this field. It's important to develop a good rapport with your workers as well as suppliers and clients.
Once the goods are in the shop, you have to constantly monitor how they are selling so that you can note any trends emerging for both popular and unpopular colours and designs.
In the hotbeds of the fashion industry like New York city, London, or Paris, designing is a money-spinner. But fashion is known for its puny entry-level wages. You should be prepared for an enormous range in salary depending on the kind of design you do- menswear, lingerie, children's wear, etc -as well as your track record. With experience and repute, you and your salary could move up considerably, maybe even to six figures. Work in the fashion industry is a constant discovery process. You're constantly challenged and stimulated.
For those who wish to become real professionals in the field of fashion designing, the Ferla Garment Industry Training Institute (20-1/1 Galle Road, Dehiwela, Tel:728264,723803) conducts professional courses from basic, certificate, to advanced diploma in both English and Sinhala, with a distinction in Maths at the O/L being the basic qualification.
From Mondi, Laurel & Basler, Armani through to Yves Saint Laurent, Dior, to Chanel...they all made it big time. With the right amount of potential, drive, and enthusiasm, so could you.
Get dressed for success!
---
Riding the wave
By Udena R. Attygalle
Day 1
I was hanging on desperately to one end of a harness, while the other end was connected to a speed boat. Only a pair of unstable and absurdly long skis stopped me from speeding to the bottom of the lagoon.
Water was splashing everywhere and through the froth I saw the people on the boat waving, trying to signal to me. It was time, I gathered, to stop crouching and get to a standing posture.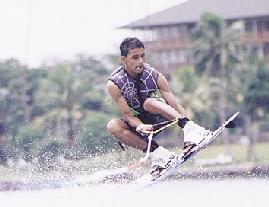 Slowly I lifted myself onto my knees. And then came a jerk. I felt the harness fly away from my grasp. For a brilliant few seconds, I was no longer tethered to the speed boat, no longer water-skiing. I was flying, head first, free style! Then with a sickening splash, I felt myself deep in the brackish water. Yes, that was yours truly attempting to water-ski as The Sunday Times crew went down Aluthgama way for a two-day water sport try-out.
It all began with a chance meeting with Benny Fernando, a national water sports instructor and professional deep sea diver. A man who had spent most of his life on water (or below it!). Benny suggested we do a feature on water sports. A week later we were on our way to Aluthgama,where Benny has his boathouse.
As we motored along the Galle Road, the rains descended. But when we arrived at Benny's boathouse, the skies were clear.There are over 10 boathouses surrounding the Aluthgama lagoon; all with facilities for water sports. Other places where such facilities can be found are Kaluwanmodera, Negombo, Hikkaduwa and Trincomalee.
A word of warning though, the rates for accommodation around the Aluthgama lagoon are high. The water sports too will cost you a pretty penny, depending on the activity.
Water-skiing, which was our first try out, costs around Rs 450 for 4 1/2 rounds. For a beginner that would mean around three falls into the water (with a life jacket of course). The main problem after one of those falls is getting the skis back on.
The impact had thrown mine some 10 metres from where I landed. Because the water is buoyant (and because your legs are not!), it's a struggle to get the second ski on, while your other leg is floating away in the opposite direction. And then you have to stay balanced in a crouched position with your hand around your knees while the boat picks up speed.
Next Geeth Fernando, Benny's son took us canoeing. It was like going on a slow motion train after dropping out of a bullet train. The canoe we used was meant for two people. I took the rear seat. Paddling in a synchronized effort, we traversed the lagoon. "Paddle without straining," Benny shouted from the shore. Too late: I was already worn out. But then I was in the rear, while the guy in front did all the hard work (the paddler in the rear is the one that steers the canoe. Back paddling on one side turns the boat to that side. Another way to turn is to paddle forward together, only from the side opposite to which the boat should turn).
The paddle board was my favourite. Ours was a converted surf board with a shallow hollow to fit into.It was much faster than the canoe and felt easier on the arms! After doing a few rounds in the lagoon, Geeth and I took the board out to sea.
Now this was fun. Before we began, Geeth gave me the advice "always face the waves head on or you will fall off", the truth of which I learned on my very first attempt. But the feeling when you climb over and above one of those nasty waves is fabulous.
The hiring cost for a paddle board is between Rs 100 to 150 an hour; for a canoe it's Rs 250 an hour.
Next we took up body surfing. We were riding the waves on our tummies on a board. As we waded around 20 metres into the sea, we were constantly pounded by the surf. After spotting a good wave we got on our boards and tried to paddle, while the wave would hit us from behind. But we would go only five metres or so, and then the wave would pass us. Geeth, on the other hand, was riding the wave right up to the shore line. We were doing something wrong.
But it was now time to leave as the sun was dipping to the horizon. We would have to try again tomorrow. ( Body surfing will cost you Rs 100 an hour).
Day 2
Day two began with a pair of very sore arms. Activity number 1 was jet scooters. Jet scooters are those motorbike like contraptions that you may have seen on Baywatch or the movie "Waterworld".
The scooter is jet powered and can go extremely fast. The turns are the best though. A U turn at full-speed is a possibility, unlike on a bike. And when you tilt you know you can topple, but then it's only into the water. The jets are made so that the engine stalls if you fall. The jet scooters cost around Rs 1000 for 15 minutes. Next we did a bit of Kayaking.We used a double Kayak, and I hopped on to the rear seat (you know why ) Parking the Kayak on the middle of the lagoon and dozing off would be a fine idea, I thought after a while. But the roar of a jet scooter passing by put paid to that. And then we were off again to the beach to ride the waves. This time we were going to do it right. I spotted a big one.
Waiting till it was almost on top of me I jumped on the board and started paddling like mad. I felt myself inching forward. And then it hit. It lifted me and I was screaming away towards the beach, riding the big blue ocean! And as the wave broke,the blue water turned to white and I was still going. And then the wave grew weaker and weaker till it no longer had the strength to carry me. It receded; leaving me almost at the beach. Lying there with the now gentle waves lapping at us ,we knew the time to leave had come. As we left and the waves washed over our footsteps, we promised ourselves we'd return some day to this place of surf, sand and sport.
---
Mystic palace for Meg
Mrs Noel Gallagher has become Mystic Meg- she's convinced the superstar rocker to buy a £2 million villa next to supernatural rocks! Meg Matthews has fallen in love with the Ibiza clifftop pad being sold by Tubular Bells star Mike Oldfield. She called off their search for a Spanish mansion there and then, begging Noel to buy it. Now he's made an offer for the nearly-new villa, right opposite the Es Vedra rocks which locals reckon have supernatural powers. Legend has it Es Vedra can awaken psychic abilities in people...and make them fall in and out of love. Careful, Meg! Certainly the rocks, which feature in classic movie South Pacific, have had a weird effect on Oldfield. At one stage he was placing lonely hearts ads in newspapers to find a new love. Oldfield built the three-bedroom luxury house, which he called Atlantis, in 1996 intending it as his dream home. But the father of three grew to loathe the non-stop partying vibe of the island-even though his recent Tubular Bells III LP was obviously influenced by it! Meg has no such hang-ups. She adores Ibiza and has frequently been seeing dancing the night away at top nightspots. She and Noel first began looking for a Spanish retreat in June last year. They viewed several properties including a £2 million castle near Malaga on the mainland. But when Meg discovered Oldfield's property was for sale, the search was over as far as she was concerned. The villa, near the town of Es Cubells, boasts a swimming pool, recording studio and four-car garage complete with a Merc and a Jeep, two jet-skis and even a power boat! Another guest on the big night with an interest in Spanish estate was Rod Stewart. His new £1 million home near Mar-bella was owned by Saudi arms dealer Adnan Khashoggi for 20 years. So you won't be surprised to hear that security is fairly tight. It's surrounded by a 10ft fence and patrolled by armed guards.