---
Fangs of law
Canine crime busters off to Maldives on a drug mission
By Duleep Samarasinghe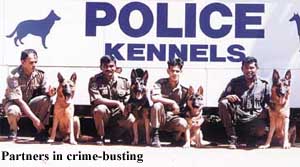 It's a first for Sri Lanka. Narcotics crime busters, both men and dogs, will take their skills to the Maldives to help our friendly neighbour in its fight against the drug menace.
Two handlers from the Sri Lanka Police Department's kennels division accompanied by their canine partners will leave for the Maldives this month, following a formal request for assistance by the Maldivian government in the intricacies of 'narcotics' detection. The Maldives has seen an increase in illegal drugs smuggling through its air and seaports.
The operation to deploy Sri Lankan police personnel will be fine-tuned regularly and the handlers rotated every three months.
The Maldivians have been impressed by the professionalism and detection record of the Sri Lanka Police Department's kennels division. The Maldives being a Moslem nation with a general aversion towards dogs, had turned to Sri Lanka for urgent assistance.
But the Maldives is not the only country to have recognised the calibre of manpower and training at the kennels division. At the recently concluded SAARC conference, Nepal too had requested training for their police officers in canine crime busting. Nepalese officers will undergo training at the kennels division headquarters in Asgiriya, Kandy.
The Asgiriya headquarters is the only training centre for police dogs and handlers in the country. Practical reasons prompted the location of the kennels division in Asgiriya way back in 1948 with just two dogs imported from the U.K. and their handlers, and Chief Inspector Rory Schokman as Headquarters Inspector (HQI).
The climate was suitable for the dogs, which are mainly imported from Europe, while the country's best veterinary facilities are just a stone's throw away at Peradeniya. Today the kennels have 82 dogs and handlers with another 40 posted at various duty stations throughout the island.
Though most police dogs come into the spotlight for their "sniffing" capabilities, a number are also trained in guard and attack duties. Every canine has his or her own speciality such as explosives detection, narcotics detection, tracking and guard and attack.
Ninety percent of the pups, that are subsequently trained as police dogs, are purchased from reputed European and Australian kennels and only a few bought locally.
This is due to overseas kennels specialising in breeding pups for law enforcement. When a pup is being purchased abroad, an officer from the kennels division goes to that country and selects it only after some basic tests.
Law enforcement dogs come from a 'working' dog group that consists of German Shepherds, Doberman Pinschers, Rottweilers, Labradors, Golden Retrievers and Spaniels. Though the German Shepherd is more popular, the other breeds too are just as effective.
The pups are taken into the kennels quite young but not given a name or a task until they are around ten months old. It is then that the training begins. The division's Director, Assistant Superintendent of Police Jayantha Fernando and HQI Sisira Weerakoon have the task of naming the pups and deciding what training they should undergo.
Both officers are veterans in canine law enforcement with ASP Fernando receiving training in Germany and CI Weerakoon in Alabama, United States.
The next most important ingredient for canine law enforcement is the handler. The handler's relationship with his canine partner is imperative for good results. The special bond between dog and handler was evident during a photo session with The Sunday Times.
Difficult drills were displayed by Constable Gamage Dharmasiri and his German Shepherd partner Asian for a couple of hours. Asian though tired wanted to please his handler so much that he kept pushing himself. But Dharmasiri aware of his partner's fatigue asked for a break. This bond of trust and friendship is something which cannot be taught through a training manual.
What are the qualities of a handler?
A genuine liking for dogs is a must. Whenever there are vacancies at the kennels, the handlers are handpicked from the regular police department and taken in temporarily for three months. He or she is made permanent only after passing the basic training requirements, such as orientation in the day-to-day life of the assigned dog. The handler is responsible for grooming, feeding and administering medicines to his canine partner. Through this daily routine both human and dog form a bond.
Physical fitness for both handler and dog is important and both are drilled daily. When 'tracking' criminals, dogs and their handlers have to cover vast areas, usually no less than a few square miles, so their physical condition should be at its peak.
All over the world these four-legged heroes match wits with the worst of criminals and succeed in cases where humans have been fooled.
The involvement of canine crime fighters has resulted in the arrest of many criminals but the crucial role played by them has to be supported with concrete evidence detected by human investigators.
The only other animals on an equal footing with dogs as far as "sniffing" capabilities are involved are elephants and pigs, obviously not practical substitutes in police work. Some countries have tried out the mongoose which has a sense of smell similar to dogs, but it has been difficult to train them with the cost of training also being much higher. The bonding between human and mongoose had also not been too good.
The 'puppy montessori' at Asgiriya is where the next generation of canine law enforcers are housed. In the first 10 months they eat, play, take their medicine and sleep. They have no handlers but are loved and cared for by a constable.
German Shepherd Hilary was one of the first to graduate from the new 'batch' in the 'montessori'. A bundle of fun, she and her young handler are at the stage where they are bonding. She is allowed out of her kennel and does routine things such as taking walks and playing with her handler.
The pups are pampered and treated like royalty. While the veterans are at drills with their handlers, these future crime-busters laze around and pick fights with each other. Usually Doberman pups pick on their more reserved German Shepherd colleagues.
It is tragic when one partner in the dog-handler relationship dies. Though no handlers have died before their partners, when a dog dies the handler is left feeling lonely and bereft. Handlers are advised not to get emotionally attached to their dogs but it is just impossible to do so, says HQI Weerakoon.
Cont. from page 1
"Whenever a dog dies, a postmortem is held to find out the cause of death, and a report is sent to police headquarters. Then the dog is given an official burial. To us the animals here are just as important as humans," he says.
Though it is not widely known, Sri Lanka has many a first in canine law enforcement.
HQI Weerakoon says, "The kennel division was the first to practically use canines as a tool for crowd control, when during a test match between New Zealand and Sri Lanka, spectators had run onto the pitch."
The division needs a lot of resources as the cost of an imported dog is around Rs. 130,000, while the maintenance costs around Rs. 2500 per month.
The police department and the IGP have realised just how important the kennels division is for proper crime prevention and are very supportive.

DIG Central Range H M S Herath has given approval to the Director of the kennels division ASP Jayantha Fernando to conduct random checks, using sniffer dogs, on trains and other public and private transport vehicles, to minimise explosive and narcotics trafficking.
The results have been immediate with the detection of illegal ammunition last month by police labrador Bill and his handler at Kandy railway station.
One of Director Fernando's future plans for the kennels division is an idea which he brought back with him from his training in Germany, which is to train canines in the recovery of corpses.
The Director is currently having discussions with the IGP regarding this venture, which is a first for South Asia.
Transport which was a major problem has now been resolved with the purchase of a new air-conditioned and well-equipped truck. It can take 24 canines and their handlers and comes with a microwave and a cooler.
A "rescue dog" team is on the cards and the kennels division is in the process of selecting the dogs abroad.
But the proudest moment for the kennels division will be when police officers wearing the Sri Lankan police badge and flag on their shoulders accompanied by their canine partners set foot on the Maldives.
That will be a fitting tribute for these unsung heroes, both human and canine.
---
Front Page| News/Comment| Editorial/Opinion| Business| Sports | Mirror Magazine