Bodyguards and deadly force
By Duleep Samarasinghe
The movie 'The Bodyguard' romanticized, what is not just a job, but a vocation for a select group of people. It also helped the public better understand a profession, which demands a high degree of intelligence and courage.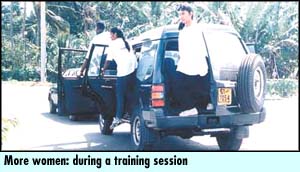 In America, the 'Secret Service' has been hyped and glorified by Hollywood. We are used to watching movies and news bulletins in which the American president is shown surrounded by men and women in dark suits and sunglasses, their eyes always on the move.
The ' Secret Service' agent has been the role model for almost every other nation's VIP protection units, likewise in Sri Lanka. The Lankan bodyguard may not sport a dark suit, but aspires to be as well trained and as efficient as his glamorous counterpart in the west. In contemporary Lanka, the word 'bodyguard' takes on a whole new meaning. The country's official VIP protection units are not only on the look out for a lone gunman, but are also up against the most ruthless terrorist organization in the world- the LTTE. Paranoia, is a way of life for these people, who have volunteered to put their lives at risk to protect the lives of our elected officials.While earlier only politicians and heads of state were in need of bodyguards, in the aftermath of the kidnapping of business magnate G. C Wickramasinghe, the business community has been feeling threatened.
The reason they are threatened is not because of their political ideologies or affiliations, but their wealth. Though Mr. Wickramasinghe was released unharmed by his captors after a record sum of Rs. 20 million was paid as ransom, the incident sent shock waves through business circles.
The kidnappers were arrested and almost all the ransom money was recovered, but numerous inquiries were made to private security companies in the wake of this incident.
The inquiries were not just for security guards for residence and office, but for a personal protection and escort services, in short for 'bodyguards'.
The private security industry in Sri Lanka is a very lucrative business. Security companies often recruit retired armed forces and Police personnel. But though a majority of their staff may be ex- forces personnel and have the necessary qualifications, they can only conduct administrative security procedures. Private security guards cannot use 'deadly force'.
The term ' deadly force' means the use of lethal force to subdue a threat. In the eyes of the law, security guards are considered ordinary citizens. They have no special privileges whatsoever.
At present, these private security establishments engage in the transport of money for banks and businesses, the internal and external security of offices, residences, warehouses, private hospitals etc. Whether they can handle the complex situation of personal protection is questionable.
From a law enforcement officer's perspective, the bodyguard service offered by these private institutions is inadequate. Though security companies may advertise and canvass people about bodyguard services, the expert view is that they unfortunately cannot follow through in the implementation of total protection for their clients.
Senior DIG (Crimes ) H. M. G. B. Kotaka–deniya says "if a person feels threatened, he or she should contact the police immediately, and then we will act immediately. People who are threatened and don't want to get the police involved are usually those unable to say where their money comes from. The most prudent thing for these people would be to not attract unnecessary attention. They should be unobtrusive so as to avoid any unfortunate incidents."
If a person were to hire a private bodyguard, he or she would not be wrong to expect them to safeguard them from any danger. But is it possible that these hired hands are willing to go all out for the safety of their employer ?
A would-be kidnapper will most likely be armed. For the criminal elements in Sri Lanka, firearms are easy to acquire. Weapons that are used by criminals are obtained from the black-market, where there is a deluge of smuggled weapons. Private security establishments are only permitted to use shotguns, and that is only when transporting large sums of money. The Ministry of Defence has not issued these companies permits for using pistols and revolvers or any sort of automatic weapons, the sort 'high stakes' criminals use.
To keep the business community reassured the government must take affirmative action, (as they did in the Wickramasinghe kidnapping) before there is a reoccurrence of such incidents. A suggestion is to institute a programme under the aegis of the Police Department where people who have been threatened, can be provided constant police protection, until the threat has been neutralized.
Says Senior Superintendent of Police Sarath C P Jayasuriya, the director of the Ministerial Security Division (MSD), "Private bodyguards are not necessary. Instead of hiring these people, individuals who feel threatened should notify the police immediately, and immediate action will be taken." The MSD is the VIP personal protection division of the Police. It is responsible for the physical security of almost all politicians in the country, and in the case of Ministers their immediate families. The personal security of all visiting foreign dignitaries also comes under their jurisdiction.
In the last five years the MSD has seen some drastic changes. What was once considered by the public as a politicians' pit bull, has been transformed into a professional outfit. MSD director Jayasuriya assisted by his staff has been instrumental in implementing this change. An unassuming gentleman, this veteran officer has the mammoth task of coordinating the security of 225 members of parliament, including cabinet ministers, deputy ministers and all provincial governors.
A bodyguard's duties are not only the personal and physical security of his principal (client ). Surveillance, advance planning, route planning are amongst the many duties of professional bodyguards.
The selection and training process involved in recruitment to the MSD is an arduous one. Candidates are taken in randomly from the regular police force. Once a candidate is selected he or she is sent for a screening in which character and security checks are done. Even the slightest misdemeanour means disqualification. The training process each candidate goes through, involves firearms handling, marksmanship, unarmed combat, explosives disposal and specialized driving. The MSD has begun to recruit more women into its ranks, and these women are not only on an equal footing with their male colleagues, but are in some instances outclassing the men.