Royston Ellis savours sophisticated pleasures and unofficial fun in Geneva-the international city
It's not so serious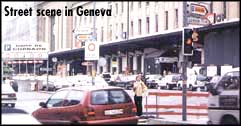 Respectable or even dull, is the word that springs to mind as you drive or walk around Geneva. The city may be, as its brochures boast, "a true international city" with one third of its population of 400,000 coming from 157 different nations, but it seems so earnest.
You would think that a city that houses some 200 international, governmental and non-government organisations, including the office of the United Nations to which 150 diplomatic missions are accredited, would lighten up occasionally for some fun. It does, but not officially.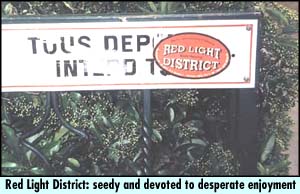 I know for certain because, while taking an aimless stroll down the backstreets around Geneva's railway station, the Gare de Cornavin, I found the Red Light district. The bars were shut (it was 10 a.m.) and bedroom windows shuttered, but there was no mistaking the atmosphere of the area: seedy and devoted to desperate enjoyment.
There was an ethnic restaurant and even a shopfront full of cowboy paraphernalia, hide chaps and leather whips. Another window exhibited the most gruesome looking knives. For a moment I thought I was back in the sordid side of Cape Town.
Of course, Geneva bills itself as the "City of Peace" and is the headquarters of a number of humanitarian institutions such as the International Committee of the Red Cross and Red Crescent. The Red Cross was born there in 1863 and in 1864 and the Geneva Convention governing warfare was signed there.
Tours of the notable buildings of Geneva can be undertaken by trains on wheels, clattering along the streets, giving adults the chance to be children again as they gaze at the sights. These include the Palais de Justice described "as one of the liveliest centres of Geneva life today." Constructed between 1702 and 1712 it is on the site of an ancient Roman forum.
It is thought that Geneva was inhabited as long as 14,000 years ago. Julius Caesar built an entrenched camp there. Under the Protestant theologian John Calvin, it became a centre of the Reformation, 1536-64. Geneva was annexed by France in 1798, freed in 1814 and entered the Swiss Confederation in 1815.
Since the 18th century Geneva has been a banking centre as well as an industrial city developing precious arts and watchmaking, enamel work and chintz and becoming a capital of the sciences and printing. In 1919, the headquarters of the League of Nations was set up there, inherited by the United Nations. There are 30 museums.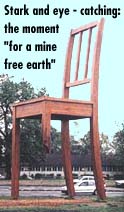 A recent addition to the city landscape is the astonishing sight of a gigantic chair astride the grass island of the highway by the Place des Nations. It is stark and eye-catching. Then you realise, as you wonder what it is, that one of the chair's four legs has been shattered. This is a monument to those injured by landmines and has a sign near it saying "For a mine free earth."
The combined influence of international bureaucracy and a culture stemming from its Calvinistic past, means that Geneva does not stand much chance as a fun place. Behind high walls, beautiful 19th century mansions have been turned into offices. Yet the tall trees and lush gardens that remain testify to Geneva's unexpected charm as a city rich in flowered and shady parks.
Pleasures are sophisticated in Geneva. A moment I cherish is gazing out of the tall windows of the plush lounge of the Hotel Beau-Rivage across the main road to the lake which is Geneva's heart. Lake Geneva, or "Lac Leman" as it is known in French, is the largest of Europe's lakes, with a total area of 225 square miles.
The lake gives Geneva a resort flavour. Boats provide a quick means of crossing from one bank to another, while larger boats offer cruises. It is a working lake, not merely an ornamental one. Yet it is distinguished by a moving ornament that is over 450 feet high. The "Jet d'eau" fountain, a white plume of water spouting into the sky, decorates the bank of the lake and is a symbol of the city.
With over 200 meeting halls which could accommodate 10,000 people, and 130 hotels with 14,000 beds, Geneva must have somewhere decent to eat. At the Beau-Rivage I had a snack of smoked salmon while I gazed at the waters of the lake.
That night, in a hotel stuffed with diplomats, I enjoyed a traditional dinner of superlative quality, emphasised by that special service for which the Swiss are renowned. There are said to be over 1,100 restaurants in the city, but the tourist brochures don't mention those down-market bars in the red light district. That they exist at all shows that Geneva does not take itself as seriously as first impressions suggest.