Timberlina, a business with a difference creates elegantly equipped dolls' houses for export
Oh to be a child again!
By Roshan Peiris
"It is an intriguing, creatively imaginative hobby now grown into a thriving business," said Maljini Amaratunga and her husband Gamini. Gamini is an engineer, but his restless imagination combined with that of his wife has made them create the most beautiful dolls' houses.
Timberlina is the company run by Gamini and Maljini and it makes one long to be a child again, a little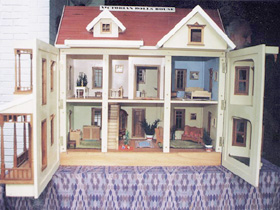 girl to play with these extraordinary dolls' houses.
At Mirigama, the villagers have been trained by this husband and wife team to manufacture these delicate dolls' houses, using local plantation woods like Lunumidalla, Pinewood and Rubberwood. Maljini says the houses are made in Victorian and Tudor style.
Take the bedrooms with tiny wooden beds, mattresses, sheets and pillows complete with an imported miniature Persian carpet in bright colours of red, blue and green, with patterns of parrots at the centre and borders of floral motifs. There is a tiny bathroom too with a ceramic, yes ceramic, bath and wash basin complete with guest towels to make it look so real.
The bedrooms, by the way boast of a dressing table and the sitting room has cabinets made of local wood.
Realistic looking windows and doors are made of teak. There are staircases, red timber slates on the roof - most chic, and believe it or not, a balcony as well.
Everything is made to scale.These cosy homes replete with all the furniture a home needs also have decorative touches such as tiny chandeliers actually lit with special circuit electricity and lamp shades also lit the same way for the corridors and the staircase.
"Mothers like to play with them even more than their daughters," said Maljini and Gamini. One can pack up a house and reassemble the whole thing in less than half an hour.
This hobby was begun 15 to 18 years ago, more as an altruistic venture to give the villagers of Mirigama some creative work to do and stimulate their imagination. It first began with model train sets and then branched out into these elegant dinky homes for dolls.
These homes are exported to the United States at 300 U.S. dollars, to Britain at 170 pounds sterling, to France, Germany and Scandinavian countries.
They are packed in attractive solid wooden chests or corrugated cartons.
They are sold here at around Rs.3000 each, since chandeliers, carpets and all the elegant accessories cost a tidy sum of money. Timberlina's appeal extends from children to adults. The Amaratungas have to be congratulated for choosing to make a completely off- beat industry a success with their imagination and creative instincts. The Mirigama villagers can also take pride in the fact that their handiwork is internationally appreciated and known.