New heights
Through exciting and adventurous pursuits, Outward Bound builds confidence and team spirit
" There is more in us than we know . If we can be made to see it , then perhaps for the rest of our lives we will be unwilling to settle for anything less."
-Dr. Kurt Hahn
By Udena.R.Attygalle
magine your boss struggling up a vertical rock red-faced and panting? Stretches your imagination to its limit doesn't it? Well here's a chance to savour that moment first hand. The hitch is, though that after you have been through it, you will probably end up good friends with your boss, and emerge with a whole new positive outlook on every thing you have to do. The programme that offers this unique experience is called "Outward Bound."
The OB programme was founded in 1941 by educator Dr. Kurt Hahn and Sir Henry Holt, the chairman of Blue Funnel Lines to develop the character and grit of British seamen at risk in the World War II Atlantic convoys.
Today Outward Bound is the largest, professional, independent outdoor educational organization in the world. There are 48 OB schools in 28 countries all who share the mission statement.-
" OB is a non-profit educational organization created to stimulate personal development and generate understanding between people. This is achieved by impelling them out of familiar environments and setting new challenges through safe but demanding adventure experiences which inspire responsibility, self reliance, team work confidence, compassion and community service."
OB was first introduced to Sri Lanka by the legendary Dr. Hayman of St. Thomas' College, Guruthalawa in the 1950's.
Today the programmes are conducted by the Outward Bound Trust of Sri Lanka (OBT), which is headed by the former National Youth Services Council Chairman Charitha Ratwatte.
OBT is a part of the Sri Lanka Business Development Centre (SLBDC). The trust is the accredited agent of Outward Bound International headquarters in Vancouver, Canada.
The programme usually takes between one and seven days, with the activities being organized at their centres at Dambulla and Wariyapola .
Says Udayana Senevirathne (Corporate and Public Affairs Manager SLBDC): "These activities are designed to help the participants increase self confidence, develop team work and leadership qualities, develop communication skills, reinforce the sense of responsibility and determination to succeed , confront their self imposed limits and overcome them etc......"
Among the more sedentary activities we saw when the Sunday Times team visited the Dambulla site last week was the "mine field". Here the ground is crisscrossed with ropes making various rectangles. After being paired off with a friend one of the pair is blindfolded while the other has to guide his friend through the mine field. Simple ! Except for about five people shouting instructions to their partners all at once . "An activity that calls for a high level of communication, listening and trust," said Cyril De Silva, an instructor of the programme.
Another of the 'trust' activities involved one of the group being blindfolded and then asked to jump off a high plank backwards into the waiting arms of his colleagues. Wow! now that needs a lot of trust.
Planning, organization and co-ordination all have to be utilized to the maximum with the "spider web" activity, where a rope web is drawn across two trees and you have to get your whole team across the web. But you can use one gap only once. Makes you wish you took that aerobics course!
The programme is designed so that the activities gradually get harder towards the end. The more physical activities like rock climbing and abseiling (coming down a rock in leaps ) are done during this stage. Pretty lofty for office executives,but then all safety measures are taken, besides being a real opportunity to go beyond the barrier we build in our minds.
Among the hardest and most satisfying activities is the river-rafting part of the programme. Here though, you together with your team have to make your own raft . And then you have to dissemble it once the crossing is over as well. All within a set time.
It was the management team of "Bodyline" Garments that was being "put through their paces" last week.
Dave Ranasinghe, the Director -General Manager was explicit in saying that he wouldn't be here away from his office if it wasn't worth his while.
"It's a confidence building experience that proves that most barriers are only in our minds," said Thilak Athukorale, the Human Resources Development Manager of Bodyline.
According to Sandamalee Perera, HR development executive, "The most amazing thing about these programmes it seems is the rapport it builds between the lower and higher hierarchy of an organization. When you go back into the office you can really count on someone to get something done. Whereas before he was just a name and you were never sure you could rely on him."
The OBT can be contacted at:
Sri Lanka Business Development Centre, 4-1/22, Sir Mohammed Macan Markar Mawatha, Galle Face Court 2, Colombo 3.
---
A time to be caring
Wathsala Mendis rediscovers the magic of Vesak
I stole one last look at the clean-swept garden and the meticulously-arranged house. Everything was perfect. Ammi's going to be really impressed when she returns from her weekend shopping I thought.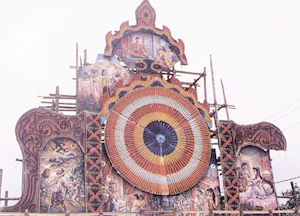 I slumped into a chair hoping to catch a breath of fresh air. Alas, happiness was short-lived. In came my little brother with an armful of bamboo sticks, dumped them mercilessly on the squeaky-clean rug, and started peeling them as if it was the most important thing in the world.
In a matter of minutes a fine layer of bamboo dust had formed on the neatly scrubbed floor. Here and there were strewn strips of tissue paper of various shapes and sizes, a ball of twine, a bottle of gum, and a pair of scissors. So much for all my hard work of a few minutes ago! I was too angry to speak.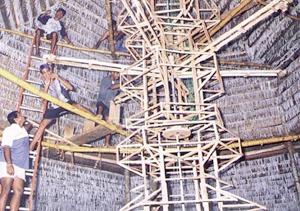 And so engrossed was my brother in his work that he didn't realize I was scowling at him. Without even bothering to raise his head he asked, "Will you help me with this, sis, please?" What cheek!
"Well, well, it's that time of year once again. Why don't you give the poor fellow a helping hand?" I heard Ammi whispering in my ear. And I remembered how I used to enjoy making Vesak lanterns and pandals with Aiya and took great pride in parading them during the Vesak season when we were small. The whole garden would be illuminated with bucket and clay lamps. We really went to town about it. And going to see Vesak at night was part of the deal. Boy, didn't we have a great time marvelling at all those colourful giant pandals and lanterns while feasting on ice cream, peanut, gram, and whatnot! Do we still find that same spirit and enthusiasm during this season or is it true that people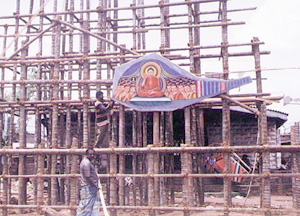 just don't care?
Twenty-seven-year-old Kumara Kuruppuarachchi from Maharagama wanted a break from the old routine. Hence goodbye to traditional bamboo-and-tissue paper lanterns and hello to a sprawling octagonal lantern with 60 smaller ones made entirely of coconut shells, leaves, husks, ekels, and all other usable parts of the coconut tree you could think of. He's been working on it for the past eight months spending more than Rs.100,000 off his own pocket. "It's really time-consuming. Due to the intricate design and the nature of materials used, it took about four days to make a smaller lantern."
Just a few blocks away a group of 19-year-old boys working on another huge lantern depicting a Jathaka story had a similar story to tell. "We're really short of time as we started on this only late last month. Now we're sweating it out both day and night." But they actually seem to be enjoying it. "Yeah, when 20 of us -get together we really don't feel the time passing. It's hard work alright, but it's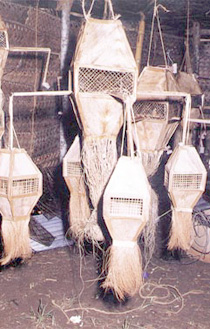 fun."
Nath Asanka along with his friends of the Suwarapola Youth Club is often a busy man during the Vesak season. This year too having planned to put up a lantern, they've worked tirelessly to complete it within 30 days. And in the process they found that working at night was a lot easier than working during the day.
I was stunned when a spokesman for the Piliyandala Traders Association told me that they had raised close up on Rs. 600,000 to erect a pandal and organize a Dansala to distribute dry rations among the poorest of the poor in the area on Vesak Day. "This is almost like a ritual that we traders have been carrying on during the past eleven years. Every year starting in January each of us make whatever contribution we can to the fund that will be used during Vesak. We also raise money from the people in the area who're more than willing to be part of the charity."
Well, I was wrong. There are lots and lots of people who still take great pains to keep that Vesak spirit alive. "Yes, young man, I'm going to help you with that lantern."