Healing with maithree
People feel they have nothing to lose. Finding no relief medically, they turn up in their thousands to see this monk who apparently heals people both physically and spiritually
By Chamintha Thilakarathna
Dayananda Suriyaarachi's eight-year-old son had suffered from asthma since birth. Although he had been treated by several doctors, they had only given him more and more medicine. It seemed there was little hope of a cure for this little boy.
Eleven months ago, Mr. Suriyaarachi decided to take him to Dolugama where, he had heard a Buddhist monk was healing people. Mr. Suriyaarachi was not completely convinced but decided he had nothing to lose. He took his son all the way to the outskirts of Kurunegala to meet Anuradhapura Nandaratna Thero
"It was unbelievable. It was something I never thought possible, since doctors had already dismissed all hope of full recovery. The monk did not do anything miraculous or give him any medicine. All he did was tie a blessed thread and give some water. But ever since the visit to the monastery, my son has not had a single attack of asthma," Mr. Suriyaarachi said.
In the past ten years the monk is said to have healed many people and brought comfort and relief to those seeking mental solace. And the crowds were there too at the Wijerama Raja Maha Viharaya, where he was on a visit last Monday.
People in their thousands were making their way to the temple to stand witness and be a part of ' a miracle'. Most had flowers in one hand and water and thread to be blessed in the other.
Parents with babies, the sick on wheel chairs and crutches, women who were hoping they would conceive, dumb people hoping to talk and mothers with sick children were among the throng.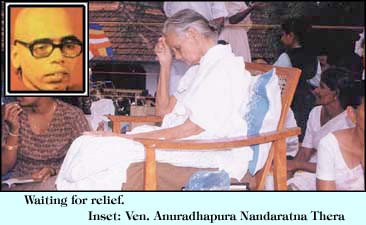 They were all awaiting Doluwakanda Aranya Anuradhapura Nandaratna Thero, who had come from Kurunegala that day. He does not hold you and bless you, nor does he even meet you personally. But he blesses a common pool of water and thread which are distributed to anyone who is in search of assistance, spiritual or physical.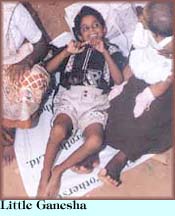 Seven-year-old Ganesha Maduwanthi cannot walk. She is suffering from a disease where her legs have been abnormally formed. Her aunt had brought her with the hope that she would be able to walk again. Watching Ganesha who lay on a mat, smiling shyly, one hoped that the monk could help her.
Seventy-one-year-old D.A. Ranasinghe had broken his hip bone in an accident at home. Although medical assistance has corrected the broken hip, he still has difficulty walking and is compelled to use crutches.
"I am hoping that I would get healed by his blessings," Mr. Ranasinghe said. He did not doubt the monk's gift, although he was yet to find out for himself its true nature.
The people gathered at the temple premises, believed that the blessings would be successful only if one were a believer. The monk himself says that success does depend to a certain extent on the person's belief that it would help him.
"It happened unexpectedly. One day, I received a valuable gold book on Buddhism which I gifted to the state. I came across a man who was suffering due to his heavy drinking. I thought that I should try to be of some service to him and went to meet him one morning. I took his hand and expressed loving kindness ( maithree). I also thought that if I have been blessed for donating that valuable book, the blessing should help me heal him. And it worked. His addiction to alcohol ceased and his illnesses were cured," Anuradhapura Nandaratna Thero said.
Ever since, the Thero has been healing people and granting them their wishes.
But all one sees him doing is touching the water and thread and concentrating.
Speaking of how he became a monk, he said it had never been a childhood dream. " I came to Kurunegala in search of some land to establish a mill at the age of 24. There I went to the famous Ruwangiri Kanda Viharaya where I was met by a monk who impressed me with his lifestyle and serenity. Then, a miracle took place there which made me realize that I must take up robes," the Thero said.
All he requests from anyone who comes to him is to avoid eating eggs and meat and from killing animals. This, he says, is important for self-control and commitment.
He says that even if a man has committed a murder he could be absolved of his sins given that he changes his lifestyle, as in the case of 'Angulimala' in the famous Jathaka story.
According to Nandaratna Thero, all one needs to heal another is a firm belief in the strength of the Triple Gem, and compassion and loving kindness. The energy one creates by concentrating on these qualities will help relieve their sufferings, he says.