The Middle of Silence
The first Sri Lankan playwright to have her play staged in London's West End, Ruwanthie De Chickera speaks to Delon Weerasinghe about the experience
It was a quiet Saturday afternoon when I showed up at the Lionel Wendt to interview Ruwanthie De Chickera. Sitting there typically understated in jeans and a T-shirt, it is easy to forget that Ruwanthie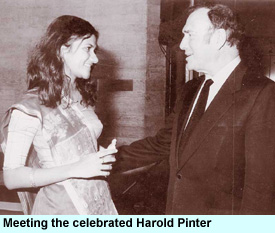 has the distinction of being the first Sri Lankan playwright to have a play commercially produced on the West End in London. Her modesty about her achievement probably has to do with the fact that the full implications of it haven't struck her yet.
Her beginnings as a playwright came rather unglamorously while she was still in school. "I wrote my first play under severe threat of detention. In school all the plays performed at the inter-house drama competitions had to be original scripts."
"So because she was a prefect and older than me this girl basically gave me a week to come up with a play. She also wanted a main role in it. Anyway, that play won the competition that year and that's how it all started."
Looking back on how her play "The Crutch" first caught the attention of an international audience, she laughs. "It was so much of an accident that it's almost funny. I had written this play called 'The Crutch'. One day at work, Reggie Siriwardene, a fellow playwright told me about this competition and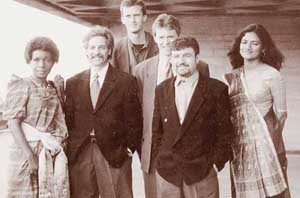 suggested that I send in my script. I wasn't too keen on it because I didn't think that it was that good a play. "
"But I sent it in anyway." And she forgot about it until about two months later when she received a phone call from England. They told her that she had won the British Council International Playwriting Award for the South Asian region. "And they asked me what are the chances of you coming over here in five days time? And I had never ever been abroad before. So it was really a totally new experience for me." One of the judges of the competition, the Royal Court Theatre group had read her play and from her name had assumed that she was an old man.
"When they found out that I was young, they indicated that they were interested in pursing a relationship with me and sent several directors over to meet me.
The Royal Court then invited her over for a workshop for young playwrights that year. "But I didn't go to that because I had been invited for a gathering of young writers in Australia. That was a lot of fun." Then last year the Royal Court invited her again to England for their workshop. "I really had a blast there. Twenty two playwrights and directors from all over the world were there. And at that workshop I got the opportunity to work on my play which I hadn't touched for two years.
"That was good because I was able to discuss styles and bounce around ideas with directors and other playwrights." And then came the big break. "When I got back to Sri Lanka, The Royal Court asked me to submit my play for the young writers festival." This festival is heralded as one of the biggest events in new play writing in Britain. And during the course of it, plays were selected to be performed by various British theatre groups. Understandably she was eager to hear what they thought about her play. "I had a friend over there who kept e-mailing me and saying that she had some good news for me. Naturally that got me really excited. That is until she told me that her good news was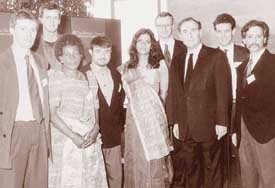 that she was getting engaged! Like I cared."
But finally the eagerly awaited news arrived. She got a letter telling her that The Royal Court wanted to perform her play as part of a double bill and would like her to come over to England and involve herself in the rehearsal process. "It was fascinating to discuss my interpretation of the roles with the director and the actors and see them bring their own interpretations into it as well. It was an absolutely brilliant experience. It's the kind of thing that you work towards your whole life. I was kind of surprised that it all fell into my lap so easily with practically my first play."
She admits that the full implications of having a play performed at the West End in London at the age of 23 haven't really struck her as yet. "When you're caught up in the whole process, it doesn't really hit you. And also everything happened so fast that I really didn't have time to think about it." And she prefers to shy away from publicity as much as possible. "It's nice that not too much fuss is made about all this. Because I believe that there is a lot more I can improve on and do."
Sri Lankan audiences will get their chance to see Ruwanthie's play performed at the Lionel Wendt in April. The play has been renamed from its former title "The Crutch" to "The Middle of Silence". The play will be directed by Jerome De Silva. Ruwanthie admits that this is a special moment for her because Jerome, "was one of the first people to read the play and one of the first to see it. He's also essentially the person who first put me on stage and convinced me that I could act."
She feels that if any, the impact the awards and experience has had on her life is to give her a confidence about her writing. "I no longer cringe or look behind me when people introduce me as a playwright. Because good or bad, I am a writer and I would like to keep working at it." She feels that it was natural that she took to writing for theatre. "I used to act and be involved in theatre before I started writing. And I think that it works both ways because the people who've been on stage understand the stage and its limitations better." She has several ideas for plays that she hopes to start working on as soon as she finishes her exams which now occupy most of her time.
Ruwanthie is currently working towards her Bachelor of Arts degree at the University of Colombo. Her plans for the future are rather tentative. But she is sure that whatever she ends up doing, "I will do my level best to lead an unusual life. Because I hate routine and all that. And I'd like to think that I'm not too tied down to anything to ever give it up. And oh yes, someday I want to climb Mt. Everest." And if the mountains she has climbed already are anything to go by, she probably will.
---
Saturday styles
By Sharm Aboosally
Water colours of meandering streams and quiet vistas, vibrant oils of swirling passionate landscapes, collages using painted tea leaves, pastel depictions of still-life - the creative self given voice through painting.
This visual melange of creative effort was on display by the pupils of Lathifa Ismail at an exhibition titled The Saturday Class, at the Lionel Wendt on February 27 and 28, 1999. The artists, all female, ranged from a 16-year-old student at Holy Family Convent to housewives and working women including doctors and lawyers from Sri Lanka, Russia, Sweden and lndia with one passion in common - a love of painting.
Lathifa lsmail' s Saturday class for adults has been in existence for four years, and while some of the artists exhibiting have been there from its inception, there were new additions to the class as well who were showing their work. Some of the artists exhibiting had shown their work previously in group and solo exhibitions while there were two who were exhibiting for the first time. The artists view the exhibition as an opportunity to show their work over the years and to gain good-will and creative feedback from the audience.
For Niluksha Deheragoda, who has just sat her 'A' Level examination and wants to study interior design, an exhibition is like a journey. "You learn from your part in it and from what people say about your pictures. We can do whatever we like for the exhibition although we are introduced to all mediums in the class."
Olga Dimitri from Russia said she liked the constructive criticism received. "I tell my audience to, 'Criticise me, criticize me'. To me, an exhibition is also a good way to meet my friends in Sri Lanka, to show them what I have done. There's a lot of good wishes involved."
A doctor by profession, Shireen Willatgamuwa, said progression in her work since her last exhibition was great. "When 1 started painting, I was being asked continually, 'Where is the light, where is the dark in this painting?' Now I am happy that I see the light and dark immediately in any picture!"
Almost all of the artists preferred to view painting as a hobby or a creative pastime. To many, it's a creative way to relax, some claim it being close to meditation. To one artist, it was a form of therapy for grief over a loved one passed away.
One artist exhibiting, Dina Fernando, would like to develop her painting into a profession. "I studied art at the YWCA and then began taking classes at Mrs. Ismail's. I regard my art as a full-time job and work at it every day," she said. "This is my fourth group exhibition of my work and I am working towards my solo exhibition as 1 would like to make my name through exhibitions."
Working as a group, (many of the artists have been in the class for four years) has helped individuals in their art, Sundari Hemachandran, an Indian national from New Delhi who is resident with her family in Sri Lanka, said. "We are like a team. We criticise each other and we help each other. We learn about painting almost without realizing it."
Saumya Jayasekera, a housewife and lawyer, began classes at Mrs. Ismail's when she was a child but had given up painting for many years as university, marriage and motherhood all got in her way, she said. Her interest in painting was re-awakened after her daughter began attending Mrs. Ismail' s classes.
"1 love colour - in fact, I have been accused of an unrealistic use of colour," she said. "However, it's my privilege as an artist and I enjoy depicting things in a certain way. If you want a faithful reproduction of an object, you could use a camera. As a painter, I aim to show a certain aspect of the painting and not to faithfully re-create."
Paintings exhibited ranged from water-colours, oils, pastels, crayons, chalks, pen and ink to acrylics. The styles and finished works were as diverse as the personalities that made up the group. Certain artists shone in different mediums - some had certain mediums they preferred. What they had in common was a pride in their creations and a love of a certain medium of creativity, painting. Importantly, the artists wished to share this love with the audience.
Artists exhibiting were: Nisreen Amiruddeen, Niluksha Deheragoda, Olga Dimitri, Shireen Willatgamuwa, Anne Wijeyesekere, Saumya Jayasekera, Dina Fernando, Christabelle Aturupane, Sundari Hemachandran, Kaushalya Rajapakse, Damayanthi Silva and guest artist, Annie Law.