Invention
3-D without the glasses
A pair of British inventors have created the first cheap, workable computer screen that displays images in 3-D without special glasses or clunky headgear.
In a field that has seen many impractical technologies, the inventors have achieved a simple, low-cost device that creates a very convincing illusion of volume and depth.
"It makes people squeal with delight," said David Trayner, who developed the display with his domestic and business partner Edwina Orr. "You get people grabbing at thin air. We had a 3-year-old trying to catch a figure flying around in front of her — she bashed her fingers on the screen. It's quite convincing."
Working out of a converted church in London's fashionable East End, the pair have crafted a hand-built demonstration model from a standard LCD monitor held together by bulldog clips and sticky tape. They launched a company, RealityVision, to bring the display to market. The first batch of displays will be manufactured later this year, and if successful, the unit could be in mass-production within three to five years.
"It's one of the few systems that I've seen that could be brought to market," said Professor Nick Phillips of the Department of Imaging Science at De Montfort University in Leicester, England. "Most of the stuff I've seen in this field is rubbish."
Even more remarkable is that the system was invented by a pair with no formal engineering education. Sculptors by training, the pair hold master's degrees from London's Royal College of Art. However, over the past 20 years, Orr and Trayner have run a successful holography business, building large-scale, high-resolution holograms for museums and scientific applications.
Trayner said it was their knowledge of holography that allowed them to create the breakthrough design of the 3-D display.
"Holographers kick themselves when they see how it works, it's so bloody simple," he said.
Like 3-D movies viewed through colored glasses, the display exploits the principles of stereo vision, or stereopsis. When slightly different images of a scene are presented to each eye, the viewers' brain stitches them together to create an illusion of depth.
However, unlike competing displays that use a system of bars or directional filters to beam different images to each eye, this screen uses a backlighting system inspired by holographic techniques to direct the different images to the eyes.
Like a standard video signal, the images are interlaced and presented simultaneously: All the even lines in the image are directed at one eye, all the odd lines directed at the other. As long as the viewer is in the right spot, objects appear to hover anywhere from 8 inches in front of the screen to 16 inches behind it.
Trayner said the trick is in the optics; the display requires no special software or electronics. The display plugs into a computer like a standard monitor and can double as a regular 2-D display.
As well as dispensing with glasses and headgear, the display is also free of the irritating image artifacts that plague other systems.
"It's lacking in the nasties that would make you want to switch it off," Phillips said. "If it were a TV, members of the family would be fighting for the best head position."
The images displayed can be live action or generated by 3-D modeling and animation packages. Instead of recording the action with a single camera, scenes are filmed by a pair of cameras the same distance apart as human eyes. The system splices the images together by using off-the-shelf software created for an earlier, competing 3-D screen.
Using two cameras bonded eye-distance apart, they built a system for displaying live action in 3-D. Scenes can easily be recorded and played back from standard videotape, Trayner said.
In theory, the display could be adapted to present 3-D images to several viewers simultaneously. It could also be used to create a TV capable of beaming two different shows to viewers sitting side by side.
Trayner said they started dreaming up the design 10 years ago, started filing patents in 1992, and have published a white paper on the technology. He estimated they invested about US$200,000 securing 50 worldwide patents on the system.
The couple is in talks with a number of manufacturers, but like many new technologies, they face the chicken-and-egg problem of getting units produced cheaply before momentum builds. Materials cost are negligible, he said.
In the meantime, Orr and Trayner are in talks with companies in specialty areas like medical and scientific imaging, computer-aided design, games, and of course, the military.
---
Possible cure for Aids
Surprise substance has potential to protect against cervical cancer, HIV.
It would be a powerful tool for women: a gel or cream they could apply just before sex to protect against AIDS or other sexual infections, without having to get the man to agree to a condom.
Scientists have spent years hunting such a "topical microbicide" with little luck so far, although they have some early candidates that might fight the AIDS virus.
But Penn State University researchers announced a surprise: an experimental microbicide that promises to protect against both HIV and a sexually transmitted virus that causes deadly cervical cancer.
It is a common ingredient in shampoos and toothpastes, so researchers already know it is safe; it also is cheap. Many chemicals are being tested for anti-HIV action. After all, the AIDS virus is spreading most rapidly in heterosexual women.
But Penn State microbiologist Mary Howett's discovery of the first chemical that also destroyed human papilloma virus, or HPV, has researchers intrigued. The National Institutes of Health cautiously hopes that first-stage testing of sodium dodecyl sulfate could begin in a small number of women later this year.
"We're excited about the broad-spectrum nature," said Dr. Penny Hitchcock, NIH's microbicide chief. The HPV protection is particularly intriguing because "it's been a lot harder for us to find anything that works with that."
"But we're cautious," she stressed, because researchers have lots of work including turning the ingredient into a usable vaginal gel — before initial testing could begin.
Human papilloma virus is a common sexually transmitted infection. About one in four women is estimated to have a strain of HPV.
Most HPV is symptomless, but some strains go on to cause cervical cancer that kills 250,000 women worldwide every year. (The global toll is so high because developing countries cannot afford Pap smears, tests that let most American women discover cervical abnormalities before they grow into actual cancer.)
"If you could eliminate (HPV), you could potentially prevent all those cancers," Howett explained.
Scientists now are studying whether other spermicides or chemicals could work instead, and the NIH is spending millions to help.
The cervical cancer virus is coated with tightly packed proteins that mere detergents cannot dissolve. But SDS also is a "denaturing" agent — and it picked those proteins apart.
After it worked in test tubes, Howett injected human cells with the cancer virus or with SDS-treated virus and then implanted those cells inside mice. The treated human cells grew normally with no evidence of HPV infection. The untreated cells grew into genital warts.
It will take years to prove whether SDS will work in the bedroom as well as the lab. Still, Howett calls SDS "a major step toward ... producing a practical, nontoxic, inexpensive, discreet product" to protect women's sexual health.
---
'Ready made' offices for rent
By Dinali Gunawardena
Hospitality International is in the process of negotiating renting out their fully furnished and serviced offices on the 26th floor of Colombo's high-rise twin towers.
The company a subsidiary of Hilton International and Overseas Reality Ceylon Ltd (owners of Twin Towers) sells offices from US $500, $1200 to $1700 a month.
Designed by Italian Carlo Andrenelli and Dolomi Studios the 14 office blocks occupy a space of 1400 square feet.
Elegant Italian furnishing in keeping with the theme of senior executive, junior executive and standard are provided by Carrara Marble and Granite (Pvt.) Ltd.
Senior executive suites are with glass topped tables, elegant chairs and a sitting room suite, while standard and junior executive suites are equipped with wooden tables, functional chairs and storage cupboards.
Wall to wall carpeting and air conditioning is a standard feature of all offices.
Facilities provided include a boardroom and professional secretarial services which are charged on a pay-as-you-use basis. It also includes a meeting lounge, mailbox, archive and pantry.
Complementary services such as access to international trading, e-mail, internet, photocopying, faxes, rental of office equipment and office maintenance are provided. " Capturing a niche market which will not have to incur the start up cost and time associated with equipping and servicing an office in Colombo was the company's primary objective in setting this up", Ms. Dharshini Sumanasekera Assistant Club Manager, I/C Public Realtions said. This niche is shared by 5 star hotels which offer the same deal . The apartment market with players like JAIC Hilton, service a different segment of the market.
Trends in office architecture at present dictate muted sober colours with a few dark colours to contrast or alternatively very bright shades. Modular office furniture with built-in wiring, light outlets and expandable tops are considered trendy and flexible.
---
Business briefs
Enter: Mahamera Cement
Mahaweli Marine Cement Company Ltd., (MMCCL), who currently market Marine brand of cement, have launched the "Mahamera" brand which is now available through their dealers countrywide.
Mahamera which is marketed as an ordinary Portland cement, complies with the SLS standard 107 of 1995.
Marine cement is currently available through MMCCL agents at Rs.270 a bag, "however Mahamera is available at a considerably lower price.
New JWT Website
J. Walter Thompson has unveiled jwt.com, its Internet storefront for the world. As of 9 am EST, Feb 19, all 283 JWT offices began to log on to the site.
The new Website serves as a live, 24-hour central information resource on the company in words and pictures. The site (http://www.jwt.com) incorporates a unique digital Storyteller that both introduces and encapsulates 'Total Branding' - the company's proprietary, creative brand-building protocol.
"Back in 1995, JWT was one of the first advertising agencies to launch itself on the Web," said Chris Jones, CEO of J. Walter Thompson Company. "Clearly, much has changed since then; the medium has grown and transformed itself a thousand-fold. We envisioned this Website to be the next version of our storefront to the world - and a way to show how we build our clients' brands".
J. Walter Thompson's Colombo office is a pioneer in digital media in this country, having handled websites for such clients as AirLanka, The Board of Control for Cricket in Sri Lanka and Sri Lanka Telecom. This is part of JWT's integrated communication philosophy which seeks the most effective means of connection between brand and consumer.
Janashakthi Awards
Janashakthi Life Insurance CO. Ltd. and Janashakthi General Insurance Co. Ltd. will jointly hold its annual Awards Presentation Ceremony, Janashakthi Awards For Excellence 1998 at the BMICH on March 19 at 2.00 p.m.
The purpose of this ceremony is to felicitate and congratulate the dynamic field staff who have distinguished themselves in the service of the two companies.
OUSL Lab. opening put off
The Open University of Sri Lanka, in a press release, states that the opening ceremony of the newly constructed Automobile Engineering Laboratory at the Colombo Regional Centre at Nawala scheduled for March 9 has been postponed due to unavoidable circumstances. The new date will be notified in due course.
ISO 9002 for Dialog
Dialog, the first telecommunications operator to achieve ISO certification in south east Asia.
MTN Network was awarded ISO certification by Det Norske Veritas (DNV), a leading Norwegian certification body accredited by the RVA of Netherlands.
Leading GSM operators world-wide are now installing quality assurance systems along ISO guidelines to formalise continuous improvement initiatives to increase customer satisfaction.
---
Baby AirLanka… what's its future?
"Turbulent" in a nutshell describes the country's national carrier's situation since its restructuring last year. Just two weeks ago the airline's CEO Andrew Gray left in a cloud in the midst of what could be termed the most difficult labour dispute in an airline, a pilot's strike. The one-day strike was called off pending a management decision on their demands. Chandana de Silva, sales manager Emirates left his attractive job with a foreign airline to come back home to his national carrier for which he worked for three years, before he joined Emirates. Give us some time to perform and remember that this is our national carrier and try to support it, was his main plea from Air Lanka staff and all Sri Lankans.
By Ruvini Jayasinghe
Q: As Air Lanka's new country manager Colombo and Maldives you must be having big plans?
A. We were going through a turbulent situation. My first plan as manager Sri Lanka was to get a message across to all my staff. Change is difficult to accept at any level. At management level we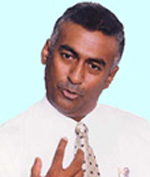 decided that we would make changes and break the ice very gradually. So, my first task was to give my staff authority, delegate work, something that I have not mentioned to anyone yet. They will also be made accountable for every penny we spend.
It is a unique situation that after privatisation the new management said that they are not going to take any money from the Treasury. So that means whatever profits or losses made by Air Lanka will have a direct impact on every member of its staff.
Earlier there was a perception that whatever we do, irrespective of making a loss or profit the Treasury will bail us out. So my first duty is to create that awareness that now we are alone and our work will have a direct bearing on the benefits we get.
Q: Are these plans in tandem with Emirates' "business plan" for the airline?
A: For the business plan we originally sent a team of people to Sri Lanka to make a due diligence study based on the country's tourist potential and Air Lanka's wealth and resources and prepared a 10 year plan for this airline.
However as you know, the airline industry is very volatile. Not even eight months after our first cut of the business plan we are in the process of redeveloping a five-year plan, because things have changed very dramatically.
The pattern of tourist arrivals may change. We are thinking of areas never thought of before. Earlier we thought we are only going to buy six Airbuses. But now we may go in for the six optional as well.
We have one main thing in mind. We have to develop this country as a place for high spenders. We are studying how global mergers work. Many people have not understood this alliance between Emirates and Air Lanka properly. Now if you take the world's top carriers British Airways, Singapore Airlines, Cathay Pacific, Swiss Air, United, Quantas, they all have different alliances. And this country does not seem to understand what an alliance is.
Q: So you want to get high spenders to come here. Is that the direction in which you are moving?
A: If you take Dubai, 80% of their traffic is transit passengers. That is a very good way of building a hub. Colombo is situated very nicely for a hub.
Geographically we are in the middle of Europe and Asia. At this point of time AirLanka's hubbing is only about 8% - 10% of total traffic. It should have been developed as a hub long years ago. We should reverse the roles completely. Why AirLanka has failed in many areas is because we never thought about a hub.
Even our business plan is changing to suit this.
Q: Do you have any other immediate concerns or problems?
A. One thing I have to mention is that from now on, we are going to compete with every carrier. Competition is very healthy.
Q: Does our open sky policy promote that?
A. Wherever we have a bilateral agreement they have hidden agendas for controlled open skies. My issue is we have to have reciprocal rights with any carrier that comes here. For example, if Condo wants to come here with a German charter then reciprocally AirLanka must be permitted through the German government to go to Berlin or any other place in Germany.
However there are certain traffic demands and flows that AirLanka, as a national carrier must be careful of.
Q: Your appointment as country manager: Are you an Emirates employee or have you resigned and joined Air Lanka?
A: My roots were at AirLanka. Since 1984 I was working for Air-Lanka. Then in 1987 when Emirates began their flights to Sri Lanka I joined Emirates. I worked for Emirates for the last 11 years, in marketing.
Some years ago I was appointed Sales Manager for Emirates. Emirates asked me if I would like to be the country manager, Colombo. Emirates could have only four people on the AirLanka management team as per the agreement and they were already appointed. So I resigned from Emirates and joined AirLanka.
Q: What is the situation about the pilot's strike? As the country manager Air Lanka why were you getting involved in settling this dispute? Is it because the expatriate management was not prepared or experienced to resolve a labour dispute of this gravity?
A: I think in fairness, Peter Hill (chief commercial officer and acting CEO) has been handling a lot of things in this part of the world. He was the senior general manager Emirates for West Asia and Pacific.
Even Tim Clarke AirLanka's chief director, is also very familiar with Sri Lanka. He is the person who recruited the highest number of Sri Lankans to Emirates. The management has signed an MOU with the Pilot's Guild. Even now discussions are taking place. We have addressed all their issues and concerns. Probably tomorrow we will be able to hand over the final document to the ministry.
Q: The new Airbuses (A330s) that you propose to buy replacing some aircraft in your existing fleet, are they outright purchases? If so, how are you going to fund this purchase?
A: Emirates was in a very strong position negotiating with the Airbus company. Therefore we made use of their expert knowledge and their relationship with Airbus Industrie to sign an agreement to purchase these Airbuses at preferential rates. Emirates was able to drive a hard bargain with Airbus Industrie from which they too purchased aircraft.
Q: Are these long haul aircraft?
A: I would say these are mid to long distance aircraft. Now, an A340 has a range of non-stop 111/2 - 12 hours.
These aircraft with full capacity will have a range of about 10 hours.
Q: When will these aircraft be purchased and ready for use?
A: The first aircraft is due somewhere around October.
Q. Do you envisage problems in selling the Tristars as they are not even being produced anymore and are almost obsolete?
A: Yes. It could be a problem, as Tristars are not used any more.
But Emirates will use its contacts in the aviation world and try to sell these aircraft through international tender, advertising in aviation magazines etc.
Probably everyone in the industry knows that this fleet is up for sale and there are some definite plans to sell them off.
Q: Apart from your new fleet of either six or 12 A 330s, are you planning on more new aircraft?
A: If we are going to operate a hub and spoke operation, the furthest in the European region is London and on the other side is Tokyo and Australia. We have a fleet of A330s, which can do London non-stop.
All other points in our routes are 10 hours and less. The best aircraft to fly with a maximum payload and additional cargo capacity are A330s. It's very economical, efficient aircraft. And it's very modern.
Q:Are you going to increase flights to India?
A: I would like to invite the government of India to fly into Sri Lanka more times before we increase our flights over there. At least to match our schedules with them.
Q: Is it a profitable route?
A: It is, considering the distance you have to fly. Besides there is heavy traffic between the countries.
With the free trade agreement coming up we may find additional advantages.
Q: AirLanka made unprecedented profits last year. What is the position this year? I think your financial year ends in March. Can you give an indication of at least the nine-month performance?
A: I think Mr. Peter Hill may be able to answer that better, as I would prefer not to comment on the financial performance.
Our business plans outline profit targets for the 10 years. If we were to be questioned after three years on our performance, then we are answerable. But it is very unfortunate that eight months down the road, we are questioned. In this environment at eight months we are like a new born baby and everyone must support it.
Q: The restructuring deal between AirLanka and Emirates was a 40% equity stake and management for US$70 million. We understand that Emirates has a two-year period to pay the money and only a part of it has yet been paid. What happens to the loss of interest now that the total amount has not been paid outright?
A: But Emirates did not get 40% equity outright. Their current equity holding is proportionate to the amount they have so far paid up.
Q: When is AirLanka going to appoint a new CEO? Or will Peter Hill be confirmed in his acting position?
A: I don't know. We are having a board meeting on March 19 at which it is possible a decision may be taken.
---
Engineer warns of the Y2K dangers
By Hussain Packir Saibo
"When Sri Lankans wake up on the next New Year day in 2000, the millennium year, they may find themselves in a situtation fraught with mayhem of unimaginable proportions unless the various public utilitiy and other vital economic sectors are ready with contingency plans to avert computer dependent systems facing failure as the New Year 2000 dawns," said a computer engineer working with Ernst Young and Company who have been awaded the tender to update the Colombo Port's navigational computer systems to meet such an eventuality.
He said the Ports authorities are still rather late with the project.
His company, chosen from among six others from whom tenders were called, were given two days to submit their proposals when in the normal course a month or two would be required. "But this shows how urgent the matter is and our company was able to get the proposals ready in time," he added.
Speaking to 'The Sunday Times' in an informal interview the engineer said that even as they worked on the project they couldn't be sure of obtaining the required computer parts from suppliers in less than six months.
Vital as navigation is to the smooth inflow of cargo including essential consumer goods and to exports from the island, there are other sectors of the economy in which a red alert needs to be sounded in respect of the updating of computer facilities being used by them to make them Y2K compliant.
Nearly all the sluice gates in our major dams are fully computerised. Imagine what could happen if the gates were to open of their own due to malfunctions in the computers controlling them and there is an unrestricted flow of water out of the dams. This could lead, on the one hand, to uncontrollable flooding of the lowlands and on the other to a drop in water levels within the dam sites affecting the running of electricity turbines due to a lack of pressure. "It can happen at Gal Oya, Laxpana or Victoria," he said.
An alternative would be to switch to manual systems, he surmised. But even this would require the expertise of men who know how to handle the systems. He wondered whether the country was ready for such emergencies, in the year 2000.
Painting an even bleaker picture he said the failure of electricity supplies will definitely affect the water supplies in the capital and elsewhere since reservoirs are dependent on electricity for their water generating pumps. All this can come to a standstill.
A paralysis in these two sectors is bound to have repercussions in industries, food supplies, the pumping of oil and petrol offshore (also computerized) and many others.
In Europe people were stocking up on food and buying candles and lamps fearing a dire scenario despite their gearing up well ahead to control damage, he pointed out.
"We hear about computer systems in Sri Lanka being made Y2K compliant. But I am not sure the authorities responsible are sufficiently alive to the urgency of the situation. To play it by ear, sit back and hope for the best can be highly risky," he said.
"Remember the drought of a few years ago and the water and electricity shortages the city experienced? That was hell.
"This time around it could be hell and high water again. It is time those responsible act and work quickly to avert the dangers ahead," the computer man said.
---
Pirates kill 67 sailors and injure 35 in '98
A series of brutal attacks on shipping which left 67 seafarers confirmed dead and a further 35 seriously injured are listed in the 1998 annual report of the ICC International Maritime Bureau published recently.
At least three further complete ships' crews remain missing, along with their hijacked ships.
While the report notes that the number of attacks has declined over the past year, with 198, separate attacks reported compared to the 247 incidents throughout 1997, it points out the escalating level of violence which is giving renewed cause for concern.
Figures released in the report show that pirates carried guns on 45 occasions and knives in a further 39 instances.
Commenting on the escalating violence in eastern waters, IMB investigator Captain Pottengal Mukandan said that the murder of whole crews might suggest that the pirates have made tactical mistakes. Such brutality, he said "will surely force governments to sit up and take action".
The Chinese authorities, he noted, are taking a more robust line, with at least seven recent arrests of suspected pirates and indications that corrupt officials ashore are being purged.
Hostage-taking was a feature of the 1998 attacks, with more than 238 crew members captured in this fashion.
Other figures detail 138 instances where vessels were boarded and 11 occasions when ships were fired upon by pirates at times using heavy calibre weapons or rocket grenades.
While the pattern of attacks remained much the same in previous years, with Southeast Asia and the Far East, Africa and South America providing the largest number of outrages, there has been an upsurge in the number of vessels hijacked, with 15 having been taken by pirates during the year.
The report compiled by the IMB Piracy Reporting Centre in Kuala Lumpur, which is supported by contributions from the shipping industry, points out that Indonesian waters continue to be the highest risk area.
It suggests that the decline in the total number of attacks has been due to increased awareness and more vigilance being exhibited by crews.
The most worrying aspect of the reports, suggests the IMB, concerns the levels of extreme violence being used upon the crews of hijacked ships by pirates who seem to have little compunction in murdering their captives.
Fishermen have been shot dead after hijackers have failed to raise ransom and in one particularly bloody incident, the entire 23 crew of the hijacked Cheung Son were butchered, some of the bodies being found later on in the nets of fishing boats working off China.
The IMB is particularly critical of the way in which the Chinese authorities in south China ports have failed to take action against pirates found aboard hijacked vessels, citing in particular the case of the Petto Ranger, where the pirates were repatriated to Indonesia by local authorities, despite IMB representations.
The fate of the crew of the Tenyu is unknown after the hijacked bulker was found in a Chinese port with a new name and crew. It is suspected that they have been murdered.
The IMB points out that in eastern waters there has been a trend towards the hijacking of small product tankers and the theft of their cargoes, which are easily sold. However, more recently dry cargoships and bulk carriers have been targeted.
The arrest of the alleged head of an international ship hijacking syndicate by the Indonesian authorities is also reported. Controlling a network of operations in China, Hong Kong, the Philippines and Malaysia, the Singapore national known as "Mr. Wong" who is said to be responsible for at least six hijackings, was arrested on Batam in December.
The alleged pirate is however contesting the charges and has directed his lawyers to dispute the evidence and the arrest procedure conduct by the Indonesian Navy
(Lloyd's List)
---
Political crisis puts cruiseships off Indonesia
At least seven cruiseships cancelled December and January scheduled calls at Tanjung Priok because of the recent political unrest in Indonesia.
The country has moreover seen a spate of piracy incidents, according to the latest shipping bulletin from the Maritime Liaison Office.
There are also reports of a gun battle which took place on an unnamed merchant vessel in Ecuador.
Cruise Companies continue to avoid Tanjung Priok, near Jakarta, citing US embassy advice.
The cancelled calls were to have been the first since the serious rioting in May of last year.
Also in Indonesia, the 24,404 dwt bulk carrier Handy Silver, operated by Pacific Basin Shipping & Trading of Hong Kong, was boarded on December 23 by nine thieves posing as stevedores at Surabaya.
Three of them kept the duty officer and a crew member at knife-point while the remaining six entered the accommodation area using a master key.
A substantial quantity of engine spares was stolen.
Bulk carrier Patroclus, 21,348 dwt and operated by Union Commercial of Piraeus, was boarded while underway in Indonesian waters on December 28.
A Norwegian second register chemical tanker, Gina, of which the principals were unknown was boarded by three thieves at Rio Haina, the Dominican Republic, on December 28.
The knife-wielding intruders used hooked bamboo poles to gain access. But the master, having been informed of recent incidents at the port, had taken precautions.
These included locking all doors, lashing lifeboats, extra bow and stern lighting, and additional night watchmen.
The alarm was sounded and the robbers jumped into the water, leaving a knife behind.
There have also been two reports of armed robbery at Guavaquil, Ecuador, with incidents on December 26 and January 1. In the first attack, 10 armed robbers boarded an unnamed vessel.
Five local police officers had been hired to defend the ship, and a shoot-out ensued, forcing the thieves to retreat. There were no injuries to police or crew. In the second incident, five or six thieves armed with rifles boarded the 6,116 dwt reefer of Wisida Nordic, operated by Gustaf Erikson of Finland, while at anchor.
The robbers stole fire equipment and paint.
Although the master later reported the matter to the port authorities, no action was taken (Lloyd List).
---
Business Today's Top Ten 97/98
Business Today, the corporate magazine, has announced the rankings and winners of their Top 10 performers of Corporate Sri Lanka. The ranking reflects qualities and performances that people have come to admire in business. The Top 10 performers are.
1. John Keells Holdings
2. National Development Bank
3. Hayleys
4 Hatton National Bank
5 DFCC Bank
6 Commercial Bank
7 Ceylon Tobacco Company
8 Maskeliya Plantations
9 Central Finance
10 Colombo Dockyard
Accountants, Dinesh Weerakkody along with Keith Bernard and Econsult selected the winners from the 100 most traded shares in terms of value.
---
Unilever safety awards
Unilever Ceylon Limited held its Safety and Environmental awards for the second and third quarters of 1998 for its Grandpass factory site recently.
The chief guest at this programme was K.G.D. Bandarathilaka, Deputy Director General, of the Central Environmental Authority.
The Department, which maintains the best good housekeeping practices is selected at a quarterly assessment and the winner for the 2nd quarter 1998, was the Edible Refinery. The winner of the 3rd quarter 1998 was the Engineering Services Department.
Six winners of the ' Spot the Hazard Competition' conducted by the company also received their awards at this event.Last year the company completed 2 million man-hours without a Lost Time Accident (LTA) and had only one LTA. The target this year is zero. Unilever Ceylon is also proud to note that 90% of effluent treated at the Effluent Treatment Plant is recycled. The highlight of the day's programme was a skit done on safety by three 'Kopi Kade' artistes.
Picture shows Mike Thompson Chairman Unilever Ceylon presenting an award to an employee.