Rhythmic gymnastics are developing fast
By: Gamini Perera
Rhythmic gymnastics, once the youngest branch of the sport, has now achieved the fastest development in the history of gymnastics, the world over. Rhythmic gymnastics was first introduced in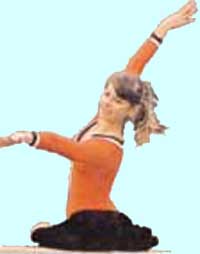 1958 and today the sport has recorded scores of absolute perfection by several gymnasts. The rapid advance peaked with an incredible and almost unbreakable record set by Bulgaria's Biance Panova, when at the age of seventeen she became the world champion at Vama with a score of 40 marks out of a possible 40.
Bulgaria was once the unrivalled champion of rhythmic gymnastics. In 1988, at a world championship meet, Panova's compatriots, Elizabeth Koleva and Adriana Dunavska, shared the silver medal scoring 39,800 marks. Panova also scored maximum tens at every apparatus final and shared the gold medal with Soviet competitors.
The hoop goes through a series of magic transformations in the hands of rythmic gymnasts, when performing a team exercise. Once it becomes a swiftly swirling wheel of a chariot, then a needle's eye through which the whole team passes the hoop like a thread. Spinning, it soars up over the arena, then plummet down and the girls scatter in all directions like frigtened fish in a pond.
A female sport
Rhythmic Gymnastics is purely a female sport. Performers, coaches, choreographers, judges are all women at most of the championships. The major part of the spectators are also women. Most of their journalists covering these event are now males. It may be because, after all men are the best judges of female elegance and beauty.
That old maxim, practice maketh perfect is not entirely true. It rarely does. But, it certainly makes for all but, and when judges give top marks consistently to an athlete, it must be because they are selecting the champion from among a multitude of performers.
Critics argued that marking and judging at rhythmic gymnastic competitions needed an overhaul change. The methods were changed some years back, but the four-yearly appraisal has been overtaken by events.
The usual short-term remedy was to increase the elements of difficulty, to make the maximum marks less easy to attain. Some argued that more latitude in assessing execution would seem to be reasonable.
As stated earlier, rhythmic gymnastics is for women, mostly, and they work with very light hand apparatus. Instead of their vaulting horse, the gymnastic bars or the balance beam, these women perform with a hoop, a ball, two clubs, a ribbon and a rope.
As it is confined mostly to women, this event has a strong dance element in it.
The basis
The basis for all movement is dance, with high emphasis on instruction from a choreographer in the coaching. rhythmic gymnasts work on a 12 square metre carpeted floor area. In action they bounce, swing, roll, throw and catch the hand apparatus, in harmony with their dance movements and the rhythm of musical accompaniment.
Rhythmic gymnastics is highly theatrical and highly artistic. At present it is also highly competitive.
The hand apparatus is very straightforward. Although plastic has become popular, the hoop can be of wood or plastic, with an internal diameter of around 80 to 90 centimetres. A ball is rubber or plastic, weighing about 400 grams. With a diameter of 18 to 20 cms.
The ribbon should be about six metres in length and is usually of satin, about four to six cms. in width and attached to a stick.
The clubs can be wood or plastic, about 40-50 cms. In length and weighing around 150 grams.
The rope should be of hemp, but other materials are also acceptable. The length waries according to the height of the gymnast.
Group exercises for teams of six are performed with variations of the above apparatus. For example, six balls or any of the others may be used, or three balls and three hoops.
First world meet
The first world championships were at Budapest in 1963. These championships now alternate every other year with the European championships.
Rhythmics were admitted to the Olympics for the first time at Los Angeles in 1984. "Gymnasticque Modeme" was the original name of the game when it came into being, four decades ago. Before this, several of the disciplines were seen independently at major international events and at local clubs throughout the world.
The popularity of this type of gymnastics is growing worldwide. Most believe that it is more suitable for women, than, for instance, football or weight-lifting.
Many believe that the judging is still very upsetting. They say that it is still too subjective and undemocratic.
They think that the officiating must be done by at least ten judges, with technical performance and artistic merit assessed separately. And each of the evaluations should be taken into account. They also feel that so far the judging is just a drag on the development of rhythmic gymnastics.
Even the IOC President, Juan Antonio Samaranch who attended the Varma championships some years back had said that the system of judging should be updated to make rhythmic gymastics more objective.
Bulgaria dominates
On the world scene, Bulgaria dominates the sport. They were the first world champions at Budapest in 1963. The Soviet Union had taken over as the champions for a time, but since the 1983 world championships in Strasbourg, Bulgaria had taken control of the sport.
The leading influence of the success of Bulgaria in the 1980s was their coach, robeva.
She revolutionsed the sport by encouraging girls to concentrate on the 'sipritual' side of their performance as much as the physical aspect of the sport.
In Bulgaria, rhythmic gygmnastics is the top sport for women. Their talent and potential is spotted at the tender age of six by coaches touring schools.
After a lengthy process of selection, the future gymnasts enter national squads at the age of ten for 30 hours a week training.
According to Neskha Robeva, the then head coach of the champion Bulgarian team, "Rhythmic gymnastics is developing in a harmonious manner, blending sport with art, which are hardly separable anyway."
Any audience watching a rhythmic gymnastics show proves to be passionate. Each dashing trick in the arena is greeted with a storm of applause, as if it were a decisive goal scored by a star-forward.
---
Chester gets under Keith Miller's skin
In the first Test at Trent Bridge in 1938 between England and Australia, Don Bradman was out to one of the cleverest decisions made by an umpire.
A ball from Sinfield turned from the off and he got a very faint edge. It then hit his pad, went over the stumps and was caught by Ames. While all this was going on in a flurry of bat, pads and gloves, Bradman lost his balance and Ames removed the bails for a possible stumping. Ames appealed to the square leg umpire, who turned his appeal down. Ames then appealed to Chester at the bowler's end. Without batting an eye-lid Chester raised his finger, and quite calmly said, "Out, Caught," and turned his back as if it was obvious to all. At this time Chester was the greatest umpire in the world.
But by 1953 his health had deteriorated and in the 4th Test at Headingly he gave two of the worst decisions of his career. By this time he had also adopted an anti-Australian complex. Whenever the Australians appealed he had a way of snarling "Naht Out." Finally Miller who could not stomach it anymore, told him off. "O.K Frank, but I do not like this snarling manner of yours."
In England's first innings Reg Simpson hit Ray Lindwall past mid on, and Hassett chased it in the direction of the Member's Stand. Miller who was at mid off ran to the wicket to take the return.
Hassett picked it up, and as he was about to turn and return, Miller turned round and saw Simpson just starting for his third run, Hassett sent in a perfect return, right over the bails. In the meantime Lindwall was shouting, "You've got him Keith, you've got him."
Miller collected the ball, removed the bails when he turned round Simpson was still coming home. The fielders thought the appeal was only a formality. But Chester seemed to have some trouble with his balance. Finally he looked up and mumbled "Not Out." The Aussies were dumbfounded. They just could not believe it and made four more appeals. But all four appeals fell on deaf ears. They could not believe it that Chester could allow Simpson to carry on batting and Miller in utter disgust dashed the ball on the ground.
Then came England's second innings and Denis Compton had to retire with an injured hand when his score was on 61. On the following day Bailey and Laker held on for sometime before Laker was out for 48. Compton returned and as soon as he came in, he snicked a ball from Ray Lindwall and was caught by Graeme Hole at 2nd slip. It was a clean straightforward catch. Of course if Compton knew he was out, he would certainly have walked.
Because cheating was one thing that was never in Compton's book. But he stayed because when he pushed forward, he did not know where the ball had gone.
The Australians then appealed to Frank Lee. But Lee said he could not give a decision as Lindwall had obstructed his view when following through. So he consulted Chester at square leg. Chester no doubt could have seen it was a clean catch. But first he looked at Miller, then at Hole and said, "Not Out." The blood rushed from Hole's face and he turned a deathly white.
Hassett was so mad that he sent an official complaint to Lords saying that he did not want Chester to stand in the final Test at the Oval. The authorities made no effort to make Hassett to change his mind and appointed Dai Davies for the Oval Test.
In 1955 Chester umpired in the second and fourth Tests against South Africa, but that was the end of the umpiring road for him. He called it a 'day' at the end of the season and two years later his sojourn on this earth also came to and end.
Bruce Maurice
---
Sydney Zoysa was tough
The Sri Lanka Police, then known as the Ceylon Police which I joined on 1.4. 58 had some of the finest and colourful officers who came from the best of schools in the country with rich family traditions. They swere highly respected by the public and enjoyed a special place in society.
This attracted the cream of students from leading schools to the Police.
The Inspector General of Police then was Osmund De Silva who had his education at S. Thomas' College Mt. Lavinia and later graduated from the Ceylon University and joined the Police as an Assistant Supdt. of Police. He was an outstanding athlete excelling in the sprints. Later he married the daughter of Sir Richard Aluwihare who was the first Ceylonese Inspector General of Police after the British Police officers left the shores of Sri Lanka on our gaining independence.
His deputies were C.C. Dissanayake, DIG Range I, who was affectionately called "Jungle" because of his giant size and he was the national champion in Putt Shot and Discus and was also a top ruggerite. He had his education at Royal College and Colombo University and joined the Police as Asst. Supdt. of Police. He was the father of T.D.S.A. Dissanayake who too was called "Jungle" and studied at Royal College and the Colombo University and emulated his father by becoming the national champion in Putt Shot and Discus. He was our Ambassador in Egypt and Indonesia and wrote several books on Sri Lankan politics.
The DIG, Range II was the famous Sydney De Zoysa, son of Sir Francis De Zoysa, a King's Counsel and Member of the State Council. His brother Stanley de Zoysa was Minister of Finance, Lucian De Zoysa, a national cricketer, a broadcaster and actor and Bunty De Zoysa, a leading criminal lawyer. Sydney de Zoysa was a tough police officer and strict disciplinarian. He too had his education at Royal College, entered the Colombo University and later joined the Police as an Asst. Supdt. of Police. He was an outstanding sportsman excelling in rugby, athletics, cricket and horse riding and was an excellent actor. The Police Training School at Kalutara is a living monument to him as he was responsible for its creation. His career in the Police was so colourful that there was a tribute to him at training school when I went for training which read, "You have left behind an example which as the years roll by will become a legend." He took a great interest in police Rugby and recruited some of the best schoolboy rugby players to the police such as S.S. Bambaradeniya, Mike Shockman, Quintus Jayasinghe, Tony Mahath, Rodney Aluwihare and Franklyn Jacob from Trinity College. James Senaratne "Brute" Mahendran, Sumith Silva and Rahula Silva from Royal College and "Letcho" Ephraums, Terry Williams, Munidasa Gomes and yours truly from St. Peter's College during the fifties. He also contributed immensely to Sri Lankan Rugby and was the President of CR&FC and the Sri Lankan Society of Rugby/Football Referees Society.
The DIG Administration was Wilhelm Leembrugen, a smart officer, standing over six feet in height walking tall and proud in his uniform. He too was a product of the Colombo University and joined the Police as an Asst. Supdt. of Police.
The DIG in charge of the Criminal Investigation Dept. was D.C.T.Pate, another product of Royal College who excelled in rugby and cricket and entered the University of Colombo before joining the Police as an Asst. Supdt of Police.
The Police Training School now called Police College at Kalutara, where I went for my training at the early age of 20 along with twenty six other youngsters as Sub-Inspectors, was the master work of Sydney De Zoysa who was its first Director of Training. It was on a 192-acre area of land in natural setting with two lakes named Ruhunu Reservoir and Kalawewa and two large playing fields called Aluwihare Parade Grounds perched on a hill and named after the first Ceylonese Inspector General of Police and Brindley Grounds, in a lowlying area called Raja Rata named after Captain Brindley who contributed greatly to the development of the Ceylon Police. There is also a large Auditoriam called "Magulmaduwa" where large assemblies were held in addition to dramas by the trainee police officers and also used as a cinema for the recreation of the rookies after a strenuous session of training on police duties and parade. There was also a large dairy farm which produced the best of curd for the consumption of the trainees and staff and the excess was sent to Colombo to be sold to the officers at Police Headquarters. There was also other produce such as coconuts and fruits which too were used by the trainees and staff.
In order to educate the new arrivals to the Police on how a police station functions, there were nine model police stations located at different places in the sprawling 192-acre complex and they were named after our ancient Kings, Governors and an IGP namely Wijeya, Tissa, Parakrama, Elara, Gemunu, Rajasinghe, Campbell, Jenkins and Dowbigin, to which the new recruits were attached with an officer in charge and a few members of the staff to guide and instruct the trainees. I was attached to the Parakrama Station.
There was a senior staff mess for sub inspectors and ranks above, which provided the meals and recreational facilities including a billiard table, bachelor accommodation was provided in 25 rooms, where we stayed during our training. There were also lovely bungalows for the married officers of the staff from Director of Training downwards.
There was also a Junior Staff Mess for the Sgt. Majors, Sergeants and Constables providing meals and recreational facilities.
There was a co-operative stores where goods were sold at a subsidised rate to the staff and trainees.
There were also two tennis courts where it was compulsory for the trainee sub inspectors to play tennis with members of the senior staff. In addition there were also horse riding and motor cycle riding schools.
The Director of Training during my training period was Stanley Senanayake, then a senior Supdt. of Police who went on to become the Inspector General of Police and served for a record nine years. He was educated at St John's College, Panadura and entered the University, where he won his colours in tennis, swimming, cricket, football and athletics and joined the Police as an Asst. Supdt. of Police. He was one of the most handsome police officers who married an equally beautiful Maya Senanayake, the daughter of Dr. P.De.S. Kularatne, former Principal of Ananda College. They had four sons namely Sanjeewa, Saliya, Atula and Mihinda who all attended Ananda College and were good cricketers and great rugby fans.
The Deputy Director of Training was Fred. H. Brohier, another Senior Supdt. of Police who had his education at Royal College where he excelled in athletics as a sprinter and a hard runner who later represented the Havelocks SC at rugger. He joined the Royal Air Force and served in the Second World War in Europe and on his retrun to Ceylon joined the Police as an Asst. Supdt. of Police. He had a charming and sporty personality who in addition to his police training duties was the coach of the Police rugby team, assisting Sydney De Zoysa who was in overall charge of Police Rugger. It was a pleasure to travel down to Colombo with him as I was playing rugger for the Police whilst under training along with "Brute' Mahendran who too was under training as an Asst. Supdt. of Police.
---
Bring back the Clifford Cup!
The Clifford Cup Rugby was the blue riband of our rugby in the past. Since 1950 the elite clubs of Sri Lanka such as CR & FC, CH & FC, Havelocks S.C. , Kandy S.C., Dimbulla C & A C, Dickoya & Maskeliya C.C., Uva Gymkhana Club and Kelani Valley which had the best blend of local rugby talent and foreign rugby players who were working as planters and commercial executives played in the Clifford Cup Tournament dishing out champagne rugby.
In 1961 the Police, Army, Navy, Air Force and University who were affiliated Clubs playing in the 'B' Division too were permitted to participate in the Clifford Cup tournament and the entry of these teams added more colour to the tournament with their rugged and robust approach to the game.
Havelocks S.C. was the first winners of Clifford Cup when they became the League Champions in 1950, led by Ian Labrooy and had some outstanding rugby players of the calibre of R.C. Henricus, Hugh Aldons, Eric Aldons, H.E.V. Metzerling, Fred Aldon, Sib Pilapitiya, V. Kelly, Alan Drieberg, E. Matheysz, R. Sourjah, Ivor Bartholomeusz, 'Letcho" Ephraums, D. Ernst and K. Gunawardane.
CR &FC, that year was captained by the great Archibald Perera who was famous for his "Dummies" and lost to Havelocks by 11 points to 3 points.
CH & FC which was an all expatriate side, captained by H.H. Campbell won all their matches but lost to Havelocks in their last league game.
Dimbulla, another strong team from the hill country skippered by Lyn Simpson was hard to beat in their home ground at Radella. But lost to Havelocks by 13 points to nil thanks to tries by Fred Aldons, Eric Aldons and Ivor Bartholomeusz.
At the end of the league tournament the club placings were: Havelocks won all the seven games beating CH &FC, CR&FC, Dimbulla, Kandy, Uva, Dickoya and Kelani Valley, for them to win the coveted Clifford Cup at its inaugural year.
In 1951 too Havelocks won the Clifford Cup captained by Ian Labrooy. Interestingly Havelocks played all their home matches at Police Park, Bambalapitiya.
In 1952 CR&FC won the Clifford Cup captained by that shrewd scrum half Mahes Rodrigo who went onto become a double international in rugger and cricket. His team had some great players in Malcolm Wright, Dr. Trevor Anghie, Summa Navaratnam, Kavan Rambukwella, S.S. Bambaradeniya, A. Gunawardane, U. Amarasinghe, Ago Paiva, A.K. Dorai, Miles Christofelsz, R. Shockman, Devaka Rodrigo, Eardly McHeyzer, Norman Gunawardane, Ashroff Cader, H. Neuman, Geof Weiman and E.L. Fernando.
The year 1953 saw Dimbulla emerge as the Clifford Cup champions captained by Lyn Simpson, with some outstanding planters playing for his team such as Peter Clark, Mike Warring, Ian Campbell, Stanley Unanboowa, Malcolm Wright, B.Clark, D, Ironside, McClune, David Parker, McKitterick, Walker, Mollison, Wadsworth, and Stewart.
In 1954 CR&FC won the Clifford Cup led, by that fastest human in Asia, Summa Navaratnam, beating Kandy S.C skippered By S.D. Pilapitiya. Again in 1955 Summa Navaratnam captained the CR&FC to win the Clifford Cup championship against Kandy S.C. captained by Ken McPherson.
In 1956 CR & FC won the Clifford Cup for the third successive year captained by Malcolm Wright beating the combined might of Dimbulla and Dickoya led by J.A. Partridge. In 1957 CH&FC won the Clifford Cup for the first time led by St. John Davies against the Dim-Dicks skippered by Malcolm Wright. In 1958 CR&FC again won the Clifford Cup captained by Ashy Cader beating Dickoya led by Barry Cameron.
In 1959 CR&FC captained by the ace fly half Ago Paiva shared the Clifford Cup with Dimbulla led by Ken McPherson. In 1960 CH&FC skippered by Jeremy Lloyd won the Clifford Cup by beating Dimbulla led by Mike Warring.
In 1961, with Police, Army, Navy, Air Force and University from the "B" Division being permitted to play alongside the "A" Division clubs, CR&FC,CH&FC, Havelocks, Kandy, Dimbulla, Dickoya, Uva and K.V. the format of the Clifford Cup was changed where all 13 clubs had to play each other once in a Home and Away basis in alternate years on a league basis and at the end of the league the best eight teams had to play in a knock-out tournament for the Clifford Cup. The Police, Army, Navy and Air Force made best use of this opportunity and began their accendency in rugby displacing the elite clubs with some breathtaking rugby and began to dominate the local rugby scene which will unfold in the coming weeks in my column.
But today the tragedy is the traditional Clifford Cup with such a glorious past has died a natural death thanks to our rugby administrators opting for new trophies such as John Players Cup, Premadasa Cup, President's Trophy and Carlsberg Trophy. Forgetting the fact that the value of a challenge trophy is enhanced with the passage of time like the "Bradby Shield" which is awarded to the winners of the Royal-Trinity rugby encounter since the 1940s. It will do our rugby good if the administrators bring back on offer the Clifford Cup for the league tournament immaterial who the sponsors are so that we could relive the glorious past of our rugby with it's rich traditions. - SS
---
Armchair ride for Cochrane
By Ismail Khan
With less than a month to go for Flat racing proper on the turf some of the well-known trainers are putting their charges into the All Weather track so that their horses could be in good trim come the 1999 Flat Turf season opening out from Doncaster.
Therefore keep a shortlist of the winners on the tracks at Lingfield, Southwell and Wolverhampton and make sure you reap the rewards as the Flat shoots out.
Saturday last at Lingfield rider Ray Cochrane managed to boot home a double on Josephs Wine and Scraggy's Dream who are both down for the first day acceptors at Doncaster. So, there is a sure tip.
Lingfield opened out Saturday last's programme with a 6/1 winner Alamein hammering home the advantage of a pull in weight to beat off Kings Harmony and Scissor Ridge. Horse to follow Scissor Ridge who will do well over a mile.
The Young Love Selling Stakes went to 11/4 Van Gurp who beat Saseedo and Dark Menace. Horse to follow:- Saseedo who will do with a 10 furlong event.
The Second Division of the Young Love Selling Stakes was all Josephs Wine's as the inform 10 year old made it almost pillar to post. Follow this Jackie Wharton veteran who is good enough to draw fresh blood as the Flat opens next month.
The Cupid Claimer over 7 furlongs went to Peter Haslam's Erinvale at 11/8 and this one is good enough for a quick repeat.
Scraggy's Dream took the Jack and Jill Cole Handicap over 10 furlongs giving Ray Cochrane a good double. Daunted finished a good second in this event.
The Dempsters Diary Maiden Stakes went to Pipers Clan from College Blue. The winner was too good and could go on to repeat.
The final race at Lingfield went to Shanghai Lil from Sleave Silk bringing the curtains down at Lingfield.
Other horses to follow apart from those I have mentioned: Dark Menace who showed good initial speed to score over 5 or 6 furlongs; Mr. Rough who flashed very late onto the firing line could do with two furlongs extra to traverse; Daunted could do with a mile journey and Sleave Silk could do well over 11 furlongs.
So that's all for today. Watch these columns next week too for more comments on All Weather horses.
---
A game with a few beers...
Pete Mayadunne looks at Australia's fascination with cricket and alcohol.
Perth, Australia. Its nine in the morning and the phone rings. I gather myself out of bed and just get the phone to my ear when I hear this appealing voice at the other end. "G'day mate, we've got a game 'a cricket going, can you play?" Upon my hesitation, the voice interrupts " its just a hit-around you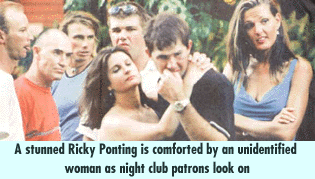 know... a game of cricket and a few beers on the side....."
It was only the other day that Ricky Ponting, Tasmania's proud son, admitted that he indeed had a drinking problem. He has been 'grounded' by the cricket authorities of the country and the punishment set out is his disposal from the one-day squad till Australia meets Sri Lanka in Perth. Now Ricky has been in trouble before. The much publicised issue occurred during the last Australian tour of India. The problem however, is not isolated just to him. High profile sports personalities are all falling prey to this 'drug' that is but commonly associated with sport. English football star Paul 'gazza' Gascoine was another and so was golfer Ian Dalley who have recently been in the press.
In Australia, it is a situation rather imbedded in its sporting culture. This has been true of both cricket and the winter sport Australian rules football. Just casting an eye into the Australian television media, you start to understand how inter-related sport and alcohol is in Australia. Once the cigarette sponsorship dollars were unavailable, it has been the 'other drug' of common choice that is putting the people on the stands. Much like how the "Benson and Hedges World Series" is now called the CUB or "Carlton United Breweries World Series" after the brewer that sponsors the triangular. Brewing companies have been more than willing to capture on the misfortune of the cigarette companies at many sporting features.
All of Australia's State cricket sides are sponsored by or have a close association with a brewing company. The Queensland Bulls with its close association with Four X (XXXX) to the New South Wales Blues association with Tooheys Blue. Then there is Victoria with Fosters and the West Aussies and their association with Swan.
Even at the foundation of cricket in this country, such as at grade cricket, brewing companies are ready to pour their money in hoping to allure the male dominated patrons young and old. Such is its affiliation even at this state, that the club cricketer heads straight to the bar after each training session. In some cases the after training 'get together' is actually held at a bar where the establishment is kind enough in 'shouting' a few jugs of beer.
Ricky Ponting with his admission, has opened up a huge can of worms that has stayed closed all these years. The Victorian Cricket hierarchy has put a ban on its cricket squads consumption of alcohol just before and whence a four day match is in progress.
Several years ago when Queensland's long serving Trevor Barsby decided to retire from cricket, the brewer associated with them, presented him with a year long 'subscription' of beer.The affiliation is to an extent that records set for the number of beers consumed on a flight on tour have become a highly sought after affair.
---
Yachtsmen Lalil, Janaka to be felicitated today
Lalil Jirasinghe and Petty Officer W.P.K. Janaka who won a bronze medal at the recently concluded Asian Games held in Bangkok, will be honoured by the Yachting Association of Sri Lanka today (February 21) at the Ceylon Motor Yacht Club at Indibedda, Moratuwa at 6 p.m.
The felicitation ceremony has been organised by the Patron of the Yachting Association of Sri Lanka (YASL) Vice Admiral H.C.A.C. Tissera, Commander of the Navy and the President and members of YASL.
The chief guest at this ceremony will be the Minister of Samurdhi, Youth Affairs and Sports, S.B. Dissanayake.
The other invitees to the ceremony are: Hemasiri Fernando, Chairman of the National Olympic Committee, Dr. Maiya Gunasekera, Chef de Mission to the Asian Games, and Dr. Ratnayake, Secretary to the Ministry of Youth Affairs and Sports.
---
Colombo Football League Gold Cup Series
Ratnams will meet Wanathamulla Youth in the first quarter-final of the Colombo Football League Gold Cup at the City League grounds at Slave Island on Feb. 27 while Soccer Fans SC will clash with Vaeni SC in the second quarter-final on the same day at the M.H. Mohammed Playgrounds.
Saunders will take on Victory in the third quarter-final on February 28 at the M.H. Mohammed Playgrounds while Old Bens will battle York SC at the City League grounds on the same day.
In the pre quarter-finals, Saunders beat Silver Tongue SC 4-1, Vaeni SC beat Java Lane by 4 goals to 2 in a penalty shoot out, Soccer Fans beat Colpetty United 4-3, Old Bens beat Cooray SC 1-nil, Ratnams beat Maligawatta Youth 3-1, Wanathamulla Youth beat Youngsters SC 4-3 in a penalty shoot out and Victory and York SC received walk overs from Pettah United and Sunny Mount SC repectively.
Young Victory will meet Vikings SC in the Silver Cup knock out semi-finals on Saturday, February 27 at Cooray Park, while the winners of Ratnams/Old Joes will meet the winners of Kirulla Stars and Bellmount SC in the second semi-final on Sunday, February 28, at Cooray Park.
Old Joes will meet Ratnams in their quarter-final match on February 24 at Cooray Park and Kirulla Stars will take on Bell Mount SC on the same day at the M.H. Mohammed Playgrounds.