Muditha's 63 give St. Peter's shivers
By Saif Izzadeen
A classy 63 by Muditha Maduwantha of D.S.Senanayake was the highlight in their drawn inter-school cricket match against St. Peter's at Bambalapitiya yesterday.
D.S.Senanayake, resuming from their overnight score of 43 for 1, reached 259 for 8 dec, thanks to three fruitful partnerships. First it was a 73 run stand for the second wicket between Muditha Maduwantha (63) and Suranga Rajakaruna (27) which brought the score from 22 for 1, to 95 for 2.
Then a fourth wicket stand of 59 runs between Namal Abeywickrema (21) and Rukshan Gunasekera took the score from 121 for 3, to 180 for 4.
Three quick wickets fell afterwards for 36 runs which took the score to 216 for 7. But the hope of D.S.Senanayake taking first innings points from St. Peter's resurfced through an eighth wicket stand of 43 runs between Malshan Alwis (43) and D.Vinod (14 n.o). This pair brought the visitors within to two runs of St.Peter's score but Malshan Alwis was bowled around his legs by Crishantha Peiris for 43 and with the score at 259 for 8 D.S.Senanayake declared the innings.
St.Peter's in their second innings were 76 for 4 at close of play.
St.Peter's - 261 for 8 dec and 76 for 4 in 24 overs (A.Dissanayake 15, J. Jayasuriya 21, S. Gunasekera 14, K.Lokuarachchi 21 n.o)
D.S.Senanayake - (43 for 1 overnight) 259 for 8 dec. (M .Maduwantha 63, S.Rajakaruna 27, N. Abeywickrema 21, R.Gunasekera 41, M.Alwis 43, D.Vinod 14 n.o; A.Gallage 3 for 40, C. Peiris 2 for 71, K.Lokuarachchi 3 for 85)
---
Spinner Fernando bags 5/36
By Ravi Nagahawatte
Seventeen-year-old spinner Malshan Fernando underscored his ability as a crafty spinner by bagging five wickets on the final day of the Wesley- St. Sebastian's cricket fixture which ended in a drab draw at Campbell Park yesterday.
The left arm spinner simply looked unplayable as he skimmed through the Wesleyites batting line-up in the second innings to bowl out the hosts for a paltry 124 runs.
The match failed to offer anything exciting other than when Fernando was on a hat-trick just prior to the close of play.
The visiting Sebastianites made 154 for 8 declared in their first innings which was propped up by a solid 76 by Sumalka Perera. The Wesleyites, who were involved in a run crawl on the first day's play , managed to get 186 for 5 before declaring. M.de Silva made a valuable 62.
Wesley - 186 for 5 dec.(R .Wijetunga 31, M.de Silva 62, N.Fernando 29; D.Fernando 2 for 43) and 124 all out in 49.3 overs (R.Wijetunga 33, M.de Silva 22; D.Fernando 2 for 36, Malshan Fernando 5 for 36)
St.Sebastians - first innings 48 for 2 o/n contd. 154 for 8 dec.( S. Perera 76, P. Perera 21; D. Chandrasekare 2 for 41, S.Kolombage 3 for 36)
---
Ananda-Bens settle for draw
The Elephant Lemonande cup Inter-School cricket match between Ananda and St.Benedict's ended in draw at Ananda Mawatha yesterday.
St.Benedict's in reply to Ananda's score 271 for 8 dec. made 212 for 9 and declared the innings.
Ananda - 271 for 8 dec and 18 for no loss dec
St.Benedict's - 212 for 9 dec (C. Devinda 35, C.Perera 25, K.Priyantha 21, S.Fernando 41, J. Saverimutthupull 38n.o, B. Saverimutthupulle 29n.o; ; S.Bandara 2 for 21, M.Pushpakumara 3 for 58) and 2 for no loss
Draw at Lake View
The Inter-School cricket match between Dharmaraja 'A' and Kegalu MV ended in a draw at Lake View yesterday.
This match too was curtailed due to rain.
The highlight of this drawn encounter was a steady 70 by B.Suriyampola and a quick unbeaten 58 by V.Liyanage.
Dharmaraja - 211 for 6 (M.Wijekoon 22, S.Wijeratne 17, B.Suriyampola 70, V.Vithanage 58 n.o, R.Ekanayake 13 n.o; F.Karunaratne 2 for 30,S.Athurupane 2 for32) and 157 for 3 (A.Dissanayake 70, M.Wijekoon 64, W.Seneviratne 12; T.Indika 2 foe 63).
Kegalu MV - 126 (T.Indika 42, S.Karunaratne 17, P. Wijesuriya 17, P.Tillekeratne 15; W.Seneviratne 3 for 14, R.Pitigala 3 for 11, R.Ekanayake 2 for 18)Raddoluwa amass 407
Batsmen dominated in the drawn inter school cricket match between Raddoluwa MV and President's College Rajagiriya at Rajagiriya.
President's College - 332 (D.Suriyarachchi 31, Amila Gunawardena 44, P.C.Jayasinghe 69, P.Munasinghe 87, S.Kankanamge 52; Nisal Gunatilleke 5 for 120, N.Pannila Withanage 3 for 78, C.Kulasinghe 2 for 15).
Raddoluwa - 407 (I. K.Kumara 67, S.Arangalle 48, T.Ranatunga 66, N.Gunatilleke 48 n.o; R.S.Jayawickrema 2 for 33, P.C.Jayasundare 6 for 102)
Heavy rain at Asgiriya
By Shane Seneviratne
Heavy rain halted play in the Trinity-S.Thomas' Inter-School cricket match at the Asgiriya Stadium yesterday.
On Friday too the match was halted at 4 p.m due to rain.
The Thomians batting first declared their innings at128 for 8 with J. Fernando top scoring with 46 while Trinity replied with 113 for 5 when rain intervened.
S.Thomas' - 128 for 8 dec. (R.Perera 25, H.Caldera 25, J.Fernando, L.Fernando 10; K.Weeraratne 2 for 34, R.Gamage 3 for 27)
Trinity - 113 for 5 (A. Imbuldeniya 35, K.Weeraratne 33, R.Gamage 16 n.o; NAren Ratwatte 2 for 22).
---
Thomian rowers dominate
By Annesley Ferreira
It was a double celebration for S.Thomas' Mt. Lavinia yesterday. The Thomian rowing team emerged champions at the 16th annual Rowing Nationals for the third consecutive year with skipper Heshan Henry winning the schoolboy's sculler trophy at the Beira Lake yesterday.
Both Royal and S.Thomas' tied on 34 points each and the stage was set for a thrilling finish in the senior fours to decide the overall championships. The Thomians with much grit and determination led by Heshan Henry managed to win the ten aggregate points with a time of 6 mts.29 secs, while Colombo Rowing Club finished joint second with University of Moratuwa with 16 points each and new entrants St. Joseph's were fourth with16 points.
In a novel event, Ladies College, Musaeus, Colombo and University of Moratuwa, added a lot of colour to the meet with the ladies races.
Under 16 sculls: Lakith Lankaputhra (Royal) 5 mts. 22 secs; Junior Sculls: Ahmed Aslam (Royal); Intermediate Sculls: Yohan Lawrence (CRC) 5 mts. 13 secs; Senior Sculls: K.Jirasinghe (Royal) 8 mts. 17 secs; Junior Pairs: Sanjeewa Perera, Shehan Peiris, R.Fernando (Royal) 4 mts. 25 secs; Intermediate Pairs:Prabath Fernando, Mahesh Dineratne, Kapila Dissanayake (University of Moratuwa) 6 mts. 20 secs; Senior Pairs: K.Seneviratne, D.Seneviratne (S.Thomas')7 mts. 4 secs; Ladies Sculls: Mithila Gunawardena 6 mts. 20 secs; Ladies Pairs: S.Dayaratne, S.Ratnayake, N.Jayaweera (University of Colombo) 5 mts. 20 secs; Ladies Fours: University of Colombo 5 mts.37 secs.
Mrs. J.C.Pinnawella, Additional Secretary to the Ministry of Youth Affairs and Sports was the chief guest.
---
Astle spurs New Zealand to victory
AUCKLAND, Saturday (AFP) - New Zealand, led by a fine century from Nathan Astle, cruised to a seven wicket win with 6.5 overs to spare against South Africa Saturday to lead the six-match series 2-1.
New Zealand captain Dion Nash put the Proteas in on Eden Park's slow, turning wicket and his bowlers responded by restricting South Africa to an inadequate 212 for seven.
For South Africa, only Lance Klusener, who made 103 not out, came to terms with the tight bowling on the sluggish wicket. No other batsman made a significant contribution.
New Zealand's form batsmen Astle, Roger Twose, and Adam Parore never looked in any danger of wasting their chance.
Man-of-the-match Astle, who hit a match-winning 95 for New Zealand in the first match of the series, smashed two sixes and 11 fours in his 126 ball innings. He reached exactly 100 when he hit the winning runs to bring up his sixth one-day century for N Z.
He put on 39 for the first wicket before Matthew Horne on 21 spooned Shaun Pollock to Klusener.
Fast bowler Allan Donald gave South Africa a glimmer of hope when he had the aggressive Craig McMillan caught behind in his first over, but Astle and Twose then proceeded to build a 71-run record fourth wicket partnership for New Zealand against South Africa.
South Africa - 212 for 7 in 50 overs ( M.V. Boucher 16, L. Klusener 103 n.o, J.H. Kallis 12, D.J. Cullinan 14 , J.N. Rhodes 18, S.M Pollock 20, N. Boje 12 n.o; Allott 2 for 51, Harris 3 for 32, Astle 1 for 11) - 3 0 11 1
New Zealand- 215 for 3 in 43.1 overs ( M.J. Horne 21, N.J. Astle 100 n.o, C.D McMillan 13, R.G. Twose 28, A.C. Parore 26 n.o; Donald 1 for 21, Klusener 1 for 29 )
---
Six bowlers reported for chucking
By Marlon Fernandopulle
The unsavoury incidences that unfolded at the Boxing Day Test in Melbourne (1995/96) and the Adelaide Oval earlier this year regarding throwing, is threatening to spill over to the local cricket scene after no less than six bowlers were reported by Umpires for suspect actions in Sri Lanka's Premier Cricket tournament.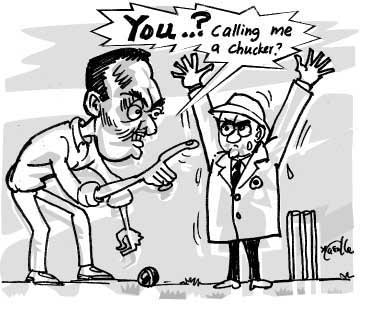 Despite these bowlers being reported to the Board of Control for Cricket in Sri Lanka (BCCSL) The Sunday Times learns that no action has been taken and the bowlers continue playing using their illegal action.Adding insult to injury is the fact that these bowlers continue taking wickets and play a major part in their teams' successes. The six bowlers reported are Kumar Dhrmasena,Batheesha de Silva,Pulasthi Gunaratne(all from Bloomfield) and Kesara Jayasinghe and Asela Jayasinghe(both from Moors SC)and Chintaka Jayasinghe(NCC). Moors are currently 3rd in the points table while Bloomfied and NCC are placed 4th and 5th respectively.
The Chairman of the Umpires Committee A R M Aroos is of the view that bowlers once reported in a match by the Umpire should be suspended from playing with immediate effect and given the green light to play only after their action is reviewed by the Technical Committee which comprises Past Sri Lanka cricketers and the ICC appointed umpires.Aroos insists that a ruling to this effect must be made for the current tournament.His views are also shared by some of the members of the Ex-co but not by all members thus shelving the matter. Why the authorities concerned in the Cricket Board are soft pedalling a crucial issue like this is a matter of concern.Is it because the Annual General Meeting is round the corner and the CB officials fear that they will lose some support at the AGM?
Umpires officiating in these games are now wondering whether these bowlers should be called in the middle of a match.However this will lead to the bowler being humiliated as well as the Umpire running the risk of being threatened by players or club officials.With the number of incidences on and off the field already on the increase and leading players being reported for bringing the game in to disrepute the calling of a bowler for throwing will only add fuel to the fire.However if the cricket board is dragging it's feet on the issue it's upto the gentlemen in the white coats to take over and ensure that the game is played in the way it should be played. Infact last week when a bowler was called for throwing by an Umpire in a Premier Championship game he had challenged the man in the white coat saying that his action was cleared by a former Sri Lanka spinner now a member of the Technical committee.The Umpire had no option but to refrain from calling the bowler again.Thus the bowler continued to bowl using the same action which clearly resembled a throw.Later after the game, upon checking with the former Test cricketer it was revealed that no such clearance was given.
We have branded cricket's governing body the ICC as a toothless tiger for not having the power to rule in crucial issues but find ourselves in a worse situation where despite the provision being there to bring in a new law for tournaments the men that govern the game in our country continue to turn a deaf ear on this issue for reasons best known to them
---
SLCF, Victoria donates cricket equipment
From Bernie Wijesekera in Australia
The Sri Lanka Cricket Foundation in Victoria who has done much for further development of cricket in their motherland is to the fore again!
This time they have donated cricket equipment worth A$ 5000 - scoreboards and pitch covers. The presentation was made to the Cricket Board President, Thilanga Sumathipala, at a reception accorded to the Sri Lanka cricket team held at the Knox Tavern Hotel on Feb 5.
The presentation was followed by a dinner, attended by 250 guests. Among them were the Minister of Industries, C. V. Gooneratne and Sri Lanka High Commisssioner in Australia, K. H. G. Bandara.
The foundation since its inception has given a tremendous boost to Sri Lanka cricket with men and material for further upliftment of the game. CB President Sumathipala, commended the SLCFV for their unstinted support which is going to help the game - especially in the outstations. He had a word of praise for David Cruise - a staunch supporter of the game and a source of inspiration to the Lankan cricketers with his fellowship. As a token of gratitude on behalf of the BCCSL he presented a World Cup bat to David and his wife Cathy Cruise.
The SLCFV officials, who attended the function were :- Dr. Quintus de Zylva, Eddie Gray (who had a big hand in this reception), Ian Crawford, Astor de Silva, Bertie Ekanayake, Nigel de Krestser, Bob Parish, Dr. David Young etc.
Eddie Gray, one of the pioneers of the late Duncan White Sports foundation scheduled to be held in Kandy next month, is expected to be there in time for the occasion.
Last year Eddie, along with the legendary White attended the presentation. White passed away in July 1998. Gray, an ardent Old Royalist, is expected to stay back to watch the Battle of the Blues.
---
CCC School of Cricket celebrate 1st Anniversary
Arjuna's six led by Jayavi de Silva won the seniors tournament beating Aravinda's six led by Pavithra Solomons in the CCC School of Cricket which celebrated its first anniversary at the Colts Grounds.
The Losers Plate was won by Hashan's six led by Yasas Hewawitharana who beat Sanath's six led by Damith Warusawithana.
Among the juniors, Murali's six led by Thilina Samarasinghe won the championships defeating Roshan' s six led by Erandha Fernando.
In the Parents vs Students match the parents won.
Individual awards -
Seniors- Best Batsman- Jayavi de Silva.
Best Bowler- Chamara Moonamale.
Best Fielder- Amrit Wijesuriya
Juniors- Best Batsman - Thilina Samarasinghe.
Best Bowler- Niroshan Narammala.
Best Fielder- Erandha Fernando.
Man of the final-Seniors- Jayavi de Silva.
Man of the final- Juniors- Thilina Samarasinghe
Nelson Mendis, Director Coaching and a committee of parents organised the tournament
---
Rover pinpoints...
Still not met
Four months ago a committee of four were proposed from the Chair to inquire into the WorldTel affair which took the country by storm.
Officials were accused of paying out tidy sums of money.
Amongst the list was the name of a top VIP.
The four-member committee was appointed to clear a senior officials' name. It is strange however to note that that committee has not met as yet!
Coach or consultant?
Rover learns that Darryl Foster has been signed up as Sri Lanka's cricket coach for the World Cup in May in England.
It has been stated that he has been signed up as a consultant only. In which case what will happen to Roy Dias?
Rights taken over
How come the appointments of cricket umpires for the big matches have been taken over by the Cricket Board? Earlier the Secretary of the Umpires' Association would nominate twenty umpires graded to schools who make their pick. But this year Rover learns, five more names have been added by the Cricket Board.
Affiliates wonder and ponder?
Affiliated and controlling clubs are required to submit names of office bearers once their AGM's are held to the Board of Control for Cricket in Sri Lanka. This is to fulfill the requirements of the Board.
But all affiliated and controlling clubs have not received acknowledgement for their letters from the Cricket Board Secretary.
The Clubs say, if minutes of the Exco meeting are not circulated how come they expect acknowledgement letters!
Minister of Sports, doesn't your rep sit at Exco meetings? If so why no action from the ministry?
Jolly trip
The Cricket Board has picked a senior person of some standing to visit New Zealand for ten days at a tidy sum to study the art of being of a curator, but alas without coming back to Sri Lanka to prepare wickets for the Asian Test Championships he has taken wing to Australia.