Show me your mouth
An Oral Cancer Screening programme is being carried out in the Central Province following the donation of a Mobile Oral Cancer Unit by Rotary International to the Faculty of Dental Sciences, University of Peradeniya. The Unit, was obtained through a joint project programme of Rotary International District 1200 of the UK and Rotary International District 3220 of Sri Lanka.

The Oral Cancer Screening Programme is being conducted by the Faculty's academic staff, government dental surgeons, the staff of the Department of Oral Medicine and Rotary volunteers.

Already screening has begun on the plantations and in rural areas. Heading the project is Dr. V. Vijayakumaran, Lecturer, Faculty of Dental Sciences, himself a Rotarian, and past president of Rotary, Kandy.
Ashley Halpe retires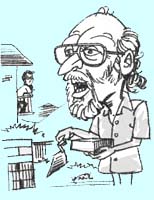 Professor Ashley Halpe had retired. While Peradeniya University will be the loser, the cheering news is that he will still be in Kandy and much a part of the scene.

Right now, he's putting the finishing touches on his house at Anniwatte, to which he will be moving soon. He assures me that he will continue to make himself available to the University that has always been a large part of his life.
A different sort of stampede
Peculiar things happen in Kandy. Suddenly, on Independence Day, one was treated to a sort of human stampede as all manner of people, indignation written large on their faces, rushed to and around the police station to protest against the release of 131 head of cattle to their owners. The cattle were being transported to the Mahaweli region in four lorries.

While Kandy's Chief Magistrate fined the men transporting the cattle for being cruel to the dumb beasts, there was no reason not to order the release of the animals to their owners.

But Kandy is full of people who have little else to do but stick their hooves into other people's affairs. The police did their duty, the Courts theirs, but evidently this was not enough.

Various full- blooded persons (incredibly so since they swear they consume no flesh) considered themselves both the police and the judiciary. They insisted that the cattle be released to them; that they would buy the beasts and look after them and assure them an old-age retirement plan as well as EPF and ETF.

They insisted that the animals not be handed to the owners. In short, they made a very public showing of Contempt of Court and openly challenged the findings of the Law.

Great fun was had by all. Problem here is that there are too many people around who want to demonstrate that they can do whatever they please and intimidate whoever they wish!
With elegance and class
After one year of preparation, Sarasavi Bookshop opened its Kandy branch on Independence Day, and Managing Director, H.D. Premasiri was a very pleased man indeed. The bookshop in Trincomalee Street is quite the most elegant establishment: beautifully tiled floors, incredibly clean rooms with everything from stationery and art material, to a complete ground floor devoted to Sinhalese books and the upper floors to English.

Premasiri started his book business from a small shop at Padukka 51 years ago - on our first Independence Day and this accounts for the 4th of February opening at Kandy.

Sarasavi are agents for Longman's of the UK and, as Manager Jagath Samarasinghe said, the Kandy branch is designed to cater to everybody's needs and, what is more, everybody's pockets.

The shop itself has been so radically, so lovingly transformed that I could only think, on the one hand of Cinderella in the kitchen and, on the other, Cinderella dressed for the Ball!

At the opening ceremony were Professor K.N.U. Dharmadasa, Dean Faculty of Arts of Peradeniya, who was chief guest and Pandit W.D.A. Amaradeva who really should have burst into song. I'm sure he would have liked to do so.