'Shanthi' weds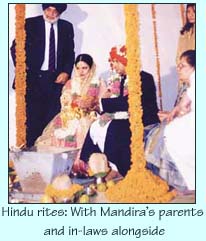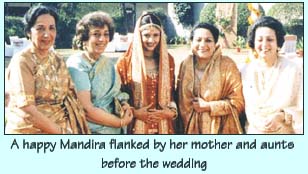 Mandira Bedi, the winsome star whose exploits and adventures in the popular TV series 'Shanthi ' have held Lankan viewers spellbound for all of 600 episodes, tied the knot in a Valentine's Day wedding in Delhi.

Mandira, who received a tumultuous reception from her local fans when she visited Sri Lanka last year married Raj, a young film director and the couple went through both Sikh and Hindu wedding ceremonies in accordance with their respective religions.

For the Sikh ceremony, Mandira was resplendent in an exquisitely worked red bridal outfit created by well-known designer Ritu and for the Hindu ceremony she chose her mother's wedding saree.