Mishandling drags Pannala into communal tension
By Shelani de Silva and Nilika de Silva
In the aftermath of clashes that provoked communal tension, Pannala till Friday was like a fortress with police and Army patrol all over and few signs of normal civilian life.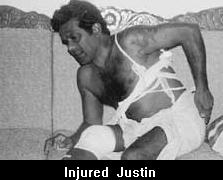 The situation was still volatile with Muslims saying they could not come to the town for business while the Sinhala people accused the police of allowing a personal incident to blow up into a communal rift.
It all started last Sunday when a group of Sinhala youth went to a hotel in the largely Muslim Village of Alabada for dinner. They allegedly tried to leave without paying the bill and a clash had ensued, resulting in the death of 39-year-old Priyantha Fernando.
The dispute did not end there but erupted at Priyantha's funeral when police clashed with crowds returning from the cemetery.
Police said they acted to prevent the crowd from attacking the predominantly Muslim village of Alabada.
The funeral procession had gone smoothly until a group of youth had thrown a bomb at a police patrol, police alleged. To control the crowds the police had fired rubber bullets followed by tear gas and a baton charge.
However the villagers are accusing the police of excesses.
Following Tuesday's clash two youth were killed and nine seriously injured, adding fuel to the fire from the controversial Wayamba elections.
When we visited Pannala on Friday, most of the shops were closed and we saw few people on the roads. Priyantha's grief stricken father Lionel Fernando blamed the police for the communal tension.
"If the police took immediate steps this would not have occurred. The villagers are disgusted with the police. The situation was brought under control only after the Army came in. But the problem is not settled. When Muslim businessmen come to Pannala town where they own 21 shops, we don't know what will happen," Mr. Fernando said.
These feelings were echoed by many other villagers we spoke to. Justin's knee cap and shoulder was injured in the police baton charge. He alleged that the police did not spare even children and women.
Pannala's police Inspector Palitha Amaratunga defended the police claiming that the crowd turned unruly and tried to go to Elabadagama to attack the Muslim villagers.
"The Muslims are still afraid to come to town. We have to arrest the culprits. That's why some of the villagers are angry," he said.
When many areas in Wayamba were hit by election violence during the recent campaign, Pannala had remained relatively peaceful. But the lack of wisdom and skill in handling a dispute over a food bill dragged Pannala into the cockpits of hatred and violence as elsewhere in the province.
---
Private tea factory owners seek relief
By Ayesha R. Rafiq
Private Tea factory owners have urged the Government to lift what they call restrictive controls on them and grant them financial assistance if they are to continue profitably in the trade.
The trade which has faced a continuous decline since September last year is now in serious trouble and has run into debts which they say they are unable to pay due to unfair government controls.
Factory owners and tea trade experts claim that the guaranteed price they are required to pay to the smallholder suppliers is more than the price they can obtain by selling the tea at the auctions, thereby losing millions.
Repeated requests to the government for redress had gone unanswered, they said.
Herman Gunaratna, a committee member of the Private Tea Factory Owners Association, said subsidies provided to them by the government on machinery had been removed from this year.
This was done in compliance with an ADB recommendation forcing the factory owners to operate under free market regulations.
But the factory owners claim that although the subsidies were removed they are still operating under a socialist market.
The position is further worsened as Russia now buys less tea from Sri Lanka since their trade relations with India are more favourable.
Brokers have also stopped lending money as they have already over advanced money to the factory owners.
As such, the sector is asking the government to remove the controls or if not, subsidise them in return for the factory owners subsidising the smallholders.
---
Pilots demand same pay as expats
By M.Ismeth
The Airline Pilots Guild of Sri Lanka will meet this week to demand the salary equivalent to what is now being paid to expatriate pilots, failing which they would take the issue to the Industrial Court and even resort to strike action.
According to guild sources, there is a disparity in the salary paid to them compared to that of expatriate pilots. While a Sri Lankan pilot is paid around US dollars 1,500 (paid in local currency) which includes tax, defence levy etc. an expatriate pilot is paid around US dollars 7,500 which is tax free.
Sri Lankan pilots say they do not want to be second class citizens in their own country. AirLanka pilots have always been paid low salaries , a senior captain would get half of what a domestic pilot in India gets.
Sources said that as a result of this disparity in the salary structure, some senior-most pilots have to look elsewhere, to work as expatriates to secure a decent retirement, educate their children etc.Many of our best pilots have joined Singapore Airlines, Gulf Air and other airlines.This exodus continues todate sources added.
---
UNP claims Rs. 5 million in flag fiasco
The UNP has filed a fundamental rights petition claiming Rs. 5 million as damages from the state for the alleged police action in pulling down flags the party put up for a protest rally.
In the petition, UNP General Secretary Gamini Atukorale, said the party had put up white flags with black crosses all over Colombo for the rally at Hyde Park on February 2 to symbolise the death of democracy in the Wayamba fraud. For this the party had spent about Rs. 200,000.
He said approval had been obtained from Colombo Municipal Council and the flags were put up early morning on the day of the protest rally.
Later in the day the flags were torn down by personnel in civvies backed up by police jeeps, he alleged.
---
Dhanapala recovering
Jayantha Dhanapala, UN Under-Secretary-General for Disarmament Affairs, was taken ill last week and had to undergo an angioplasty — a cardiac procedure — at the New York University Hospital.
After announcing the illness, UN spokesman Fred Eckhard wished Mr. Dhanapla a speedy recovery. He is recuperating at home.
---
The Candid Cabinet Column
Will all these promises be one big April Fool's joke
Excerpts from this week's cabinet press briefing.
Q - Minister G.L. Peiris, regarding all the laudable notions that were mentioned about cleaning up the electoral process before the April first elections, is there any possibility that these notions will end up becoming an April Fool's joke. Because so far nothing tangible has been done by the President though she had said, as you said today, that the political culture should be changed.Nothing tangible has been done so far to ameliorate this situation. So is this merely lip service?
A- Well that is for the country to judge. These are changes that will have to made with the consent of the entire body politic.For changes with regard to franchise, we need a two thirds majority in Parliament. They will also require the support of the people at a referendum. What we propose to do is take account of the gravity of the existing situation. It is not principally, as far as I'm concerned an exercise in the apportionment of blame. But we would like to recognise in a spirit of candour what the problems are and suggest certain practical approaches to the solutions of those problems.
Q - How are you going to protect the polling booths ?
A - In foreign countries like Canada, they have an effective way of dealing with impersonations. Once a voter has established his identity he is permitted to cast his vote irrespective of whether he has been impersonated. At the count the invalid votes are excluded.
The decision at the last election was that if there is stuffing in the boxes and that is …the final solution that vote won't be counted. This time over 48,000 votes were removed from that particular polling station. So people who are stuffing should realise that that would be futile because those will be removed.
Q - The President suggested a committee to look in to the reports of violence and rigging at the Wayamba election. Has that committee started up its work?
Minister Samaraweera - No, that will be named when Her Excellency comes back. And also this matter about our members will be taken up at the next central committee meeting of the SLFP scheduled for the 18th of this month.
Q - You acknowledged yourself that there were 40,000 votes rejected from the Wayamba elections. That means 40,000 people have lost their right to franchise. If there is going to be a deterrent from this towards April 1st, something should be done soon and why isn't it done now? Also if that is the case why has the government not considered dissolving the Wayamba Provincial Council and holding fresh elections, because if there is any deterrent from what you acknowledged has happened in Wayamba that's what should be done.
Minister Samaraweera - Yes, as I said the deterrent is, the correct signal given by the Elections Commissioner that these votes will not be counted any more. I mean, I think that this is a unique decision for the simple reason had that decision been taken in 1988, President Premadasa would never have become President of this country, because there was only a matter of 23,000 votes over the 50% mark which was needed to become President. But of course that is not the final solution.
Q - Mass transfers of Police officials going on at the moment. What about action being taken against candidates who perpetrated violence and indulged in ballot rigging?
Minister Samaraweera - If you are talking about action against ballot rigging well it became fairly distinct on both sides. As I said about our members where there are complaints we will be taking those cases up at the SLFP Central Committee which is to meet on the 18th which falls next Wednesday or Thursday.
Q - So people will be named as having perpetrated violence there?
Minister Samaraweera - For once, anyone who has any details the President has asked those names to be submitted to the Central Committee. If you have any information although you are not a member of the SLFP you are most welcome to send us the information.
Q - Talking of journalists Minister Samaraweera, certain aspersions were cast on some of these journalists who were involved in electoral process as monitors, (some colleagues were probably not here today). So do you subscribe to these allegations made by some ministers that these monitors were biased and that they were furthering their own agenda. What do you think of these monitors?
Minister Samaraweera - I think some of them were biased .But I believe that some of the ministers are taking legal action against to protect their good name. Now, of the reports released on election day itself, (Mr. Abeynayake actually you in your article said that I met the monitors. I didn't. But I was hoping to meet them before the elections).
---
Vocal chords get sore over Wayamba
By Dilrukshi Handunnetti, Our Lobby Correspondent
White flags flew and the massive Parliament bell changed out in protest last Thursday, as the UNP still fumbling with its role as the main Opposition boycotted sessions and trooped out in an effort to pin blame on the government for the Wayamba fiasco- which coincided strangely with Parliamentarian Nalanda Ellawala's death anniversary.
And so the PA members felt it quite appropriate to field all election related allegations with a reminder of the UNP's legacy of political violence. And the UNP acted as if the flame of democracy could be kept alive simply by shouting themselves hoarse- if last week's performance was anything to go by.
Exercising their vocal chords apart, the debate on the extension of the emergency as predicted focused on Wayamba . Seeking to amend the list of incidents tabled in the morning by Minister Anuruddha Ratwatte was UNP's firebrand General Secretary Gamini Atukorala- lambasting the government with customary fire.
Breathing fire and supporting his claims with many statements which condemned the polls, he thundered:"Your Wayamba record is such that it has put previous election malpractices to shame, and provided us with ample ammunition for a series of election petitions. What's more, many ministers who spearheaded the campaign would invariably become respondents. But the tragedy was that the daughter of a revered democrat snuffed out the people's right to elect representatives of their choice."
At the end of his laborious account, the genial Alavi Moulana with a penchant for alliteration scoffed at the UNP openly, but without venom.
"I have no grouse, so I shall not rouse " said he to the amusement of an election- fatigued house.
The lanky minister explained at length the personal suffering he underwent with the loss of kith and kin due to political violence. " I don't wish the same for anyone, I know what it means to emotionally bleed. And to hear theories of duplicity from the perpetrators and political jackals of the dubious 'pot and lamp' fame was the worst."
Openly scoffing, he said the UNP and JVP were partners in crime. It was a joint operation of killing political opponents and once the mission was accomplished, Rohana Wijeweera was eliminated.
It was Wayamba all the way as TULF's R. Sampanthan criticised the Wayamba polls zealously, appealing for more accountability in public life. He said instead of maligning election monitors who took enormous risks to perform a certain civic duty, they had to be appreciated for breaking the general apathy.
Prof. Wiswa Warnapala was in no mood to concede anything, and launched on a zealous tirade to perform the 'Wayamba post mortem'. With daggers drawn, he questioned the credibility of certain critics.
"The astonishing thing was UNP's lack of organizational skills, weak leadership coupled with the failure to read the public mood. The whole thing was miscalculated and backfired on the UNP which had conceded defeat before the battle began- hence the active participation of discredited police personnel and politicians with criminal pasts."
Attacking the media in the same breath, he accused it of working overtime and overstretching its imagination , conveniently forgetting that facts were sacred. "Media freedom became a fig leaf with which it could not cover its nakedness."
Deputy Minister Chandrasiri Gajadeera, in a different mood waxed eloquent on the ills of the electoral system, condemning the tactics of impersonation and stuffing ballot boxes which have assumed the level of a fine art.
Stripping women in public became the focal point of Amara Piyaseeli Ratnayake's speech as she gave graphic descriptions to the House about various stripping incidents that marred the Wayamba polls.
"Look at what has become of a once culturally rich country where grandmothers and girls are stripped, assaulted and made to parade on the road. With a woman as President and Commander-in -Chief it is indeed strange that there has been no follow up action," she accused.
Accusing the UNP of shirking its responsibility as an opposition, was silver haired Deputy Minister Reggie Ranatunge who laboured the point that the UNP after a stinging defeat had forgotten what an emergency debate was supposed to be and instead resorted to holding placards and marching out of the house at will.
Meeting UNP accusations with a democratic facade was Deputy Media Minister Anura Yapa who said the UNP could vilify others only if it had not violated election laws.
Education Minister Richard Pathirane was in a reflective mood. While condemning the violence and rigging that marred the polls, he recalled.
"The UNP's legacy was unpardonable. When I faced a by-election, I asked the Election Commissioner to vouch for the transporting of 47 ballot boxes to the counting centre, and he refused saying he could never be certain. Such was the UNP's five star democracy" he chided.
As politics made strange bed fellows, and in the mass absenteeism of the UNP, it was SLPF's Nihal Galappatty who made use of the UNP's speaking time.' "Are you a UNPer? Is that why you raise questions on behalf of the UNP" heckled PA backbenchers and a flustered Galappatty strived to clear his name with vehemence.
True to style, he vilified ministers, with enthusiasm and exceeded his time. And despite the Speaker's repeated requests, he kept on talking so much that when Deputy Minister Samaraweera Weerawanni was finally allowed to speak, he venomously attacked the JVP- calling it the worst perpetrator of democracy and a villain of the worst degree. Concluding the debate Minister Ratwatte observed there was no joy in an opposition-free parliament. "The UNP has resorted to the new trick of running away at the drop of a hat, protesting and crying fowl and ringing bells, not realizing that whatever the reason may be for absconding, a vibrant democracy demanded the presence of an opposition," he said.