Trauma: a lasting effect of the war
By Feizal Samath
The 20th century has been awash with a series of devastating wars much of which are so-called "low intensity" civil conflicts that have engulfed entire populations.
From Cambodia to Vietnam; from Bosnia to Iraq, human suffering has reached no end as raging conflicts result in death and destruction. Millions have been maimed or rendered homeless. Others are forced to flee their homes, leaving behind their belongings and loved ones, often to re-start life in stranger surroundings or a new country.
As Sri Lanka's 15-year old ethnic war plods on in an endless quagmire of human waste and suffering, much is said about the warring parties, their demands, their needs. But little is spoken of the third party to the conflict - the civilian.Sri Lanka's conflict, which has cost the lives of thousands of combatants and civilians, is one such war in the stage of global conflicts that epitomises the trauma, horror and devastation that has characterised warfare through human history.
In this background - and perhaps for the first time - a noted Sri Lankan Tamil psychiatrist has undertaken a remarkable study of the little discussed aspect of the psychological trauma inflicted upon civilians caught in the midst of such conflicts.
Professor Daya Somasunderam's book "Scarred Minds", released this month in Colombo, provides a psychological impact of war not only on Sri Lankan Tamils, the minority that has suffered most in the current conflict, but also of people affected by conflicts elsewhere.
In this book, Somasunderam presents a theoretical and clinical study of the psychological causes and effects of continuous violence and the widespread use of terror. The author, currently professor of psychiatry at the University of Jaffna in the war-torn north, has himself been a witness to the violence, both as a doctor and as a refugee.
One relives the nightmarish and turbulent periods of the war between 1983 and 1997 as Somasunderam delves into detail about the violence than engulfed the northern and eastern regions, the main actors involved and the trauma and suffering faced by non-combatants.
In a foreword, Indian sociologist, Professor Veena Das says that the Tamil population had to suffer violence which was sometimes spectacular, "sometimes hidden, sometimes organised, sometimes random, in a way that their ordinary, everyday world became irretrievably lost to them."
Somasunderam talks about the wounds suffered by victims as well as the vanquished but his eye also registers the brutality that was done to young persons who joined militant groups or were picked up for training in camps in India, which once trained and fostered Tamil guerrilla groups.
Somasunderam's book discusses in detail the background to the war, the geography and demographic composition, and economy and religion. Much of the violence and trauma, graphically told in the book, is during India's military intervention in the late 1980s and Sri Lankan military operations in the north and the east.
He says that the war never reached the degree or intensity of a conventional battle. "It was more a chronic, periodic 'low intensity conflict' punctuated with guerrilla attacks, followed by civilian reprisals," the Sri Lankan psychatrist says noting that amongst death and destruction "people somehow learned to adapt and come to terms with this existential fear."
Normality and sanity take on new meanings, as Somasunderam shows how entire communities adjust to the reality of their violent surroundings, arguing that recurrent violence begets nothing but widespread destruction, mental trauma and a breakdown in social order and individual relationships.
Analysing the psychological effects of war, Somasunderam discusses various symptoms like stress, various forms of trauma, displacement from homes and life-threatening situations, and torture.
He said many Tamils living abroad developed various types of mental disorders and some were forced to return when treatment in the host country proved inadequate.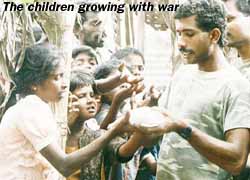 Somasunderam, who earlier published a study on children growing in war zones, wrote this time that children - though frightened by war events - usually responded directly and appropriately to the threat they appraised and rarely showed defensive mechanisms like psychic numbing.
"In some circumstances where parents have regressed in the face of traumatic events, or died, or were otherwise not present, children have taken over adult roles and acted responsibly," he said.
But he acknowledged that the long-term responses of children to death, destruction and disruption may not be easily recognised by adults, as children cannot verbally express their feelings and experiences.
At the heart of the book are vivid case histories of psychiatric and mental disorders treated by Somasunderam and his colleagues at Jaffna University's Psychiatric Unit.
There is the case of a 65-year old woman, who was highly suicidal after seeing her son and close kinsman being cut to death by a group of soldiers as they travelled in a boat in a Sri Lankan lagoon; a 21 year old university student suffering from giddiness and loss of concentration after being detained and systematically tortured in army camps; and a 30 year old doctor whose husband was gunned down at an army checkpoint propelling her into a darkness of solitary confinement.
The book includes a survey of ex-detainees who recount how they became so terrorised when going through the numerous checkpoints by Sri Lankan military personnel that they aroused immediate suspicion.
Somasunderam, who once served as a consultant psychiatrist in Cambodia for the Transcultural Psychosocial Organisation, also details the management and treatment of victims of the war, recommending counselling, psychotherapy, group and family therapy and other forms of care.