It's all there at the Golden Sun
A Ray of Comfort, you can say that again. If you want the sea, the sun, and the stars, well it ís all there, an hour away from Colombo. You say you want the moon? Sorry, I hear even that guy Caligula got a negative on that one.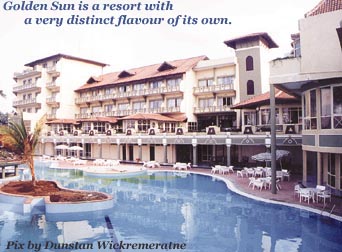 Golden Sun at Kalutara is a resort with a very distinct flavour of its own. The 200 metre beachfront ensures an exclusive holiday with a horizon tailor-made for you. For someone who loves luxury but hates flashy surroundings, I feel it hits the spot. Imagine lolling in bed gazing at the coconut trees silhouetted on the gauzy white curtains with so many things 'to do, or, not to do'. The variety of activities is attractive but then again the atmosphere is so relaxing.
The Waves Restaurant and Terrace made me feel that I had been transported to a continental destination. The question how was it named popped into my mind? When I posed it to Upul Gamage, the G.M. I got the answer, because all you can see is waves. Simple. And I guess the murals done by David Roberts didn't rock the boat.
Golden Sun Resort opened on November 1, this year. A BOI company, it is a 100% Singaporean investment managed by Aitken Spence Hotels. The service is provided by a very team-spirited staff. It was refreshing to see the way the G.M. spoke to the staff. It was a very easy rapport.
This relaxed quality within the management naturally wafted over the guests. Even the names for the restaurants and bars and the resort itself had grown out of a brainstorming session among the executives.
The staff of 150 include a Russian girl named Victoria, a resident here, who is in charge of 'Sun Power Centre' a fully equipped gym together with Jacuzzi, Scandinavian sauna, steam and massage. For the serious squash enthusiast there are super squash courts, while the ardent tennis fan can even combine starlight with flood lights.
There are 100 rooms, including 32 cabanas from which one steps out into the open air.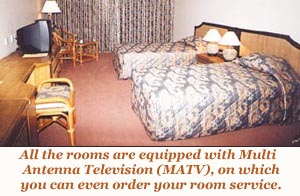 All the rooms are equipped with Multi Antenna Television (MATV). On this TV you can order your room service.
This is the first time in Sri Lanka that MATV is being used in a resort. You can actually check your balance bill curled up in bed and if it makes you jump no problem you'll have a comfortable landing.
The hotel also offers exciting excursions, among them a visit to Bevis Bawa's gardens at 'Brief', the water falls of Thudugalla, and a river safari on the Kalu ganga.