Savour cool Kotmale climes
The historic Pahala Walauwa is the ideal tranquil retreat
The misty heights of the mountain range surround the tranquil waters of the Kotmale reservoir which in turn reflect the beauty of this unique environment. The panoramic view is breathtaking and for a moment one might think that one has been gazing too long at a picture post-card from Switzerland. But this is no postcard, this is upcountry Sri Lanka and you are actually a part of it all.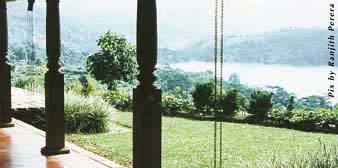 Lazily stretched out on a chair on the back verandah of Pahala Walauwa, for a moment I entertained this hopeless hope that I would never have to go back to the hustle and bustle of modern life. The sound of a farmer working his paddy field, using the traditional method of a 'nagula' twin bulls harnessed, to aid him, wafted over the air.
This I mused, is the "solitude" Wordsworth spoke of and one could be "in vacant or in pensive mood" forever and ever (or let's be more realistic for a weekend), while the sunlight and shadows create different moods in the mountains.
Pahala Walauwa, the "Maha Gedera" or ancestral home of Gamini Dissanayake's mother, has seen a major slice of the history of Ceylon, having been built more than 200 years ago.
Today 50 years after independence, the Walauwa retains its atmosphere of serenity and peace.
Connaissance Hotel Management took over the management of Pahala Walauwa eight months ago and while preserving all its antique charm have transformed it into a guest house. The walauwa nestled in the mountains, 1800 feet above sea level, has four double bedrooms with lovely attached bathrooms in marble, with hot and cold water on tap, and provides a wonderful hideaway for groups of friends or families who'd like more than just a change of climate. Here, the "meda midula" or middle garden, considered an essential component of houses in those days, and which is once again being adopted in modern architecture, is surrounded by a corridor held up by wooden pillars, naturally creating a very cool atmosphere within.
Stone steps lead into the house which is filled with furniture of a bygone era, "kavichchi," "Pettagam," carved chairs and coffee tables.
The "atuva"' or granary which has been preserved to this day has a tale of its own to tell. It is said that since the family at Pahala Walauwa used to provide rice to other village families in the area, during the time of the British the "atuva" had been burnt down as punishment, related Bandula Cooray who is in charge of looking after guests needs.
Bandula has been with the Dissanayake family for a long time. And having his roots in Kotmale he is well equipped to inform one of the attractions Kotmale holds for visitors.
Kotmale is where Prince Dutugemunu sought refuge when he incurred his father's wrath by sending him a parcel of woman's attire as a symbol of cowardice. Fleeing, disguised as a commoner, he hid in the mountains of Kotmale. It is here that while living in the house of Kalu Ethana's family "Visuru Gedera" and working as a farmer that he fell in love with Kalu Ethana.
Therefore among the places to visit of historic significance is "Visuru Gedera" the house where Prince Dutugemunu lived in Kotmale, the "Rana Muna peella" - standing in the middle of the paddy fields, made by him out of stone, where he and his friends bathed after working on the fields beside which is even today an "ambalama" a resting place of stone also believed to have been made by him.
For hikers and explorers there are many other destinations to discover. Ramboda Ella and Gerandi Ella are just two of the many waterfalls to be found in that area.
The numerous springs of Kotmale provide the villagers with water for cultivation and other purposes.
Even Pahala Walauwa depends on a spring for all its needs. The water collected in a tank is used to satisfy all the needs of those in the walauwa.
For purposes of recreation, the lounge with leather saddle chairs, and a television set provides an excellent setting. Carrom and Draughts are among other games provided for guests.
The meals served at Pahala Walauwa are authentic Sri Lankan fare. Mainly rice and curry, "mallum," "polos", and other traditional delicacies which on certain occasions is served on a plantain leaf as the "ambula" the repast served to farmers working on the fields.
On request, other cuisine too could be prepared explained Bandula. Tourists generally like our meals, he stressed.
Pahala Walauwa, located 164 kilometres away from Colombo, is an ideal retreat for writers, poets or artists, or for stressed out people yearning to get away from busy schedules.
The timeless peace of Pahala Walauwa is bound to have a magical effect on you.