Tharuka Dissanaike speaks to Christine Jeffrey about her family of furry felines
Meow..... meow cat's incredible
christine Jeffrey wakes upto a roomful of long haired Persians. By 6.30 every morning her six beautiful cats, all assemble in her room demanding their Kitzyme - a kitty vitamin pill. It's become a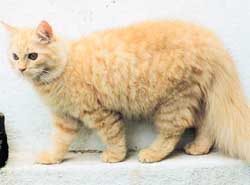 ritual with Christine's new found cat family to start their day the healthy way.
In 1994, on a trip to her native UK, Christine brought down Chelsea - the large male Persian and father of the litter. "I was not a cat lover," she says. "I was a dog-person. My husband was the one who loved cats. But now they have kind of grown on me."
A few years after Chelsea, who actually walks on a leash like a dog, they got the beautiful amber-eyed Cleo as a mate for him from Switzerland. "Cleo and Chelsea answer to their names,"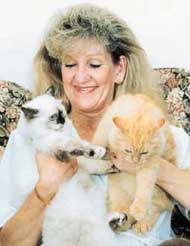 Christine said. "Chelsea loves to ride vehicles.
If he sees a three wheeler parked in the garden he will step into it without hesitation. He travels well. Just sits in the car, no jumping or prancing around."
Chelsea has not just travelled by car but has flown abroad as well. On a recent trip to Egypt, Cleo conceived. The three kittens she delivered were all bestowed names beginning with 'C.' "We were going to give them away. But as the weeks flew by, we became too attached to the litter."
Cairo - because he was conceived there- is a lovely orange-eyed ginger coloured cat. Cannon is pure white with wide black rimmed light blue eyes. "She is the most loving of the lot. Even sits on the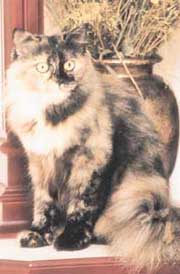 dressing table when I put on make-up," Christine says. Ceylon is a grey and white beauty.
When we arrived at Christine's Kotte residence, Chelsea was leashed to a pillar under the porch.
"We are scared that someone might steal the cat when the gate is open." Cannon was lounging on the staircase. Ceylon was enjoying a meal of prepared cat-food. Mama cat, Cleo swatted Cairo who had come up to her for milk even though the kittens are now four months old. Cindy was playing behind a hall curtain.
Oh, we almost forgot. Cindy is the latest addition to the family. An adopted kitten. Grey all over, she is the smallest and most playful of the lot. Christine marvels at their different personalities and needs. "Cats are very independent. You can't train cats. They train you."
Very soon Christine says, they plan to leave Kotte and settle down in more spacious environs in Kalutara where they might be able to accommodate many more cats and a few dogs as well.
---
Billion-dollar Kitty
Garfield was 20 recently ... but there's plenty of life in the old puss yet!
Twenty years ago, Jim Davis introduced to the world an overweight, cynical, pasta-loving, Mondays-hating cat named after his grandfather, James Garfield Davis. "He was a large, stubborn man," Jim says. "As I recall, he had this gigantic laugh and he was quite a character. But I created Garfield, the image and the personality, first, and then I named him. It just seemed to fit."
Now when Jim puts his cat out, more than 200 million people around the world eagerly await the fat feline's next move. But Garfield is not just a comic strip sensation - he's an Emmy Awardwinning TV star and marketing phenomenon, and he's soon to be a "theme" in a theme park.
Just the blunt statistics on Garfield are staggering: The cartoon strip appears in 2550 newspapers in dozens of languages and is read by an estimated 220 million people more than 100 million Garfield books have been sold, Garfield and Friends attracts more than 14 million TV viewers a week in the US alone; and, if you want Garfield merchandise, you can buy everything from T-shirts to toilet seats. There are Garfield licensing, TV and publishing programmes in more than 100 countries, including China, where the fat cat is being used in English teaching programmes.
Added together, those statistics make Garfield the centre of what has become a billion-dollar, multi-media empire called Paws Inc, with 53 year-old Jim Davis at the helm.
But the corporate headquarters is not in New York, Chicago or Los Angeles, as you might expect. From humble beginnings in the basement of his small house, Jim has expanded Paws into a 3500 square metre "country contemporary" business centre on 14ha of former farming land outside Muncie, a 90-minute drive from Indianapolis, Indiana. He grew up and went to college in the area, and his family and friends are there.
More than 50 artists, sculptors, writers and animators, as well as specialists in marketing, licensing, public relations and even law, work in the casual atmosphere at Paws. Jim, his wife, Carolyn, and their son, James, 18, now live in a multi-storey house on the property but hidden by trees from the road. They do not, by the way, own a cat. Carolyn suffers from allergies.
The property was under a blanket of unseasonal snow, the temperature well below freezing. In summer, the ground is covered with wildflowers.
"I was born on a farm and I can't imagine being in a city," Jim says. "I'm a country boy. I don't care for traffic or noise. I couldn't have a facility like this in New York City or any big metropolitan area. There just isn't the space. Just being able to step outside, walk through the woods or walk through a flower garden is great to serve the creative process and for general well-being."
If Jim does have to be in New York or LA for meetings, there's always his business jet - his time machine, as he calls it. Aside from that, though, he has few trappings of wealth.
"There's not the time to travel to exotic places just for pleasure, and I don't have a lot of cars or anything like that," he says. "I have a nice wine collection. I've been collecting wine for years and I'm rather proud of that."
Despite Jim's casual attitude and his cartoon cat's preoccupations with food, especially lasagne, and slumber, there is an intense side to the business.
In 1994 - "on May 24, at 1.15 pm, as I recall," says Jim - he bought all the Garfield trademarks and assets from the syndications company United Media. He has never revealed what he paid, but says $40 million is "in the area".
"The money was significant but, thankfully, some lenders believed in Garfield enough to go along with us, so we are carrying a debt. We'll be over that in just a few years, though, and then we'll really be free," he says.
"Working with any big company takes time. We knew we'd be a lot more flexible, a lot more responsive to the demands of the marketplace if we had our own rights. It just seemed to make sense.
"We didn't do it for economic reasons, but for reasons of assuring we'd be secure in the knowledge that we had a healthy character and we had some control. And we'd like our children to be able to move into the business and, in fact, there are some cases of that right now." He rolls off a list of names - including his own son's - of the children of Paws Inc staff who also work there. Four are full-time, and the summer holidays brings in "a slew" of part-timers.
The Paws Inc company credo is: "If we take care of the cat, the cat will take care of us". "We have fun with the character and we work very hard at creating an entertaining product," Jim says.
Jim devotes one week every month just to the cartoon strip, writing Garffield's lines and originating drawings, which are finished by others.
"I am still a cartoonist," he says. "That's my favourite week. But, you know, we work in a business which is filled with cartoon characters and bright colours and humour and nice people, and it's rewarding and fun. So, while there's a fast pace, I don't believe there's the associated stress that you might find in some other businesses."
Jim says the most rewarding aspects of being the creator of Gaffield are that the character has been used to teach children with learning disabilities to read, that he is often a source of comfort and humour to people who are ill and, simply, that he brightens the day of countless people around the world.
"That's what I do. Bottom line - I brighten people's days, and nothing makes me feel better than that," he says.
As if to underline that the words "Garfield" and "stress" really don't belong in the same sentence, Jim says plans for a 200ha theme park being built about 20 minutes south.of Indianapolis include "one really unique area we call Hammockville" - about 0.8ha filled with nothing but hammocks.
"People can sleep all day if they want," he says. "We don't care, because that's very Garfield."
The $100 million Heartland Festival Entertainment Park, due to open next May, will have a Garfield-themed area of about 12ha. It will also feature a retail complex, four big roller-coasters, a hotel, golf course and sports complex. About 1.8 million visitors are expected in its first year of operation.
Of course, with Garfield involved, food also will be a major attraction. "Obviously there will be an Italian restaurant, and a great diner," Jim says. "We are going to have really high-quality food. People will come to this park just to eat."
Garfield would certainly endorse that.