The Kobbekaduwa Trust fund helps perpetuate the vision of a General
For those in need
By Roshan Peiris
The great Mahatma Gandhi rightly observed that " The law of Sacrifice is uniform throughout the world - to be effective, it demands the sacrifice of the best and the most spotless."
In 1992 at Araly Point, General Denzil Kobbekaduwa was killed. But today six years after his untimely death the essence of his values of social service and an untramelled vision for peace keeps his name in focus.
He loved his country dearly, and his loyalty and patriotism learnt from Trinity College was so inspiring, that he thought nothing of living dangerously. So his soldiers whom he treated as brothers often surrounded him at the battlefront to protect him from sniper bullets.
Today the Kobbekaduwa Trust Fund seeks to perpetuate the memory of this brave soldier who believed the Sri Lankan separatist war could only be solved by winning the hearts and minds of the people. The British Royal College of Defence Studies in a confidential report in 1989 referring to Kobbekaduwa said: "...He is unfailingly, courteous and considerate, a thoroughly nice man and a man of principle.. As a result he is highly regarded by his colleagues, particularly since he is blessed with a sense of humour and invariably has a twinkle in his eye."
His friends together with his unassuming wife Lali, who is the Chairperson of the Trust have built up a worthy and rewarding memorial to a man who is and was a legend.
His wife must have been the perfect, gentle companion to one who was an ebullient General. She has shown courage and character to help others build up a fine Kobbekaduwa Trust Fund.
There were hardly any bad omens foreshadowing his untimely death, on the contrary his horoscope was very good.
She preferred not to speak to us of their last conversation together before he left for the last time to the battlefront. "They were very personal things which he said and they are too precious to share."
But one thing she said was that she and her friends gained inspiration from his repeated reminders that what should be done, was to help disabled soldiers and their families, so that they would have some hope for the future.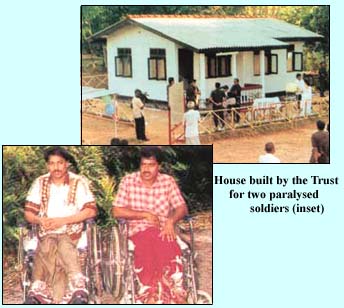 The Trust has been built up with donations from many, major Corporations as well as school children contributing as little as ten rupees. The most touching donation, was from a child who gave the contents of his piggy bank after having been inspired by the General and his deeds.
The Trust has recently started a "Limb Fund" to get artificial limbs from Atlas in England. Ms. Kobbekaduwa also said the Trust supports the families of those who have died in battle in the way the late General envisioned. The children are given scholarships and the families money and materials to build houses for themselves.
The Trust also helps the troops in the war front with welfare and aids battle casualties in hospitals.
The Trust also underwrote half the building costs of a house for a paralysed soldier and financed the establishment of two physiotherapy units at the Anuradhapura Base hospital costing Rs. 250,000 . There are also scholarship schemes for village children from Tantrimale.
History will record the character of this fine man- General Kobbekaduwa, though nothing can ever replace the pain his untimely death has left behind, not only for his family but also for a grieving nation.