ARCASIA plans package for architects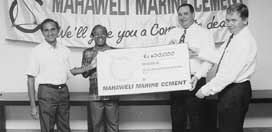 " Architecture and construction go together. Architects bring plans and dreams to life, but for those dreams to become a reality they need to be built with cement. So it makes sense for us to get involved in ARCASIA - it's mutually beneficial", says Colin Nelson, Marketing Manager at Mahaweli Marine Cement, speaking on the occasion of the award of a Rs 1,600,000 sponsorship package, with an initial payment of Rs. 600,000, to the ARCASIA Committee at the Sri Lanka Institute of Architects recently.
A sponsorship package of this size is certainly unusual for any sort of event, let alone an exhibition. ARCASIA, however, is the event of the year for architects, civil engineers, construction, development and related fields in Asia - and Sri Lanka is fortunate indeed to be able to host this prestigious event this year.
It is the eighth such gathering - ARCASIA is the acronym for the Eighth Asian Congress of Architects. Among the activities planned for the event this year are a student jamboree and many tours of historical and environmental interest to the various professionals who will be visiting Sri Lanka for ARCASIA.
Mahaweli Marine Cement is no stranger to the Sri Lanka Institute of Architects, and has collaborated with the Institute as well as its members on a professional basis in relation to large scale projects like the World Trade Centre Twin Towers, the Victoria Dam, Randenigala and Kotmale Dams as well as a number of large scale developments in the city of Colombo including Crescat Towers and the Royal Park Condominium.
Mahaweli Marine Cement is now stepping forward to contribute its considerable resources to the advancement of architecture not only in Sri Lanka but in the region in general. The package will be divided between the many different gatherings and events within ARCASIA.
---
ITI to begin course in business administration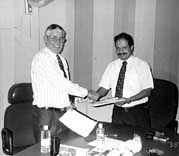 ITI, in collaboration with Wigan and Leigh, is planning to commence a programme with a course in business administration, leading to the Diploma in Business Administration.
The attractive feature of this distance learning programme is that a student in Sri Lanka follows indentically the same course, using the same texts and course material and will carry out the same projects as their counterparts in U.K. and other countries.
The answer scripts will be assessed, initially, by the U.K. Examiners, to ensure that the same standards are maintained, a news release said.
A unique feature is that a Sri Lankan student can commence the course in Colombo, continue the course in the U.K. and return to Colombo and complete the course, if necessary.
Wigan and Leigh will advice and assist students to obtain student visas by issue of stipulated letters of recommendation to the British High Commission in Colombo, the release adds. Several Students have already registered for the Distance Learning D.B.A Diploma. Interested students could call at the ITI and Register.
Wigan and Leigh a State College, is over a 100 years old. It is the fifth largest College of Further and Higher Education in the United Kingdom, having over 4,000 full time students and over 15,000 part- time students with over 500 Academic staff and 1,400 supporting staff. It offers courses in several faculties.
---
Qatar Airways presents awards
The C.E.O of Qatar Airways flew into Colombo last week to present awards to the airline's best agents in Sri Lanka. Akbar Al Baker's association with the airline dates back to 1996 when he was recalled from an overseas trip and asked to take over Qatar Airways which had not lived up to the hopes and expectations that accompanied its launch.
Since then he has succeeded in establishing Qatar Airways as a first class carrier setting new quality standards in every aspect of the airline's operations and services.
Mr. Al Baker is a businessman running his own group of companies in addition to holding the post of Director of Civil Aviation, second only to the Director General of Civil Aviation of Qatar.
---
Egypt unveils new shipping hub plan
Plans for a new multimillion dollar shipping hub at the northern end of the Suez Canal have been unveiled by Egypt's economy minister.
The new port will have the deepwater facilities to accommodate post-panamax ships, with a depth of 17m to 20m, and the government is predicting it will handle around 900,000 teu by 2005, with capacity forecast to reach 3m teu by 2010.
A group headed by P&O Ports, the port management subsidiary of P&O Australia, has begun concession negotiations to operate and develop the new facility.
Other group members include local business interests and the government itself, which are expected to have equal shares in the project, while P&O Ports is reported to be in control of 50% of the as yet unnamed company, with an option to increase its stake to 61%.
Economy Minister Youssef Boutros Ghali, speaking at a forum for the Egyptian Businessman's Association in Cairo, said the government would set aside a huge area of the Sinai desert alongside the port's container terminal for the construction of an industrial region.
"Land has been apportioned to seven developers which will each take anywhere between 5m and 20m sq. m. to develop into various categories of industrial zones," said Mr. Boutros Ghali.
While Italy, Greece, Turkey and Israel had similar ambitions to provide a Mediterranean transhipment hub, the minister said, they lacked the advantage of a direct link to a global trade route which the proposed Egyptian site boasted.
"It has immediate access to an international waterway and very close access to all the east Mediterranean distributive ports." Development of an entirely new facility in the country is deemed essential since all existing seaports in Egypt are likely to reach their capacity in the next five years with little opportunity for expansion.
Discussing the port's construction, the economy minister said costs were expected to fall between $400m and $700m, though industry representatives believe the minister's figure could be somewhat exaggerated.
However, the proposed transhipment centre is unique among Egyptian ports as the only harbour to be funded and operated by the private sector.
Established ports such as Alexandria, Damietta and Suez are all run by state agencies.
After signing a memorandum of understanding with the Egyptian government on June 7, the new port group headed by P&O is committed to producing a detailed business plan for development of the port's facilities and services.
Approval of the plan after its submission in September could see the development group seek investors with construction work beginning immediately thereafter.
Operating the port under a 50-year build, operate and transfer arrangement, the group would construct and run the facility entirely at its own expense for half a century before handing over the operations and ownership to the government.
While details of the port were discussed with British businessmen for the first time this week, the idea of a new port in the region has been under consideration for some time.
P&O Ports indicated last May that the company was interested in the region. "In Egypt, we are looking at a new port in Sinai and other opportunities in the existing ports," a spokesman said.
---
Alliance adds more to transport service
Members of the New World Alliance APL, Hyundai Merchant Marine and Mitsui OSK Lines have announced enhancements to their Trans-Pacific container transportation services in response to current customer requirements in both the east bound (US import) and westbound (US export) trades.
By switching the first US port-of-call on the alliance's PSI Service, the carriers will offer a new express service from Hong Kong, Taiwan and Southeast Asia to Seattle.
Port-to-port transit times include 10 days from Kaohsiung, Taiwan to Seattle; 11 days from Hong Kong to Seattle; and 15 days from Singapore to Seattle.
The six fast, high-capacity containerships deployed in this service will call weekly at the newly expanded Terminal 5 ( Global Gateway North) in the Port of Seattle, which features 160 acres and a highly efficient on-dock rail operation.
As a result, the three alliance carriers will be able to provide industry-best intermodal transit times from key Asia markets to the US Midwest and Northeast, and an effective alternative routing to possible congestion problems in the Los Angeles area during the peak shipping season.
The adjustment in the PSI service will also result in new, highly competitive westbound transits from Los Angeles to Japan, Hong Kong and Southeast Asia, with vessel closings and departures late in the week for the convenience of shippers of refrigerated commodities.
Transit times include 10 days from Los Angeles to Yokohama, and 13 days from Los Angeles to Hong Kong.
The improved PSI service commenced with the sailing of the APL Korea from Port Kelang on June 30.
---
Who are the FACTORY EMPLOYEES?
(Continued from last week)
(vi) any premises in which the construction, reconstruction or repair of locomotives, vehicles or other plant for use for transport purposes is carried on as ancillary to a transport undertaking or other industrial or commercial undertaking, not being any' premises used for the purpose of housing locomotives or vehicles where only cleaning, washing, running repairs or minor adjustments are carried out;
(vii) any premises in which printing by letterpress, lithography, photogravure, or other similar process, or bookbinding is carried on by way of trade or for purposes of gain or incidentally to another business so carried on;
(viii) any premises in which the making, adaptation or repair of dresses, scenery or properties is carried on incidentally to the production, exhibition or presentation by way of trade or for purposes of gain of cinematography films or theatrical performances, not being a stage or dressing-room of a theatre in which only occasional adaptations or repairs are made;
(ix) any premises in which the business of making or mending nets is carried on incidentally to the finishing industry conducted by any company or other commercial undertaking;
(x) any premises in which mechanical power is used in connection with the making or repair of articles of metal or wood incidentally to any business carried on by way of trade or for purposes of gain;
(xi) any premises in which the production of cinematography films is carried on by way of trade or for purposes of gain, so however, that the employment at any such premises of theatrical performers and of attendants on such theatrical performers. shall not be deemed to be employment in a factory;
(xii) any premises in which articles are made or prepared incidentally to the carrying on of building operations or works of engineering construction, not being premises in which such operations or works are being carried on';
(xiii) any premises used for the storage of gas in a gas holder having a storage capacity of not less than five thousand cubic feet.
---
SLIM workshops on Management Development
The Sri Lanka Institute of Marketing, the National Institute of Marketing, as part of its commitment to the professional development of marketers, launched a new series of Management Development Workshops for 1998 at Hotel Renuka from July 24, 1998.
Deepal Sooriyara-chchi, Vice President of SLIM, addressed all CEO's, marketing managers and general managers present at this launch.
Details of six of the ten SLIM Management Development workshop/seminars to be held between July and December 1998 were announced. They are: Human Resource Development, Strategic Sales Management, Business Law, Research for Marketers, Financial Management, and Information Technology - Marketing 2001 21st century IT solutions for marketers, a news release said.
All Management Development Workshops are organized with detailed precision, ensuring that participants are afforded the best possible opportunities, not only to increase their knowledge of the particular subjects under discussion, but also to gain tremendously from the personal experiences of the qualified resource persons selected by SLIM to conduct such workshops.
The professionals selected to conduct the workshops and seminars are specialists in their respective fields, and select varied methods of disseminating information i.e., through interactive sessions with participants, group work and presentations providing practical ''hands-on'' exposure etc.
Computer-based business games are also employed while the IT based Workshop include live Internet demonstrations, computer and communications hardware and software demonstrations and multi-media presentations.
---
Strategic sales management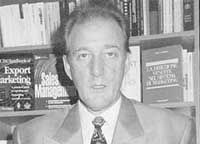 August 14-16 A three-day International Master Class on Strategic Sales Management conducted by Chris J. Noonan B.Sc (Econ) FIEX, MIMC, Certified Management Consultant CJN Management Consultancy UK, at the Hotel Taj Samudra.
Organised by the Sri Lanka Institute of Marketing, this Master Class is designed for CEO's, Marketing and Sales Directors, General Managers (Marketing), General Sales Managers and Senior Marketing and Sales Managers with overall responsibility for the sales function in companies in all sectors.
Areas to be covered include development of skills in organizing and motivating an effective sales team; positive feedback to motivate and improve skills of sales persons; development of sales plans and practical forecasts at macro and micro levels; identification of factors requiring administrative controls; key aspects of territory management including journey planning for optimum productivity; and business development through key account management.
Having graduated from the London School of Economics, Chris J. Noonan began his career at the confectionery division of Mars Ltd., rising rapidly to a Senior UK and International Management position, which included USA and South East Asia.
In 1978 he joined the Express Dairy Group as Overseas Development Director. In 1981 he transferred to the US as CEO of the Multi-Million Dollar Express Dairy Operations. Since 1984 he has practised as an International Management Consultant and is the author of several publications on sales management and export marketing.
---
MMBL to invest in financial services
The Mercantile Merchant Bank Ltd., MMBL will invest further in the local financial services sector and bring an international franchise in the life styles sector to Sri Lanka.
MMBL will also enter into an MOU with an organization having close links to a large US financial services group through which it will have access to several billions of dollars in funds for infrastructure and related projects in Sri Lanka, a company release says.
MMBL, which is a privately held investment bank, completed its first full year of operations on March 31, 1998. MMBL is not only a "boutique" investment bank but also the Holding Company for the MMBL Group of Companies.
In this respect it is well represented in the Sri Lankan private sector with activities including Air Express & Freight (FedEx), Electronic Money Transfer, Stock Brokerage, Money Brokerage, Tea Brokerage, Tea Exports, Hotels & Tourism, Airline Representation and Quality Control Testing & Inspection. Many of these are joint ventures with overseas partners, a company release said.
The MMBL group showed encouraging profits with an attractive return on investment during its first full year of operations. The turnover and profits projected for the future reflect MMBL's dynamic business approach and indicate a healthy and steady growth pattern.
All sectors performed well in the year under review, in particular the Air Express, Tea Brokerage and Quality Testing operations.
The Air Express operations won several awards from its principal, FedEx, for sales performance and promotion of the FedEx brand in the local market.
---
Indian software giant moves to Colombo
Mahindra -British Telecom Lanka (Pvt) Limited (MBTL) entered into an agreement with the Board of Investment to set up a venture to develop software solutions.
MBTL is a joint venture between Mahindra-British Telecom Ltd., (MBT) of India and professionals of Sri Lanka.
MBT has worked with some of the leading companies in the world like British Telecommunications, IBM, Lehman Brothers, Midas Capiti (UK) ANZ Grindlays Bank (India) and Citibank (India), a company release said.
MBT has a wide experience in working with a variety of systems for its customers. Some of the systems which MBT has worked on are Money Exchange and Trading System (Mets, Dynamic Currency System, Cash Inventory Management System, Financial Accounting System (FAS), Standard Costing System, Capital Accounting System, On-Line Stock Trading System, Provident Fund Management System (PFMS).
MBTL recruited its first batch of nineteen Software Engineering Trainees to train with the assistance of MBT India. Three of them namely Miss Nishanthi Senerath, Miss Tanuja Perera and, Sanjeewa Dassanayake have already been deputed to Pune Development Centre for a training of six months. The others are being trained at the Centre at 209 Dharmapala Mawatha, Colombo 07. The visiting training faculty from Bombay and Pune has already commenced the training programme that will last for a period of six months.
According to the Director/CEO Shantha Adikari the company will go for another batch of Software Engineering Trainees in September 1998.
The company has developed a career path for non-graduates to become Software Engineers. According to this, a person who is having entry level aptitude can join as a trainee computer programmer and become a software engineer in four years' time.
---
SLCB pushes MICE tourism
The Sri Lanka convention Bureau launched its new promotional brochure titled "Sri Lanka... A Promise of Paradise", at the European Incentives, Business Travel & Meetings (EIBTM) Exhibition, held at the Palexpo Exhibition Centre, Geneva, Switzerland, recently.
"Sri Lanka...... A Promise of Paradise" is meant for prospective incentive, travellers, and gives a comprehensive information of the availability of infrastructure facilities in Sri Lanka, with regard to exotic incentive holidays.
It also features Sri Lanka as a Shoppers' paradise with excellent duty free shopping, and focuses on sporting activities for exciting incentives. Comments of appreciation by people who have participated in incentive tours to Sri Lanka, are included as well, a news release said.
The Sri Lanka Convention Bureau functions under the purview of the Ministry of Tourism & Civil Aviation, with the primary objective of marketing and promoting Sri Lanka as a destination for MICE Tourism (MICE - Meetings, Incentive travel, Conventions and Exhibitions), in which, incentive travel is an important component.
Therefore, special emphasis is paid to promote this segment of MICE Tourism, and this brochure, has already been well accclaimed for its quality and contents.
---
Commercial Bank opens branch at Vavuniya
The 54th branch of the Commercial Bank was ceremonially opened recently at Vavuniya, the major transit town to the northern region providing the first ATM facility (CAT) and the first computer linked banking outlet in the area.
The new branch is connected to 48 other branches of the Bank through ConNet, the computer linked banking network.
The CAT facility offers customers the convenience of 24-hour banking with access to 50 Teller machines countrywide, a company release said.
Speaking on the occasion, Bank's Managing Director A.L. Gooneratne said that the Commercial Bank had recognized the potential of Vavuniya as a major supply point to the region and observed the accelerated development of this town over the last few years.
The Manager of the new branch Arul Gnanaseelan said that opening of a branch in the region was a historic occasion for Commercial Bank.
The new branch is at No. 14, Second Cross Street, Vavuniya.
---
SIA shifts to new home
After being located for 28 years in the heart of Colombo's business district, the Singapore Airlines town office moved to Vauxhall Street recently. Situated in the premises of SIA's General Sales Agent's head office complex, the new office was opened by the Director General of Civil Avaiation, Lal Liyanaarachchi, in the presence of top passenger and cargo agents, SIA Priority Passengers, invited guests and staff.
Among the VIPs present were Paul Goh General Manager Sri Lanka of Singapore Airlines, Lalith Kotelawala, the Honorary Consul General for Singapore in Sri lanka, R. Sivaratnam, Chairman of SIA's GSA in Sri Lanka, Aset Airways and Sasi Ganeshan, Managing Director of Aset Airways, a company release said.
Mr. Goh said that Singapore Airlines had a long and fruitful association with Sri Lanka since 1970. The airline had made a significant contribution to the travel industry in the country and would continue to assist in the growth of tourism in the years ahead.
The recent introduction of daily serivces to Colombo was a step in this direction. He also said that although, SIA was now out of the business district, their services to agents in that area would continue through the Agents Enquiries Ticket Unit which also opened the same day.
---
China Airlines - SIA in Alliance
Singapore Airlines (SIA) and China Airlines has signed an MOU to form a strategic alliance. The MOU also sets out general principles for the purchase by SIA of shares in China Airlines within six months, a company release said.
SIA Deputy Chairman and CEO Cheong Choong Kong said SIA was thinking of a stake of "between five and 10 per cent" in China Airlines. This may be increased over time, in accordance with general principles contained in the MOU.
"We see China Airlines as a good investment. It demonstrates our faith in the long-term future of the aviation industry in this region, notwithstanding the present economic difficulties. In conjunction with equity participation, we shall be exploring joint ventures in airline-related businesses with China Airlines," Dr. Cheong of SIA said.GKC Agent for Comdex Asia '98
The Golden Key Credit Card Co. Ltd., has been appointed local representative and co-ordinator for Comdex Asia '98 exhibition and conference in Singapore, the region's largest gathering of Information Technology (IT) professionals.
Golden Key has been appointed representative of the exhibition for the third consecutive year, a company release said. The company's responsibility will be to co-ordinate arrangements for a Sri Lankan pavilion at the exhibition, and to facilitate participation in the exhibition and conference by Sri Lankan companies involved in the manufacture or distribution of IT products, services or solutions.
Comdex Asia brings together IT professionals from the channel corporate, government, industrial and academic sectors worldwide to showcase the latest technologies in field and also to demonstrate how to implement them, the release added.This year's exhibition identifies three dedicated technology areas, the Internet, Digital Media Technology and Network Computing and Communications. A special feature will be the year 2000 (Y2K) Pavilion which will address the IT requirements that the transition to Y2K imposes on businesses.
Last year's statistics show that over 37,000 qualified attendees participated in the event and displayed a high level of interest in seeing Communications and Network Computing, Internet and Multimedia.
The Golden Key Credit Card Company is presently enrolling local participants for the event. The three-day exhibition and conference opens on September 23. Sri Lankan companies wishing to participate in the event should confirm attendance before August 31, the release said.
---
Impressive growth for Pramuka Bank
Pramuka Savings and Development Bank will commence trading on the OTC of the Colombo Stock Exchange.
The company's accounts released on June 2 reflect nine months business operations as well as the accounts for the pre-operating period.
The Bank's deposit base now stands at Rs. 1400m. and total assets at Rs. 2100 commendable by any standards considering that it commenced operations amid severe competition in not only the banking sector but also in the financial services sector, a company release said.
The bank has developed a number of new products.
In addition to the regular savings and deposit products they have introduced special products such as the Money Market Bill which is issued on a weekly basis and pays 1.5% more than the Treasury Bill interest rate.
The flex account is another product which gives the client substantial flexibility in operating the account while earning an interest on earning benefits.
Financial Performance
Pramuka Bank's results for the three months ended June 30, shows a net interest income of Rs.14m. while for the nine months ended March 31, 1998 the net interest income was only Rs.12m.
The operating profit for the last quarter was Rs.16.57m. and is higher than the operating profit achieved for the nine months ended March 31, 1998.
The total assets have also increased from Rs. 1401m. to Rs.1661m. during this quarter, while the capital adequacy stands at a comfortable 11% for tier 1 and 12.2% for tier 2 above the Central Bank stipulated 4% for tier 1 and 8% for tier 2.
The rapid growth in the Bank's deposits and assets will help Pramuka Bank to turn around very quickly and it expects to break even in August, the release adds.
---
Hayleys offers the 'Intelligent Film'
Hayleys Photoprint Ltd., sole distributors for Fujifilm photographs and imaging equipment recently announced the opening of the company's first photo-finishing centre.
The new centre, situated at Union Place is capable of providing the entire spectrum of Advanced Photo System (APS) services.
APS, though popular in Japan, Europe and the USA is a new concept in Sri Lanka.
The system is based on an 'intelligent film' which carries optical and magnetic data tracks that record the environmental conditions at the time of exposing the film. Such data is analysed in the processing of the film to produce quality prints.
For instance, if the photograph has been over exposed, such conditions will be taken into account in processing, hence ensuring consistently good prints.
Among the specialized services available at the Fujifilm centre are one hour services for prints from postcard size up to poster size and customised products such as decorative prints, multi prints and cropped prints.
The centre is also equipped to provide black and white film processing and printing, half-an-hour services for postcard and jumbo size prints, instant passport and visa photographs in colour or black and white, positive film (slide) processing and mounting.