---
Starting a sparkling sale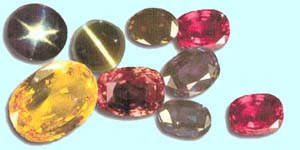 The Gem Authorityís newly launched monthly auction seeks to polish up the gem trade
By Hiranthi Fernando
The old fort in Ratnapura was bus- tling with activity. At the Gem Centre within the fort, the second Menik Pola or gem sale and auction conducted by the National Gem & Jewellery Authority, was in progress. A sparkling array of gemstones, both precious and semi precious was displayed on tables.
There were Blue Sapphires of varying quality, Yellow Sapphires, White Sapphires and Star Sapphires, Rubies, Star Rubies, Catís Eyes, and little trays filled with semi precious Garnets, Tourmalines, Quartz and the pale coloured Geuda. Jewellery set with gems was also displayed on some tables. A stage had been erected outside the Gem Centre to conduct the auction. Gem miners and traders, buyers and sellers, mingled together at the stalls. The greatest draw on this occasion was the 850 carat Blue Sapphire which had been mined earlier this month in a pit at Marapana, about two miles off Ratnapura.
The Pride
This gem which is apparently the first one of this size and value to be auctioned in the open market, was exhibited to the public at the Gem Centre.
The uncut gemstone, dark blue in colour, was displayed in all its splendour on white satin in a glass box, under bright spotlights. Placed in a roped off enclosure, hundreds of people, gem miners and traders as well as the general public, filed round it, peering at it from all angles, with great interest. After the public viewing, the gem was placed in an inner room to be examined by prospective buyers.
Ms. Leelawathie Dharmadasa, the major shareholder of the mine that produced this gem, said it was the most valuable stone she had mined. Ms. Dharmadasa has been in the gem trade since the death of her husband in 1987. Her late husband, a longstanding gem merchant in Ratnapura, had mined for gems since the age of 15. He had found several large gems in his mines.
"Now with the tax concessions granted to the gem industry by the President this year, we can sell openly, deposit the money and pay our workers," Ms. Dharmadasa said.
"There have been bigger and better stones before, but they have been sold in the black, because both buyer and seller were liable for BTT and income tax," said A.E.T. Ellawela, Chairman of the National Gem and Jewellery Authority.
"We have at last persuaded the government to remove this tax and make it an open industry. Sri Lanka is the only country where gemstones of this size and clarity are still mined. Furthermore, this is wealth that can easily be smuggled out. Although the income from gems was taxable, it was seldom collected.
" Mr. Ellawela explained that with the tax incentives offered in April, the sale of gems are exempt from BTT, GST and income tax. Now the traders have nothing to lose by open sale. "This 850 carat Blue Sapphire which is named Pride of Sri Lanka came out at the correct time, when we are trying to open the trade and pass on benefits to the traders," Mr. Ellawela said.
"What is important is that this large volume of money comes into legal channels and does not remain in the black."
Gem Sale
According to Mr. Ellawela, private gem traders have shown great enthusiasm about the Gem Sale and Auction.
"We invite the miners to bring in their stones for auctioning and sale," he said.
"When a miner finds a gem, a permit from the Gem Authority is needed to auction it. It can be done at the Gem Centre or at his own establishment. The Gem Authority only gets 1%, which goes into a fund. We hope to use this fund to establish a pension scheme for gem miners.
The Gem Centre which was opened in the fort building at the beginning of this year was renovated with the assistance of the private sector gem dealers. Several traders have display windows at the Gem Centre.
Those who have display windows are entitled to a display table free of charge at the monthly Gem Sale. Others pay a nominal fee. The majority of traders who have displayed their stones at the sale, do heat treatment, cutting and polishing of their stones.
The Chairman says that there are plans to eventually develop the area within the fort into an attractive centre with Gem Museum, show room and sales centre as well as some handicraft stalls. If this could be achieved it would indeed be an added boost to the gem trade in Ratnapura.
According to Mr. Ellawela, a large proportion of Geuda stones are mined in Sri Lanka. These stones which belong to the corundum family, have inclusions of silk and rutile needles and the colour is not developed sufficiently. They are cloudy in appearance due to the inclusions. When heated to very high temperatures, the silk clears up and the colour darkens. A large amount of Geudas are bought by gem dealers from Thailand, who treat the stones, cut and polish them for resale at high profits. "An enormous amount of money goes out of the country annually through Geudas," Mr. Ellawela said.
"We want this money to come to the hands of our dealers. Our children must have their jobs."
The National Gem & Jewellery Authority (NGJA) encourages the heat treatment of Geudas locally. The Gem Centre opened at the beginning of this year at in the fort Ratnapura undertakes the heat treatment of Geudas to enhance the colour and clarity of the stones. Four types of furnaces are used for heat treating the stones. One of these, known as Lakmini is manufactured in Sri Lanka and has been found to work well.
The method of treatment and length of heating depends on the type of Geuda and its quality. The stones are cleared of inclusions and flaws prior to heat treatment, since these could damage the stones. They are then placed in the furnace in crucibles and heated up to a temperature of 1800 C. After treating, the stones are inspected. If more colour is necessary, it is heated once again. It needs experience and expertise to decide just how long a stone needs to be treated, since overheating could also damage the stone.
The Gem Authority conducts training courses on the heat treatment of stones as well as cutting and polishing. They also heat treat stones for miners or gem dealers at a fee of Rs.200 to Rs.3000. This is carried out in Colombo as well as in Ratnapura and Eheliyagoda. Some gem dealers have their own machines for heat treatment.
Mr. Chandrasinghe, a gem dealer from Ratnapura has gone into the heat treatment of Geuda stones. He says that there are different types of geuda stones, such as milky geuda, silky geuda and so on. Suitable stones have to be selected for heat treating. According to him, the majority of gemstones sold in Thailand are heat treated. "By heat treating our Geudas here, we can increase our income considerably and also provide employment," Mr. Chandrasinghe said.
This experienced gem merchant feels that the monthly gem sale at the State Gem Centre could be made into a successful sales point with more publicity. This second sale had more dealers and buyers than the first one. It needs to get recognized and better known so that more and more gem dealers would attend the sale, he said.
---
More Plus * The colonial connection
Front Page| News/Comment| Editorial/Opinion| Business| Sports | Mirror Magazine