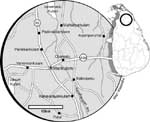 Young Major Chandima Gunaratne followed in his father's footsteps. He joined the Ceylon Mechanical and Electrical Engineers (CEME). His father had commanded the only battalion that existed then.
Over the years Major Gunaratne had acquired the reputation of being an expert in battle tank repairs. So much so, he was billed as the best.
Last Monday (April 20), two main battle tanks were knocked out by enemy fire in the battlefields of Wanni. Together with his Squadron Commander, he went to the frontlines in a tank recovery vehicle. He alighted and was busy trying to retrieve the two damaged tanks.
A gun battle ensued just then between troops and Tiger guerrillas. Hit by gunfire, Major Gunaratne fell to the ground. Whilst he lay there, troops who came under intense fire were forced to step backwards and take defensive cover.
When they fought their way back later, Major Gunaratne, who lay on the ground injured, was missing. The two battle tanks were also completely destroyed.
Intercepts of LTTE radio transmissions later confirmed Major Gunaratne had been taken prisoner. And in battles that day, two more tanks had been damaged and an armoured troop carrier (BMP) destroyed. Machine Gun fire also hit an MI 24 helicopter severing a cable that caused minor injuries to a pilot's hand.
All this was during the latest thrust of "Operation Jaya Sikurui" (or Victory Assured). Last Monday, troops of the 55 Division led by Brigadier Nihal Marambe (officiating General Officer Commanding) broke out of their Wanni defences east of Olumadu. Their mission was to seize the strategic Mankulam junction, for many weeks a location that has remained so close and yet so far for the security forces.
Deputy Defence Minister General Anuruddha Ratwatte, who has set many a deadline during the 11 1/2 month old military operation and won for himself several hours of TV time touring the battlefield in military fatigues, had ordered the latest push for Mankulam. During a Sinhala New Year vacation in Trincomalee, he had conferred over the move with Overall Operations Commander (OOC), Major General Srilal Weerasuriya.
Though two other deceptive moves were launched by the troops, the main thrust was to re-capture the Mankulam junction, which would have given cause to a major propaganda blitz. From their present location east of Olumadu, troops broke out before dawn and headed in a westerly direction. By morning, with little opposition, they had advanced some two kilometres.
For almost two hours they were busy fortifying their new positions when all hell broke loose. As one young officer who did not wish to be identified declared "it came down like a heavy shower." Mortars were beginning to rain on the troops. They came from many directions. In the almost flat open terrain, there was not much area for troops to take cover.
The radio at Tactical Headquarters of the 55 Division crackled with calls from troops in the front lines. They were being pinned down by heavy enemy mortar barrages but were offering resistance.
As afternoon faded and the fighting receded, the toll became clear. Four officers and 35 men were killed in action and two were declared missing in action. A further 294 were wounded, at least 125 of them P 1 or serious cases.
If heavy air traffic on Monday night over the City sky made residents ponder over what was going on, ambulances that sped past Galle Road with their sirens wailing led to the humming of telephone lines. Many feared there was a major incident and casualties were being rushed to hospitals. They were eager to know more.
It was only on April 21 a news release dated the previous day (April 20) gave the official version. Issued by the Operational Headquarters of the Ministry of Defence, it said:
"On 20thApril 98 at first light troops advanced Northwards from general area Olumadu and confronted a large group of terrorists. Troops successfully captured a terrorist complex Northwest of Olumadu by 10.30 am.
"The aircraft of Sri Lanka Air Force and artillery provided close fire support for the advancing troops. A MI 24 helicopter gunship was fired at by the terrorists but the pilots continued with their mission. Subsequently the helicopter was repaired and is back in action.
"The terrorists fled further Northwards when troops kept advancing. Thereafter there was a lull in the battle and approximately around noon terrorists fired mortars at the advancing troops.
"Due to the confrontations and mortar fire 28 Army personnel were killed in action and 114 were injured. Those injured were evacuated to General Hospital, Anuradhapura for treatment.
"According to ground troops, over 60 terrorists were killed and a large number injured during the confrontations. Operation continues."
The LTTE, however, claimed that only 11 of its cadres had been killed. Reporting of any further LTTE responses, which would have given readers a better picture of the latest battle in what has come to be known as the killing fields of Wanni, is now not possible.
Emergency Regulations which proscribed the LTTE (Situation Report March 29) make it an offence to communicate any "order, declaration or exhortation" made by the LTTE. Although Government leaders assured that such provisions will be amended to enable the media to present both sides of the situation, it has still not been done. Hence, readers will continue to be denied of any knowledge about what the adversaries of the security forces have done, were doing or have planned to do.
Even before the official news release reached Sri Lankans, officiating GOC (55 Division) Brigadier Marambe had ordered the troops that advanced last Monday morning to revert to their original positions. By that night, troops were back in their camps from where they began the advance that morning.
Army Headquarters ordered Brigadier Marambe to return to his substantive position as Deputy Operations Commander, Colombo. Brigadier Sarath Fonseka, (now a Major General) who was originally officiating as GOC of the Division flew back to Wanni to take up position. He was in Colombo after he sustained injuries when his headquarters came under LTTE artillery fire. The incident on March 14, ironic enough, came when troops made an effort to capture Mankulam (Situation Report March 22)
Two other Brigadiers also sustained injuries. They were Brigadier Sisira Wijesuriya, Principal Staff Officer at the Vavuniya based Joint Operations Headquarters (JOH) and Brigadier T. M. Bohran (deputy officiating commander of 55 Division).
Lt. Col. Priyantha Ranasinghe who only assumed office as General Staff Officer 1 of the 55 Division was killed on the spot when an artillery shell hit the Tactical Headquarters.
In the next 16 days, "Operation Jaya Sikurui" will be one year old — the longest ever single military operation not only in post-independent Sri Lanka but in the history of low intensity conflicts throughout the world. It has cost the lives of more than 1,350 soldiers. Millions of dollars or billions of rupees worth of military hardware have been lost or destroyed. The LTTE has admitted to the loss of 1165 of its own cadres.
The declared objective of "Operation Jaya Sikurui" which began on May 13, last year, is to establish a land based Main Supply Route to the Jaffna peninsula by re-capturing some 74 kilometres of the A9 highway (Jaffna-Kandy) which was not under Government control. Over 50 kilometres of the highway has been re-captured so far, but stiff LTTE resistance has delayed subsequent troops advance.
Needless to say that the prolonged delay of the operation coupled together with human and material losses has laid bare the hollowness of the deadlines and successes publicly assured by the man who is running the military machine against the LTTE, General Anuruddha Ratwatte. If they have now been proved to be mere propaganda, responsible sections of the defence establishment now worry over the future of the highway when it is fully re-captured. The need to protect it adequately for civilian traffic to move from north to the south and vice versa, a much bigger 24 hour security commitment will be required.
One of them who did not wish to be identified for obvious reasons declared "we have put all our eggs into one basket." He was alluding to the little or no options available after troops have been thinned out of all other areas and deployed already in the Wanni. Some smaller camps in the east were shut down and strength in others were reduced allowing greater flexibility to the LTTE in the east. The drawing of strength from police for deployment in the Wanni has depleted numbers in police stations for crime fighting and other duties.
Army Commander, Lt. Gen. Rohan de S. Daluwatte, who has just won an extension of his term of office, is confident "Operation Jaya Sikurui" could be completed in the next four months. However, he is emphatic this is not a deadline. For that matter, he has continued to make it clear that he had at no time placed deadlines for the conclusion of the ongoing military operation.
Last Wednesday, Lt. Gen. Daluwatte addressed over 250 officers serving in the city and outlying areas at a conference at Army Headquarters.
In a lengthy presentation, he explained the military scenario that prevailed before 1995 and thereafter. He said that the strategy to re-capture the Jaffna peninsula was a sound one and asserted that many achievements had been made in the ongoing separatist war during the past three years.
Before making the presentation to his officers last Wednesday, Lt. Gen. Daluwatte had also given a similar dissertation to the National Security Council.
Using projection equipment to highlight his assertions, Lt. Gen. Daluwatte outlined in detail what he identified as military successes and achievements. There was also a reference to the worst debacle — the LTTE over running of the Mullaitivu Military Base in July, 1996.
Lt. Gen. Daluwatte declared that as Overall Operations Commander (OOC), he had recommended the closure of the military base at Mullaitivu. If that was heeded, the camp would not have faced that fate, he argued.
A significant point made by Lt. Gen. Daluwatte was on the need to raise more cadres for the Army. Detailed plans are already being worked out for a new recruitment drive. High priority is being given to the issue with a national level publicity campaign.
Defence Secretary, Chandrananda de Silva, himself presided over at a top level conference of the three service chiefs last Friday to plan out the new recruitment drive.
A Major General who took part in Wednesday's presentation recommended to the Army Commander that a similar presentation be made to senior officials in the State sector. The idea was to give them a first hand knowledge of the current situation. He agreed to the suggestion. Lt. Gen. Daluwatte will also personally make the presentation to Army Officers in the east next month.
Though "Operation Jaya Sikurui" became the focal point of public attention after the latest attempt to re-capture Mankulam, the defence establishment was also preoccupied with other issues. Main among them was the appointment by President Chandrika Bandaranaike Kumaratunga of a three-member Committee to probe into alleged irregularities in the procurement of military aircraft, weapons and other equipment for the Sri Lanka Air Force.
The committee is headed by Christie Silva, a former Secretary to the Ministry of Health and comprises I.M. Liyanage, a retired High Court judge and Vice Admiral Asoka de Silva, a former Navy Commander and one time Ambassador to Cuba. Its Secretary is A.N.R. Ameratunga, Senior Assistant Secretary in the Ministry of Defence.
After their first formal meeting on April 17, the three-member committee had a 45 minute meeting the same day with Defence Secretary Chandrananda de Silva.
In the coming week, the committee is to publish newspaper advertisements in the national media calling for written public representations. These advertisements will contain the terms of reference of the committee.
The Sunday Times learns that the terms of reference will include one on the acquisition of MI 24 helicopters by the Sri Lanka Air Force. It will seek to determine whether these MI 24s were outdated, unsuitable for military activity and whether excessive payments were made for them.
It was only last week (Situation Report April 19) that The Sunday Times exclusively revealed details of how the MI 24s were acquired. The first three of six MI 24s that were delivered, it was found, were not airworthy. Thereafter, three MI 24s have been leased out from the same supplier.
Another term of reference is said to be on the acquisition of UAV (unmanned aerial vehicles). There is no dispute about whether or not the UAVs were required since those in the three services had agreed there was a need for it. These documents are available in the Ministry of Defence.
However, what has not been clear is whether the used Superscout UAV system for which an agreement has been signed on February 16, 1996, was suitable and serviceable. Efforts are also being made to ascertain why a requirement that the UAVs be overhauled after every 400 hours was brought down to every 50 hours after one of them crashed.
The Sri Lanka Air Force acquired the UAVs from Israeli Aircraft Industries through Oak Enterprises Private Limited, a firm whose Managing Director is Mr. Zevi Joseph, an Israeli arms dealer who has had a longstanding business relationship with Sri Lanka's defence establishment.
In November, 1995, the UAVs were brought down to Sri Lanka and were displayed at a demonstration in Vavuniya. Before this was held, the Government of Sri Lanka had to agree with the IAI (through Mr. Zevi Joseph's Oak Enterprises) that "the Government of Sri Lanka would re-imburse the cost of demonstration in the event of no eventual purchase of items being made. The cost involved is approximately US $ 260,000." Yet another term of reference is to inquire into whether the SLAF paid excessive payments for training of pilots outside the establishment. This is said to cover payments made for training of pilots for "newly" acquired aircraft by the SLAF.
Although the latest Presidential Committee of Inquiry was expected to submit its findings within eight weeks from April 5, the deadline is now likely to be extended. This is in view of the intervening Sinhala-Hindu New Year holidays and the resultant delays. The committee is yet to find an office from which it will operate. Once written representations are received, they will be studied by the Committee. Thereafter, the parties concerned are to be invited to make representations personally.
---