Siamese twins fight for survival
By Tharuka Dissanaike
Just two days after the New Year, a young woman from Akurana was rushed to Kandy General Hospital in the throes of an early labour. Scans done by the hospital showed that she was carrying twins. But little did the parents expect the twins to be born, joined together at the head.
Today the tiny, premature Siamese twins lie together at the Lady Ridgeway Children's Hospital. Together, they weighed only 2.5 kilograms at birth. Both girls, baby A and B, as they are identified at the moment, lie huddled together on a bed because, they are too broad to fit into an incubator, the Intensive Care Unit Nurse said. Their food goes in through a tube and their heart rates and breathing are monitored specially to keep track of their progress. Their tiny chests heaved with the effort of drawing air into their incomplete lungs. Tiny arms flailed about, and they even gurgled weakly.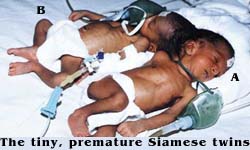 Baby B, sometimes stops breathing, the nurse said. "Then we have to give oxygen. One thing, they do not cry very loud."
The babies were born joined at the head. Other than that abnormality, they are in as much good health as could be expected of babies that size, said the nurse. But it's the very fact that they are joined that makes them special.
Dr. Y. Kulasekera, Paediatric Surgeon at Lady Ridgeway Hospital said that it looks like the children do not share any brain matter but are joined by their skulls.
Conjoined twins are a rare occurrence. In Sri Lanka, the last case of Siamese twins were reported in November, 1996. These two girls, Sandamali and Piyumali, born to poor parents from Wathupitiwala, died of heart arrest just days prior to their journey to America for the operation that would have separated them. They were joined at the chest and abdomen sharing vital organs like the heart, liver and certain parts of the digestive tract.
But Baby A and B from Akurana will also have to undergo complicated surgery if they are to live normal lives. These operations are notorious for their low success rate. The operation is best done abroad, said Dr. Harsha de Silva, Deputy Director of the Lady Ridgeway Hospital.
The operation is risky, said Dr. Kulasekera, because the babies share bone and skin and an operation would mean that skin and bone will have to be replaced. This is a point of concern because it could risk infecting the babies.
But whatever operation will have to wait until the twins have gained enough strength and weight.
---
Miracle babes' first birthday
British mum Joan Varley celebrated one of the most wonderful days of her life - the first birthday of her miracle Siamese twins on April 4. For virtually every day of the past year Joan has feared it might be an occasion she would never cherish. But looking at tots Aoife and Niamh tears filled her eyes, and she said "Now I feel that I'm the luckiest mum alive."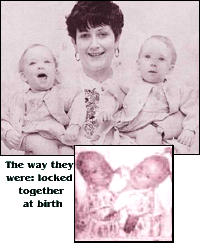 Then as the two bonny babies tried to blow out the candles on their cake at a birthday party for 15 friends, Joan added, "I'm just overwhelmed by the occasion, and so grateful that I have two normal healthy babies. Aoife and Niamh were born locked together at the chest. Surgeons carried out a delicate operation to separate them and were delighted as the babies made a full recovery." Joan went on: "They really are living miracles."
"I have even given them their first haircut to mark the occasion and I will treasure the locks forever." In the last year Joan, 32, and the girls' dad Paul McDonnell, 38, have watched the bond which will link the children for life grow on a daily basis. Joan said: "Every morning when the twins wake up the first thing they do when they see each other is give a huge wet kiss." The girls were born kissing each other and have carried on that way every day since. The babies show their sisterly love in other ways. As one gingerly takes her first cumbersome steps around the house, the other will always be just a few paces behind. Joan, from Manchester, said "Their favourite game is peek a boo. One of the girls hides in one room and the other pokes her head round the corner. They mutter away at each other as if they are talking a secret language. Even when they bang into each other they laugh. Bath time is their favourite time when they splash each other all over and giggle away."
The only time the girls are parted is during the night to prevent them waking each other at the same time for a feed. Joan and Paul endured agony during the first few months of the youngsters' lives as they prepared for surgeons to separate them. They knew the operation could prove fatal, instead it was a history making success.
Today the chest scars where doctors parted their tiny bodies are almost healed. Joan said "Every day when I see the little marks on them it is a reminder of what they have survived and how lucky I am. They are my little angels straight from heaven."
- Courtesy News of the World