Wasgamuwa: beauty and danger
By Dilrukshi Handunnetti
The Wasgamuwa National Park office walls are decorated with photographs depicting its wild life, and outside, are several trucks and jeeps, all poised to drive the wild life enthusiasts through the vast expanse of 84,500 acres of conserved land.
Dust rose in greeting, as we drove down the parched road. It certainly was not the most conducive environment for animals. The unbearable heat made them seek shelter under the trees and bushes, except for the graceful painted storks in flight and the majestic eagles perched on high branches.
Wasgamuwa, we soon learnt was known for the fierceness of its animals. Having remained a thick jungle uninhabited by humans for many years, it still has fewer visitors than other parks.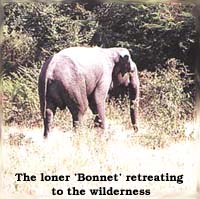 There are 156 migrant and endemic bird varieties found in the Wasgamuwa area, while elephant, sambhur and deer are also frequently seen. Though rare, leopards could also be spotted during the drought season when they come in search of water holes. Common kraits, pythons and cobras are also to be seen.
Declared a reserve under the Mahaweli Development project, Wasgamuwa was later declared a national park by then Minister of Wild Life Gamini Athukorale. According to our tracker Wijesinghe, the reason for the 'wild' reputation of Wasgamuwa was that unlike other national parks, Wasgamuwa has remained unknown and the animals were unfamiliar with humans.
Having wandered in the area for hours, we settled under a shady tree for lunch and siesta. As cooking and camping are allowed, there was considerable litter including polythene and beer cans, another grim reminder that conservation was still a word not translated into reality.
"The elephants prefer to hide in the thick forest. Drinking water has become scarce, and they do not drink water made muddy by buffaloes. They prefer to stay away till dusk," explained Wijesinghe.
Evening is more conducive for animal viewing as the animals make their way back to the water holes for a long drink before they retreat to the jungles. As we drove back, carefully watching for signs of animals, a group of over thirty spotted deer were coming out of their hiding place. Wijesinghe, led us quietly through the bushes closer to the herd. But soon they began twitching their noses, and rushed away. And suddenly there was rustle, and a thick black image appeared, causing our hearts to skip a beat But the majestic giant promptly changed its course, and retreated.
The next moments were filled with anticipation as the tracker explained, one elephant is often followed by others. We did not have to wait long. Suddenly there were elephants making their way to the Wilmitiya Wewa, their traditional drinking place.
At dawn and dusk, Wilmitiya is normally visited by large elephant herds. But the drought has reduced the water level making its murky waters a haven for buffaloes. The elephants have now found a new place to drink water from, the Yudaganawa Ebe, a few miles away from Wilmitiya.
We had to return before nightfall, but the sight of elephants made us reluctant. A loner suddenly appeared from one side. All cameras went up, and the vehicle engines promptly died as local and foreign tourists climbed on to the vehicle roofs for better view and camera positioning.
Things changed dramatically, when the loner suddenly charged straight towards our vehicle. While we all sat in petrified silence, the tracker climbed off, muttering mantras under his breath. The elephant calmed, and slowly retreated.
This elephant, we learnt, is known as "Bonnet"for his tendency to smash up windscreens and bonnets. "Bonnet", however has only caused damage to the vehicles and not harmed humans.
Wijesinghe who has a fascination for elephants related Bonnet's sad story to us. The elephant had been once harassed by visitors to the park, causing him to angrily react to human presence in his domain.
Dusk at Wasgamuwa is truly stunning. Buffaloes were returning to Wilmitiya to cool themselves as white storks, herons and painted storks created patterns in the distant sky. Soon it would be dark, and humans had no role to play in their habitat.
Despite the many restrictions and wild life groups patrolling the area, animals are being shot, a leading environmentalist said. Though unauthorized weapons are prohibited within the 84,000 acres of conserved area, animals are continuously killed.