AirLanka deal for debate soon
The controversial Air Lanka- Emirates deal is to be debated in Parliament early next month , according to political sources.
The necessity to discuss the agreement was raised in Parliament on Wednesday by acting Opposition Leader A.C.S. Hameed , soon after Minister of Aviation Dharmasiri Senanayake made a statement on the restructuring of AirLanka.
The Minister promptly agreed, stating that he favoured a debate as early as possible. An early date will be fixed at the next party leader's meeting.
---
CMC to discuss thermal power plan
By Kumaradasa Wagista
A resolution requesting government to stop the construction of the proposed thermal power plant at Noorachchiolai will be taken up when the Colombo Municipal Council meets on April 30.
Independent Councilor W.S.D.Seneviratne who has given notice of this resolution said construction of this thermal power project will cause severe environmental problems in this area, covering several square kilometres in the Puttlam district. Catholics of the area are worried this project will have adverse effects on St.Anne's Church Talawila and thousands of farmers will lose their fertile farming lands.
As the majority of Catholics voted for the formation of the PA. government, it was the duty of the government to listen to their plight and abandon the proposed thermal power project. Deputy Mayor Omar Kamil will preside in the absence of Mayor Karu Jayasuriya who is abroad.
---
Ministry probes DIG's claims of reimbursement
Defence Ministry has begun disciplinary proceedings against a senior Deputy Inspector General of Police on alleged fraudulent claims of reimbursement of legal expenses, The Sunday Times learns.
It is irregular to claim such money as legal fee for private counsel when the Attorney General had not declined to appear for the DIG on two fundamental rights cases, a senior police officer said. The total claim amounts to Rs. 74,000, it is alleged.
The DIG is claimed to have withdrawn Rs. 37,500 as the legal fee in one case in September 97 when the judgement was given only in March 98. The Supreme Court stated in its judgement that his application to the Court is clearly out of time and is accordingly rejected it, but without cost. But he had already withdrawn the amount, it is alleged
In another case, where he was ordered to pay a sum of Rs. 1,000 as cost by the other party, and after obtaining the cost he further claimed Rs. 36,500 tendering bills on private counsel and obtained this money on a voucher dated 97.2.7, contrary to the order made by the Supreme Court. It is learnt that both these claims have been made without the certification of the Attorney General as reasonable, thereby overlooking the procedure of such claims
Both the cases are contrary to the provisions of the Establishment Code, as there were no allegations of a personal nature, including allegations of torture and assault, or that these cases had not been filed as a result of some action arising out of his performance as a public officer.
---
Alawwa train bash kills four
By Sarath Kodisinha
Four passengers were killed and 10 injured when a passenger train hit another train from the rear at Buthgamuwa in Alawwa yesterday evening, police said.
The passenger train with 10 compartments was heading towards Rambukkana when the collision took place at 4.35 p.m., causing a derailment on the line and delaying several trains on the main line between Colombo and Polgahawela.
Railway authorities were investigating whether the second train had ignored the signals or proper signals had not been given to the second train. The first train identified as a 'service train' was carrying workmen for repairs.
The service train had left at 11 a.m. from Maradana and the second train from Fort at 1.25 p.m. However the first train had been delayed midway.
Both trains were derailed and all the victims were in the passenger train. A railway control room spokesman said they were managing with one line and all trains on the main line would face delays this morning. He said repair teams had been sent and they were hoping to restore normalcy by noon today.
---
Ranil sticks to consensus through Select Committee
By Dilrukshi Handunnetti
Opposition and UNP Leader Ranil Wickremesinghe has expressed reservations with Indian Prime Minister Atal Bihari Vajpayee on resolving the Sri Lankan ethnic question by reaching all party consensus with the suspension of the Select Committee of Parliament
The Opposition Leader who met the new Indian Prime Minister on April 21 afternoon, has reportedly expressed concern over government statements that it served no purpose to summon the Select Committee, the forum where divergent views were expressed and without which there was no possibility of reaching all party consensus, UNP sources said.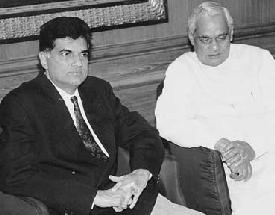 UNP leader Ranil Wickremesinghe with Indian Prime Minister Atal Behari Vajpayee in New Delhi last week.

The Indian Premier has expressed solidarity in the preservation of the 'territorial integrity' of Sri Lanka, and reiterated India's commitment to eradication of terrorism.
However, the Premier had said that the resolution of the ethnic question was an 'internal problem' of the country in which India did not wish to intervene.
Mr. Vajpayee however, had expressed the opinion that "a solution which receives maximum level of mass support should be exploited in the best interests of the country, and has elucidated the role of a vibrant Opposition in solving national questions."
The Opposition Leader has stressed the need to set up inter state and inter political party level link-up programmes to strengthen the existing relations between India and Sri Lanka.
Illustrating the economic and trade links with South India, he has sought the promotion of trade links beneficial to both countries.
Mr. Wickremesinghe during his two-hour meeting with the Indian Premier has thanked him for speaking in Lok Sabha on behalf of Sri Lanka on most occasions
The Opposition Leader during his tour also called on Indian Congress Leader Sonia Gandhi, former Prime Ministers Narasimha Rao and Inder Kumar Gujral, Vajpayee's media consultant Pramodh Mahajan, Ministers A.C. Advani, Susma Swaraj, Kumar Mangalam and Mrs. Vasundra Raja.
---
Chaos at LRH as flu spreads
Doctors call for contingency plans
By Arshad M. Hadjirin
The Lady Ridgeway Children's Hospital in Colombo and other hospitals were filled and overflowing with child victims of a mysterious viral fever epidemic that is sweeping across the country.
On Friday, the wards, dispensaries and corridors of LRH were packed with child patients and their parents while the unprecedented heat wave caused the added problem of severe sweating to the point of suffocation.
LRH Deputy Director Dr. Harsha de Silva said that on Friday alone there were some 300 child patients upto noon, while other sources said the total number of victims calling at the hospital daily had topped 1000.
While experts at the Medical Research Institute and the Health Ministry epidemiologists were still facing a cloud of mystery in identifying the virus, specialists advise that patients be kept indoors without covering them too much so that the heat could pass out of the body.
It was also suggested that patients be given lots of liquids in addition to basic medication such as paracetamol.
LRH sources said a few doctors at the hospital were struggling to cope with a huge influx of patients. They said the death toll so far from the viral fever and complications during the past few weeks were around 15 but they declined to comment on some media reports that the overall toll was nearing 50.
With state hospitals facing a shortage of paediatricians, and LRH overflowing with patients, doctors warned that the epidemic might reach unmanageable proportions unless contingency plans were drawn up and implemented fast with backing from the highest level.
In tens of thousands of homes in all parts of Sri Lanka, children and adults were reportedly afflicted by what is commonly known as the five-day flu. The epidemic was apparently no respector of persons. Our political correspondent reports that even President Kumaratunga came for the cabinet meeting last Wednesday looking weary and exhausted because she was suffering from a bad cold and fever.
Consultant physician Dr. Ananda Samarasekera advising people not to panic, said treatment should be given if body temperature rose above 100 degrees Fahrenheit. He said the heat and the perspiration should be allowed to go out of the body with liquids and paracetamol be given till a doctor is consulted.
According to doctors, headaches, body aches, coughs and colds and vomiting are symptoms of this viral flu. Just as children are affected badly, so are elderly people. Several people over 65 develop severe complications from the viral fever and some had to be given saline or hospitalised.