CSE bounces back to record better performances
Healthy year end and first quarter performances by quoted companies have given a new bounce to the Colombo Stock Exchange (CSE).
The ASPI had climbed from 606.7 points in January to 775 at close of trading last Thursday, while the SPI rose from 909.3 points in January to 1,232 during the same period.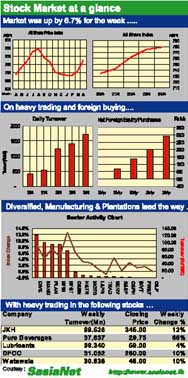 Growth has been most significant in conglomerates, plantations, and some commercial banks. Grain Elevators, JKH, Lanka Lubricants, Breweries, and plantations like Watawala and Maskeliya, have performed exceptionally well, brokers said.
"Micro factors like profitability, earnings growth, compared with other markets have made our market pretty attractive," Deputy General Manager/Head Domestic Sales Jardine Fleming, Deva Ellepola said.
Some analysts say this is a late reaction by most investors who knew the companies were good.
After a lapse of nearly eight months, foreign investors were net buyers with a net inflow of Rs. 64 mn in March. In comparison, foreigners were net sellers in February to a value of Rs. 95.7 mn. Foreign buying component for March was Rs. 611 mn.
Turnover for first quarter 1998 topped Rs. 4.6 bn compared to Rs. 2.1 bn in the first quarter of 1997.
Treasury bill rates have also decreased compared to last year. The 12-month treasury bills issued in April 1997, may have matured at around 15-16 per cent interest rate, analysts said.
At present, the rates are around 10 to 11 percent, with a real return of 1 percent, which is not adequate for individual investors and institutions.
"There is reason to believe that the market is attracting institutional investors as the treasury bill market is not attractive enough," Head of Research Jardine Fleming, Panduka Ambanpola said.
Foreign investors too are looking at the market more favourably, with most Fund managers regarding the sub-continent as a separate asset class.
Local investors too are more active than pre-1996 levels. The present low interest rate scenario with negative returns on savings accounts, has made individuals look more closely at the market for a better return.
---
1S0 9000 for food industry
The local food industry is expected to improve its quality management with inputs from The Leatherhead Food Research Association, UK, the Sri Lanka Standards Institution said.
As a first step a two day seminar on Quality Management is planned for May 18 and 19. The seminar will cover good manufacturing practice, principles of food law in European Union countries, principles of Hazard Analysis Critical Control Point Techniques (HACCP), ISO 9000 and the food industries, control of hygiene and contaminants, links between ISO 9000 and HACCP, labelling and packaging and legislative requirements for foodstuffs in the European Union, a press release said.
Experts from the Food Research Association will also be available for consultation on specific quality issues faced by the local food industry. Five Food Manufacturing Industries will be selected from among seminar participants to receive further assistance in implementing ISO 9000 Standards such as preparation of quality manual and training in internal quality auditing techniques. These companies will be assisted until they are ready for certification.
A key person from each of these companies will have the opportunity of visiting several food industries in Europe to understand how companies in Europe use ISO 9000 Systems to help them produce safe wholesome foods that meet customer requirements.
---
New Software for plantations
Indian Software Company Technological Consultancy Services (Pvt) Limited has provided comprehensive solutions to run operations in a complex of tea, five rubber and oil palm estates.
Watawala Plantations Ltd., Colombo, is the first plantation to go for full-fledged computerization for its operational and management functions from field level up to the management level. Kochi-based Soft Systems (P) Ltd., a company which specializes in plantation automation and has developed the first integrated package called Integrated Plantation Management Information System (IPMIS), a Company release said.
The systems are used in India, Kenya, Dubai and Sri Lanka.
The fully customized application software installation in Watawala Plantations Ltd., has enabled the company to monitor the output of thousands of tea pluckers, optimize the plucking schedules, manage the produce from field and tea factory till it reaches the Colombo Tea Auction.
Vish Govindasamy, Managing Director of Watawala Plantations Ltd., a joint venture of TATA India has shown keen interest by allocating a sum of half a million dollars ten months after the computerization, the release added.
Mrs. Achamma Joseph, Managing Director of Soft Systems, India, overseeing a test run in one of its Hatton Tea Estates said, that the specially designed and modified Lankan Plantation Software system has posed many special challenges due to the complex payment procedures.
For the first time, the individual plucker is now provided a computer-generated pay slip in which every detail of the quantity plucked, as well as a number of welfare inputs are documented.
---
Lankan firm develops software for Bartercard
A local software development house has been entrusted with the task of developing a new core software programme for the international network of Bartercard
Announcing this milestone, Bartercard Lanka Limited said the new software proramme developed by the Golden Key Company would be paid for partly on barter, making it a unique transaction, a company release said.
"Software is perhaps the most critical element in the modern barter system", Johnny de Saram, Managing Director of Bartercard Lanka has said. "it is the software that powers the trade exchange, enabling it to match the needs of members and maintain the credit and debit system".
The new software program is now being tested in Bartercard International offices in Australia, and will soon be installed in Bartercard trade exchanges in Australia, New Zealand, United Kingdom , Thailand, Hong Kong and Sri Lanka, Bartercard International's IT Director Maree St. Clair, said.
The new programme which is Windows based, is an on-line system which encompasses all activity of the Bartercard cashless trade system, from issuing of an authorisation number for a transaction to generating monthly statements of all activities relating to individual members, said Golden Key Company's Director /General Manager Suramya Kurunaratne.
The programme comprises seven modules which include activity relating to transactions, reports, system maintenance, permanent information, processes, administration and inquiries. These modules provide a range of functions including storage of records of members for up to four months, displays of daily updatable information on members, generating daily and monthly reports on members and other internal activities, providing all transaction details from issue of authorisation numbers at payment, search facilities for buyers and sellers on the system and an error reversal facility. It has been designed with multi-currency capability and contains a currency conversion facility.
Bartercard Lanka, which is the only cashless trade exchange in the country, recorded another milestone in March when its membership topped 500, Director Trading John Ramsey has stated. The exchange had processed more than Rs 100 million in trade transactions by February 1998.
Popular items traded by bartercard include office automation products, printing, air freight, security services, advertising, catering, motor engineering, entertainment, cosmetics, interior decor services and construction materials.
Bartercard Lanka is a BOI approved venture involving The Golden Key Credit Card Co. Ltd, a member of the Cylinco Group, the People's Venture Investment Co. (PVIC) a People's Bank subsidiary, Equity Investments Lanka (EQUILL), an associate of the Commercial Bank of Ceylon, Bartercard International of Australia, Marased (Pvt) Ltd. and CFI Ceylon (Pvt) Ltd.