22nd February 1998
Why not in Tamil?
By Culius Jaesar
The local private stations are bent on telecasting a wave of Hindi movies, Hindi songs, Hindi this and Hindi that, while the country is arguing whether President's Independence speech in English is right or wrong. At times you wonder whether we are an Indian state-north Indian-perhaps. In addition to this some stations telecast Hindi teledramas too, dubbed in Sinhala, when our teledramas are far superior to them. Shanthi is more or less an Indian version of the Western soaps-Dynasty, Bold and the Beautiful etc.
Dubbed into Sinhala or subtitled in Sinhala is OK if there was only a Hindi version.
The question is why do these stations telecast Hindi stuff when there are Tamil versions of the same?
Some pioneer TV stations repeatedly telecast one Tamil film for a record number of times-perhaps to recall their pioneering days.
One source said that despite protests the station keeps repeating the same films. The decisions of a person in charge for Tamil programmes are overruled by a superior they say. All the while telecasting Hindi versions of Tamil films too.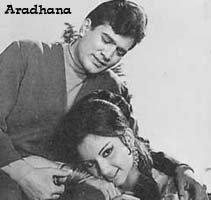 Recently MTV telecast Kaadalan, Roja and Bombay, all Hindi versions, with the usual tags saying "Subtitled in Sinhala." Last week, ITN telecast Aradhana , a Hindi film. Again with subtitles." Perhaps because the majority of our country can't understand Hindi, let alone Tamil. Some understand English and quite a few more understand Tamil as there is a Tamil speaking population in this country, if I am correct.
This is just three examples. The list is longer, as many Hindi films are either remade in Tamil, or vice versa. Roja was originally made in Tamil. When it became a box office hit it was dubbed into Hindi. Same with Kaadalan. What was telecast is a dubbed version. Not even a remake. It is a joke that these stations are telecasting dubbed version with subtitles.
Bombay was produced simultaneously in Tamil and Hindi by Mani Ratnam with the production crew from Kodampakkam. Aradhana, had a Tamil remake with Sivaji Ganeshan in the lead called 'Sivahamiyin Selvan.'
The problem here is not the subtitles. They are welcome.
But why do the programme directors or whoever that may be, go for the Hindi versions when there are Tamil originals or equivalents?
The contention here is that if the Tamil films-subtitled in Sinhala- were telecast the Tamil audience too can watch, while those who can't understand Tamil can follow the subtitles. They can't understand Hindi anyway. Hence it won't make any difference whether it is a Tamil film or Hindi film. But it does make a difference to the Tamil audience. When Hindi films telecast with subtitles in Sinhala the Tamil audience is kept out. They can read neither Hindi nor Sinhala.
The same applies to the cinema halls too. At times these cinemas screen Hindi films when there are Tamil originals. Why?
It is not difficult to find out whether the selected Hindi film is a dubbed version or whether there is a Tamil version of the particular film. To say otherwise is to say that those who are responsible are idiots. Are they?
---
Who am I, Which am I?
Poornima Jayewardena, fifteen year old Sri Lankan girl living in Darwin, in the Northern Territory of Australia has sent us her poem, who am I, which am I? Based on various experiences and childhood memories, this poem was written originally to form part of her English assessment folio. Chosen out of all the entries from her school, it was entered into the junior section of the Northern Territory Literary Awards, where it was short listed, and then published in her school's contact newsletter. In her poem Poornima has tried to convey the conflicts many immigrants feel, torn between their mother country and their adopted home.
Who am I, Which am I?
As a little girl of 5,
I remember playing marbles on a hill,
near the paddy fields.
I was a Sri Lankan..
At the age of seven,
the big move,
Three words - civil war and immigration.
My parents tore me from my grandparent's arm,
We tearfully whispered good-byes,
That day, a part of me never came along.
I have some regrets.
At ten, I am still a Sri Lankan,
but now, I live in the sunburnt country,
I am different here, so I must abide to their rules,
"When in Rome, do as the Romans," they said.
They tell me I must integrate,
Yet, does this mean I must shed my culture,
The very essence of who I am?
My nationality is divided.
I became a Sri Lankan born living in Australia.
At 15,
I am finally ready to be an Australian,
I have integrated,
I have competently, learnt my English,
I am, to the best of my ability, a good little migrant,
Yet, there is a part of me
that refuses to abandon my culture.
So I am shunned.
For that reason,
no matter how long I remain here,
I will always be the foreigner.
Yet another useless immigrant torn between two cultures,
Neither here nor there,
I've lost my identity.
Who am I, which am I?
---
A desire to bring peace
My dearest daughter,
The son of a friend of mine was killed yesterday, and I was so sad. What can one tell a parent who has lost his only child in a conflict which does not yet seem to have a solution. Death comes in many ways, child, illness would perhaps wear away my life, age, an accident, anything can snuff out a life, but to think that one human being would deliberately choose to destroy the life of another - what a reflection.
In a sense I think when some poet said 'each man's death diminishes me,' I think he was correct. Life is so precious, no scientist could yet create that spark of life. We may have test-tube babies, surrogate mothers, but that little flicker of life, no human hand could make. On the other hand, scientists try so hard to preserve and yet deliberately man kills so wantonly - so carelessly. Perhaps somewhere a God is asking "Cain where is your brother?" and another Cain replies "I am not my brother's keeper".
I think that is what has happened, we have lost our identity with each other. We are no longer brothers seeking the common goal of peace and prosperity, individually we are destroying each other, seeking a distant goal where suspicion and hate will smother whatever dreams we have. Our lives today have become twisted knotted threads of despair for there seems to be no end to this continuous destruction. Yet we glibly talk of year 2000 as an year of realisation, but could we ever reach the Utopia we vaguely visualise unless we can today obtain some direction and some hope.
What I wonder, are we leaving to you, the young, except a legacy of sadness. I wish and pray that you as your generation takes on the leadership of this country will have a greater love and desire to bring peace, for today much as many talk of peace I do not think they are committed to it. It appears to be just talk and nothing else. I hope, my daughter, that you and your friends will have a greater courage than ours to do what is just. I am glad that many of your generation think of coming back after your studies to this the land of your birth for the hope of this country lies in your hands.
– Ammi
---

Walking tall in the London ramp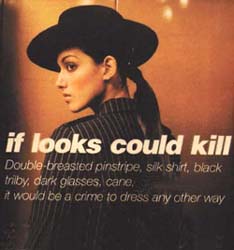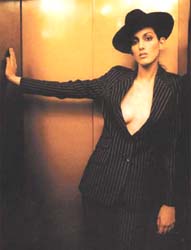 Born in England, to Sri Lankan parents, Serena Kelaart has lived almost all her young life there. The willowy, almost six foot beauty was spotted by an agent from a London modelling agency Model One while travelling on the tube and catapulted on to the ramp.
"Serena is the last person whom I would have expected to take to modelling," says her mother Arlene. "She always hated dressing up and loved nothing better than relaxing around in the house. She's one of those people who can be up and dressed in 15 minutes."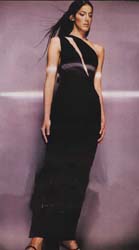 Serena's parents lived in England for 27 years when her father Carl worked for the Royal Air Force and now make their home in Kandy. Her parents are Burghers and mother Arlene attributes Serena's exotic beauty to her father's Portuguese-Dutch ancestry. "She has a somewhat Spanish look to her."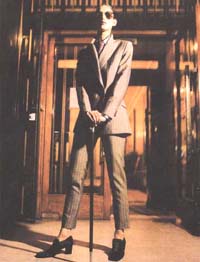 Serena took a mathematics degree at the London University and has currently taken time off to do modelling, but her mother is quite emphatic that she will not pursue it as a long-term career. "Serena tells me that it is very hard work and though she has worked with international names like Ghost and appeared a couple of times at the London Fasion Show, besides being featured in mainstream British newspapers like The Sunday Times and The Evening Standard, she is definite that it is only an interim job."
Serena 22,has only visited Sri Lanka when she was four, but her older sister who also lives in England and shares her stunning looks is currently on holiday here and loves the country so much she is loath to return.
---
Continue to Mirror Magazine page 3 * The Comfort Zone * Kumarika's hoppers a hot seller * Beauty
Return to Mirror Magazine contents
Please send your comments and suggestions on this web site to
info@suntimes.is.lk or to
webmaster@infolabs.is.lk