15th February 1998
"My friend Upali"
By Upatissa Hulugalle
The anniversary of Upali Wijewardene's disappearance comes five days before his birth anniversary. This year it is fifteen years since he disappeared and sixty years since his birth. I was fortunate in refusing to accompany him to Malaysia, actually he wanted me to go on with him to Australia, as the bloodstock company he administered, had bought a good racehorse there which he felt had good possibilities. After Upali's disappearance this horse Trissaro was the most outstanding horse in Australia for that year, but as it was a gelding, it had no stud value.
The Company had bought a Lear Jet which it could ill afford and I told him, if he buys this plane that he would go bankrupt, like two of his Wijewardene uncles, and though it had been about five months since the plane had been purchased, I had never been on it. I had been a regular passenger in the Citation which was a fourth of the Lear price.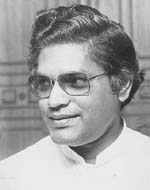 Upali was a classmate of my younger brother Arjuna, first at Ladies College, Royal Prep. and at Royal College.
Even as a boy when others were playing cricket and rugger, Upali was talking of international business and of owning planes and race horses. He was a keen gentleman rider and even now his cousin Lal Gooneratne talks of how he brought him home unconscious after Upali had fallen on Galle Face Green.
I came to know him well, when Upali was still at Lever Bros. and we were both directors of Ceylon Paper Converters Ltd. a company controlled by Anton Wickremesinghe.
Since he knew our family and as my father had been of great support to the most successful of his father's brothers, and also was the brother in law of his father's eldest brother, he treated me as a friend and sounding pad and trusted person. I was never his employee but acted as an adviser.
As my father had written about the life and times of D.R. Wijewardene, he expected me to write his biography and often asked me whether I was taking notes. Later when he was successful he was like some feudal lord who looked after his minions and made it a point to find out my wants and see that they were looked after. In fact when he could not agree with his sisters of which portion of the 50 acres of land reform land he could have, instead of quarrelling with them, he asked them, to give whatever portion and he gave it to me. I arranged for my wife to buy it, as she had sold a property.
Upali was not an othordox businessman who looked after the pennies, but made use of opportunities. His father was more religious than business minded and spent a good deal of his short life in helping his mother Helena Wijewardene to rebuild the Kelaniya Temple. Thus the opportunistic Upali inherited the business instincts of his grandfather Don Philip Wijewardene who also died young after amassing a large fortune.
Upali was quite proud of his grandfather, who was a government contractor, and when comparing notes with Mark Bostock, while doing a large share deal, found that Mark's father was the Ports engineer building the port and Upali's grandfather was the contractor supplying the sand.
An interesting story which Upali related was how there was a conservancy strike in Colombo. The resourceful Governor of that time sent for the very successful Government contractor of the time and wanted him to help him to break the strike. Don Phillip obliged and helped the Governor by arranging for the disposal. His wife and eldest daughter were shy about it. Upali went on to make the tale more interesting by saying that at the end of the contract when he received his money he converted them into gold coins, put it in a gunny bag made a few holes and took it home to their Sedawatte Walauwa. While dragging it to the store room where the cash and gold were kept, a few coins dropped out of the bag and his daughter (later mother of J. R. Jayawardene) picked up the coins. Don Philip then remarked to his wife and daughter, The work I did, you did not approve, but the gold you seem to love."
This was typical of Upali who narrated this with large guffaws.
When Upali left Lever Brothers to start his own business, he bought the seeni bola business from another employee of Levers. It was then that by an advertisement that he first hired Murugiah who later became his Managing Director. From boiled sweets he went up market to toffees and from then on he cashed in on opportunities. His radio factory was a cash cow, as at the time he made used of his connection with the then Minister in charge of imports, and got his permits to import radio parts and assemble radios as there was a vast scarcity of radios, and his prices were not controlled while the competitor was controlled by the Minister of Industries. He had a short stint at assembling cars by importing spares. He was able to finance his Homagama complex with the advances he received on his cars. The land and the buildings of this complex was part of the Upali Motor Company.
His taking over of Ceylon Chocolates was also by a chance. When his uncle died, his cousin did not refuse to part with 25% of the shares which his uncle owned. His friend Lalith Kotelawela agreed to sell him 20% of the shares owned by Ceylon Insurance and by bidding for the balance 5% he got control. It was a similar story when he got control of the plantation companies, due to his friendship with Mark Bostock.
In the early seventies Upali, like any other entrepreneur, was stifled in Colombo as the Government was monopolizing business. Fortunately for Upali he knew Dr. N. M.Perera the then Minister of Finance and they had mutual admiration for each other. Dr. N. M. Perera was a pragmatist though to the world a strong socialist. I had met him in Singapore a few years earlier at Dr. Sepala Amarasuriya's residence and while travelling in the same car to the City centre, I mentioned that Lee Kuan Yew had made a great success of Singapore to which he agreed. Then when I said he was a communist, Dr. N. M'S words were. 'But now he is a realist'.
Thus Dr. N. M. Perera, the realist, found that capitalist Upali, had no place in socialist Sri Lanka and suggested he go international. Socialist Sri Lanka was not officially helping a capitalist to try to use his entrepreneurial skills abroad and Upali had to fend for himself.
I was on a midnight flight to Singapore and I found Upali was on the same flight. I was staying with my friend Gamini Salpitikorala a very successful Insurance executive in Singapore and Upali was staying close by at the Singapore Hilton.
Gamini left for the U. S. and left his Mecedes for our use. Upali and I used to drive every evening into Malayasia and spent time, going into shops trying to find out what were the business possiblities.
I remember Upali corresponding with young articled clerk of Satchitananda, Schockman & Wijeratne, Chartered Accountants, and Upali telling me he was a bright boy who he hopes will join Upali Group when he finishes his articles. He should be able to be the next chairman after Murugiah.
In hindsight it was a strange coincidence that this youngster was Nimal Welgama who later obliged Upali and joined the Group but after a couple of years had to take his father's transport business. May be Upali had a special closeness to Nimal as his people came from Matugama and the original Tudugala Wijewardenes also came from Matugama.
During this time Upali confided in me what his plans were. He seemed to be fairly sure of dying before he reached 45 years. There was a possiblity of his drowning and he told us that his mother was careful about his bathing in rivers or the sea.
He felt with his business acumen he could build a business empire. His intention was to see that the Corporate structure which he built would have no personal ownership and it would be run by his executives. After building this conglomerate he was to retire at forty and then give up the world and meditate under a Bo tree. The Sri Lankan Companies were to be sold to a Company owned by the international holding company.
Murugiah his deputy would take over and in turn retire before fifty and the next man was to be the C. E. O. The companies would have had no shareholders to service, the excess profits could be used for charitable purposes. There were not too many opportunities in Singapore to make a quick take off as both the Chinese and British corporate raiders were operating. He bought a small Chocolate plant in Singapore and declared it under an amnesty and when it folded up he brought back the proceeds into Sri Lanka.
He never wanted to give up his Sri Lankan residence and I had to become a non resident to act on behalf of the International interests till the legal corporate entity was structured . It meant being out of Sri Lanka for one year and spending more than 185 days a year abroad. I continued this arrangement till a few years after his disappearance He decided Malaysia was a place with opportunities and decided to go there.
Dr. Sepala Amarasuriya gave us an introduction to a lawyer in Kuala Lumpur, S. M. Ratnam. Ratnam whose father came from Jaffna had gone back to Ceylon and had been at Law College before completing his Bar examinations in England. He had found Ceylon a very pleasant place and both of them took to each other with mutual trust very easily. He was the brother of the eminent Professor Ratnam.
Ratnam arranged to set up the original Upali companies in Malayasia where Upali and Murugiah had the powers of attorney but no ownership, and from there on, lawyers in Hongkong on the instruction and funding from these companies were able to build up a structure in which Upali and Murugiah could operate globally free of Sri Lanken stringent exchange control and the very high tax net which Dr. N. M. Perera introduced where there was a ceiling on income. Upali was able to get the backing for international bankers in his quest for going global.
The international operations were now growing and might have become a global conglomerate until an incident took place in London.
Upali was married and had taken his wife to London. He went for the Epsom Derby and few days later to Cambridge and showed his old College and saw the horses at Newmarket.
\The next day it appeared that Upali had a stroke and with great difficulty he had to be convinced to go to hospital Dr. Kiriella was a consultant surgeon at St. Helens, and he came over to the Hilton and took him over to his hospital.
There the consultant physician decided that it was best that Upali be entered to Atkinson Morely Hospital which specialised in brain problems it was found that there had been a caratoid block and it was best to live with this impairment as his other caratoid was normal and the blood vessels had adjusted and sufficient blood was flowing to the brain.
However after this set back, his desire for making money was gone. Actually he told me "Upay, no more business only pleasure". As a business man he never rubbed against any politician, as it would have affected his business. He helped all political parties with cash and even individuals contesting were given cash contributions. After his illness he started attacking two of the most important ministers in the J. R. Jayawardene cabinet. The reason may be they opposed J. R. Jayawardene's intention to make Upali take William Gopallawa's place as president, even for a short time. Upali would have liked to go to Royal Ascot and may be be seen with the Queen, another racing enthusiast. His investments after his illness were all done for personal reasons not as businesses to make profits. The Wijewardene's were press barons so he started a newspaper. He had worked at Levre Brothers and he decided to manufacture soap.
His childhood dreams of owning aeroplanes made him start an aviation Company. From a low profile shrewd business man, he changed to have a high profile. He first bought a helicopter and his international Company bought a Citation, and later the international company bought a Lear Jet which it could ill-afford and all his own possessions and that of his international corporate structure were mortgaged to buy this. He was no longer interested in his business affairs.
He concentrated on his work as the Director - General of the Greater Colombo Economic Commission where he used his knowledge and experience to make a success. He was responsible for structuring the Free Trade zone as some of J. R. Jaywardene's ideas regarding a replica of Singapore was not practical. Many people who worked with him in setting up the zone had a very high regard for his ability, ideas and thinking.
At this stage, even with his close relationship with the President he found that even ordinary Members of Parliament had more access to power than himself.
He tried hard to get into politics and obviously people like Premadasa opposed the president giving him an entry. He was friendly with Gamini Dissanayake but Gamini was very cynical about Upali's approach.
Meanwhile the business empire was crumbling and deep in debt. The loans of his international Companies were accumulating interest and in Sri Lanka, People's Bank which had really built up Upali had several cases against his companies for non payment of loans. It was obvious that if he was not interested in business he should have sold out.
When he disappeared, there was a cloud of bankruptcy hanging over his empire. Fortunately for the people left to thread the pieces together, there was time of seven years before he could be declared dead. Murugiah who was a partner in the Internatinal Corporate structure had the power of attorney, like Upali himself, of the Holding Company abroad. He also had the Power of Attorney in Sri Lanka. The localpower of Attorney he gave Mrs Wijewardane as a substituted power of Attorney.
Murugiah remained abroad and saved the international corporate entity from bankruptcy and liquidated the Companies abroad.
The executives here instructed Mrs. Wijewardene to act to save the assets in Sri Lanka which belonged to Upali. Mrs. Wijewardene did not know anything about the business as Upali had never shared his business life with her. However when Upali got interested in politics, she was able to guide him and the newspaper much to his admiration.
Her father, Dr. Sivali Ratwatte gave up a lucrative post with the U. N. and came back to Sri Lanka and was able to help through his contacts with the powers of the time to stave off a foreclosure by the Peoples Bank and eventual bankruptcy.
---
Continue to Plus page 11 * Why ape the values of the bazaar?
Return to the Plus contents page
| HOME PAGE | FRONT PAGE | EDITORIAL/OPINION | NEWS / COMMENT | BUSINESS
Please send your comments and suggestions on this web site to
info@suntimes.is.lk or to
webmaster@infolabs.is.lk