1st February 1998
Precaution: security force personnel frisking the voters for any firearms outside a booth

Pix by Lakshman Gunathilake

Contents
---
Turning point for north?
By Arshad M. Hadjirin in Jaffna
The first woman mayor of Jaffna, on being elected on Friday held out the possibility of a dialogue with the LTTE, as a step toward achieving real peace in Jaffna.
TULF mayor-elect Sarojini Yogeswaran, widow of the slain former MP for Jaffna, told The Sunday Times soon after her victory she would remain in Jaffna and would do everything possible to initiate talks with the LTTE with a view to consolidating the peace in the war-ravaged northern capital.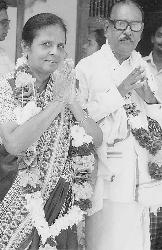 Sarojini Yogeswarn, Mayor elect with T.N. Thambiraja Deputy Mayor elect
"This war-torn city and its suburbs desperately need a civilian administration.
"The military checkpoints virtually at every hundred metres do not provide a climate for freedom and peace," Ms. Yogeswaran said in the interview at her bomb-shattered house.
Ms. Yogeswaran said she felt effective peace could be achieved only when an agreement was reached between the government and the LTTE.
"If we want to restore this city back to the glory it once enjoyed, the principle of non-violence must be the foundation," she said.
Her views were echoed by ordinary people.
Many civilians we spoke to at polling booths said they hoped the elections would mark the end of air raids and bombs.
"We do not want any more gun fire from the security forces or the armed groups. We want peace," one voter pleaded.
S. Sivarajasingham, a farmer who came to vote at the Kandarmadam centre in Jaffna town said he voted not for any party but for peace and peace only.
Other civilians were not so enthusiastic and felt the whole exercise was largely a political show if not a farce.
Yet they came to vote because they felt the ballot and democracy must now take over from the 15-year reign of the bullet. Some of them travelled as many as ten miles to vote.
Some voters stayed at home largely due to fears of violence in or around polling centres, after the LTTE launched a dawn attack on several security points around the Kurunagar Jetty, sparking clashes that lasted nearly six hours.
The LTTE had also issued leaflets warning the people against going to the polls.
Jaffna commander Lionel Balagalla said the authorities had used the media and other means to bring about an awareness among the people on the need and the purpose of the local elections.
Brigadier Susantha Mendis told The Sunday Times that at no stage was pressure put on the people to vote.
"We advised them but left the final choice to the people," he said.
EPRLF leader Suresh Premachandran had one complaint.
An official of another party said there were cases of impersonation and also questions about the voting registers in various booths.
At one booth in Chavakachcheri a teenager was seen voting when he obviously did not have his name on the 1986 register, but many elders were turned away.
Ms. Yogeswaran also spoke out strongly against the outdated and unbalanced registers and the hurried manner in which the elections were held.
She said the voters list contained the names of hundreds of dead people.
Chavakachcheri resident Murugesu Krishnakumar, however, had a positive view.
He hoped the election with all its flaws and failings would be a turning point for Jaffna after so many years of gunfire and hatred.
EPDP chief Douglas Devananda, whose party won ten of the councils, said whatever the turnout might have been, the people had with one voice demonstrated their need for peace.
Meanwhile the Centre for the Monitoring of Election Violence (CMEV) reported 46 incidents of violence from December 9 to January 29. The worst incident resulted in nine deaths when the LTTE launched an attack on Punguduthivu.
---
Civilian rule soon
Government forces which control most parts of the Jaffna district will gradually step down from their administrative duties and hand over to the newly elected local bodies, Northern Commander Lionel Balagalle said.
"However we will take every possible precaution mainly to protect the people," Major General Balagalle said after the successful completion of elections to local bodies in Jaffna and Kilinochchi with a fairly good turnout.
Another top officer in the north, Brigadier Susantha Mendis said they had already handed over most of the administrative work to the GA of Jaffna. "We step in only when civilians feel they cannot get things done or when their is a threat from the LTTE," he said.
Maj. General Balagalle said the army had warned armed groups in Jaffna not to carry weapons in public, and that he might be forced to withdraw the weapons if the orders were not complied with.
Jaffna's Mayor-elect Sarojini Yogeswaran also said the presence of armed groups was a hindrance to the restoration of democracy and she would take up the issue at the highest levels.
---
Balagalla's polls report
By Christopher Kamalendran
A large section of voters, mainly the educated, did not vote as a majority of candidates at the northern polls were from militant groups, Northern Commander Lionel Balagalla has said in a report.
He said the pre-election activities by the LTTE, including threatening of voters, candidates and polls officials also had a psychological effect on the voters. Major General Balagalla in his report said most of the polling booths opened only after 9.00 a.m.
---
Polls hopelessly flawed
Over 50,000 polling cards in Jaffna City remained undelivered on election day. The Local government polls held on January 29 was hopelessly flawed in that the authorities were guided by a census statistics list last conducted in 1986. This list has 571,486 registered voters. However due to the situation having changed considerably since 1986, it is estimated that there could not be more than 250,000 eligible for voting this year. This was confirmed by Elections Commissioner Dayananda Dissanayake. Due to the many displaced, dead, missing and migrated, it is impossible to maintain that the total voting population of Jaffna is 571,486.
Mr. Dissanayke said on January 1st it was estimated that 491,000 had returned to the Peninsula. Out of this it is presumed that 250,000 would be eligible for voting. Against this figure the voter turn out at last week's northern polls would be 43%. It is estimated that 112,000 people cast their vote in the Jaffna Peninsula.
There was confusion with regard to the distribution of polling cards. Ms. Sarojini Yogewaran of the TULF said there was haphazard distribution of polling cards while allegations were being made that some cards had been pilfered.
Allegations were also levelled against a Tamil political party bribing post office workers and collecting undelivered polling cards in Jaffna, Kopai and Nelliaddy.
In Mirusuvil South Post Master I Subramaniam said 1,750 polling cards had not been delivered. He said a large number could not be delivered to those living outside Forward Defence Lines.
---
Continue to the News/Comment page 2 * Vote for an unarmed democracy * Batty endorses FR case * Big nadagam over the show

| HOME PAGE | FRONT PAGE | EDITORIAL/OPINION | PLUS | TIMESPORTS
Please send your comments and suggestions on this web site to
info@suntimes.is.lk or to
webmaster@infolabs.is.lk