Special Assignment
25th January 1998
In the grip of pistol gangs
By Anthony David and Chris Kamalendran in Vavuniya. Pix by Gemunu Wellage
Residents and refugees fall from one hell hole to another as security is tightened in Vavuniya
When a young man in his late twenties walked unobtrusively towards a checkpoint at Pandarikulam, barely a kilometre away from Vavuniya, a policeman clutching a Chinese T 56 rifle and an ammunition pouch strapped to his chest, motioned with his head.
The youth knew it was clearance for him to advance to be searched before entering Vavuniya. As he walked stealthily, he dipped his hand into his right side trouser pocket. It seemed he was trying to pull out his national identity card or an official permit.
What came out instead was an automatic pistol. He aimed it at the policeman and pulled the trigger. A group of five armed constables ran for cover and were safe behind sand barrels.
A few yards away, four-year-old Kayanan, who was playing with some friends fell on the ground and was bleeding profusely. Residents in the neighbourhood ran into their homes, shut their doors and windows.

Kayanan's parents ran along the road for over half an hour before finding help from a vehicle owner. When they rushed their son to hospital, he was pronounced dead.
Paradoxically Kayanan met with his death when his parents and relatives at home were busy decorating their house for a family wedding. A joyous family reunion that was to be followed by a grand wedding, changed to a tragic funeral.
The young intruder who opened fire was an LTTE infiltrator who wanted to kill the policemen. Instead he took the life of a four-year-old. The drama, however, ended with the policemen who took cover shooting the youth dead.
But that seemed an exception. Other pistol gangs have succeeded in committing murder, wreaking havoc and still make good their escape. In the past three weeks alone, they struck six times. A Military Police officer, a police sub inspector, four suspected security forces informants were all killed.
In the wake of the panic these murders caused, Vavuniya town, the showpiece town of normalcy in the north for successive governments, has now become a town of terror. The security forces are on a high level of alert. We went through at least six police checkpoints located at some 50 metre intervals, most of them within easily visible distance.
Those passing through are given body searches and put through a course of intense interrogation — where they were coming from, where they are going towards, the purpose of their visit, how valid their permits were etc.
This has become daily life in Vavuniya, 158 miles north of Colombo — the gateway to the northern province and the key town serving the larger needs of the community extending from Mannar in the west of Mullaitivu in the east.
Since the launch of Operation Jaya Sikurui (or Victory Assured) it is here that thousands of refugees from the Wanni have sought safe haven. Some had arrived from the Jaffna peninsula during Operation Riviresa. Others had remained in the Wanni and later trekked to Vavuniya.
Last week, we saw some of them being screened before being moved by road to Trincomalee for a boat ride to Jaffna. They were ending their status as refugees or internally displaced persons and were to become voters at the January 29 local polls in the Jaffna peninsula.
In addition to its geographical importance, Vavuniya still remains the last administrative and trading outpost before the combat zones of the Wanni. It is also the railway and bus terminal for the population.
It is also the base for the Joint Operations Headquarters (JOH), the joint military apparatus fighting the LTTE. It is from here that Operation Jaya Sikurui is being directed for the past ten months to open a land based Main Supply Route to the Jaffna peninsula.
Whilst the troops keep pushing the Tigers beyond Kanakarayankulam as they advance to link up with Kilinochchi, it seemed a strange irony that the LTTE had begun to destabilise Vavuniya.
A Military Police officer and soldier were returning from duty at the Vavuniya Railway Station, when a member of the pistol gang emerged to shoot the officer dead. The soldier carried a weapon but withdrew. His conduct is now being probed by the Military Police. How did the intruders arrive? They passed through checkpoints using a day permit issued to an inmate of a refugee camp.
A similar pass had been used by the pistol gang that shot dead Sub Inspector S. Pathmakumara who was buying provisions at the Vavuniya public market.
Permits are a most valuable document for mobility in Vavuniya.
There are groups willing to pay good money to purchase blank ones. Last week in Vavuniya, a police constable who allegedly removed two blank permits from a Permit Book was interdicted and investigations are being continued, we were told.
The sudden deterioration of the security situation has brought in a degree of uncertainty. We learnt that state officials, traders, school principals and civilians are worried about the deteriorating security situation. The people who have been enjoying a relatively peaceful life are well aware that increasing incidents will again cause more problems.
"We have been living peacefully .As soon as there is an incident we are compelled to close shops, our business is affected and it takes a few days for life to return to normal," S. Ragunathan, a businessman said.
Senior police and army officials admit that with the recent incidents civilians are scared and that there is general fear that the security situation would further slide down. However, they claim that additional security checks are being carried out to prevent infiltration and further attacks.
Residents say pistol gangs infiltrated Vavuniya when the LTTE launched its first counter attack on Operation Jaya Sikurui at Thandikulam on June 13, breaching the defence lines.
An NGO representative who did not want to be identified estimated the number of infiltrators at anything between 600 to 700.
However army officials we spoke to estimate the figure around only 100 to 150.
The residents fear even a small number could disturb the peaceful atmosphere and drive a wedge between the security forces and the civilian population. "Even in Jaffna at the very beginning it was such isolated attacks like this that later led to major incidents. We just do not want to go back to this situation," said Ramachandran Kandasamy.
Some of the residents we spoke fear that the LTTE may trigger off a major incident or incidents in the Vavuniya area before the Golden jubilee independence celebrations. Some of them indicated there were signs to that effect, but declined to elaborate.
At the checkpoints, seen throughout the town, policemen and women and soldiers pay attention to a small pink slip which serves as a temporary pass. It is also the entry pass or a permit for their stay in Vavuniya ranging from one day to a week.
Persons staying beyond a week are given a 'letter pass' which gives more specific details of the reasons for their longer stay in Vavuniya.
But an NGO official was quick to point out that all the pistol gang members either killed or arrested have had a pass in their possession. One of them had a three month pass ('letter pass') which includes a photograph of the pass holder. They not only had the passes, but had brand new National identity cards.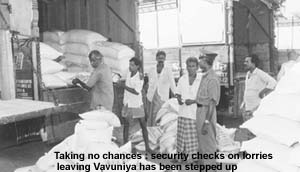 We saw a group of constables waving off a lorry carrying civilians after the driver handed over a calendar to one of them. Hardly 50 yards away the lorry was flagged down by another group of policemen. All were thoroughly screened and their passes were severely examined, giving us an idea of the marked contrast even within the same police force.
The Modus-operandi of the pistol gang members has been to mingle with the civilians, carry out their attack and disappear. When they find it difficult to escape, they commit suicide by swallowing cyanide capsules.
"Compared to the situation two years ago, the security forces have now under their control larger areas making it more difficult to maintain order. Therefore the pistol gang members have a better chance of infiltrating the area and carry out attacks," a police officer speaking on anonymity said.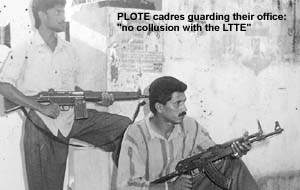 Tamil political parties such as the PLOTE also play a key role in assisting the army in the forward defences. They help identify LTTE cadres. There were allegations in some security circles that PLOTE members colluded with the LTTE — an allegation denied by PLOTE MP V. Balachandran.
"We always work with the army. There is no way that we can help the LTTE to infiltrate the place. It is the duty of the security forces and police to take steps to prevent the LTTE cadres from infiltrating. They should make sure the civilians are not harmed or harassed when there is any incident," the MP said.
"So far there has not been any crossfire by the security forces or police immediately after the shooting incidents. People have not been harassed so far after the incidents," Mr. Balachandran said.
In an apparent move to curb LTTE activities within Vavuniya the government along with security forces has decided to strictly enforce regulations regarding the passes issued for the stay in Vavuniya. The temporary pass normally issued for a three day period could be extended. But in view of the recent incidents, the authorities have decided not to extend the passes from Monday.
The temporary pass issued for persons living in 'refugee camps' (welfare centres), enabling some of the inmates in the camp to go into the town and work within the day and return has also been restricted. The pass had so far been issued for four hours , but the police was not strictly enforcing the regulation which enabled persons to work and make a living. From Monday onwards the government started strictly enforcing the law and all persons will have to return to the camp within four hours.
"The government is giving these refugees only cooked meals.
The males in the camp used to go out and do labour work and earn a few rupees for their additional expenditure. But from this week onwards this would not be possible," an officer in charge of welfare centres said.
Attempts by 'The Sunday Times' to interview Deputy Inspector General of Police (Wanni) Lionel Karunasena and obtain an official comment on the security situation in the region were not successful. On Monday we were told that the DIG was at a conference and later in the evening we were told that he had visited the Main Supply Route.
---
More than 400 people on Monday stormed the government Secretariat in Vavuniya after security authorities decided not to extend their passes — the most required document for mobility in the peninsula.
Elderly men and women among the group claimed they had travelled three days from Uvilankulam paying up to 150 rupees each to travel about 60 kilometres. They have had only one meal and had arrived in the town only the previous day. Their passes were due to lapse by Monday noon.
"We have come here for various personal work. Some people for medical treatment, some have come to pawn their jewellery and others to talk to their kith and kin on the phone. But the security authorities want us to get back," Muththamby Kanapathipillai, (61), a farmer from the Madu area said.
All civilians had arrived from uncleared areas and were planning to spend at least three to four days before they get back to their places, after attending to their work.
An apparent directive given by the security forces resulted in all persons ending up at the Secretariat premises.
"Soon after noon, we cannot go out of this premises. We will be arrested as we do not have a pass. The officials at the Secretariat say they are helpless and it is a decision of the security forces. What do we do?" an elderly farmer who had come with his wife to pawn jewellery said.
The civilians had reached the Uilankulam area, the main entry point from the uncleared areas on Saturday where they were told they could travel up to Puarasankulam, without the usual army escort.
"When we reached Puvarasankulam we were questioned how did we reach the place without an escort. We were all treated as suspects. They told us to surrender our identity cards and proceed. It was a surprise that the army was telling us to proceed to Vavuniya without an identity card," an elderly woman explained.
"We refused to surrender the identity cards very well knowing the consequences of proceeding without an identity card. After waiting for hours they allowed us in, but on the reverse of the pass they wrote 'Do NOT EXTEND'. We reached Vavuniya town only on Sunday night. Only a few who could afford stayed at lodges, but others stayed in open spaces until Monday morning," she said.
At the Vavuniya Secretariat, officials said they were unable to give a proper explanation to the people until midnoon.
"We have been told that for security reasons their passes are not being extended. None of the senior officials is available as they are supposed to be at a conference," one official said.
---
Return to the Editorial/Opinion contents page