25th January 1998
Come see the best
Theatregoers, here's your chance to see some of the better Sinhala dramas produced during the past 50 years. Walk in to the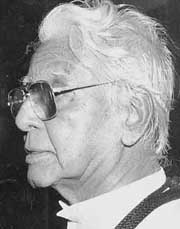 John de Silva Theatre (next to the Art Gallery down Ananda Coomaraswamy Mawatha) during the fortnight beginning February 7. A drama festival will be on as part of the Golden Jubilee Independence celebrations.
It is fitting that Professor Sarachchandra's Maname (1956) which signified a landmark in Sinhala theatre, has been selected to open the Festival.
The majority of the plays are those which went on the boards in the 1960s and 70s when Sinhala drama flourished with several talented playwrights offering some quality productions.
The programme includes: Feb 8 - Henry Jayasena's Janelaya (1961),
Feb 9 - Dayananda Gunawardena's Madhura Javanika (1983)
Feb 11 - Sugathapala de Silva's Dunna Dunugamuwe (1972)
Feb 12 - Ranjit Dharmakirti's Modera Mola (1982)
Feb 13 - Simon Nawagattegama's Subha Saha Yasa (1974)
Feb 14 - R. R. Samarakoon's Ahasin Vetunu Minissu (1971)
Feb 15 - Dharmasiri Bandaranayake's Dhawala Bhishana (1985)
Feb 16 - K. B. Herath's Dona Catherina (1995).
Another pioneer departs
It was only the other day that this column referred to Fr. Marcelline Jayakody's appearance on the ITN/Lakhanda programme, Panhindaka Gee Asiriya. He looked feeble at the time but the photograph which appeared in the newspapers a few days later presiding over the Kavi Sammelanaya AGM showed he was very much up and about.
His death just a week ago, removes a pioneer from the scene in the field of music. The much loved Father continued his love for reading and writing till he departed. While he is best known for his lyrics in Rekava, for which he became the Film Personality of the Year in 1957, he also composed the lyrics of the first ever English song in a Sinhala film - G. D. L. Perera's Romeo Juliet. The song was sung by Sunil Shantha who, incidentally, was responsible for the tunes in Rekava. The lyrics he wrote (set to the music of Shelton Premaratne) read:
My dreams are roses for my love
I drop them down for her feet
Walk on them softly my love
Your feet will make them more sweet
His 55 - page book 'In Search of Ceylon' (1964) was the result of his wanderlust and he described vividly interesting tales from Delft to Devinuwara, from Colombo to Trincomalee.
To pay tribute to this rare personality, we quote extracts from the last chapter in the book:
Shall I wait for you?
To me Ceylon is any flower growing in its soil; any jungle pool of water rippling in the wind; any magpie singing in the morning near my window; any ear of paddy growing in the fields of Polonnaruwa. To me, it means familiar sounds
It means the evening lullaby coming from the thatched cottage. It means the throb of drums in the Vesak night. It means the temple bells near midday.
Having seen Ceylon at dawn and at dusk in December and in April, in rain and in sunshine, having lingered beside its rivers, brooded over its lakes; having watched its birds; having eaten its treacle and curd; having dreamt and dwelt there, I have become part of its flowers and trees and rivers and mountains.
I am in the perfume of the lotus, in the lisping lap of the lake, in the sunset colour of the evening. I am in the song of the birds. And, if you wish to meet me some day, come across the yellow harvest or wade through the pool of water red and white with flowers.Or meet me in the throb of drums when the full moon is up and the night is a study in black and white.
---
Remembering a great artiste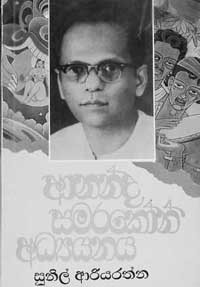 On the eve of the Independence celebrations, the 87th birth anniversary of the creator of the National Anthem, Ananda Samarakoon (1911-1962) was celebrated at the Public Library Auditorium, the popular place for such events.
Samarakoon's contribution to Sinhala music is immeasurable. At a time when musical compositions were a mere dubbing of words into a tune from Hindustani or Tamil, he changed the course by composing songs in a truly Sinhala way. The meaningless mixture of words and tunes soon got converted into simple meaningful Sinhala words with tunes which could be hummed and remembered quite easily. That's why Podimal Ethano, Ese Madhura Jeevanaye Geeta, Endada Menike, Besa Seethala Gangule, Podi Sumano, Hevisi Horane Ganta Nade and Pudamu Me Kusum, among many others are still popular.
Professor Sunil Ariyaratne who has done a critical evaluation of Samarakoon's contribution to Sinhala music, mentions three 'firsts' he achieved. Samarakoon was the first to create a tradition of independent musical tunes in Sinhala; first to look for indigenous qualities in Sinhala music; first to argue that not only music but also words be given an important place in a musical composition. He laid the foundation for a fertile ground for original, meaningful and melodious compositions.
---
It's Romesh with his novel!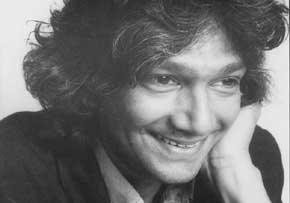 Romesh Gunasekara, internationally acclaimed Sri Lankan writer, author of Monkfish Moon and the 1994 Booker Prize nominee for his work Reef, will launch his new book The Sandglass at the main Lake House bookshop at No. 100 Sir Chittampalam A. Gardiner Mw. on January 27 at 10.00 a.m.
He will also autograph copies of his new book and copies of any of his other books at the Lake House bookshop from 10.00 a.m. to 1.00p.m. All are welcome to meet the author.
The Sandglass will be available for sale at the bookshop from this day.
Romesh Gunasekera will also conduct a reading session of The Sandglass at the British Council on February 10 at 5.30 p.m.
---
Return to the Plus contents page
| HOME PAGE | FRONT PAGE | EDITORIAL/OPINION | NEWS / COMMENT | BUSINESS
Please send your comments and suggestions on this web site to
info@suntimes.is.lk or to
webmaster@infolabs.is.lk