14th December 1997
---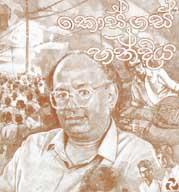 The SLFI hall was packed. Journalists, critics, cine personalities, telestars, art lovers, friends and well wishers had all gathered to join in the launch of a book. Kosgas Handiya by A. D. Ranjith Kumara, a name, synonymous with film journalism. The title refers to his birth place.
The 294 page work deals with the life and times of virtually five decades. He relates his experiences as a lover of the arts from the days he was studying at Ananda. He was art director of Wera a short film made by a few Anandians - Ranjith Lal (who later made Nim Walalla' directed it. The cameraman was Dilman Jayaratne who later handled the camera in many a feature film. Script was by Premakirti de Alwis, the lyric writer who made a name for himself as a radio/TV personality prior to being gunned down during the bheeshana era.
This was the early 60s. Ranjith designed his first book cover for the College magazine, Anandaya, also edited by Premakirti. Since then he has designed over 300 book covers and drawn titles for over 250 films.
Ranjith's first contribution to a newspaper was to a children's paper, Hela Bima edited by another Anandian, Dayawansa Jayakody, today a leading publisher with an office in USA as well. Editing of Sevana (on an idea mooted by another talented lyric writer, Kularatne Ariyawansa while at Ananda) was his first attempt at editing a newspaper. In 1969 Ranjith joined Sarasaviya and rose to be its editor 20 years later. Two years ago Ranjith joined Sumathi Publishers and today edits its film weekly, Sarasi sitting quite close to where he was born 50 years ago.
---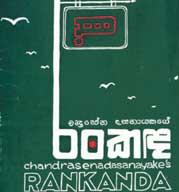 A play which created quite a stir in the early '70s has been revived. It's Chandrasena Dassanayake's Rankanda, a play he created inspired by Shaw's Pygmallion and the musical My Fair Lady.
The Sinhala language forms the theme of the play. Dasanayake cleverly interprets the different views taken by the many schools of thought as opposed to the language used by the common folk.
The play brings back to memory the superb performance by Upali Attanayake as He. La. Yasawadu (representing Hela school). Upali is no more. So are talented musician Austin Munasinghe (his son Tarupati directs the music now) and stage manager/decor designer Gamini Wickremasooriya who contributed a great deal to the success of the play.
Many who were in the original cast are still acting in the play. Mercy Edirisinghe (Trixie) the central character, who continues to play her role after 26 years shot to fame with Rankanda.
---
Walking into the Sarasavi Bookshop in Nugegoda one is greeted with an impressive display board announcing that it is the best bookshop in the suburbs. The National Book Development Council under the Ministry of Education has awarded this title after an islandwide survey. Vjitha Yapa Bookshop is the best in the city and Seevali Bookshop in Kandy the best in the outstations.
Display of books, availability, range of titles, customer service and customer convenience in selecting titles have been the criteria for the selections.
---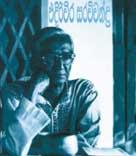 Several of Dr. Sarachchandra's titles which were not available have started coming back to book stores. The much in demand 'Ping Athi Sarasavi Varamak Denne' (Life and Times of Dr. Sarachchandra) is back as a Sarasavi publication.
Another publication now available (also published by Sarasavi Bookshop) is his critical evaluation of the Sinhala novel, 'Sinhala Navakatha Ithihasaya Saha Vicharaya.'
As it often happens, there is tremendous interest in an artiste's work immediately following his death. Thus there were many looking for Dr. Sarachchandra's books after he died last year. Dr. Sarach-chandra's writings comprised literary works (2), novels (5), short stories (3), critical evaluations (5), translations (3), radio plays (3) and dramas (21) - an impressive record indeed.
---
By Shehara de Silva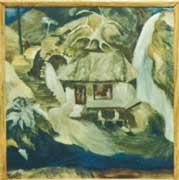 Kapila Ariyananda is a self-effacing young man, not your stereotypical artist making statements with dress, hair and mannerisms. He is at first take, a man you might pass by as a well adjusted non-entity, caught up in the rat race of living, consuming and wallowing in the everyday processes of survival amongst the hoi poloi. Then look again. Beneath the shyness, is a depth of interests, and fermenting emotion, and a wonderful sensitivity to life.
One of my favourite works in Kapila's debut exhibition held at the Mountcastle gallery recently was titled 'Mihintale'. A small oil on canvas somewhat awkwardly framed in pine, but using a strong interplay of vertical columns in grey-white in strong bold lines depicting the stone entrance, with the horizontal brick walls in the foreground in contrasting rust. The brush strokes of the spaces in between these two elements flow upwards and inwards to the verticals creating a strange dynamism with the stark serenity and stillness of the picture.
A somewhat similar piece 'A brief glimpse' captures Balapane pass (Kadigamuwa) with the bottom of the canvas having a gush of unexpected bottle green creating a dynamism versus the white hut and waterfall in the rock that seems caught in freeze frame on a video. The small figures within the hut are a little awkward and out of place for me.
ln total contrast "Ayang Vasano Kalo"/"Now is the rainy season" a water colour of monks climbing a mountain, at Polpithigama, umbrellas shielding them from the elements, is a picture of serenity and perfect compositional balance. The use of soft colours yellow, white and a rusty brown, add to its serenity. The huge rock and the flight of steps in its side and the vulnerable figures ascending it, spoke to me of absolution and discipline and is one of the artist's strongest and most technically correct works.
Mount Despair a recent oil had some hint of smouldering romance, but it left me a little cold, perhaps because it was a contrived memory and a postured attempt at catharsis that artists resort to almost self-consciously to exorcise old emotional demons. But no doubt I read too much into the canvas. Art, I believe, must be, not raw undigested emotion, but controlled expression of it. Kapila had certainly transcended his emotion in his better works. For those of us who were lucky enough to see or buy a picture off this obscure artist in his debut, we would have held Blake's grain of sand and found our own moment of truth and discovery.
---
Return to the Plus contents page
| HOME PAGE | FRONT PAGE | EDITORIAL/OPINION | NEWS / COMMENT | BUSINESS
Please send your comments and suggestions on this web site to
info@suntimes.is.lk or to
webmaster@infolabs.is.lk