14th December 1997
Cholera, floods and landslides
have sent vegetable prices soaring
to reach the highest levels
recorded in five years. Chamintha
Thilakarathna reports
Buying vegetables for the family would be any housewife's nightmare these days. This is because she has to take into consideration on the one hand the rising prices of vegetables and on the other, her family's likes and dislikes. But, the price factor seems strong so that many have little or no choice in what they wish to eat.
According to Mr.Rupasena, Researcher and Training Chief Lecturer at the Kobbekaduwa Agricultural Research and Training Institute, the price hike in vegetables can be seen from October onwards and is the highest recorded for at least the last five years.
"These few months the prices seem to be heading in a direct upward arrow in our charts," Mr. Rupasena said.
With statistics of cholera patients on the increase, warnings on how to prevent cholera and crops being destroyed due to floods and landslides experienced in the cultivation areas, people have been forced to make drastic changes in their menus.
In fear of cholera, the majority of the public fear to include greens in their meals while due to reduction in cultivation, the prices have hit a record leaving housewives at a loss. What's more. The seasonal increases have not taken place yet say the officials.
Mr. Rupasena also added that a clear price increase of 50% can be seen since this time last year and compared to September the increase was 82% in cucumbers, 62% in ladies' fingers, 52% radish, 51% drumsticks to name a few.
Wholesale prices of all other vegetables except for beans and cabbages have increased, allowing the retail prices to increase at the same time.
With the price per Kg of green and butter beans at Rs. 43.99, carrots at Rs. 43.73, leeks at Rs. 43.25, beet at Rs. 52.18, knolkhol at Rs. 37.83, radish at Rs. 27.25, cabbage at Rs. 37.65, tomatoes at Rs. 99.42, ladies fingers at Rs. 35.79, brinjals at Rs. 36.11, capsicum at Rs. 52.03, cucumber at Rs. 30.03, bitter gourd at Rs. 49.20, snake gourd at Rs 31.99, luffa at 39.41, long beans at Rs.38.35, ash plantains at Rs. 44.63, green chilies at Rs. 70.47, lime at Rs. 54.69 and coconut at around Rs. 10.61 large and Rs. 9.48 small the only thing that one can obtain at a reasonable price seems to be pumpkin at Rs. 21.97 (Rs/Kg).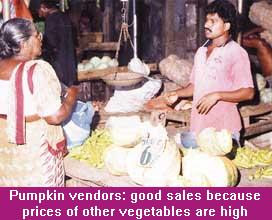 Even vegetable vendors seem to share the gloom. N.K.S. Aranadasa who has a fairly large vegetable stall at Pettah said that prices of vegetables have risen to such a level that they are not in a position to either buy or sell.
Many of the usually crowded greens stalls especially during the festive season seemed empty.
Aranadasa also said that if there were 10 lorries per day now there are only 2 or 3 lorries that arrive in Pettah.
According to Mr. Rupasena, the usual 70 lorries that arrived in Colombo with vegetables have reduced to 37 this year, almost to half.
"Cholera has really hit our business," said D. Rajendran, a green vegetable salesman. He said that only the hospitals buy the greens these days and even party people who usually come during this time of the year cannot be seen. "This is all because of the negative publicity about cholera," he said.
S. D. Premadasa, another vegetable salesman at Pettah said that people who used to buy in kilos or five hundred grams now buy hundred to two hundred grams only. "Everything is too expensive and an ordinary man has to work quite hard if he wants to buy 500 grams of beet," he said.
Vendors unanimously stated that they are in no position to convince consumers to buy their goods as they used to since they themselves feel that prices are way above the reach of the ordinary citizen.
"We ourselves cannot afford to buy them for our families," they said.
Consumers couldn't agree more. S.M.M. Faizer, who is the father of two said, " we cannot eat the same thing everyday. Whether the prices keep on rising or not we have to eat, it is our basic need for living. Lack of choice or not, vegetables are a must."
Ms. Desiliya from Moratuwa, a mother of three said that she cannot feed dhal and green gram to her family members every day. And therefore, they have to buy other vegetables at lesser quantities at least, whether they liked it or not.
Another housewife who did not wish to give her name said that in her case, it is very difficult to feed her children.
"If I buy the ordinary cheap vegetables it is like forcing poison through their system when it comes to getting them to eat. So, I have to take their likes and dislikes into consideration as well. But, at the rate the prices are rising it is difficult to buy even the cheap stuff at a reasonable rate," she said.
However, a pumpkin vendor, Udayakumara said that as a result of the prices of other vegetables rising high, and pumpkin remaining the same he has had a fairly good business.
Some consumers even said that they will have to cut down on the green chillie, lime, tomatoes, coconut in their cooking, if this continues. Although many can do without fish, meat, eggs and other food regarded to some extent as luxury items, vegetables are the basic essential for any person likewise, with chilie, tomatoes, and lime.
"This price hike is mainly due to the heavy showers causing damage to farmers in the outstations," said Mr. Rupasena. "In 94 we experienced a similar situation where prices of almost all food items especially, vegetables had soared above the capacity of the public. But, this year, although the graph pattern seems the same, prices of vegetables have reached the peak and it is not likely that they will come down till January. This year records the highest prices in vegetables," he added.
---
Return to the Plus contents page
| HOME PAGE | FRONT PAGE | EDITORIAL/OPINION | NEWS / COMMENT | BUSINESS
Please send your comments and suggestions on this web site to
info@suntimes.is.lk or to
webmaster@infolabs.is.lk