19th October 1997
S. Thomas' College and Ladies' College swept the boards at the Inter School Water-Polo tournament worked off at the Sugathadasa Indoor Stadium Pool.
S. Thomas' won the boys under 15 and 19 titles while Ladies' College did the same in the girls section.
While Ladies' College won the championships for the seventh successive year, the Thomians relinquished it once in 1995 to Royal.
In the eagerly anticipated boys under 19 final, S. Thomas' annihilated Royal by 5 goals to 1. Skipper Arun Perera and Shanaka Amarasinghe scored two goals each and Nawaff Mubarak scored the other for the Thomians with Jehan Mubarak scoring Royals solitary goal.
While goal keeper Devaka Balasuriya, Lalindra Ruwanpura and Nabil Mubarak were outstanding for the Mount Lavinia lads, Jehan Mubarak, Avantha Tennekoon, Pratish Sivanatham and Charitta Ratwatta stood out for the Reid Avenue school.
The Thomians coached by former Royalist Mahinda Liyanage bagged the under 15 title too in a home and home battle by 3 goals to 1.
Ladies' College trounced Visakha by 9 goals to 2 in the girls' under 19 final, with Skipper Chandrika Gunawardena scoring 7 of the 9 goals, Tania Fernando and Shehani Alles scoring one each. Chami Wickremasinghe scored both goals for the losers.
In the under 15 final Ladies' crushed Bishops College by 14 goals to 1.
---
The 80-90 Group of Richmond College, Galle, will be having their Annual Dinner Dance for the fourth time on November 1. This annual feature will be held at the Mount Lavinia Hotel, commencing from 8.00 p.m.
Judy with Eternal Soul will be the Band for this event and Mr. Dayan Candappa will be the compere.
---
By Bernie Wijesekera
Former Sri Lanka, Kandy S.C., CR and FC, Air Force forward and present CR and FC president Mohan Balasuriya, in an interview with THE SUNDAY TIMES, had this to say about foreign players participating in the local rugby scene.
Q. There is some opposition to foreign players in the local rugby scene. What is your opinion?
A. I believe the noise about foreign players is actually a non-issue and the real issues are some others, which have not been addressed as yet. This is my personal opinion.
Q. Why do you say that?
A. For a number of reasons. Firstly Kandy SC's excellent performance this year was because they relied on its local players. The question is money, and the foreign players cost money and clubs need money for foreign players.
Q.What about Kandy SC's foreign players?
A. They may have augmented the local players. First it was Kandy's forwards who denied the opposition the ball most of the time and applied tremendous pressure on the opposition when the opposition had the ball, that was the primary reason for their success. Of course their backs supported their forwards in scoring. More often than not, and yet again it was the local complement who were outstanding.
Q.What about teams who did not have foreign players?
A. That is a good question. Up until this year generally the Services and Police did not field foreign players, and so they felt they were at a disadvantage. This year they had foreign players but judging by their performance obviously the inclusion of foreign players did not help. So the reliance on foreign players is a proven fallacy.
Q. Why is that?
A. I believe it is the selection of foreign players and when you make believe that the foreign players are 10 feet tall the local players revolve their game around them. Kandy and to some extent the CR did not do that, they simply played to a team plan that is a 15 man game, as it should be. Its 15 players whoever they are that makes a team.
Q. Do you think foreign players have made any impact in local Rugby.?
A. Certainly, local players who play alongside and against them now treat them as equals. The success of our National team can be attributed to this fact. We should not treat foreign players as superhumans, they are not.
Q. What do you think the role of the foreign players should be in the local scene?
A. Personally, I feel there should not be any restrictions, but having said that clubs/teams who cannot afford them will be at a disadvantage. Again its a question of funds.
Q. What do you mean?
A. Foreign players in the local scene are all professionals. Now that the game has gone totally professional we should have direction as to where we are headed. If we are neither here nor there i.e. in-between amateur and professional then there is no future and no hope. I think the game should go fully professional and focus should be shifted towards local players becoming professional.
Q. That means a great deal of money?
A. Well, it has been done in other countries, and we have the methodology and systems to do it. Take for example the Australian Rugby Union, it is incorporated. Among clubs there is even an exchange of rugby contracts on the Internet. We have to decide which way we need to go, that is forward or backwards.
Q. You mean we are at crossroads?
A. I should think so. To cite a historical example take the case of India. Till about the late sixties our national team ( All Ceylon) took part in the All India competition. Now even our A division clubs do not participate in their tournament.
Therefore we have to decide whether to stay as we are or to go ahead and follow the rest of the world. I mean the countries at the top, otherwise our rugby will be stagnant as that of India. We should not always take example of what was... we should look to the future. Right now its blank.
---
The Lanka Cavaliers travel down this weekend to Matale to conduct their third outstation cricket programme at the Bernard Aluvihare Stadium, Matale, organised by the Matale District Cricket Association and supported by the Rotary Club of Matale.
On Sunday October 19, they will play a match against a team selected by the DCA while a coaching clinic for students in the area took place on Saturday. This follows the highly successful launch at Anuradhapura in August 1997 and the second one at Buttala /Monaragala District.
Minister of Forestry and Environment Nandamitra Ekanayake who is also the President of Matale DCA will be the Chief Guest. The local organising is handled by DCA Secretary Sujeewa Godaliyadda while this programme is being co-ordinated by Dushan Soza from Cavaliers side. Soza a past President of Rotary Colombo East invited the Matale Rotarians headed by President K.M. Sahabdeen to participate at this programme as a service project.
The next programme scheduled is at Badulla in November 1997 which is also organised by the respective District Cricket Assoication. Other locations identified are Matara, Kurunegala, Negombo, Kegalle, Galle, Hambantota, Chilaw/Puttalam, Nuwara Eliya, Gampaha, Ratnapura and Polonnaruwa.
"Lanka Cavaliers" was formed in January this year by a group of highly experienced cricketers getting together and making a commitment to impart their vast cricketing knowledge gained over the years. This group is led by Bandula Warnapura Sri Lanka's first Test captain with Jayantha Seneviratne as his deputy and include many former national cricketers.
One of their objectives is to help outstation Cricketers by conducting Coaching Clinics free of charge, act as talent scouts and identify players having potential with a view to assisting them and even providing facilities and opportunities of playing in Colombo. In this direction they have drawn up this programme covering 12 months period during which they have planned to conduct every month a 2 day programme consisting of a coaching clinic for students of the area and a match with a local side, in outstation locations.
Hatton National Bank which has been involved in cricket in a big way has once again come forward to support the Lanka Cavaliers in their efforts.
Lanka Cavaliers comprise Bandula Warnapura (Capt) Jayantha Seneviratne (V.Capt) Jerry Woutersz, Basil Perera, Mervyn Fernando, Damian Fernando, K.H.Nandasena, Kirthi Gunaratne, Bandula De Silva, Lantra Fernando, C.P.P.Raj, Mike Raj, Zareen Hameed, Dushan Soza, Chitral Mendis, Dennis Davis, Peter Manuel, S.Illang–aratnam, Mahesh Jayasekera, Daya Sirisena (Treasurer ) , Desmond Woutersz (Secretary) and Lakith Peiris (President).
A tribute to a great sportsman...
---
Traditional rivals SSC and NCC, with a view to paying a tribute to a great sportsman late President, J.R. Jayewardene have decided to organise a 50-over cricket match between the two clubs on October 26, at the NCC grounds, commencing at 9.30 a.m.
This was revealed to the media, at a press conference held at the NCC pavilion, chaired by the president of the NCC, Chanaka de Silva.
Chanaka de Silva, an outstanding sportsman, who played with distinction for Royal and the Colts CC chaired the meeting in association with Leslie Hewage (the secretary) Gamini Jayasuriya (a former secretary of the NCC) and Dilrukshan Tillekeratne (cricket secretary NCC), while the SSC was represented by Sarath Kodagoda (secretary), Promodha Kariyawasam (chairman cricket management) and Mohan de Silva (cricket secretary).
De Silva further stated that this match is going to be an annual contest between the two clubs played for the J.R. Jayewardene Memorial Trophy and 11 of Sri Lanka's National Poolists, including Arjuna Ranatunga and the little dynamo Aravinda de Silva will be seen in action.
The late President Jayewardene, played cricket for Royal and SSC and later was the president of the SSC. The trophy has been donated by the SSC for the yeoman service rendered by their late president for the upliftment of the club, de Silva said.
Incidentally this match between the arch-rivals was the brainchild of Leslie Hewage and Nihal Adasuriya and eventually it has become a reality. It's going to be cricket luv'ly cricket and no gate will be charged.
Gamini Jayasuriya, an ardent supporter of NCC and Sri Lanka cricket, is donating a trophy and Rs. 10,000/- for the Man of the Match in memory of his late father Charles Jayasuriya, who captained the SSC team in East Africa, de Silva stated. Both teams will be at full strength. Chanaka, further stated, it's going to be a keenly contested match and the game is that matters in the end, in this fellowship match. It will also bring back nostalgic memories among the past greats, who have played with distinction for their respective clubs and for the country.
(B.W.)
---
OSTRAVA, Czech Republic, Saturday (Reuters) - Third seed Goran Ivanisevic was forced to retire with an arm injury from his semifinal match against Karol Kucera of Slovakia at the $975,000 Czech Open yesterday.
World number four Ivanisevic, who summoned the tournament trainer on to the court just before the match, lost the first set 6-3 and then required more treatment on his serving arm.
He took the court for the beginning of the second set but by 40-40 the normally hard-serving Croat had noticeably slowed his delivery and then said he could not continue.
The extent of the injury was not immediately known.
An ATP official said it was not clear whether the left-handed Croat would be able to play at next week's tour event in Stuttgart.
---
The Mercantile Rugby sevens will be played on November 8 and 9 at the CR and FC grounds. The press briefing for the above tournament will be held next Thursday at Trans-Asia Hotel.
---
The eighth edition of the Travel Trade squash tournament will be played on 28, 29, and 30 October at the TransAsia squash courts.
The tournament will see nine teams taking part.
The tournament for the seventh time will be sponsored by Trans Asia.
---
Mackinnons Travels won the 19th annual Travel Trade six-a-side cricket tournament defeating Hemas Travels by 4 wickets in the tourney sponsored by Hotel Ceylon Inter-Continental.
Hemas Travels scored 41 for 2 in their allotted 5 overs and Mackinnons Travels hit up 42 for 1.
---
Belvoir International School scored a thrilling 13 run win over Colombo International School in the Inter-International Schools under 17 limited overs cricket final played at the Shalika Grounds Narahenpita.
Belvoir batting first scored 118 runs in their 25 overs and Colombo International School could manage only 105 runs in their 25 overs.
Belvoir International School 118 for 8 in 25 overs.
Loga Prasan Sivpragasam 26, Asanga Perera 27, Tivanka Kodikara 17, S. Fazle Muzzamil 2 for 26, Altaf Junaid 2 for 4 .
Colombo International School 105 for 7 in 25 overs. Altaf Junaid 33, Narendra Gunasekera 30, Amrith Mylvaganam 13, Loga Prasan Sivapragasam 2 for 13.
Best Batsman - Altaf Junaid,
Best Bowler - Altaf Junaid
Best all rounder Asanga Perera
Man of the Match - Tivanka Kodikara.
---
Graham Gooch was an immense figure in English cricket. It did not fall to him to be the colossus of his time, a role played with distinction by Ian Botham. Still, he was an outstanding batsman whose forceful style brought numerous hundreds and whose insecurities revealed only periods of confusion resulting from a slight inflexibility in his game, a failing also detectable in his character.
He did not change much in his time at the top, remaining at heart the simple Essex lad searching for home truths and often yearning for home itself, a loyal local man whose abilities took him beyond the world in which he felt comfortable and into a jungle whose challenges he was prepared to meet but whose ways did not much please him.
Although he enjoyed the rewards of greatness, one sensed that Gooch really belonged in the cricket of the 1960s, a more private affair full of cricketers and cricketing talk, far away from the grand hotel rooms and scuttlebutt. He was more sawdust pile than zinc cream, more Market Rasen than Ascot.
Gooch had no high relish for the life his abilities obliged him to lead. It says much for him that he survived it all to serve with such distinction. Throughout he sought the companionship of the faithful, the humour of the Essex dressing-rooms to which he learnt to add his own wry remarks, the ancient wisdoms of Tonker Taylor, David Acfield and Keith Fletcher, the sense of club and team and kindred spirit he missed whenever he played for England.
He grew close to people and things because he wanted affection, or else it was all a waste of time and he wanted to believe in things. He did not go to South Africa in 1987 through greed or ambition. He went because he didn't believe in anything else, especially English cricket and wasn't prepared to be ordered around by those he did not respect.
Most of all, he grew close to Ken Barrington whose untimely death had a marked effect upon English cricket and its leading players. Our cricket was grievously afflicted by his loss. In the last 20 years, only Brearley and Barrington have possessed all the qualities needed to provide the leadership required. Both could listen, both could draw the best from those around them - Brearley by use of intellect, Barrington because his heart beat strong and true.
Gooch kept searching for an emotional commitment beyond his family, yearning for pegs upon which he could hang his hat without fear of removal. He forged some relationships calculated to surprise outsiders. With David Norrie, the Cricket Correspondent of the News of the World, and with Alan Lilley, who became his personal coach. Both men acted as advisors and Gooch had faith in them.
Off the field. Gooch was a wary, apparently aloof character, admired for his dedication, respected for his magnificent batting but not much known because he kept within his circle as if fearful of hurt. Accordingly his understated humour could be missed - he once observed that Len Pascoe 'favours the short-pitched delivery' - so that his occasional bouts of mimicry came as if from nowhere. Wit is not expected from those forever running around fields. But Gooch never went missing, never came the prima donna, was always first in the nets and never too tired to play. He gave good service.
Only Terry Alderman really troubled him, a bowler who detected a flaw in his technique and exploited it with skill and and an interrogator's ruthlessness. Otherwise Gooch feared no one and especially not the fastest and most ferocious bowlers of an age noted for its uncompromising aggression.
In his cricket dotage he came to Taunton, still as a worker and not a Lord, to face Andre Van Troost on a firm pitch. Although the flying Dutchman bowled his fastest he could not shift the old blighter. Gooch scored a-hundred-and-lots and afterwards was full of life as if the adrenaline of the challenge had revitalised him, restoring confidence in powers supposedly waning.
Of course, he has played even more accomplished innings in the faster world of Test cricket. As Scyld Berry pointed out in an admirable piece in the Sunday Telegraph, only those who did not watch Gooch score 154 not out against West Indies at Headingley in 1991 and 153 against West Indies on a fast pitch in Jamaica in 1981 could doubt his greatness. Undoubtedly, he was the leading batsman amongst the three Gs, whose various temperaments, strengths and flaws were the talking point of English batsmanship during the 1980s.
To watch only one of these conclusive innings was enough. I saw most of Gooch's effort at Leeds and cannot recall a gamer knock from any Englishman. Playing against a rampant attack with a dominant, dedicated and ruthless approach, Gooch mustered every resource at his disposal to construct an innings whose authority lingers still in my memory.
Gooch was never merely a batsman of definace, for, he did not think so small, could not contain himself so long. Rather, he met over-whelming odds with a reply every bit as powerful every bit as measured, every bit as resolute. Only in such moments did Gooch appear a truly strong character. Otherwise the trail remained hidden as if he could scarce believe it himself and anyhow didn't want to be like that.
By all accounts, his innings at Sabina Park 10 years earlier was no less formidable. As Berry points out no one - not even Allan Border - had met quite such fire with quite such fire. The boy was not standing on the burning deck, he was loading the cannons and firing them too. Such contribution won Gooch the respect for which he craved.
Of course, Gooch also scored lots of runs against India, famously, and every other team crossing his path. Only against Australia did he fail to do himself justice: a pair in his first match, a gutwrenching experience against, Terry Alderman that brought first confusion then despair, then fatalism, and a last tour on which his mental and physical energies, once amongst his greatest assets, seemed to run out.
Mostly, his career is an impressive sight as it sits in the annals telling its truths and hiding its slight weaknesses like reminiscences of the sort currently not much in favour.
Gooch was not as happy in the role of captain. Perhaps he lacked an acute awareness of the personalities of his players. Men who train themselves to subdue their own faults are often unsympathetic towards the self-indulgent. Nor was he notable for the imagination of his tactics. Perhaps it was his stubbornness rising to demand its say.
Gooch was suspicious of ideas and risks, regarded them as the sort of tommyrot spouted by people who'd never actually been out there doing anything. Accordingly he was apt to appear loomy and betrayed when things were going wrong. Nothing was working, his manner said, not even blood, sweat and tears. A fellow could only dig in and try harder. What was he supposed to do? At said times he could appear frustrating, affable, miserable and lovable in about equal parts. At said times one felt he wanted to move away from the world where effort itself was not enough.
And so the curtain falls upon an outstanding career. Some will never quite forget the wretchedness of the tour to South Africa but that occurred a long time ago, in another time and in a different country and, in any case, the good far, far outweighed the bad and the memory will remain of a tall, strong batsman standing determinedly at the crease, insecurities mostly hidden and batting with all his might for Essex and England. He was a foot soldier upon whom greatness was thrust and he wore it manfully.
Peter Roebuck
By arrangement with The Cricketer
Born: July 23, 1953, Letonstone
Debut: First class: 1973; Test: 1975
Tests

M	I	No	R	Avg	100	50	Ct	W	Avg<
118	215	6	8,900	42.58	20	46	103	23	46.47
Highest score: 333 v India, Lord's 1990
Best bowling: 3-39 v Pakistan, Old Trafford, 1992

One-day internationals

M	I	NO	R	Avg	100	50	Ct	W	Avg
125	122	6	4,290	36.98	8	23	45	36	42.11
Highest score: 142 v Pakistan, Karachi, 1987

First class

M	I	NO	R	Avg	100	50	Ct	W	Avg
580	988	75	44,841	49.11	128	217	555	246	34.37
Highest score: 333 v India, Lord's 1990
Best bowling: 7-14 v Worcestershire, Ilford, 1982	

---
SLRFU President Dr. Maiya Gunasekera....
By Bernie Wijesekera
The national rugby team is doing fine. They won the last international matches abroad and our superiority in South East Asian region is established, said Dr. Maiya Gunasekera, the President of the SLRFU in an interview with The Sunday Times.We dethroned Thailand in the South East Asian rugby championship. The boys play like a team under the leadership of Priyantha Ekanayake, Dr Gunasekera added.
Dr Gunasekera said that for the first time in the history we beat Thailand on two occasions this year: in January by 32 - 15 and again in the final of the SEA championship by 32 - 13. The team has also entered the second round of the World Cup Asian qualifying round and will meet Malaysia on Nov 29 and Taiwan on Jan.17 '98, in Colombo. These two matches are vital for our forward march.
My friend and past president Malik Samarawickrema with whose views I dont always agree has shown the way by gifting a scrumming machine to the Union. This is a wonderful gesture. We are lucky to have Ana Saranapala as a coach. When we took part in the 1996 Asiad in Taiwan, we came out of it with flying colours.
In the 1994 Asiad we lost to Malaysia and were judged as the last team in Asia.
In 1996 we beat Malaysia 36-6 but lost to South Korea 60-20 and to H. K. 64-14. We had a very experienced set of forwards and a three-quarter line.
Dr Gunasekera said that he was told by the Japanese coach that Ekanayake would be able to find a place in the Japanese team. Sri Lanka was lucky to have him as the captain.
Dr Gunasekera further stated that Sri Lanka had good referees and good coaches and that was good for the future of the game.
The rugby administration is also held in high esteem - because those who have played the game at the highest level are the ones, who hold office, Dr. Gunasekera added.
Question - What when Priyantha retires?
Answer - I think we will have to look for a young player to lead the team from the front; one who will be able to keep his place in the side for five to six years. Whoever takes over, Priyantha will be appointed as Assistant manager and coach after he stops playing.
I am fortunate to have Anton Benedict and Daya Jayasundera as ofice-bearers, as they have played the game at the highest level. Anton, is also a past national captain, a coach and a manager. So rugby is administered by those, who have played at the highest level. With this a bright future holds for the game with its smooth running.
Forming a feeder development squad will also put pressure on the national players to give of their best.
It is also vital to have a development squad so that you have depth as you are in a position to call for replacements when national players get injured.
The development squad was something that should have happened long ago, but now it is a reality.
The Union, will also look after the nutrition which is also a key to its success on the field. It will encourage the players to be in 24 hours fitness and ready for active play at any time.
If you see the rugby calendar for the national team in the future you will see that every year there will be two foreign teams playing here from January, February and March.
Then from Sept. each year there will be the Australian tour, the Asiad or the quadrangular followed by the under24 international in December each year.
This will give the players that much needed exposure here and abroad and help improve their skills, Dr. Gunasekera added.
We have five certified coaches including Ana Saranapala, who have scored the highest marks at the recently concluded coaches workshop conducted by the IRFB.
They will now help other coaches and in February 1998 the Australians will be here to conduct their Level II Certificate in Sri Lanka.
This is organised by Ajith Abeyratne in collaboration with Dilip Kumar. in Australia.
The referees too have now reached a high level with Dilroy Fernando, S. W. Chang, and Roshan Deen at the top. They have gone to many regional tournaments and have come off with flying colours.
---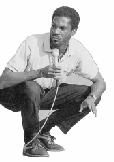 Michael Holding...professional when behind the mike
In a recent issue of Wisden Cricket Monthly, Ian Chappell spoke to Jonathan Agnew of the BBC about a situation that every commentator experiences at some stage in his career. Some have to live with it everyday and it is really up to every individual to solve it in a manner that most satisfies him.
Chappell was talking about a cricketer who came up to him and said he wasn't very happy with some of the things that he had said on air. Having worked with lan Chappell, I would have loved to have been around to hear his reply to that one. There is a button at the bottom of your television set, the complainant was told; that he could turn it to his left if he didn't like what he was hearing and, if that didn't solve the problem, he could press another button alongside and switch off the telecast completely.
What Chappell was saying, and he never minces words, is that a player has a job to do, a commentator has one to do as well and each should do it as well and as honestly as he can. Just as a player is responsible to the team he plays for, a commentator is responsible to the network that employs him.
One of the reasons expert commentators get paid well is that the network likes to give the viewer an informed opinion; one that will help him understand the flow of the game better. Invariably, a viewer wants to know what should have happened and the expert, by virtue of his experience and his analytical skills is expected to do that. To put it mildly, it leads to a difference of opinion and so credentials are being questioned. It's a bit like the consultant and the manager. The manager, the 'doer' believes he has a far more difficult job than the consultant who is perceived to be a 'talker'.
Cricketers believe that the easiest thing to do, apart from hitting a half volley through the covers with an on-side field set, is to sit behind a microphone and pontificate. Invariably, an expert is the one who talks about all the things he didn't do himself and the commentator becomes the man who talks about everything he could never do.
It's an impossible relationship because commentators are convinced that they are regarded as 'good' as long as they say nice things about a cricketer. A word of criticism and suddenly there are slightly different adjectives in the air. It's a familiar relationship too: the author and the reviewer, the researcher and the examiner; even the career woman and the mother-in-law! The 'doers', as I said and the 'talkers'.
'The key to a happy marriages lies, I think, in the respect with which one set of actors holds the other. If a commentator is clearly seen to be unbiased, if harshness and praise flow as smoothly and if it is uniform, he is accepted rather more quickly.
To a slightly smaller extent, given the lesser influence, the print medium exercises, a similar problem exists between cricketers and journalists. This is often an unequal battle because a reporter frequently depends on a cricketer for his stories and therefore, cannot always afford a confrontation or, worse, a boycott. It is a rare journalist who can evoke consistent praise from the fraternity of cricketers and I often wonder if it wouldn't be a good idea to get players to participate in a poll to select the best cricket writer. Just as journalists often vote to select the best cricketer.
My experience, over the last 10 years, is that problems arise when roles get mixed up a bit. I believe the 'expert', whether commentator or writer, should concentrate on what should have been and the journalist, or commentator, should, as interestingly as he can, tell people what happened. It is a bit flat when the roles are reversed. A journalist may not have the standing to pass judgment and a cricketer very often lacks the vocabulary, the delicate expression or that pretty turn of phrase, that embellishes a report.
Yet, in spite of the rich potential for daily confrontation, relationships do develop between the players and the media and I am happy to say, I have seen a few pretty healthy ones. Interestingly, that can be a pretty tricky situation for a journalist too. Does he allow his proximity to a particular individual to colour his view of things? Does friendship lead to bias? Is there, in such a relationship, an inherent expectation of bias? I remember Raj Singh Dungarpur advising journalists at the launch of my first book, several years ago, to keep a healthy distance from the players to be able to give the readers what they expect. His concern arose from the fact that he believed cricketers were planting stories in the media and that some journalists did not have the courage to resist.
I believe there are two ways of looking at this issue and it all really depends on the integrity of the person involved. The situation that Raj Singh described is one way of looking at it. The other is that proximity adds warmth and colour to a report. The late Bobby Talyarkhan was quite close to some of the cricketers of his era and the most lyrical moments behind the microphone came when he was describing their exploits. I can vouch for that because the most enjoyable part of my life, indeed something that made it all worthwhile, was to describe the batting exploits of Mohammed Azharuddin and Sachin Tendulkar. I wrote 80,000 words on Azhar for his biography and nothing gave me greater pleasure. When you feel the pleasure, or excitement, bubbling inside you, you tend to transmit that sense of joy to listeners and readers and, very often, that is when the most memorable lines are written or spoken.
But, and we return to the question of integrity, such preferences cannot be allowed to cloud reality. You can give the truth a more elegant touch, but you cannot conceal it. An outside edge cannot become a delicate glide; a dropped catch cannot be said to have fallen short. Indeed, I would venture to say that every great cricket writer and broadcaster, accurate as he might have been, has found words flowing more easily when specific individuals have been performing. Earlier this year, in the West Indies, I found a wonderful example of the integrity I was talking about. Michael Holding had been quite harsh on Brian Lara over what he thought was irresponsible behaviour and said that if the situation demanded it, Lara should even be dropped. During the first Test of the series at Kingston, Lara played a dazzling innings and it was Holding's job to interview him for television. Lara refused and so, Sunil Gavaskar, still sweating from an energetically enacted dance number, had to rush down and do it. In the next Test at Port of Spain, I was working with Holding for the local Caribbean Tempo radio station and was quite interested in seeing how he would react to a Lara innings. I need not even have thought about it. Every good Lara effort received fulsome praise and there was no evidence at all of any animosity. That is what makes Holding a wonderful person and, an outstanding professional.
I've had a similar experience with his illustrious colleague from the West Indies, Tony Cozier. In the Caribbean, regional affiliations are very strong and lead to extremely passionate and therefore, irrational outbursts. So often Cozier, through his writings, has been accused of favouritism, of promoting one player at the expense of another. Yet over a 30-year career, Cozier remains the most respected commentator to have emerged from the West Indies - his skill having eventually silenced his detractors. The fact is Cozier is an inherently fair man and that explains his longevity.
I think it is apparent that the people who spend, or who manage to spend, long years in the profession are largely fair and unbiased. That is more likely to be seen these days because no network or radio station, in a competitive situation, would like to acquire that kind of image.
Otherwise, the button that Chappell was talking about, might just be used a lot often. And nobody wants that.
Harsha Bhogle
---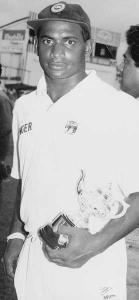 Sanath Jayasuriya, the run-machine from Sri Lanka with 87 points to his credit has taken a massive lead in the CEAT Cricket Ratings. Former India captain, Mohammed Azharuddin and Sri Lanka vice-captain Aravinda de Silva with 43 points each are second while the Sahara Cup hero Saurav Ganguly with 42 points is following them closely.
Jayasuriya's lead is due to his batting consistency lately and the fact that his record innings of 340 runs against India in Colombo last month fetched him 30 points.
The CEAT Cricket Ratings which lead to only International Cricketer of the year Award in the world, carries a cash prize of Rs 5 lakhs and takes into account the performances of international cricket played during the period 1st May to 30th April by the nine Test playing countries and also Kenya and Bangladesh, who were recently awarded the ICC recognition for one-dayers.
West Indian super star Brian Lara in 1995-96 and Indian speedster Venkatesh Prasad in 1996-97 were the earlier recipients of the prestigious CEAT International Cricketer of The year Award.
The latest points tally in the CEAT Cricket Rating as on 5th October

CEAT			Total 
Rating	Name			Country		Points
1	Sanath Jayasuriya	Sri Lanka	87
2	Mohd.Azharuddin		India		43
3	Aravinda de Silva	Sri Lanka	43   
4	Saurav Ganguly 		India		42
5	Muttiah Muralitharan	Sri Lanka	40
6	Sachin Tendulkar	India		36
7	Glen McGrath		Australia	35
8	Nasser Hussain		England		30
9	Roshan Mahanama		Sri Lanka	30
10	Saqlain Mushtaq		Pakistan	30
11	Graham Thorpe		England		25
12	Adam Huckle		Zimbabwe	24
13	Andrew Caddick		England		23
14	Chris Cairns		New Zealand	23
15	Darren Gough		England		22
16	Ian Healy		Australia	22
17	Shane Warne		Australia	22
18	Stephen Fleming		 New Zealand 	22
19	Marvan Atapattu		Sri Lanka 	21
20	Mathew Elliott		Australia	21
21	Aquib Javed	 	Pakistan	21
22	Alec Stewart 		England 	21

Meanwhile, World champions, Sri Lanka are also maintaining their lead in the CEAT International Cricket Team of the year Award with 38 points to their credit followed by the 'unofficial' world test champions Australia, who have mustered 27 points till now. The CEAT system of evaluation rates the international performances of the teams during the period 1st May to 30th April and since South Africa are currently playing their first match of the season, their account remains yet to be opened. The latest team ratings, as on 5th Oct. for the award which carries a cash prize of Rs 10 lacs are:
CEAT

Team Ratings	Country	points
1	Sri Lanka	38
2	Australia	27
3	England	20
4	India	16
5	Pakistan	14
6	New Zealand	11
7	West Indies	10
8	Zimbabwe	03
9	South Africa	

---
Reutrn to Sports Contents Page
| HOME PAGE | EDITORIAL/OPINION | NEWS / COMMENT | BUSINESS | PLUS
Please send your comments and suggestions on this web site to
info@suntimes.is.lk or to
webmaster@infolabs.is.lk