19th October 1997
Weaving the old and new
By Mihiri Wikramanayake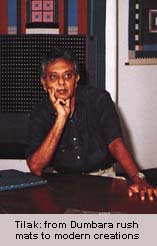 "Tradition is not something that is behind us, but within us in our thinking in our way of being, and our expression," writes Bruno Munari, critic for the prestigious design magazine, Shed Milan Catalogue.
Here Munari is describing the traditional tapestries of Tilak Samarawickrema, Sri Lanka's doyen of contemporary design.
Tilak Samarawickrema will be exhibiting for the first time in Sri Lanka, his modern woven art. Rich tapestries in a spectrum of colour and combination, and traditional compositions, will be exhibited at the Gallery Mount Castle, No 2, Sri Arunachalam Avenue, Colombo 7, from October 22 to 26.
Tilak Samarawickrema who first introduced the concept of the Dumbara rush mats, has now bypassed all of that art for a more modern and creative presentation of village weaving.
As an architect Tilak Samarawickrema lived and worked in Milan for 12 years. According to Tilak, "Milan is the point from where all art germinates," and this is where he studied and perfected the arts of line drawings, graphic design, animated cinema and other design related work.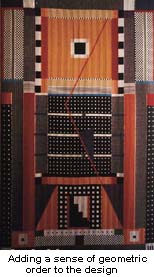 But now, in the words of Bruno Munari, "Tilak is doing his work in his country, Sri Lanka seeking the images of his land, the forms, the colours, and the traditional compositions, while searching for indigenous craftsmen who are aware of and attuned to these rules and techniques."
Tilak has had the opportunity of designing some of Colombo's more distinctive houses.
In keeping with lines of space and light, Tilak's designs portray a modern interior with spare furnishings.
His own creations of furniture and decorative crafts add a sense of geometric order to the entire outlook of design.
In 1983, Tilak established an architectural and design studio in Colombo and founded the Design Gallery in 1985.
As an ILO consultant to the National Design Centre, he helped to develop and upgrade the standards of crafts in Sri Lanka.
He established a special unit in the Design Centre with four architectural students and worked under the able guidance of Vernon Peiris, Chairman of the then National Design Centre.
Together, they introduced new attitudes to the products and designs in Sri Lanka. They furthered the mastery of pottery, cane, rush and reed ware and even promoted the marketability of these products.
"It was a pleasure working with Vernon Peiris and he encouraged us tremendously in our endeavours," said Tilak with obvious regard for the NDC Chairman.
After the completion of just one year, they held a sellout exhibition displaying hundreds of different local produce.
Their methods of production and the development of the crafts were documented, video taped and catalogued for the future benefit of the craftsman.
However much to Tilak's disappointment a disagreement with the then establishment led to the closure of the unit.
Another example of Tilak's many disappointments was his attempts to develop the Kanatholuwa village a well-known gypsy village in Panduwasnuwara region.The villagers were adept in the intricate weaving of baskets. Tilak encouraged them to develop the crafts and produce more complex and beautiful cane products.
However, it wasn't long before the project was vetoed by higher-ups and the entire system ground to a halt.
Now, the gypsies of Kanatholuwa have been absorbed into other fields of labour and as a result, a much appreciated and envied craft of basket weaving is lost..
Tilak also worked as a consultant to the UNICEF.
He was involved in an 'income developing field product.'
He lived and worked in the villages of Guatemala with the Mayan weavers whilst producing a tote bag that he had designed to be marketed in New York.
Tilak's tapestries have, been exhibited in such prestigious locations like the SHED Design Gallery and Design Gallery Cappellini in Milan, Werkagalerie Steinmann and the Casa Tessuti in Lucerne, Switzerland, the Design Centre in Brussels, Galeris Smend, Cologne, and Deutsches Textile museum in Germany.
---
Continue to Plus page 14 * People
Return to the Plus contents page
| HOME PAGE | FRONT PAGE | EDITORIAL/OPINION | NEWS / COMMENT | BUSINESS
Please send your comments and suggestions on this web site to
info@suntimes.is.lk or to
webmaster@infolabs.is.lk