5th October 1997
| | |
| --- | --- |
| Sanjini Munaweera, our cover girl this week posed against the colourful backdrop of the Oasis Company at Bambalapitiya for this photo shoot by Mettasena. Sanjini models a creation by designer Nomali and her hair and make-up were by Suralini Kotelawala of Hair Connection. On our back cover, model Andrea displays a creation by Sonali White. Andrea's hair and make-up were by Karen of Ramani Fernando Salons. | |
---
A new Legacy
Remember Suresh, Husni and D.K? Well, start forgetting that label. The trio, well-known to Lankan music fans are in the process of change. They will henceforth be known as Alien Accent. And the good news is that after a period of relative calm,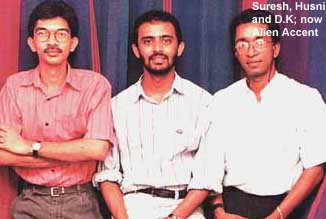 they are back in the music scene with two new releases, a CD and a concert scheduled for end November.
The name change, Suresh explains, was prompted by many reasons. 'Many people told us that it was not easy to remember our three names and for commercial purposes the change seemed advisable.We have been incorporating the many musical instruments of our land and neighbouring countries into our music and we feel that this is our legacy. We are very much aware of our Lankan identity and the rich musical heritage we have. We hope in some way to share this legacy with others through our music."
Alien Accent's first release under their new name is currently airing on Yes FM. Titled 'Burning', the song is an emotional look at the Northern conflict.....the tragic experience of a soldier's mother. It aims to prod the consciousness of those in our country who feel that the war is not part of their lives.
'Burning' will be followed by 'Snow' which looks at the frustrations of helping someone over an addiction. That both releases, focus on issues so relevant to the Sri Lankan experience, not to mention their music, should strike a chord with Lankan listeners.
Which bring us to their new album, 'Legacy.' The title, the trio say, is an acknowledgement that they are involved in the fusion of various types of music. While the core of the music is essentially western (alien considering the guys are Lankan) it will feature several oriental instruments and even a variation of the baila rythmn. 'Legacy' will be released in early-November. The concert of the same name will be held at the Bishops College auditorium on November 28, 29 and 30. Produced by Jerome de Silva, it promises to be a grand event.
---
Continue to Mirror Magazine page 2 * Most important innings of Mavan Atapattu
Please send your comments and suggestions on this web site to
info@suntimes.is.lk or to
webmaster@infolabs.is.lk