21st September 1997
By Annesley Ferreira.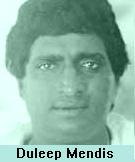 Refuting certain statements made by Bandula Warnepura in the September 7th issue of The Sunday Times about the cricket tour of South Africa in 1979, Duleep Mendis states as follows:
The article in question contains a series of inaccuracies which are calculated to bring cricket into disrepute.
Although the article defames me, I do not propose to sue Mr. Warnapura. Warnapura the brains of the rebel tour was amply rewarded by the cricket board.
Fifteen years ago when Warnapura took off for South Africa he nearly succeeded in ruining Sri Lanka cricket that was in its infancy. We had received Test status only in 1982. Now with the team doing well, he once again attempts to disrupt the cricket fraternity by talking to an Indian newspaper shortly before a tour to India by our National team.
Warnapura when requested by The Sunday Times reporter Bandula Jayasekera for an interview on the recently concluded Test series with India, his reply was that he could not talk to the press on legal advice. But it was quite all right for him to talk to the Indian press. I am certainly thankful to your newspaper for having published both articles in the same issue.
At the outset, I admit that I did sign the contract to go to South Africa. I will never renege from that position. But I was not the 'brains of the rebel tour'. I was a signatory like everyone else who toured. I would like to say that despite my signing, against my better judgement, it took a great deal of courage on my part to withdraw from the tour.
I did withdraw from the tour because my parents, wife, friends, members of the clergy, my employers, former teachers, Board officials requested me to do so. They reasoned with me and advised me not to embark on a tour of such nature.
There was no question of me being unable to go across to South Africa from Zimbabwe because my passport was with the manager K.M.T. Perera, under instructions from the Board.
Even today, when I am on tour, as the manager the first thing I do is to take charge of the passports of the players for safekeeping. For it is more than likely that a passport could get lost with about 16 high spirited young men running around a hotel. A manager has more than enough on his hands on tour without trying to get an emergency passport. In fact, in Zimbabwe, I was approached by a representative from the SACB at that time to go across even without a passport. For it was just over the border from Zimbabwe, but I chose not to.
If Warnapura was of the view that his fundamental rights were infringed or there was a breach of natural justice with the 25 year ban without an inquiry then he could have easily gone to court. Finances were not a problem to him after the tour. But he chose not to, for he knew very well that what he did was unpardonable.
When Warnapura says "The people who organised the tour and picked the team went scot free. Today Duleep is the Manager of the Sri Lanka Team and Roy is a National Selector, That statement is palpably false and false to his own knowledge. As I have mentioned before, Warnapura was taken into cricket administration despite his treachery. In fact Roy became a National Selector only four years ago and in fact Warnapura was preferred over Roy for the benefit of US $ 20,000. So the impression that Warnapura seeks to create that he has not got anything from the Board, cannot be described in any other term but as a downright lie.
---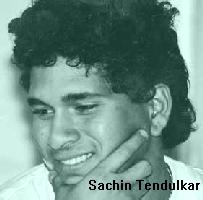 "What has happened to the Indian team?" Ranjit Fernando, Sri Lankan commentator, said echoing the opinion of many others in the TV box, Barry Richards, Greg Chappell, Ravi Shastri among others.
What was wrong with the Indian side? One could just wonder and sympathise with the helplessness of Sachin Tendulkar and the frustration of Madan Lal in not being able to alter the fortunes of a side which had fallen on bad times.
Cohesion, that collective effort which makes a side realise its potential, was glaringly missing from the Indian ranks. It was an aimless pursuit of what became an unattainable target for the Indian cricketers as the stock of the team plummeted to unthinkable depths.
Indian cricket had never appeared so bereft of class and stripped of pride in an international arena. Just one victory, against lowly Bangladesh, provided the bright spot in an otherwise dismal tour to Sri Lanka. It was incomplete contrast to the pre-tour expectations from a side which was certainly capable of better results.
We all know that this very team is capable of better deeds and all it needs is a victory which would bring back the confidence among the battered lot. Until that moment, however, this team would have to accept the flak and the criticism from all quarters. Former India captain Krishnamachari Srikkanth wanted critics to take a sympathetic look at the needs of the team and its limitations. "We must accept that our bowling is weak and try and encourage the boys. Condemnation of the cricketers would only demoralise whatever talent we have and it won't take us anywhere. The need is to support our cricketers in such testing times", was Srikkanth's opinion on the state of Indian cricket.
Knowing Srikkanth, one could understand his guarded statement, not really wanting to hurt the youngsters. But his optimism and the caring attitude may appear misplaced if one takes into consideration the approach of the cricketers.
Indian cricket, at present, lacks professionalism and there is little to suggest that things could improve in the near future. There is none to spare a thought to the exacting demands of international cricket and how a majority of our players are below the expected standards.
Everytime the Indians return home after a thrashing, there is talk of improving the state of pitches, the need of a physio, trainer, doctor, cook and what not. But shockingly the Board does not wake up to the demands of modern cricket and its primitive way of working only leads to disastrous consequences.
For long, there has been talk of having a strong set of selectors who would take honest decisions. A system where the integrity of a selection committee comes under a cloud does not speak well for the progress of the game. What prevents the Board from experimenting with a three-man selection committee?
The bane of Indian cricket has been improper selection and the regional preference which has often denied deserving candidates a break. The examples are many and the most prominent that comes to my mind is the case of Prashant Vaidya. When he was at his best, playing for Vidarbha and bowling quicker than all, he never got a look in. Then he made a wise move to shift to Bengal and in his first season walked into the Indian side.
Chetan Sharma gained by moving to Bengal. Saba Karim profited by moving to Bengal, and now Narendra Hirwani and Pravin Amre are playing for Bengal.
What happened to Utpal Chatterjee? He came into the side for no great reason and went out just when he had begun to make an impression. From where did Noel David spring, ahead of Sanjay Raul and Hrishikesh Kanitkar?. In the case of David, it suited the selection committee to point out his talent and again he was shown the door despite doing well.
In other cases, they come up with statistical backing of domestic cricket. If that be so, why not a place for Punjab's left-arm spinner Bharti Vij who has this habit of picking more than 50 wickets a season. By not grooming replacements, the Board and the selectors have for years shown a poor vision of conducting the game. In the view of former Indian captain Dilip Vengsarkar, Indian cricket has suffered because of this lack of thinking on behalf of the Board.
"We must learn to groom youngsters. The cupboard today looks bare because we have never bothered to groom youngsters. If you don't give a break to a youngster, he loses interest. The potential has to be recognised in time. It is a long process and needs proper planning. I will not blame the selectors but the Board for the state of affairs today. It is unfortunate that the only interest the Board has is to fill its coffers", said a disappointed Vengsarkar, who had quit the zonal selection committee because he found the others only interested in promoting regional interests. A pity we have not had more Vengsarkars from other parts of the country.
Even Mohinder Amarnath was of the opinion that a more professionl touch has to be given in conducting the cricket affairs in the country. This opinion is shared by former Indian captain Bishen Singh Bedi, who has always pointed out the importance of having a strong backup to make the established stars understand that no one is indispensable.
-Vijay Lokapally from New Delhi
---
By Bernie Wijesekera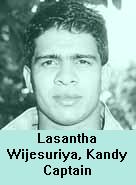 Kandy Sports Club led by Lasantha Wijesuriya has so far been unbeaten. Kandy won all three major trophies - Carlsberg League, the Clifford Cup and the President's Trophy.
Foreigners and local players make up a fine cohesive team.
To remain unbeaten for the entire season needs tremendous fitness, dedication and perseverance.
Wijesuriya, who led from the front, was fortunate to have seasoned players like Sri Lanka Skipper Priyantha Ekanayake, Asoka Jayasena, Imethie Marikar, Nalin Dissanayake, Apsi Nagata, Dunstan de Silva to name a few.
Kandy SC was fortunate to have Dr. Sarath Kapuwatta as President. He made great efforts to improve the sport.
To support Kapuwatta there was Siva Subramaniam, the rugby secretary, who played a vital role, and gave much needed encouragement on and off the field, according to Lasantha Wijesuriya.
The players are fortunate that they played to a plan and had the ability to overcome setbacks.
There were quite a number of people behind the scene, who gave immense support on and off the field that not only paved the way, but also gave the much needed strength to the players to give of their best.
The important cogs in the wheel were Malik Samarawickrema. Kishin Butani who played vital roles in Kandy's success.
Nimal Leuke was the coach who gave that much needed guidance and encouragement to the players.
---
By H. P. P. Perera
The Bristol F. A. Cup Football match between Blue Star Sport Club, Kalutara and the M. H. Mohamed Playground Sports Club, Colombo, played at Kalutara esplanade was won by Blue Star SC by 4 goals to nil.
The goal scorers for Blue Stars were M. Pitchi 1, M. Forzan 1, M. Relwan 1, M. Farzeen 1. The match was refereed by W. V. S. Jayaweera.
---
The Rajarata Campus Inter Unit Sports Festival will be held from September 19 to 26 at the Mihintale sports grounds. The men's and women's volleyball tourney will be held on September 19 from 3 p.m.
The men's and women's athletics events were also worked off on September 20 from 7 a.m. onwards.
The men's and women's elle tournament will be played on September 25 followed by the road race on September 26 at 7 a.m.
---
The national cricket selectors have named a pool of 28 players in preparation for Sri Lanka's Under 19 tour of India in December this year.
There will be a trial match to select the final squad.
Team A- Upeka Fernando, N.Amarakoon, Chamara Silva, M.Waranapura, Rally Tissera, Chamara Zoysa, Jerome Fernando, A.Junaid, Monta Perera, Naren Ratwatte, Rangi D Fernando
Team B- Sanjaya Rodrigo, Buddika Mendis, Ranjith Basnayake, Nilanka Peiris, M.Gajanayake, Pradeep Hewage, Prassana Jayawardana, D.Jayakody, Malinga Bandara, Ranga Dias, Sujeeva Silva
Reserves- M. Mudawantha, S.Moratota, N.S.Rupasinghe, Sadeep Silva, J.Sigara, Suranja Pieris
---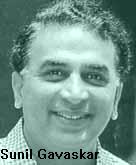 Carrying the expectations of millions on one's shoulders it is not an easy thing even though it can be frightening to some. The strongest of soldiers have been known to crack under the pressure of hopes. Yet, he bravely fought the fires that threatened to consume him for 16 long years, scripting a career that still glitters and became a sporting icon in a land that badly needed one. He was just a little man, a little big man, who gave several special days to cricket.
Yet judged on a variety of criteria, we didn't think any Indian sportsman has been quite as refined as Sunil Gavaskar in the last 50 years. Of course he is India's greatest living batsman. He was the first cricketer to score 10,000 Test runs and he has scored more Test hundreds ( 34 ) than even Sir Don Bradman.
There is more to what Gavaskar stands for than mere numbers, however impressive the figures may be. From the time he hit 774 runs an average of 150 - plus in his debut series in the West Indies 27 years ago to the day he played that epic, heroic knock of 96 at Bangalore in his last Test match against Pakistan on a pitch that was turning square, Gavaskar was at once a world beater and a thoroughbred professional.
With Gavaskar came the belief that we were not just oriental magicians who can delicately late-cut, delightfully drive and fabulously flick to tickle the fancy of critics and lay audiences but, more importantly, were world beaters who can take on the best and beat them in their own backyard.
Gavaskar was Indian sports first high profile world beater. While Indian sports for the most part was filled with the heroics of gifted sportsman who charmed audiences everywhere but mostly ended up as good losers. Gavaskar, brought with him the belief that, they first and foremost were winners.
As a champion sportsman, nobody in Indian sport loved a challenge more than Gavaskar. With him, responding to challenges in his inimitable style whether he was pitted against a pair of world class fast blowers and two mediocre, trigger-happy umpires in Pakistan or four fearsome quicks on a West Indian minefield became a way of life, something of a statement of character.
These days, every other day there is something in the newspapers about the burden that Sachin Tendulkar has to carry because the team fails when he fails.
For the most part of a decade and a half Gavaskar played under a similar kind of pressure and came through with his head high.
One of the most intelligent of sportsmen in the history of Indian sport, Gavaskar was and continues to be - a great thinker of the game. No other Indian cricketer had quite the same level of ability to sight goals and go after them with one- pointed determination .
Like all great achievers, Gavaskar had his own detractors too, many of whom believed that he was selfish. What they will never realise is that selfishness is virtue at the highest level of sport. And if it be said that Gavaskars was selfish, then India could do no worse than have a few more selfish sportsmen of his ilk. The point is if a player such as Gavaskar does well for himself then for the most part, it also means that he has done wonderfully well for his team too.
Every time you watch him you learn something, such as his inmense the powers of concentration, said the West Indian all time great Viv Richards. If his footwork, an art, and the stillness of his head were lessons for every aspiring young batsman then it was the great man's power of concentration and his granite will that saw him scale the peaks that he reached.
The history of Indian cricket will for ever be divided into two phases, before Gavaskar and after Gavaskar. And his greatest contribution to Indian sport may well be the set of attitudes that he symbolised as a winner and a world -beater to influence the ride to the winning post.. Gavaskar shone during hisperiod in the game in ways that not every body may have clearly understood.
As India celebrates 50 years in sport, with the nation's cricket team struggling to pick itself up, it may not be entirely fanciful to imagine the great man stepping in as the all -powerful field marshal of Indian cricket to carry it to great heights in a new capacity.
Sunil Gavaskar is the commissioner of Indian cricket with unlimited powers to choose the captain and the team for a three year term. Well, why not? Indian cricket could do a lot worse than that.
- Romesh Joseph
---
By Saif Izzadeen
Metropolitan sixes
The annual inter-departmental cricket sixes of the Metropolitan Group will be played on September 27 at the CCC grounds.
Last year Metropolitan Agencies sales team emerged champions.
This year there will be teams from Bogawanthalawa plantations, Ericsson, Suntel and Metropolitan Group to offer stiff resistance.There will be over 40 men's teams and five women's teams vying for honours.
There will be awards for the man of the final, man of the tournament, best bowler, batsman and many more awards will be on offer.
The tournament will be played for the Canon challenge trophy presented by Canon Singapore. Last year's winners Agencies sales team will be going all out to retain the title but there will stiff competition from Metropolitan Communications sales team.
Inter Club Sevens
The Carlsberg Inter Club Sevens for A ans B Clubs is scheduled to be held on the 27th and 28th of September 97(Saturday and Sunday) at the CR and FC grounds, Longdon place.
The draw will take place on 25th of September (Thurs) at 5.30 p.m at the Union Headquarters. No non-national players are allowed to participate in the Sevens Tournament.
A maximum of two teams per club are allowed to enter the tournament.
Each squad will consist of a maximum of ten (10) players.
Closing date for registration of teams will be 25th Sept. '97. All duly filled registration forms should be addressed to the Hony Secretary, SLRFU, 28, Longdon Place, Colombo 7.
HNB win
In fading light, Hatton National Bank led by Sri Lanka cap Russel Arnold, carried away the Master Card Trophy at the Inter-Bank Cricket Sixes competition worked off at the BRC grounds.
In the club segment Sri lanka Air Force and Bloomfield were declared joint champions. These two tournaments were organised by BRC and sponsored by Sampath Bank Master Card International.
---
Reutrn to Sports Contents Page
| HOME PAGE | EDITORIAL/OPINION | NEWS / COMMENT | BUSINESS | PLUS
Please send your comments and suggestions on this web site to
info@suntimes.is.lk or to
webmaster@infolabs.is.lk