21st September 1997
Jumbo Saga: Why Lankan officials refused a leg for Sama
By Imran Vittachi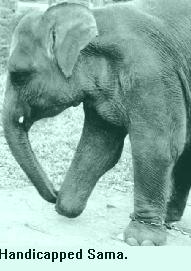 She may have been cursed when men christened her 'peace'.
Sama — her name in Sinhala — was rescued from the wild, close to Sri Lanka's crucible of war, when she was a baby. But six years older now, she has recently been at the crossfire of a different kind of man-made conflict — and she probably doesn't know it.
Sama, it so happens, is an elephant and a most unusual one at that. Back in 1991, when humans found her lost in the jungle around Welikanda — in the north central province that were then hot militarily — they discovered that the orphan's front-right foot was missing. Her local rescuers, as the story goes, assumed that the little elephant had stepped on a land-mine and had survived miraculously.
But to national wildlife scientists and park rangers, Sama could only have been born that way, otherwise she would have bled to death. Her stump is the only publicised case worldwide of an elephant disabled by such a defect, they said.
Due to her limp, Sama could not move like the other elephants in her herd, and was consequently lost to the wild. Sama is now sheltered at the state-run Pinnawela Elephant Orphanage, but she doesn't run with the pack of other rehabilitated elephants.
A short time ago, a team of Lankan vets, headed by Dr. Nandana Atapattu — Deputy Director of the Department of Wildlife Conservation and veterinary consultant to the Ministry of Tourism — tried to get Sama to walk normally by making a prosthesis — an artificial limb — for her. But the experiment collapsed, according to the doctor, because the little elephant kept rejecting it, and injured its fragile stump to boot. The wound then began to fester.
"We tried it before and saw what an agony the elephant had to undergo," he told The Sunday Times. "The baby elephant couldn't hold it [the artificial limb] for more than a couple of minutes."
Fearful that she would risk injuring herself, the authorities have confined Sama to a corner of Pinnawela. There, she spends most of her days being fed on a diet of milk, coconut, kitul, jak leaves, and other elephant staples. We don't want her to injure herself by moving from place to place," Atapattu said.
Despite efforts of her minders to keep Sama content, she is a restless beast. Chained to a pole for most of the day, she sways her head constantly from left to right. She looks miserable, although the authorities insist she is happy.
"It's not suffering," adds Atapattu. "It's like a crippled man."
The vet, it seems, is not the only one to state this point bluntly. His diagnosis of Sama resonates to the top of the ministry overseeing Pinnawela and zoos across the country that rake in tourist dollars.
It has been alleged by a foreign group of animal lovers, that Dharmasiri Senanayake, the Minister of Tourism and Civil Aviation, recently told one of their delegations: "There is nothing wrong with the baby. It is eating and it will stay chained up for thirty years and then it will die."
His words appeared in a transcript of a June 24 meeting in Colombo that was recorded and released to The Sunday Times by the Johannesburg-based Baby Elephant Appeal.
At that meeting, the minister emphatically rejected their non-governmental offer — in conjunction with the London-based International Fund for Animal Welfare (IFAW) — to work with local vets and mahouts to equip Sama with a South Africa-made prosthesis, modeled on a cast taken from her stump in April.
"It's nothing to do with you," Mr. Senanayake was alleged to have added when he turned down their bid to help Sama. "Go and experiment on your own elephants and leave us alone."
But, when he was reached for comment on Wednesday, the minister dismissed the South African allegations as "all nonsense".
"The story that went out is complete fabrication," he told The Sunday Times. "Whether it is South Africans or whether it is anybody...I am the happiest if we can help the animal in that sense [fitting it with an artificial limb], but she doesn't need it."
While this episode has left the South Africans bitter, Lankan officials remain adamant that Mr. Senanayake did the right thing. Their belief is they don't want foreigners fiddling with their elephants — particularly the South Africans who openly said they had never carried out such an experiment — even if this meant rejecting a chance to thrust Sri Lanka into the global media's limelight.
"We can enhance our tourism, but we can't allow our elephants to suffer," said K.D.R.N. Wijesinghe, Zoo Director.
Dr. Attapattu is convinced that only Sri Lankan vets have the know-how to experiment safely with Sri Lankan elephants. Another sticking point with the South Africans is they could not "guarantee 100% success" as they mentioned to him in a letter on April 22.
"If they can do this experiment, we can do a better experiment — which we did and we failed — so we don't want to repeat the same thing, " he said. "They are not certain about what they are going to do. Can we allow somebody to treat our animals as guinea pigs?"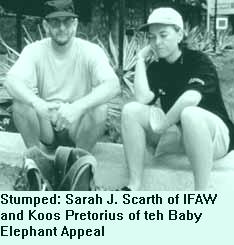 To Dr. Attapattu, the South Africans also breached protocol by not approaching the Sri Lankan government through their republic's diplomatic channels.
"The problem is this, to build up a working relationship between two countries has to come through the government agencies...They are just South African citizens...." Dr. Attapattu said. "We being a government department, we cannot come to an agreement with just an organization like that."
And, he stressed, the Sri Lankans would have to oversee South African proposals to set up a trust fund for Sama. In his opinion, it was important to ensure that money is there to finance the building of custom-made prosthesis throughout the elephant's life.
"Although you have already established a trust fund, we are not aware of the capacity and strength of it," Dr. Atapattu wrote in a letter to the Baby Elephant Appeal on June 5. "May I propose that in appointing trustees, you should appoint both Zoo and Wildlife authorities in Sri Lanka, too."
"If it's a trust fund, and the trust fund has been established to help Sama — which is our animal — we don't know on what grounds they have opened up the trust fund, how much they have collected, and how they are spending it," he told The Sunday Times in an aside.
According to Dr. Attapattu, the South Africans never acknowledged his letter. Without being given the official green light, they simply landed in Sri Lanka in mid-June to complete their experiment, he said. "What happened was, without replying to this letter, they just walked into Sri Lanka and they were forcing [us] to try this out."
Not so, countered the Baby Elephant Appeal, in a lengthy response to questions from the The Sunday Times , to which was attached a sheaf of supporting documents.
According to BEA, the team was already travelling to Sri Lanka in mid-June when the doctor's letter arrived in Johannesburg. But this was just one complaint in a litany of grievances.
"We behaved 'diplomatically correctly' and demonstrated both respect for protocol and the culture of the Sri Lankan people both at government level and at grass roots level," BEA said.
Dr. Atapattu's reply to their April 22 proposal arrived late, but, to his credit, it was one of few official letters they got from Sri Lanka over the course of six months, BEA said.
Between January and June, their letters to the Minister of Tourism or his aides, and to Mr. Wijesinghe at the National Zoological Gardens, largely went unanswered, BEA said.
According to documents, as far back as January 7, Dr. Sharon Isernhinke — BEA's founder who spotted Sama while on a previous visit to Pinnawela — informed Minister Senanayake about the health risks to Sama if her defective leg continued to go untreated.
"... Orthopaedic surgeons [in South Africa] have warned that the stump will atrophy — becoming leaner, although stronger — over a period of time, an on-going situation has to be funded and maintained...," Dr. Isernhinke wrote.
Dr. Isernhinke — as is evident from subsequent letters — made it clear to the Lankans that her partners in South Africa viewed the proposed experiment as a "world first" to be pulled off.
They had paid out of their own pockets for the taking of the cast in April and making of the rubber shoe by Koos Pretorius, a prosthetics specialist with long experience on human land-mine victims from the Bush War in neighboring Angola.
With the presence of international film makers at Pinnawela, positive media coverage for both countries could have been mobilised to raise worldwide funds for a future trust fund in Sama's name.
Although there might have been initial problems with the fitting — such as Sama's finding the prosthesis uncomfortable to wear at first — adjustments could have been made, and in no way would Sama have been harmed, the South Africans reiterated.
A few days before the South Africans were due in Sri Lanka — accompanied by an international film crew — their offer to bring their own vet was turned down, and Dr. Vogt was dropped from the team. As Dr. Isernhinke wrote to W.P.S. Jayawardena, Secretary at the Ministry of Tourism and Civil Aviation, on June 16:
"Thank you for your concern in this matter, but we are not bringing our vet with us, in order to help us with the fitting of the prosthesis."
What was maddening to the South Africans was that, while they had received the blessing from the office of the Prime Minister, Sirimavo Bandaranaike, they felt they were being stonewalled by the Ministry and Zoological Gardens. Fed up with not hearing from these agencies, they finally chanced a trip to Sri Lanka in mid-June that came to no avail.
"Since communications were so poor, we had no choice but to surmise that the Prime Minister had given her blessing, thus we were prepared and ready to visit Sri Lanka and offer our help to Sama," BEA said. "This letter alone can be translated as a total acceptance of the mission. Certainly, in our country, the status of a prime minister is seen as the highest authority and one that would go unquestioned."
And, according to documents obtained by The Sunday Times, in a letter referring to "ARTIFICIAL FOOT FOR BABY ELEPHANT", the Ministry on May 13 granted permission to BEA and IFAW to film at Pinnawela.
At press time, K. Marimuttu, the additional secretary who signed it, declined comment. But at Dehiwala Zoo, K.D.R.N. Wijesinghe said official permission was given only to film the elephant orphanage, and not the fitting of the prosthesis.
"The Ministry has given permission only to film the elephant orphanage," he said. "I [also] wrote one letter to the South African team, [saying] 'Please postpone your visit.'"
Citing official confidentiality, he declined to produce any copies as evidence. For his part, Secretary Jayawardene, handed over a copy of the June 16 letter in which the ministry stated its concerns about the South Africans bringing over Dr. Vogt. But, he was unable to locate other letters, dating back to January, that were sent directly to Dr. Isernhinke at BEA or IFAW.
There is, in the end, some good news too to report about Sama. According to Mr. Wijesinghe, Sama is now being taken down to the river, twice a day, with two elephant friends in tow.
Pinnawela rangers will soon be also clearing an area for an enclosure where Sama — without the aid of a prosthesis — and Raja, the resident blind tusker, will be allowed to roam freely, Wijesinghe added. Commenting independently on Sept. 8, Sarah J. Scarth, IFAW's emergency relief coordinator in Sandton, S.A., congratulated Pinnawela on the news.
"We are so excited to hear this news and applaud the efforts made by the Pinnawela Orphanage to help her lead a normal life..." she said. "It has always been my goal to work with the Sri Lanka government in a cooperative manner.
---
Return to the Plus contents page
| HOME PAGE | FRONT PAGE | EDITORIAL/OPINION | NEWS / COMMENT | BUSINESS
Please send your comments and suggestions on this web site to
info@suntimes.is.lk or to
webmaster@infolabs.is.lk