13, July 1997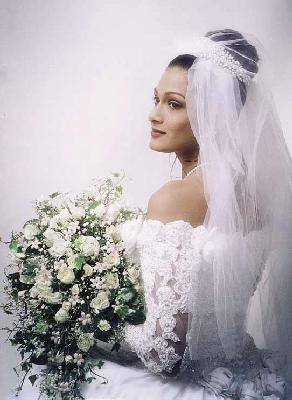 Contents
A 'model' wedding - Nushara weds 'midst champagne and roses
---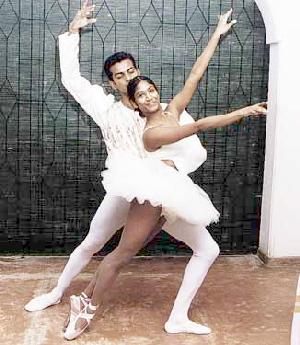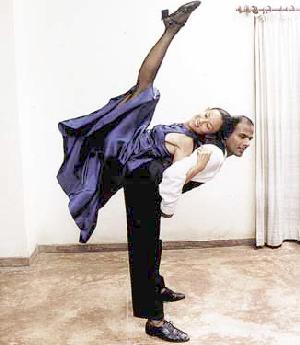 ' Les Mouvements Joyeux', a presentation by the Oosha Garten which goes on the boards at the Lionel Wendt on July 25, 26, 27 and 28 will feature both classical and contemporary ballet at its best.
From the Nutcracker Suite, this time seen in a different arrangement by Oosha to the 'tribute to Frank Sinatra' the show promises something for all dance enthusiasts, though adds Oosha laughing 'no disco.'
Some 150 students of the Oosha Garten, from tiny tots of three upwards to the senior students with years of rigorous training behind them will take part in the show.
---
by Chunky Monkey
"Yo, yo, yo, wassup ? " I asked my homeboy DJ Marlon J. "Chunk my brother , I have to tell you about this crazy, mad, night that is coming up soon, especially for all the hip hop lovers in Colombo." I settled comfortably into the plush velvet sofa that adorns his Nugegoda penthouse. "Aight, hit me with the 411 baby," I said. "OK, this is the flavour. Coming up on the 17th of July at the NCC Clubhouse is going to be Hip Hop Hooray, another night by Zone Productions Inc, the crew behind Rock Saturday . Other DJ's including The Pirate and DJ Tim are going to be dropping some major bomb tracks by the likes of everyone from 2Pac, Snoop, Wu-Tang Clan, Erick Sermon, Redman - strictly for real boy, none of that other vanilla ice cream stuff. Plus there will also be live acts by Rude Boy Republic and Brown Boogie Nation, busting some of their outrageous and funky fresh lyrics onstage. So get out the Karl Kani and the Tommy Hilfiger gear, buy some extra Jheri Curl hairspray and come and nod your head to the beat." Incidentally, congratulations are in order to DJ Marlon, as he and his lovely wife Serena from TNL are now the proud parents of a bouncing baby boy Joshua Christian Jantsen. May he grow up to have his father's taste in music and his mother's looks. Going off at a completely different tangent, it was indeed a treat to catch the Legendary Ladies of Soul performance of the Supremes and the Three Degrees last week at the Lanka Oberoi ballroom. The maiden venture of the new entertainment outfit Excaliburr Productions got off to a flying start with the Supremes belting out "You Keep Me Hanging On" , "Stop in the Name of Love" and "Baby Love" to an appreciative audience that seemed largely composed of expatriates. After indulging in the requisite stage banter (some of it aimed at the unfortunate Capital Radio DJ who had made the mistake of claiming that he had been in diapers when they were having hits) , they got down to the business at hand, of running through a string of hits that came out of Berry Gordy's legendary black music factory. As befits one of the world's premier backing groups, they also had the requisite number of sha-la-la's and hey-hey-now's down pat - though each of these thoroughly professional performers was each blessed with a rich soulful voice that could make them fortunes elsewhere. Highlights included a gospelly, operatic intro to the Whitney Houston hit "I who have nothing" as well as a storming encore of "You Can't Hurry Love". After that it was the turn of the Three Degrees, who I believe have the dubious distinction of being Prince Charles favourite group - and it probably does take a lot of talent to make the heir to the British throne get down and shake his moneymaker. Kicking off with a spirited version of Jackie Wilson's "Your Love Keeps Lifting me Higher", they then swung through their slightly less familiar repertoire with verve and polish . They also took the opportunity to pull one hapless member of the audience and sing one of their hits to him - "Dirty Old Man" , no less. They ended with a rocketing version of the Terence Trent D'Arby tune "Dance Little Sister" that saw the entire dinner party crowd boogying down - or boogieing up , since many took the opportunity to climb on the chairs and dance so that they could get a better look. For a group that featured at least one grandmother, they certainly had an energy that put most of the assorted younger guests to shame. Finally, all six ladies rejoined on stage for a triumphant rendition of "I'm Every Woman" that even had some of the maitre'd 's of the hotel discreetly bopping away in a corner . Kind of surreal to see the cream of black music being played by a bunch of white guys in tuxedoes but full credit to an accomplished backing group with a killer rhythm section. The only disappointing part of the whole evening was the food, scotch broth , chicken and a neon dessert that was mediocre to say the least. Excaliburr are the new kids on the block, and while it is notoriously difficult to sustain a level of profitability on ventures like this, let's hope that they succeeded enough not to be put off for the next time. Anybody want to check and see what Rick Astley is doing nowadays ? ...............
Finally, the Chunk is definitely looking forward to the rock concert featuring Venom, Cancer and Ground Zero next week on the 18th in the Vihara Maha Devi Park . It's about time someone gave us headbangers some release. We'll see you there, and I will be the one in the front row with the age Against the Machine t-shirt .................
---
By Chamintha Tilakaratna
Being fond of eating out, at the end of the meal I am most always faced with a dilemma. I usually end up debating with myself as to whether I should ask the waiter to pack up the left over food that I have ordered or not. Taking the leftovers home was originally justified under that wellworn excuse, "oh, it is for my dog,". Well, it is a very common experience that many of us face and the 'doggy bag' has become an accepted part of dining out. Usually the 'doggy' seems to be ourselves, for it is out of sheer greed for the food that we ask for it, but then why not? After all, we pay for it.
But while the 'doggy bag' was unheard of in years gone by, many restaurants, and hotels have now adjusted their policies to accommodate those who insist on a doggy pack. General Manager at Don Stanley's, Toni Bohoran said, "We do not have a strict policy on the matter, but if someone asks to take the left overs home, then we allow it. But at Don's, the formal dining restaurant only around five out of hundred people ask for left over food." According to him, at their less formal restaurants people ask for a doggy pack more often than not.
Most middle class families now eat out quite often and by taking the 'doggy bag' home save on a bit of the next day's cooking as well. But when one has a meal at a five star hotels, the 'doggy bag' is less frequently asked for. Indika Siriwardena, a waiter at the Spice Market restaurant at Hotel Galadari, however commented that in his experience people of all classes ask for doggy bags and that they have no objection to it. "Even younger people seem to have got into the habit of asking for the doggy pack today, largely because eating out is not as cheap as it used to be and because people are more money conscious and do not wish to waste," he said.
To some, a doggy pack means that you do not have to cook for the help or the dog at home once you return in the night. To others, it means that you do not have to wake up in time to prepare the breakfast. But what many of us realize is that we tend to enjoy the doggy pack much more than eating the same food at the restaurant. An interesting fact that. Perhaps it's because in company at the restaurant one is too busy talking to concentrate solely on the food, while back at home, undivided attention can be given to the tasty leftovers. Most often if the left over food is not brought back, next morning one of the first thoughts that strike our mind is "in vain, we should have brought the left overs, after all, it tasted so good.'
Some restaurants in the city adopt a policy of packing up the food even before asked to do so. This is particularly so in Chinese restaurants, as usually Chinese food keeps better , than say soggy French fries.
General Manager at Chinese Dragon Cafe, Arlene Chi, said that she remembers that some time back, people rarely asked for left over food even if there was a lot of it, but today, nine out of ten people request for it, including the extremely rich. And in many instances, the doggy pack is for themselves.
"In fact, one day a gentleman created a big scene when the waiters had thrown away the chicken bones, and the restaurant had no choice but to pack a separate dish for him," she said. "At the same time, believe it or not, there are people who even ask for even the only prawn left on the plate," she added.
Geethani Katugaha, from Mahabage said that whenever she goes out if there are left over she asks for it for she feels that it is her right, since she pays for all the food ordered. " But I usually order only the amount which I can eat, if I want some more I request but I make it a point not to ask for more," she said. Schoolgirl Samalie Erangie said she often found it embarrassing to ask for the left overs and advises her mother against the practice, although she concedes that there are times she regrets it when her mother does listen to her.
Mr.Gnanapanditham, Manager of Greenlands Hotel said that in their case, the food is such that people do not ask for half of a thosai or a wade. "But of course if they want to, they can take back what is left. And once food is served if it is not used and the customers do not request to take it home, we do not serve the same again." Whether all restaurants adopt such a policy however, is debatable.
---
My darling daughter
I sit here watching the birds search the untidy lawn and feel so lonely for the sound of your voice. You are so far away. Now that I am getting old and sick so often the time I can share with you is short. I thought I will write to you for there is much to comment on in this changing world and let you know my old fashioned views!
I remember the day you were born - how we longed for you - your father and I - you were the miracle of our love. Yet the moment they placed you in my hands, there was no one else but you. The whole world was excluded when I held your helpless perfect form. I think it is then that the bond binding mother to child is intrinsically drawn. Whatever modern new fangled notions be, the unique role of a mother is set at that moment she carries her new born child and places his seeking mouth to her breast.
Today feminist groups seek liberation from this role and modern thought seems to suggest that in the rearing of a child a unisex situation should prevail. Ah! but surely nature designed a woman differently and even as the umbilical cord joined the child to the mother's womb, so does the special relationship of love and protection join the mother to the child in later years.
Daughter, I feel that by neglecting our special role we are in a way responsible for the mayhem and violence with which the young express their confusion and insecurity. The modern woman talks so glibly of the right to seek abortion, marriage vows become a mockery and living together with no responsibility for the child is in vogue. Are we not in a sense of responsibility for the rejection of the values which show respect and concern for others, for have we not denied them by our so-called modern behaviour.
It is from the mother that the child learns to be considerate, it is in the home he learns discipline and respect for others. But could he ever learn it when the parents do just what they want regardless of who gets hurt in the process. The mother today is so involved with material benefits she can gain that she has little or no time or patience to lay the foundation of a home where there is love and discipline. I hope child, that one day when you start your own family, you will remember that not all the wealth in the world can compare to the happiness of seeing your child grow up secure and confident in the love you have given.
I read a few days ago that someone had said a letter is like starlight shining on people long after the source of light has been extinguished so daughter when I am no longer with you maybe you will read these letters and remember.
Ammi.
---
Continue to Mirror Magazine page 2 - The Trap is Sprung - Shades of Blue
Please send your comments and suggestions on this web site to
info@suntimes.is.lk or to
webmaster@infolabs.is.lk