1st June 1997
| HOME PAGE | EDITORIAL/OPINION | NEWS / COMMENT | BUSINESS | PLUS
Contents
---
Naveed lists Aravinda, Sanath as his favourites
By Saif Izzadeen

Naveed Nawaz has always been known as 'Nana' at D.S.Senanayake, the school which has produced Sri Lanka's master batsman Aravinda de Silva.
The burning ambition of this youngster has been to represent Sri Lanka at Test cricket. This dream may well come true if he continues playing in the manner which he has become accoustomed to.
Naveed has been on two youth tours. As expected his favourite cricketer is Aravinda de Silva. Other cricketers who rank high amongst his list are Sanath Jayasuriya and Brian Lara of West Indies.
Naveed obliged The Sunday Times with a brief interview when he spoke adoringly of his cricketing days at D.S.Senanayake and his future plans
Following are excerpts from the interview:
Q. Can you recall your playing days at D.S.Senanayake
A. I started playing cricket when I was 11 when I represented the Under13 cricket team. I captained the school at all levels. Presently I hold the record for the highest individual score at Under13 all island level.
Q. Have you been on any youth tours?
A. Yes I was a member of the Under19 team which toured England under Suchithra Alexander and was the vice captain on the tour of Singapore and Malaysia.
Q. Have you at any stage been selected Schoolboy Crickter of the Year?
A. Yes. I won this prestigious award once. The same year I went on to bag the awards for the best bowler, batsman and fielder.
Q. Has anybody helped you in your cricketing career?
A. Yes. I must thank Mr Lionel Mendis who helped me from the age of eight years.
At school it was Mr.I.M. Sunil. My parents of course encouraged me. However there was one other person who motivated me and that was my uncle Mr Zulfikar.
Q. Do you consider yourself as being unlucky in not being selected to the Sri Lanka team?
A.Yes. I think I have been unlucky. But I have not given up trying and I know that someday my hard work is going to pay off.
Q. Do you have any favourite cricketers?
A. Yes. My favourite cricketers are: Aravinda de Silva and Sanath Jayasuriya of Sri Lanka and Brian Lara of West Indies.
Q. If you are selected to play for Sri Lanka, how will you motivate yourself to play for the world champions?
A.If I am selected I will give my utmost to the country I was born and fortunate enough to represent. It has always been a dream to play for Sri Lanka and once I get my chance, I am not going to throw it away.
Q. What is your favourite car?
A. BMW.
Q. Do you have any pet hates?
A.Yes. I hate back-biting.I am a simple straight forward guy.
Q. What is the difference between Naveed the player and Naveed the person?
A. As a player I am very aggressive, as a person I am very competitive, modest and friendly.
Q. Coach D.S.de. Silva must have have helped you a lot at Bloomfield?
A. Yes.I have learnt a lot from him. When I play with him he gives a lot of sound advice and never made me feel small or out of place amongst such a galaxy of cricketers at Bloomfield.
Q.What is your favourite food?
A. I like rice and curry and Chinese
Q. Do you keep faith in the Almighty?
A. I do believe in God.
Q. What is your advice to up and coming cricketers?
A. Play the game the hard way and never give up.
---
Ananda, St Matthew's return
Twenty new teams will join the fray in the Colombo District Schools Football Association under 12,14,16 and 18 tournaments which gets underway this weekend.
Making a welcome return to the schools tournament is Ananda and St Matthew's while the notable absentee is St Benedict's who have failed to field teams in the under 16 and 18 age groups.
The schools participating in the under 14 age group, played for the Tissa Dharmasena Trophy are,
Group A- Nalanda, Hindu College, Royal, S.Thomas' prep; Group B- St Joseph's, Grandpass, D.S. Senanayake, St Benedict's, De La Salle; Group-C - Wesley, St Peter's, St Anthony's Wattala, Hameed Al Hussaniya; Group D- Zahira, Ananda, St Joseph's, Mahanama, St Michael's Polwatta.
The schools participating in the under 16 age group played for the Edirisinghe Trophy are,
Group A- Hameed Al Hussaniya, Mahanama, S.Thomas' Mount, S.Thomas' prep.Group B- Zahira, Ananda, St Anthony's Wattala, Wesley, Nalanda; Group C- Hindu College, Royal, De La Salle.St Matthew's ; Group D - St Joseph's, Maradana St Joseph's Grandpass, Prince of Wales, D.S. Senanayake.
The under12 tournament will be played for the D.S Senanayake College Trophy while the under 18 Championships will be played for the Dimo Trophy during the third term.(AF)
---
Positive cricket a must - Basil Butcher
His idol was a man he never saw. "He was a guy called Robert Christiani. I never saw him play. He was a batsman. But I never had a hero. Sir Gary Sobers was easily the best cricketer I ever saw," said Basil Butcher, one of the most reliable and elegant batsmen to have played for the West Indies.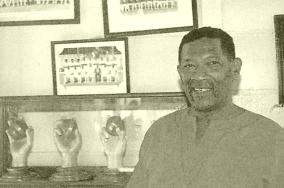 Butcher, whose last first class match was against Trinidad in 1971-72, was considered one of the most difficult batsmen to dislodge during his era. Richie Benaud once confirmed that Butcher was like a rock and very difficult to dismiss. Butcher's career figures confirmed this as he finished with 3104 runs from 44 Tests with seven centuries at an average of 43.11.
His most gutsy knock came at Lord's during the tour of 1963. His 133 in a total of 229 saved the side from a defeat. And the innings came when he was disturbed by a letter just before he walked out to bat which said his wife had had a miscarriage. "It happened when she was going to teach at her school. Her teaching days were over after that," Butcher disclosed.
Hailing from Linden, a town 65 miles out of Georgetown, Butcher rose to great heights, fighting poverty to make a mark for himself. "I am not a town child. I am a countryman really and am happy there."
Butcher was 18 when he represented Berbice and played about 12 games for Guyana before gaining a place in the West Indies team. "It was very tough getting into the West Indies team but I was very determined. I enjoyed playing for the West Indies," he said during the course of this interview with The Sportstar at Georgetown.
Q: Richie Benaud once said you were the most difficult batsman to dismiss. How did you look at it?
A: I never looked at it as though I was the most difficult person to get out. I never thought on those terms. It was just the opinion of Richie and how he looked at the game. He might have felt so.
Q: What was your approach to batting?
A: Well, I valued my wicket and I was not going to give it to anyone. No matter what the conditions were. I would always look forward to playing to the best of my abilities. I would never mess about with my batting.
Q: How did you develop this habit?
A: Because I can't remember bowlers in my time bowling bad deliveries so that you could score runs. They were always trying to get you out. By the same token I had to look after my wicket very well.
Q: Would you value your wicket as much in a first-class match as in a Test?
A: Yes. Even in our local club cricket, when I was playing against some young people who were aspiring to get into a position I was in at that time, I would not allow anyone to get my wicket easily. I would make him feel that he had to earn my wicket. He should have felt proud at getting my wicket. That would always help, him to develop.
Q: Would you comment on the standard of batsmanship today?
A: I am not one who is given to comparing eras because it is difficult to compare. For instance, the Clive Lloyd era had fast bowlers. When we played, we had balance in the team with a spinner or two. The batting standard of individuals has not developed. Some individuals were different like Gavaskar and Viv Richards and a couple of others. But you don't have four or five quality batsmen in one team like in the earlier years.
Q: What could be the reasons?
A: I think the drill we used to have for development is not there. I can speak for the West Indies only. In my time, a West Indies team was picked from just five first-class games in our domestic cricket. Now we have home and away matches which give more opportunities. With that kind of drill, even a young player may get another chance. He can play a number of other games because you don't change the team much when you are playing just five matches in a season to pick the side. Our drill was different and we had to grab that. Our batting now is good only in parts. Lara, Hooper are good but Chanderpaul values his wicket most. Today they get out trying to do things which they are not supposed to at the time they want to do it.
Q: Is the mental toughness missing?
A: I would say so. Mental toughness can help you control your batting. That toughness wavers today more. That again is something that got to be developed for cricket to become attractive. You have to keep the spectator in mind because he has come to watch cricket of the highest order. l am not going to watch mediocre cricket on a weekend.
Q: What then is the main aspect of batting?
A: Cricket is about batting and you have to work for it. You have to play within your limitations. There is no magical thing about batting. You have to have good concentration and good advisers, people who have played and succeeded at the highest level. It helps to have such people around youngsters of 15 to 17 age group. Let a Gavaskar or a Richards tell you what he did to reach that level but then the youngster has to have the aptitude and interest in his development. At the end of the day, it is the person who is listening and not the one who is telling you who stands to gain.
Q: How would you raise your concentration level?
A: Maybe my poverty had something to do with it. I came from a poor family and my parents would never have thought I would go that far in cricket. It was tough to be poor and play cricket in those days. My father was a labourer in a sugar factory. I never expected to play for the West Indies when I started big cricket. I looked at it as my success road, had no diversions, no distractions. I listened to people counselling us. I remained fit 365 days and maybe I suffered for that because I didn't get rest, sometimes playing for someone who was injured.
Q: Was your ambition fired just because you came from a very poor background?
A: Yes it did. I couldn't have allowed to lose it. I developed everything that was necessary. That was the motivation and I felt happy for my parents. My father could not accept the fact that I was playing for the West Indies. That was the greatest joy for me really to see my parents happy at my cricketing success.
Q: What do you do today?
A: I am a businessman. I am into farming. Rice farming and happily settled. I am independent and doing fairly well. But I don't forget my early days. Your humility should cause you to give something back. People today are more interested in getting than giving. This world is full of unfortunates and the fortunates should make a contribution to end the unfortunate situations.
Q: Your memories of the tour to India?
A: To us, it was important making runs against Subhash Gupte. He was the best leg-spinner I saw. If the wickets in India were quicker, we wouldn't have been successful. He would have got me out easier. We could score against him because the pitches were slower and we got time to read him. I am being honest and telling you the truth.
Q: It is difficult to come across a batsman who would say a particular bowler would have got him easier.
A: But that was the truth. I don't think many of us would have picked Gupte. We used the basics against him and often blindly, playing forward.
There is an unwritten rule in the Caribbean, when in doubt, push out, and that is what we did. We were very fortunate to have good people telling us that. We spent endless hours talking to them and learning in the dressing room and performing in the middle. Today, the youngsters don't have such guidance unfortunately.
Q: How do you react to cricketers making so much money? Do you feel jealous?
A: Feel very happy for them. There is now a semblance of good pay for them. Nothing compared to what people get in other sports though. When a cricketer is finished, he shouldn't be looking for a job.
Q: What did you do after retirement?
A: I came back to coaching. The conditions when I was playing were difficult for me to concentrate on coaching. It became difficult and that was the end of my coaching. I had my coaching degree in England. I played a lot of league there because that was where the money came from those days.
Q: How much did playing mean to you?
A: To me, cricket is the game of life. The most enjoyable game of life. I played soccer, table tennis, volleyball, but cricket is a great game. The more you put in, the more you get out.
Q: How has your association with cricket in the West Indies been?
A: I have a problem with my Board. If you have been around in the Caribbean, you wouldn't have seen past players as administrators. It is a big problem. I was asked constantly to be on the West Indies Board. I was on the Guyana Board until I retired in 1974. Political people interfere and destroy the game in the Caribbean. They have been destroying the game. Guyana has won the under-19 tournament for five years in a row but we have just Chanderpaul in the team. Hooper is not part of the under-19 system.
Q: How do you protest?
A: By staying away. When you talk of marketing, it has to be guys like Lloyd and Richards who should be involved because the world recognises them.
- Vijay Lokapally
---
Continue to sports contents page
Please send your comments and suggestions on this web site to
info@suntimes.is.lk or to
webmaster@infolabs.is.lk