01st, June 1997
| FRONT PAGE
| EDITORIAL/OPINION
| NEWS / COMMENT
| TIMESPORTS
| BUSINESS
| PLUS
| | |
| --- | --- |
| | Contents |
---
by Chunky Monkey
The Funky Chunky One dropped by the Hilton for their Louisiana Jazz Festival last week, and sampled some of their Creole cooking BQQ chicken, delicious swordfish, jambalaya rice, steaks with lashings of cholesterol demon herb butter - scrummy.
The food was well complemented by the music of In Focus, the trio comprising Kumar De Silva (keyboards) , Alston Joachim (bass) and Shiraz Noor Amith (drums).
Watching them play is like watching a smooth well oiled machine in action. Kumar de Silva is the absorbed pianist, steeped in the tradition of Bud Powell and Keith Jarrett , a bebopper at heart who loves to travel in the land of Latin.
This is when he gives it his all, sending off shimmies of contrapuntal chords that speak of Cuba libre and sugar cane, of Hemingway and carnivals.
Behind him is arguably the best rhythm section in the country, anchoring him down. Alston Joachim is the clown prince of bass guitarists, his head nodding in enjoyment as his hands spiderweb up and down the frets, smiling, waving, working the crowd like a born showman, shaking around when the going gets funky. Behind him plays Shiraz Noor Amith, his lips pursed as he draws riff after riff after riff out of his limitless bag , stroking the ride cymbal, the hi hat pumping away as he drops bombs with the bass.
They had just released their first album called simply Jazz in Focus an excellent collection of eight covers of standards like What is this thing called Love , Autumn Leaves, and Stella By Starlight , as well as two original compositions , Calypso Lullaby and Blues for Train ,a tribute to the late great John Coltrane .
Due to the lack of proper music sales and distribution companies in this country, they sell the tape wherever they perform - catch them and other swinging types at the next Jazz Unlimited Jam session this afternoon at the 80 Club and be sure to pick up a copy. And let's hope that other bands will take up this innovative method of getting their music across to the masses ......
Still on the jazz trip, strong rumours are circulating of an exclusive jazz club in Liberty Plaza that is set to open in the next few months.
Guaranteeing live jazz music most nights of the week , it seems like a godsend for music lovers starved of live music venues. Let's hope nothing gets messed up in the long run...............
Grabbing Uncle Kro and the Babbler , the Chunkhead bopped up to Negombo last weekend for the Carlsberg Alternative at Keith's Alt , a night of classic and alternative rock by Dr. J of TNL Radio and his crew. Also in attendance was Bonnie from rock group Venom , who in an unusual move , plugged in his guitar and jammed along live to music ( by Miles Davis I think ) - damn funky. This to-be-monthly event pulled a mostly expat crowd - possibly because of the cricket match versus Pakistan that had the whole country glued to their TV screens last Saturday night.
Keith's is a good venue, a cozy bar complete with authentic American Indian dreamcatcher on the walls and Far Side cartoons above the taps, while outside the dancefloor is cooled by the sea breeze that blows off the Indian Ocean .
Looking forward to the next one, though maybe if Dr. J consents to play a bit more dance music , he might see Colombo's multiplying rave generation heading up on a more regular basis.........
Now what the Chunk knows about art is about as much as what he knows about ancient Sumerian garbage disposal techniques, but someone was kind enough to slip moi an invitation to the opening of the Artists Camp exhibition at the National Art Gallery last weekend. The exhibition was to display the fruits of an artists camp held at the Culture Club Hotel in Dambulla with some of Sri Lanka's freshest and most interesting young artists, as well as some foreign guests. After two minutes in the humid, airless confines of the gallery, the Chunk was as soaked as if he had been in a Finnish sauna, but your gallant corespondent pressed on.
He was impressed by the frank and detailed work of Nirmala De Alwis, especially The Witness and the collagiste graffiti of Alfredo Garzon, and while some of the work looked like even I could do it (one of those great clichés of modern art) , there were some genuinely exciting pieces. Now if they just invest in some air conditioning , I'd consider attending more of these shebangs - and some nice Zinfandel would go down a treat too............
---
Four highly talented pianists will undertake a unique musical adventure of popular old songs and light classical favourites with four Grand Pianos - playing simultaneously - at the Lionel Wendt Theatre on Saturday, June 14th at 7.30p.m.
Proceeds of this one and a half hour Concert appropriately entitled "Four Piano Fascination" featuring Mano Chanmugam,Dilip Seneviratne, Yohan and Neomal de Alwis, will go to the improvement of seven Homes, which are being run for retarded and handicapped children.
Says Ms. Dhushyanthi Nugawela Wijeyawardana, Appeals Chairperson: "These children are our responsibility. The funds we can raise from this Progrmme should lay the foundation for greater endeavours. We hope to give these children a place in the sun - with your assistance."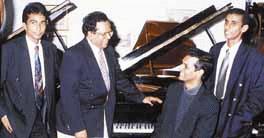 "Four Piano Fascination" will be presented by Mano Chanmugam, the highly acclaimed virtuoso of the keyboard, whose abilities were held in highest regard by the legendary Sir John Barbirolli who wanted him to pursue the career of a Concert Pianist. He however, went off in another direction, to obtain honours in Mathematics and became a Mechanical/Nuclear Engineer.
Mano is still a masterful pianist, comprehensive of technique and extremely musical. The others in the evening programme, Dilip Seneviratne, brothers, Yohan and Neomal de Alwis are exceptional home-grown talent - all proven products.
The June 14th programme at the Lionel Wendt, should be an unforgettable evening studded with popular classical compositions from Tchaikovsky and Chopin, melodies from Gershwin, popular Blues, Latin American favourites, old and new sentimentals and toe-tapping rag time music. And it will reach a crescendo with a sing-a-long audience participation.
---
Indian cinema heartthrobs Salman Khan and Karisma Kapoor will be in Sri Lanka to perform at an extravaganza of music and dance on June 14th at the Sugathadasa Indoor Stadium. The event promises to be a huge success if other events by these performers are anything to go by.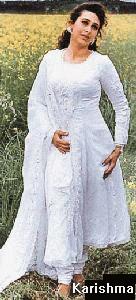 In addition to the two mega stars the troupe comprises over fifty musicians, singers and dancers, and has performed to sell out audiences in Los Angeles, Atlantic City, New Jersey, Singapore, Bangkok and Kuala Lumpur. In fact in Atlantic City an extra show (also sold out) had to be arranged at short notice after organisers overestimated seating capacity for the scheduled performances.
The event is organised by the promotional arm of the EAP Edirisinghe Group of Companies, and is sponsored by Swarna Mahal Jewellers (Pvt) Ltd., and co-sponsored by ETv, and Swarnavahini. Proceeds will be in aid of charity.
Salman Khan's film career started with the release of Maine Pyar Kiya which catapulted him to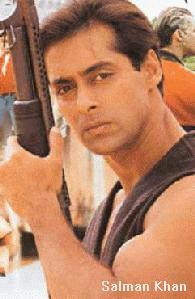 super-stardom. Now with over 20 hit movies to his credit he is the heartthrob of Indian cinema. Salman was recently voted the seventh most sexiest man in the world by International People's Magazine beating Hollywood stars like Christian Slater, Antonio Banderas and Tom Hanks - the only Asian to achieve this honour. Salman was also named India's best looking actor with "a perfect blend of soft face and hard body" according to the magazine, which goes on to say his " drop dead good looks... (are) straight Kodak material".
Blue eyed Indian beauty Karisma, who will perform alongside Salman made her debut in the hit movie Prem Quaidi, and has notched up a further 15 blockbusters to her credit since then.
This year's winner of the prestigious Filmfare award for the best actress, Karisma is the grand-daughter of the Indian legend Raj Kapoor and the daughter of famous actor Randhir Kapoor and actress Babita Kapoor, so both acting and success are in her blood. She is currently awaiting the release of the - sure to be hit - movie Judwaa where she stars alongside Salman Khan.
---
Continue to Mirror Magazine Page 2
Please send your comments and suggestions on this web site to
info@suntimes.is.lk or to
webmaster@infolabs.is.lk