Situation Report
25th, May 1997
Jaya Sikurui: crucial week ahead
By Iqbal Athas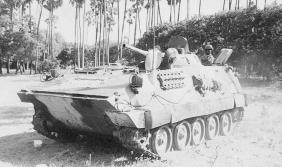 Jaya Sikurui troops in clearing operation

Twelve days of fierce fighting during "Op eration Jaya Sikurui" (Victory Assured) has dramatically changed the face of Vavuniya, the northern-most town in mainland Sri Lanka under Government control.
Troops have abandoned their heavily fortified bunkers and improvised shelters. It was only in February, this year, they were hurriedly put up after Tiger guerrillas fired artillery captured from the security forces.
This was to change the face of Vavuniya, the show piece town of normalcy into one gripped with tension and fear. If the raining artillery forced troops to take cover inside bunkers, Tiger pistol gangs infiltrated the area to cause destabilisation and heighten security precautions.
The repercussions these developments brought about were far flung. It prompted the withdrawal of the Joint Operations Headquarters (JOH), the unified military machine fighting the separatist war, from Vavuniya to Anuradhapura. A major Sri Lanka Air Force complex adjoining the airstrip at Vavuniya with hangars, built at a cost of millions, was felt unsafe for aircraft. SLAF fleets were moved to its Zonal Headquarters in Anuradhapura.
And three weeks ago, Major General Asoka Jayawardena, Overall Operations Commander (OOC), who is directing "Operation Jaya Sikurui" established his Forward Headquarters in Anuradhapura. Needless to say what was Vavuniya then, posed a high risk factor.
But Vavuniya today, has turned out to be different. Twelve days after the launch of "Operation Jaya Sikurui", the area is out of LTTE artillery and mortar range. Hard on the heels of the advancing troops of 55 Division on A 9, once the Colombo-Jaffna highway, the defended borders of Vavuniya north, has expanded. For the troops who advanced from Nochchimodai, the capture of Omanthai, the gateway to LTTE dominated north and the consequent securing of Vavuniya from artillery and mortar, appears to be the most significant achievement.
On the other flank, troops from the 53 Brigade, had also notched up an equally significant achievement. The men who moved from Janakapura in Weli Oya fought their way through heavy resistance to re-capture Nedunkerny, a junction on the road linking Puliyankulam to Mullaitivu, which lies uncomfortably closer to LTTE heartland.
That in essence is what Sri Lanka's largest ever military offensive involving 20,000 troops achieved so far since its launch on May 13. Its declared aim is to re-capture some 65 kilometres of highway to link Vavuniya with the districts of Kilinochchi and Jaffna. Like any other offensive, "Operation Jaya Sikurui" also had its own unexpected share of problems. The operation itself, as is the case, is formulated in several phases. In this case, Overall Operations Commander, Major General Asoka Jayawardena has been given the discretion of determining the course of the operation as it progressed and take appropriate action warranted by the ground situation.
For obvious reasons one cannot elaborate the course of events since the operation was launched. That would have to await its conclusion. It would be suffice to say Major General Jayawardena, in a pre-Vesak move, decided to order the troops on the two fronts to consolidate the positions they had re-captured during the first eight days of the operation. That was to become the conclusion of phase one.
For the troops of 55 Division it meant securing the now strategic Omanthai area. Heavy earth moving equipment were deployed together with tractors and trailers. They were cutting mounds of sand and building bunds as part of defence fortifications. Pre-assigned Police and Navy units were taking charge of sectors they have been allotted.
For men of the 53 Division, the Reserve Strike Force, who advanced from Weli Oya to Nedunkerny, it meant having to dig defensive positions and hold the area. On both flanks of the troop advance, offensive action ceased as May 21 dawned signalling Vesak Poya. Yesterday the troops resumed their advance towards Puliyankulam. They were meeting with resistance.
However, when there were no offensive operations during nights the LTTE subjected troops in both locations to heavy artillery barrages forcing them to retaliate in defence. In Weli Oya, Tiger guerrillas made a series of abortive attempts to break through defences. In one such attack, which came amidst heavy artillery fire, Tiger cadres killed one soldier and wounded two others.
As reported in these columns last week, although the LTTE will find it difficult to continue to oppose the conventional might of the security forces, it is more clear now that their intention is to inflict as many casualties to troops and damage to military hardware before the security forces execute their mission. Military Intelligence sources confirmed yesterday that LTTE leader, Velupillai Prabhakaran, had decreed that that his "field commanders" should at any cost thwart the security forces advance into Wanni.
Said one intelligence source "if they (the LTTE) fail in the Wanni, they go back to square one - that is over 15 years ago when they launched the separatist struggle. That's not an easy prospect for them to think of.'' With Jaffna no longer under their control and "Operation Jaya Sikurui" threatening to cut off their land-based Main Supply Routes (through the Wanni to Mullaitivu, their stronghold now), senior military officials do not rule out the prospects of much stiffer LTTE resistance ahead. They also concede that with barely a quarter of the main highway re-captured, with over 130 killed in action and over 650 wounded, a re-appraisal of the ground situation was carried out. However, a press release from the Operational Headquarters of the Ministry of Defence claimed last night that "Total casualties of own troops from 13 May to 23 May 1997 are 75 killed and 126 injured". Unlike during the string of Operations Riviresa which led to the re-capture of the Jaffna peninsula, the Government's approach to the ongoing "Operation Jaya Sikurui" has been marked with great caution. "We are consolidating and exploiting" was how Brigadier Tissa Jayathunga, Military Spokesman and Director Media at the Operational Headquarters of the Ministry of Defence described the offensive. He was speaking to Defence Attaches or representatives of Colombo-based diplomatic missions at a briefing given to them at Navy Headquarters last Tuesday. According to the Defence Attache of an Asian country, Brigadier Jayathunga, declined to answer some specific questions put to him on the grounds that they were "secret." He, however, disclosed that he (Brigadier Jayathunga) had been to the battle areas where " morale has been very high." Brigadier Jayathunga was to have reverted to his substantive post as Military Liaison Officer (MLO) in the Ministry of Defence from early this week. That was with Brigadier Sarath Munasinghe taking over the media position.
However, Brigadier Munasinghe's take-over was delayed. It was early this week he handed over his responsibilities as officiating General Officer Commanding (GOC) of the Army's Three Division (eastern sector) to Brigadier Anton Wijendra. He is now due to take over duties from next week. There were indications that Brigadier Munasinghe may function from the Ministry of Defence since he is coming to his new posting after officiating as a GOC, considered an elevated designation. Moreover, he is said to be among a group of officiating GOCs at Brigadier level who are due for promotion to the rank of Major General. It was not only Brigadier Jayathunga who was cautious about an early official response. So was the Deputy Minister of Defence, General Anuruddha Ratwatte. Last week, in the company of his ministerial colleague, Media Minister, Dharmasiri Senanayake and Director of Information, Ariya Rubasinghe, General Ratwatte, met Editors or their representatives of national newspaper groups. He spoke informally during meetings separately with each group. He was relaxed and answered questions put to him. In the team from Wijeya Newspapers was Anthony David, News Editor of The Sunday Times. General Ratwatte appealed to the media to co-operate with the conduct of "Operation Jaya Sikurui" by not publishing details that would hamper the operation. "You can keep those details and publish them afterwards," he urged.
General Ratwatte declared "Some Army top people want censorship. But we want to avoid it. We want the media to co-operate with us to prevent it." General Ratwatte should be commended for resisting military pressure to clamp down a censorship. Not one responsible national media has gone on record as having hampered a military effort by divulging date, time and place of an offensive or where exactly deployments have been made.
A well known axiom in the services says that when the going gets tough, the tough get going. This certainly is true of the men and women on the field and indeed Sri Lankans should be proud of their endeavours and sacrifices. However, there is a very small segment of top brass who get tough in a different direction - against the media. At least one top military official who should be devoting more attention to his tough men and women who are fighting heroically, is instead getting tough with the media. He has spent more time in the past week telephoning newspaper offices and complaining to political leaders - all about media reports on the aims of the military offensive. But none of these reports gave operational details but did say what the aim of "Operation Jaya Sikurui" was.
The fact that the troops were poised to establish a land link between Vavuniya and Jaffna has not only been an open secret but an obvious and logical conclusion to even a half-witted observer of the military situation.
The LTTE not only expected it but made hectic preparations. To assume that the LTTE waited for Colombo newspapers to ascertain troop movements is not only naive but a gross under estimation of the LTTE. It is just as good as declaring that the LTTE has been so weakened that it has no potential now to fight back. Surely an intelligent appreciation by the LTTE could only lead to the inescapable conclusion that the security forces would attempt to establish a land line of communication with the peninsula and thus not only gain a logistics advantage but also tactically segment the LTTE dominated Wanni.
That apart, none other than President Chandrika Bandaranaike Kumaratunga, the Commander-in-Chief, herself declared during the local government polls campaign in February that troops would soon secure a road link to Jaffna so people in the south could travel to north to shake hands with the people there. If that top official's contention is correct, even the President's own speech should have been censored. Otherwise, in this official's thinking, the enemy would get to know. How absurd can things get ? Not so long ago, the same top official advocated at high level meetings of the defence establishment that more restrictions should be placed on the media in reporting the separatist war. This was in marked contrast to his position during the Pooneryn disaster days when he lamented that views of those who came under scathing criticism for alleged lapses and blunders were not heard.
In point of fact, this official had good reason to so lament for he was blamed as being allegedly responsible for at least three other known military reversals. As to where the reports of those Courts of Inquiry are, is anybody's guess. Certainly they have not even in a small way been exposed to public accountability. On the other hand, the worst military disaster in post independent Sri Lanka's history came during a censorship. That was in July, last year, when the LTTE attacked the Pooneryn Military Base - an incident which remains shrouded in mystery and blanketed in absolute secrecy. It is known that more than 1,400 soldiers were killed and around 25 million US dollars worth of military hardware was lost. It is well known that the artillery weapons stolen from Mullaitivu Base were the ones that have been used by the LTTE to inflict death and injury to troops during "Operation Jaya Sikurui. How did the LTTE make plans to attack the Mullaitivu Base ? Is the top official aware that the newspapers then published only what was approved by a Competent Authority since there was censorship ? Why then is this phobia against the media ? Why is an attempt being made to keep away from the public the truth. Is it not their sons and daughters who are fighting the war ? Is it not their funding that is sustaining the war effort ?
Fortunately the Government has realised the futility of a censorship. In the past months the media has been replete with reports of alleged corruption involving procurements and urged on the strong need for the Government to exercise greater transparency. Already the role of the media in the ongoing separatist war is very limited. Both local and foreign media are debarred from the battle areas and have to rely almost entirely on news releases put out by the Operational Headquarters of the Ministry of Defence. The fact that they are sketchy and contain little or no detail is well known. If that exercise is an affront to Government's policy of transparency and a free media, here is an example that should make this top official to look within his own system before he decides to advocate to Government how to run the media.
This is what a press release dated May 19, 1997, put out by the Operational Headquarters of the Ministry of Defence and headlined "Situation Report Operation Jayasikuru" said: "On 19 May 97. Troops continue to consolidate in the captured areas of Nedunkerni and north of Omanthai. It is reported that in the fighting in Omantai 03 LTTE women cadres were killed namely Krishnapillai Subashini alias "Lt Col" Radhi district leader for women in Vanni, Krishnapillai Rajesvari alias "Captain" Dayalini and "captain" Umanidi." From when has the Government of Sri Lanka recognised the LTTE as a conventional Army ? Whose morale is the press release ( signed by an Army official ) trying to boost by giving military ranks to the LTTE dead, even if they are presented within inverted commas ?
It only goes to confirm that there has been no cohesive media strategy on the separatist war. As a result, the achievements of both the Government and the security forces are not properly conveyed to the people of Sri Lanka, leave alone the outside world. That situation is made worse when some top officials, for reasons better known to themselves, succeed in persuading the Government to clamp down a censorship. A cohesive media strategy by the Government is the only assured way of countering virulent LTTE propaganda which has been of some success, particularly abroad, for more than a decade now. It does not take an expert to say that a press release with few lines or few paragraphs cannot continue to be the answer. In the backdrop of a grossly inadequate and unprofessional dissemination of information on the war, is not the clamping down of a censorship the best way of hiding the truth ? It also judiciously avoids questions being raised by the public or by the media (on their behalf) of the accountability of those responsible for the conduct of the war both in its operational, logistics and capitalising perspectives. The latter includes the enormous financial inputs to procure equipment which have constantly been under question. This is at a time when there are no funds to improve basic public amenities. It was only this week the public were told there were no funds to improve the railway since monies were being diverted to the war effort.
There may be numerous other examples. "Operation Jayasikurui" portends to be a military success though one cannot say how much time it would take. But that certainly does not assure an end to the separatist war or signal the beginning of the end to the ethnic problem. As the defence expenditure sky rockets into billions, the time has come for both the Government and Opposition leaders to take a serious look. The coming weeks will no doubt be historic.
---
Return to the Editorial/Opinion contents page
Go to the Situation Report Archive