13th April 997
| HOME PAGE | EDITORIAL/OPINION | NEWS / COMMENT | BUSINESS | PLUS
Contents
---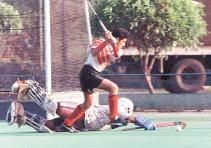 CRICKET? NO ITS HOCKEY. A sizzling shot by skipper Suresh Kumar is pushed aside by Hatton National Bank's goalie D.C.Perera who sprawls on the ground while Charith Senanayake of Singer attempts to score. Action from the Mercantile A Division Hockey Final. Hatton National Bank triumphed 9-2. Pic byDunstan Wickremaratne.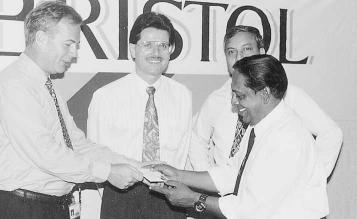 WELL DONE DUNSTAN.Dunstan Wickremaratne, Pictures Editor of the Sunday Times receives a gift voucher for Rs. 40,000 (Rupees Forty thousand) from the outgoing chairman of Ceylon Tobacco Company Mr. Michael Fenn, to purchase cameras and accessories from Metropolitan Agencies Colombo given to the winner of the 'Click the Bristol Action Bristol League Football Tournament Photographic Competition'. Also in the picture are Mr. Godfried Thoma, new Chairman of the Ceylon Tobacco Company and Marketing Manager Mr. Jayangir Kabir.

---
Multi-Disability Athletic Championships in Sydney from April 15 to 21
Three blind athletes for international meet
Three blind athletes will represent Sri Lanka at the Multi-Disability Athletic Championships in Sydney, Australia from April 15 to 21.
They are: Kapilasiri Senanayake, Krishantha Bandara and Saman Priyadarshana. They will participate in track events such as 100, 200, 400, 800, 1500 metres and in the field events : discus, javelin and the shot-putt.
The Sri Lanka team will be led by Amaradasa Gunawardena, President of the Sri Lanka Council for the Blind, who will be the Manager and Sriyaratna Wanniarachchi, Treasurer of the National Federation of Sports for Disabled will accompany the three-member team as Coach-cum-Assistant Manager.
The selection of the three athletes was done by the Sri Lanka Council for the Blind with assistance of the National Federation of Sports for the Disabled.
This is the fourth successive year that Sri Lanka will be participating in a meet of this nature.
Sri Lanka performed exceptionally well at the Multi-Disability Championships held in Darwin, Brisbane and Sydney - Australia in 1994, 1995 and 1996 by winning 17 golds, 27 silvers and 37 bronze medals.
The funds needed for the tour was made possible courtesy of the President's Fund, The Visually Handicapped Trust Fund, Lotteries Board and the Ministry of Sports. -AF
---

Swimmers pardoned
By Annesley Ferreira
The suspension imposed on four swimmers by the National Amateur Aquatic Sports Union (NAASU) last year has been lifted with immediate effect, NAASU President Henry Perera said.
The Executive Committee of the NAASU took a unanimous decision at a meeting held on Tuesday April 8 at the NOC Headquarters at Reid Avenue.The Ministry of Youth Affairs and Sports too has been informed about the decision,stated Mr. Perera.
All four swimmers will be notified in due course and those with qualified times will be taken into the national pool currently in training for the forthcoming South Asian Federation Games to be held in Nepal in September this year.The four swimmers whose suspension was lifted are: Marlon S. Delano, Suranjan Perera, Asela Pradeep and Asanga Warusawitharana.
Delano looks a certain bet for medals at the SAF Games especially in his pet events, the 200, 400 and 1500 free style, 200 back stroke and the 4x100 metres medley.
---

Butterfly to sponsor Lanka TT players
The Sri Lanka table tennis players are in luck's way with the Worlds Number 1 table tennis racquets manufacturing company, the Butterfly Company in Japan coming forward to sponsor them at the forthcoming SAF Games in Nepal, all through the efforts of Lalith Priyantha.
Priyantha the former National TT men's singles champion for many years was able to obtain this sponsorship when he went to Japan follow an advanced camp for top coaches in the famous training centre in Dojho in Japan.
This camp was held in preparation for the world championships in England later this month.
A very high standard of training methods including mental, physical and practical was conducted by world champion, S. Itoh.
Itoh, said that a top grade coach cant give more than 20% while the other 80% should come from the player. In other words no coach can make a champion, the player has to work hard to be a champion.
Priyantha speaking to the Sunday Times said that our players have the talent compared to players from the other countries but what they lack is technique.
The world champ also mentioned that no TT player should play any other racket game and they should practice at least two hours a day 5 to 6 times a week for players under 8 to 15.
Citing Japan, Priyantha said they are already training for the 2004 Olympics with players 10 to 14 years. Priyantha said that there are six types of spin that a player should master. They are: side spin, backspin, top spin, chopspin, underspin and most effective no spin. (AF)
---

Isipatana emerge ten-a-side kings
Isipatana showed what stern stuff they are made up of quite early in the rugby season when they beat arch-rivals Thurstan 10-5 in the final of the Milo Inter-Schools Under 19 ten-a-side tournament at the CR and FC grounds.
Contraray to all expectations Thurstan led 5-0 at the breather but they never accounted for the soul stirring fightback that the 'green shirts' staged to win the championship.
Sajith Mallikar-achchi scored both tries for Isipatana while Thurstan's try was scored by Vikum Ukwatte. In the Plate Final S.Thomas' A scored a comfortable 15-0 win over Maliyadeva. S.R.Jeerasinghe, Shehan Wickre-masinghe and Chrisantha Ranadeera scored a try each for the Thomians. The winners led 10-0 at the break.
Science College staged a fine fightback in extra-time to beat D.S.Senanayake by 13 points to 10 to annexe the Bowl Trophy.
Sanjeeva Jayas-inghe, Sheran Prasanga scored tries for Science College while Shanti Kumar put over the penalty. For DSS D.Wijedasa scored the best try.
Results of the quarter-finals: Kingswood beat St. Anthony's 12-5; Thurstan beat Ananda 21-nil; Zahira beat Dharmaraja 17-nil; Isipatana beat Lumbini 19-nil; Semi-finals: Thurstan beat Kingswood 5-nil in extra time; Isipatana beat Zahira 12-nil.
Place Championship: Vidyartha beat Wesley 5-0; S.Thomas' A beat Nalanda 12-nil; Maliyadeba beat St. John's Nugegoda 12-nil; St. Joseph's beat Sri Rahula 29-7; Semi-finals: S.Thomas' A beat Vidyartha 12-nil;Maliyadeva beat St. Joseph's 5-nil.
Bowl Championships: Science College beat St. Sylvester's 17-7; Royal w/o Mahanama; S.Thomas' B beat St. Peter's A 12-10; D.S.Senanayake w/o St. Aloysius; Semi-finals: Science College beat Royal 5-0; D.S.Senanayake beat S.Thomas' B 5-0. (AF)
---

Police rely on local talent
The Sri Lanka Police Rugby survives solely on the services of the sons of the soil. The Police which broke into big time rugby from the sixties became a force to be reckoned with from 1967 in which year Police entered the Clifford Cup finals for the first time in its history from the 'B' Division.
That year Police beat the reigning champs CR&FC in the semi-finals and lost to Havelocks Sports Club led by Gamini Fernando in a close encounter.
Since then Police have been in the forefront of local rugby harnessing raw local talent and dominating over leading clubs such as CR&FC, CH&FC and Havelocks who had the best of rugby players from the best of schools.
During the fifties and sixties Police too had some very good players from the leading rugby playing schools such as Mike Schokman, Rudra Rajasingham, T.B. Werapitiya, Franklyn Jacob, S. Bambaradeniya, Quintus Jayasinghe, Tony Mahath, Rodney Aluwihare, Ananda Piyasena and Sam Samarasekara, all from Trinity College. From Royal College Police had some superb rugby players such as Sydney De Zoysa, Fred Brohier, James Senaratne, Rahula Silva, Sumith Silva, Brute P. Mahendran and Raja Pothuhera. From St. Peter's College there were Letcho Ephraims, Terry Williams, Muni Gomes and S. Sivendran. From Zahira College there were M.A. Majeed and Ibrahim Hamid, Anton Benedict from St. Joseph's College and Daya Jayasundara from Dharmaraja College.
Later during the seventies the bulk of the players came to the Police from Isipatana College, Lumbini M.V., Vidyartha College, Thurstan College and St. Sylvester's College and helped Police to dominate the rugby scene. Till the late eighties the Police won the Clifford Cup and the John Player League Tournament at will. This era was dominated by players of the calibre of Nimal Leuke, Ajantha Samarakoon, Nizam Jamaldeen, Norman Silva and Niranjan Abeyawardane to name a few.
In the nineties, with the coming of foreign players CH&FC dominated the scene with some fine players. Then the Kandy SC too brought in foreign players and overshadowed CH&FC followed by CR&FC who did well last year. Even though clubs like Havelocks and Petersons imported players from Fiji and other countries it became counter productive and they could not hit the top.
Last year Army which too had only local players, included two foreigners into their side without much success. This year there are unconfirmed reports that Air Force too will be fielding foreign players from Fiji.
But the Police will carry on with the local players under the captaincy of Hemantha Lakshmiwewa this year and prove that Police is still a strong side in Sri Lanka inspite of other clubs strengthening their sides with foreign players.
Hemantha will have in his side some very experienced players such as Norman Silva a national player and "Kunta" Tilekaratne as props. Hemantha will be the hooker. Second row will have Upul Pieris and Saravanan who are both six footers. The flankers will be the fast breaking forward Lalith Leelaratne and Welegedera who comes in place of the injured Kelum Gunaratne.
The Police Back Division will have scrum half Senaratne pairing off with the experienced fly half Nizam Jamaldeen. Centres will be Preethiviraj and Thushara Deepthi, Wingers will be last year's skipper Damith Jayawardena and Anura de Silva or Gallewela. Full Back will be Chintaka Perera or Thusitha Dissanayake. In addition there are several new faces who were selected from the provinces during the recently concluded Police Inter Division rugby tournament who are fighting for places.
Police will have a new coach in R.M. Laffir a former Police rugby captain. The Chairman of Police Rugby this year will be Senior DIG M.M. Gunaratne, a former Peterite. Secretary will be Mahinda Hettiarachchi.
---
Pakistan: United and well-knit
Cricket fans assured of exciting fare in the series...
From Bernie Wijesekera - Melbourne, Australia
The Pakistani cricket team under the charismatic leadership of Wasim Akram will be embarking their mission to be the top team in the game when they play a two-test series against Sri Lanka this month.The young Pakistani team with several exciting young players,a well-knit united side under Akram will be hard to beat. The once divided team with dressing room intrigues, but Akram has done his act to mould them to play as a unit.
This was evident how they performed after losing their first two games when they won the World Series crashing the West Indies in the best of the three finals - 2-nil. Playing fledglings in the side it has paid dividends.
Also playing in the cool hands of Akram and lads gave of their best for their country to win the prestigious World Series getting the better of Australia and the Windies in the final. <./P>
With the rookies in the calibre of Mohammed Zahid (a bowler as fast as Waqar Younis, batsman Mohammed Wasim, Saqlain Mushtaq), an off-spinner highly rated by celebraties like, Richie Benaud, Keith Stackpole etc., the one who should be the best in the trade before long. Exciting allrounder Shahid Afridi, who broke the record for the fastest 100 held by Sanath Jayasuriya in 37 balls have added much salt and pepper to the team.
The Lankan fans are afforded with exciting fare in the coming series. Akram, now a more matured player and captain leads perhaps the most exciting team in the game today. Seeing is believing. With his own mercurial bowling, he has come in for high praise from the legendary Sir Don Bradman. According to Sir Don, he moves the ball like Alan Davidson, but a yard quicker. Not only ahead of Davidson but better than Bill Johnston and Bill Voce, who were also fiery left-arm fast bowlers. In the past the Pakistani team was a disintegrated lot, but the present team shows more emphasis to play for the country than for self. This was the home-spun truth, as Akram has done his gardening to get the best out of them. With the return of Aamir Sohail, Salim Malik and dashing opener Saeed Anwar it will strengthen the batting then Akram has the right balance to deliver the goods on this tour. If Sri Lanka could hold them it will be great, as the Pakistanis have tremendous respect for the Lankan team after their efforts in 1996, defeating them at home and winning the World Cup in Lahore. But since then the Lankans have failed to show up well, in the away tournaments including the two-nil loss to the young Kiwi team. It's the Pakistani bowling that could pose problems to any side in the world. This has been endorsed by many a knowledgeable student of the game after watching them in the World Series. Akram believes spinners are winners, provided they are encouraged. David Hookes says: "The first test team fielded by the Aussies in 1975 against the Windies at the Gabba had Thomson, Lillee, left-arm swing of Gary Gilmour, leg-spin of Terry Jenner and off-spin of Ashley Mallett - a well balanced attack. The present Pakistani has the same formula to partner Akram he has Waqar Younis, whose figures rank him as the best in the world. The third, M. Zahid - as fast as Waqar with a match-bag of 10 wickets in his debut against the Kiwis. He is an emerging quickie in the world scene. Mushtaq Ahamed is only a shade behind Shane Warne. But doesn't enjoy much opportunities like Warne. Off-spinner Saqlain, who spun a web against the Aussies in Hobart to win the man-of-the-match award make it an awesome attack which has variety to exploit any pitch. The Pakistanis are no longer a lethargic fielding side like in the past. The youngsters are raring to go with keeper Moin Khan leading the way with his acrobatic keeping. The seniors are put into great pressure with several youngsters waiting on the wings to take over, says Yawar Saeed, who managed the team to Australia. Manager Saeed, also said before he departed from Australia that the Pakistanis have tremendous respect for the Lankan cricketers. They could be tagged as the most dangerous side in the international scene.
Following is the tour itinerary: April 16 and 17 - Two day game vs the Sri Lanka Board President's XI; April 19 to 23 - First Test at the Premadasa Stadium; April 26 to 30 - Second Test at theSSC Grounds.
---

Kraft Tennis
The inaugural Kraft Junior Masters tennis open championships organised by Video - 19 Private Limited will be held from April 19th to 25th at the Queens Club and Health Department Sports Club courts.
The championships will be conducted for boys and girls under 8,10, 12,14, 16 and 18 singles only and possibly doubles for those under 14 and under 16.
The finals will be played at the Health Department Sports Club Courts on April 23 and 24. Entries will close on April 15 and the draw will be held on the same day. – AF
---

Pushpadana girls win hockey championship
Pushpadana BMV emerged hockey champions in the Open league tournament and was awarded the Rameez Mohammed Memorial trophy in the championships conducted by Young Star Sports Club Kandy, played at the University grounds, Peradeniya. St. Anthony's BMV were as runner-up.
Nimali Egodage of Pushpadana BMV was picked as the most outstanding player of the tournament and Roshini Weeraratne of Mahamaya was selected as the best player.
In the run-up to the championships: Pushpadana BMV beat Seethadevi BMV by 2 goals to 1, Gayani Manori scored both goals for the winners and Thanuga Sanjeewani Kumari scored for the losers.
St. Anthony's drew nil-all with Mahamaya BMV.
Pushpadana BMV beat Wattegama BMV 5-nil, Agra Rajanayake (2), Gayani Manori, Shamali Bandaranayake and Thanuja Waidiyatilleka scored.
Seethadevi BMV drew nil-all with St Anthony's BMV.
Pushpadana BMV beat Mahamaya 2-nil. Gayani Manori and Thanuja Waidyatilleka scored a goal each. Seethadevi BMV beat Wattegama BMV 1-nil. Inoka Batuwita scored.
Mahamaya BMV beat Wattegama BMV 3-1. Lilani Ratnabandara, Harshani Basanayake and Prasadani Koralagama scored for the winners and D.T. Bogalanda for the losers.
St. Anthony's BMV beat Wattegama BMV 3-nil. Geethangani Colombage (2) and S.T. Ekanayake scored.
Pushpadana BMV drew 1-all with St. Anthony's BMV. Amila Kapilaratne scored for Pushpadana and Sanjeewani Ekanayake scored for St. Anthony's.
Seethadevi BMV beat Mahamaya BMV 3-nil. Udeni Kumari, Sathika Kumari and Thnuja Sanjeewani Kumari scored for the winners.
Girls High School won the Segment 2 tourney with Sri Rahula Katugastota as runners up.
Shalika Sanjeewani of Girls High School was picked as the Most Outstanding Player and Chaturani Inosha of Young Stars was selected the best player.
In the run-up to the championships St Joseph's BMV drew nil-all with Swarnamali BMV. Sri Rahula drew nil-all with Girls High School.
Young Stars beat St Joseph's BMV 3-nil, C. Rathnayake, I.T. Samarasinghe and N.K. Tillakaratne scored a goal each.
Girls High School beat Swarnamali BMV 1-nil, Shalika Sanjeewani scored.
Young Stars drew 1-nil with Sri Rahula. Kalpani Madeesha Liyanage scored for Young Stars and Jayalakshmi Kaluarachchi scored for Sri Rahula.
Girls High School beat St. Joseph's BMV by 4 goals to nil.
Shalika Sanjeewani (2), Shamila Marjan and Wasana Senanayake scored a goal each.
Sri Rahula beat Swarnamali BMV 4-nil. Jayalakshmi Kaluarachchi (2) and S.K. Sugathadasa, W.K. Ranwalage scored.
Young Stars beat Swarnamaili BMV 1-nil. Kalpani Nadeesha Liyanage scored.
Sri Rahula beat St. Joseph's BMV 6-nil S. Perera (3), U. Ratnayake (2) and N.C. Wijesinghe scored. Girls High School beat Young Stars 3-nil.
Shalika Sanjeewani, Wasana Senanayake and Dilhani Perera scored.
T. Thawanadan, the Chairman of New Himalaya Biscuits Kundasale and Karunanidi Stores Kandy was the chief guest and S. Muttiah the Chairman of Luckyland Biscuits Kundasale was the guest of honour.
The exhibition match played between the Rest X1 under 17 and Pushpadana BMV ended in a draw.
Shiyama Kumari Ranasinghe scored for the Rest X1 while Anusha Chandrasena scored for Pushpadana BMV. – AF
---

Boxing refs, judges to train
The Boxing Referees & Judges Association under the auspices of the Amateur Boxing Association (ABA) will conduct training classes for those who aspire to become future referees and judges.
These classes will be conducted on week-ends for four months in Colombo in English.
After the conclusion of these classes a qualifying examination will be held. It will consist of written and practical tests followed by a viva-voce.At least 95% attendance at classes will be necessary to sit the examination.
Those who qualify will have to serve an apprenticeship period of three months prior to the award of the bade & certificate.
Only those who are under 35 years of age, medically fit, having good hearing and vision with no colour-blindness could apply for this course. It is also essential they should possess a boxing record.
Those who are interested and eligible to apply for training, are requested to send in their bio-data which includes the date of birth and their boxing records to Donald Munasinghe, Secretary, Boxing Referees & Judges Association at No 459, Thimbirigasyaya Road, Colombo 5, before April 30th.
---

Soza dazzles with 106 n.o.
A highly entertaining chanceless knock of 106 runs not out by Dushan Soza former Josephian and Sri Lanka Under 19 skipper was the highlight of the Over 40's Cricket Encounter between "Lanka Cavaliers" and a Moratuwa Invitation XI played at Tyronne Fernando Stadium on Saturday 5th April 1997, which ended in a win for the Moratuwa team.
Batting first, the Cavaliers led by Bandula Warnapura scored 221 for 4 wickets in their allotted 35 Overs. Chief scorers were Soza who hit 7 towering sixes and 6 fours, Mervyn Fernando 48 (4 fours), C.P.P. Raj 21 and Daya Sirisena 17. Sylvester Dias, Jayalath Aponso and Pemlal Fernando took 1 wicket each.
Moratuwa Invitation XI managed to reach the score (224 runs for 5 wickets) in the penultimate over. Gerald Mendis scored a hard hitting innings of 79 (retired hurt) with 2 sixes and 9 fours. Others to enter double figures were Chitral Mendis 16, Jayantha Perera 40, Wasanthalal Fernando 12 not out and Bandula De Silva- the Lanka Cavaliers in form batsman who turned out for the Moratuwa XI for this game as their skipper stroking a fluent 43 not out (6 Fours) to reach the target. K.H. Nandasena took 2 wickets while Daya Sirisena 1 wicket.
It was a real treat for those present to see their yesteryear greats once again playing together entertaining cricket in a great spirit of friendship and goodwill in keeping with the objectives of the organisers of this game the "Lanka Cavaliers" says the President Lakith Peiris.
---

Netball champions
Swarnamali BMV, Kandy bagged the National Schools A division netball crown defeating Maliyadeva BMV, Kurunegala by 28 goals to 21 at the S.de S. Jayasinghe grounds Dehiwela.
The losers led 13 goals to 12 at half time.
St. Joseph's BMV, Nugegoda bagged the under 17 title downing Maliyadeva BMV by 18 goals 15 and Kalutara BMV won the under 15 final defeating Ranjan Wijeratne BMV, Eheliyagoda by 19 goals to 11. – (AF)
---

Hockey double
Hatton National Bank bagged a richly deserved double winning the Mercantile A division knock-out hockey title defeating Singers by 9 goals to 2 at the Astro Turf at Reid Avenue.
The Bankmen thus won the Panadol Trophy after leading by 7 goals to nil at the half time.
Earlier Hatton National Bank won the league title too.
For the winners, Marlon Meurling, Tyronne Kalyanaratne and C. Nishantha scored 2 goals each while A. Buhardeen, Indrawansa Hewawasam and Ravi Perera sounded the boards once each. – AF
---

Milo schools league rugby on April 19
The Sri Lanka Schools Milo Rugby league under 17 and under 19 will get underway on April 19th and conclude on June 30th.
This year the championships will be played on a new format with both the under 19 and under 17 for division one schools in three groups.
The first three teams from Group A, B and C will thereafter qualify to play in a mini league with the champions being decided on.
The division 2 schools will play in two groups.
Division 1 - Group A- Isipatana, St Anthony's Kandy, Dharmaraja, Thurstan, St Joseph's, Maliyadeva, D.S. Senanayake.
Group B - St Peters, Trinity, Lumbini MV, Wesley, Zahira, Science College, Vidyartha.
Group C - S. Thomas', Ananda, Kingswood, Royal, Nalanda, Mahanama, St Anne's Division 2
Group A - Sumangala Kandy, St Aloysius Galle, Maliyadeva Model School, Prince of Wales, Ananda Sastralaya, Royal Panadura, St Anthony's Wattala.
Group B- Richmond, St Benedict's, St.Thomas' Matale, Sri Rahula Kandy, Carey, Mahinda, St John's Nugegoda. – AF
---

McMillan new cap in NZ team to India
WELLINGTON, (Reuter) - Twenty-year-old right-hand bastman Craig McMillan was the only newcomer in the 14-member New Zealand cricket squad to play in the Independence Cup in India next month.
The side is otherwise unchanged from the team that beat World Cup Champions Sri Lanka in the final of their one-day internationals last month to draw the home series 1-1.
Geoff Allott was left out of the side due to injury.
Chris Cairns will postpone ankle surgery until after the tour of India and Dipak Patel, who missed the last one- dayer against Sri Lanka, is fit, NZC said.
The team is Stephen Fleming (captain), Nathan Astle, Chris Cairns, Heath Davis, Simon Doull, Chris Harris, Matt Horne, Gavin Larsen, Craig McMillan, Dipak Patel, Adam Parore, Andrew Penn, Bryan Young, Daniel Vettori.
Please send your comments and suggestions on this web site to
info@suntimes.is.lk or to
webmaster@infolabs.is.lk