Year on the Web
23rd March1997
| HOME PAGE | FRONT PAGE | EDITORIAL/OPINION | NEWS / COMMENT | TIMESPORTS
Contents
---
Overpowering environment
By Shamindra Kulamannage
The recent presidential decree nullyfying existing environmental protection laws governing power generation was described as a last resort by one government to curtail legal action being held against the existing private power plants, a CEB source told the The Sunday Times Business.
The 11.2 MW Koolair power plant at Ethul Kotte initially sparked off the crisis, when residents of the area obtained a court interim injunction on February 28 forcing the plant to shut down. On the light of the presidential decree, the National Environment Act, the Urban Development Authority Law, Chapter 9 of the Criminal Procedure Code and most significantly the Nuisance Ordinance (Chapter 230) under which the case was filed are left powerless over power generation issues.
It is not only the Koolair plant at Ethul Kotte that has come under criticism from residents of the areas, The Sunday Times learns. A few plants operated by the Aggreko Company have also come under fire.
The 20MW plant at Katunayake built on a playground has been opposed by some residents in the area.
The 8.4MW Aggreko plant at Aniyakanda close to Ja-ela has also met with stiff opposition from residents in the area. The plant is also situated about 700 metres away from a hospital. Residents had been promised that the plant would only operate till the end of June. It is alleged that the residents have been showered with complimentary gift such as T-shirts and caps to mitigate the opposition, sources said.
Another Aggreko 8.4MW plant at Panadura has also run into some opposition, with the residents complaining to the CEB regional office.
In addition to these plants the Aggreko group, operates plants in Ambatale and Peliyagoda.
A 30MW plant is also to be commissioned in Kotugoda by Aggreko, CEB sources revealed. At the completion of this plant, Aggreko hopes to supply 93.2MW to the national grid. The plants, most of which are to be shut down before the end of the year are manned by Aggreko engineers and CEB officials.
Environmental Foundation Ltd. Chairman Ravi Algama told The Sunday Times Business they would challenge this presidential decree in the Supreme Court as it was clearly an abuse of power.
The power situation in the country cannot be categorised as an emergency. Thus the use of emergency regulations in this regard is highly inapt, he said.
Mr. Algama also said that as some of the power plants were commissioned before the legislation was introduced, it cannot be used in relation to the Koolair plant at Ethul-Kotte. However, he noted that a slight relocation of this plant even by a few metres would make it fall under the regulation as it could be argued that it is a different plant to the one that was in existence.
---
Polls hit economy
The elections are over. The business community in particular would sigh a sense of relief. Even though the results of the elections, are most unlikely to change either the economic policy or the perception of investors, the electioneering process with all its disruptive and violent nature was a setback to the economy. Although the continuity of economic policies appears to be assured, the violence generated by the elections is likely to have tarnished the image of the country and confirm the image of instability and constant disruption.
It is widely recognised that democratic values and electoral politics are essential ingredients of the Sri Lankan polity. Yet a democratic framework does not necessarily require to be accompanied by the level of violence, thuggery and threats to person and property as we have witnessed at this election. This is particularly so as it was only elections to local government authorities and not a general election. Yet it had all the characteristics of a general election. The electioneering was conducted not as if local bodies were being elected but as if a government was being retained or rejected.
This is due to the elections to all local bodies being conducted at once. This made political parties conduct it as if the will of the people to elect a central government was being manifested.
There were several ways in which the election was disruptive. An already slow moving bureaucracy made it an excuse for a still slower administration. The public found government departments supposedly geared towards the elections, rather than normal functions. The political leadership took a holiday from their role of leading the administration to canvassing and organising the elections. Public appearances of Ministers were geared towards the elections. The truth of the economic situation and the problems faced by the country were ignored.
Apart from this aspect, the biggest damage to the economy was in relation to the tarnished image of the country. Already the country has a poor image abroad and among investors due to terrorism and the war in the North and East. The violent conduct of this election added further to confirm this image. Sri Lanka as a location for investment and travel would have suffered a few points on the scale of country risk.
Even investors who look upon the country as favourable in terms of economic incentives, leave a large margin to compensate for the perceived violence and insecurity. The elections would have enhanced this. Tourism, which was gaining a little ground after its setback last year, may have also been somewhat affected by the reports of violence at election time. In addition to this there were specific threats to industries, factories and other enterprises owing to political rivalries. In some cases this led to physical damage to property while in others threats were sufficient to disrupt production. All these are part of the negative impacts of the elections.
This year was looked upon as a year when the economy could recover. The beginning of last year was unfavourable to economic activity owing to the bombs in Colombo and vicinity coupled with the power cuts which affected industry very badly. While it is not yet clear whether we would have any power cuts this year, the election violence appears to have almost substituted for the terrorist attacks. To say the least, the country appears to be particularly unfortunate that this election would have retarded the economic recovery.
A government intent on improving economic performance may have acted more wisely not to call all the elections to local government bodies at the same time and drum up the elections to be a vote of confidence on the government. The local bodies themselves would have been better served had the elections been fought specifically for the election of the most suitable persons to run these local bodies. Now the results are likely to be distorted by the overall political opinion rather than the specific issues relevant to particular local government bodies.
It is one thing to have a democratic government and a lively and robust democratic process. It is quite another to make that process function in a manner which is disruptive of the economy. Regrettably the country's economy gets second place, while the political agendas are foremost. The irony is that the democratic process itself may be in danger if the economy fails to grow and resolve the problems of poverty and unemployment. Now that the elections are over let us hope that no more time is lost and the economy is placed foremost in the government's agenda.
---
Money supply vs inflation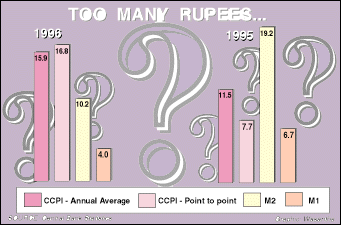 The behaviour of money supply and inflation in Sri Lanka last year has added fuel to the current controversy among differing schools of economic throught.
The so-called monetarists believe that money supply growth is closely linked to infaltion, while Keynesian ecomists are more concerened with interest rates and actual spending.
Keynesian economists as well as businessmen who had to put up with high interest rates have strongly criticised monetarist policy measures.
In 1995, in an environment of falling inflation ( 7.7 per cent annual average and 11.5 per cent point to point change of CCPI ) and M1 growth (down to 6.7 per cent from 18.7 per cent in 1994) but relatively fast broad money (M2) growth (19.2 per cent), monetary policy was kept tight until the end of the year.
Critics claimed that M2 was rising at least partly due to high interest rates which boosted time and savings deposits, raising questions about the validity of the selected target money supply.
In 1996 year growth in both monetary aggregates had plummeted while inflation had risen, raising more questions about the relationship between money supply (by whatever definition) and inflation in Sri Lanka.
Despite relaxed monetary policy, M1 and M2 had risen by only 4 and 10.8 per cent during 1996, while growth in time and savings deposits ( the main component of M2) had fallen to 14.1 per cent from a high of 26 per cent in 1995.
With the overall balance of payments again in deficit, net foreign assets (a main driver of M1) had fallen by 7 per cent, while net domestic assets growth had slackened to 18 per cent from 27 per cent a year before, according provisional Central Bank data.
So far in 1997 broad money growth had been around 11 per cent and Central Bank targets a 16 per cent growth rate for 1997.
In the light of increasingly contradictory empirical data the usefulness of the targetting exercise, is questioned by some economists.
---
Economy to strengthen this year
By Asantha Sirimanne
The Central Bank is expecting the economy to rebound in 1997, with the domestic economy growing by nearly 6 per cent on the back of an economic recovery during the latter part of 1996.
Better corporate earnings in the last quarter of 1996 is also pointing the way for a rerating of stock prices.
"We expect the economy to grow by 5.5 to 6 per cent during this year," Central Bank's Director of Economic Research, R. A. Jayatissa said.
This is only slightly ahead of private forecasts which range from of 4.4 per cent to 5.5 per cent.
Last year the economy is estimated to have grown between 3.5 to 4 per cent.
In 1995, though the Central Bank said the economy had grown by 5.5 per cent there was widespread scepticism among private analysts regarding the figure.
But there seems to be wide consensus among private research houses that the economy grew by 3.7 to 3.8 per cent in 1996.
Mr. Jayatissa said the economy had recovered during the second half of 1996, leaving behind the negative effects of a drought and power cuts.
Throughout 1996 the Central Bank has acted decisively to keep interest rates low, abandoning the anti inflationary tight monetary policy of the previous two years, which was blamed for much of the economic ills of the country. High interest rates also did little to boost flagging business confidence.
Mr. Jayatissa said growth was the primary macroeconomic objective of the Central Bank followed by low inflation, greater employment opportunities, maintaining a strong balance of payments position and achieving macroeconomic stability.
Deputy Finance Minister G. L. Piries however told a seminar in Colombo last week that he did not subscribe to the view promoted by some quarters that a little inflation was good for the economy.Critics of the PA regime's policy had complained that economic growth had been abandoned in favour of achieving an elusive goal of low inflation.
While not specifically promoting inflation, growth oriented economists have called for a halt to anti- inflationary policies such as tight money which was causing high positive real interest rates and hindering growth.Central Bank expects inflation to be less than 10 per cent in 1997 and an overall balance of payments surplus if privatisation proceeds starts to flow in. The overall balance had again registered a deficit last year Mr. Jayatissa said.The services account had deteriorated with falling tourism receipts. Earnings from tourism had fallen to Rs 9.1 bn from Rs 11.5 bn a year earlier.The trade deficit however had fallen with exports growing by 16.2 per cent to Rs 226.8 bn (12.7 in SDR terms) while imports grew by 10 per cent to Rs 299 bn (6.7 per cent in SDR terms).Export growth of Rs 31 bn had come from textiles and garments (Rs 10.3 bn), tea (Rs 9.4 bn where average prices had risen sharply while volumes rose only marginally) and other industrial exports which grew by Rs 7.6 bn.
Local cement sales had risen by only 3.6 per cent while imports fell 14.2 per cent, pointing to lacklustre performance in the construction industry.On the positive side however investment goods imports had grown by Rs 5.7 bn compared to a fall of Rs 6.5 bn in 1995 pointing to a pick up in investment. In December alone investment goods imports had risen by 43 per cent.
Most of the last quarter earnings of listen companies had improved, pointing the way for a better year in 1997 for the stockmarket.Jardine Flemings Research expects companies included in their Tracker index to show earrings growth of 19 per cent in 1997 compared to a decline in 1996."Our EPS growth is higher than the regional average," says JF Head of Research Panduka Ambanpola. The market currently trades at a discount of 45 per cent to the regional price earnings multiple.
"We believe this is too high," he says. Manufacturing, hotels, food and beverage industries are expected to show higher earnigns this year. Banking sector results have been higher than expected.Jardine Felmings says Colombo's dicsount to the region should be less than 30 per cent. The current discount is expected to start shrinking by mid 1997 re-rating the market upwards.
---
UTE rehabilitates locomotives
By Asiff Hussein
United Tractor & Equipment Ltd (UTE) recently handed over the country's first ever rehabilitated locomotive to Sri Lanka Railways (SLR ) .The ceremonial roll-out of the locomotive from Colombo-Fort to Mt.Lavinia is scheduled to take place on April 19. This follows trial runs with coaches from Maradana to Polgahawela and from Kandy to Colombo.
UTE Chairman. Priath Fernando told the 'Sunday Times' that his company has been commissioned with the rehabilitation of 10 locomotives in collaboration with its Principals A.D.Tranz of Germany.He said that SLR was immensely pleased with UTE's performance as it had delivered the first locomotive two weeks ahead of schedule. The rest of the locomotives would have to be delivered within the next month.
"We are bound to deliver to SLR 1 locomotive per month, he said.Mr.Fernando said that work on the project commenced in November 1996.He explained that although UTE and its German principals, A.D.Tranz (then known as AB Henschel before its merger with Daimler Benz transportation) had submitted the tender valued at approximately Rs.750 million in March 1993. The change of government had delayed the award for two years. " We are however pleased that the Government has given us the due consideration in approving the tender", he said.The rehabilitation of the locomotives include re-powering and re-furbishing.All major components including engine, transmission, cooling system, electrical system and brake system will be replaced by modern parts obtained from various well reputed sources, explained Mr.Fernando.He said the project involves more than an overhaul of the locomotives.
"Only the frame and under- frame of the locomotive will remain. Everything else will be replaced", he said. The new engine would be sourced from Caterpillar of USA while the brake system will be obtained from westing- house, also of USA.
The transmission and cooling system will be provided by two reputed German firms, Voith and Behr, explained Mr.Fernando.A.B,Tranz is required to supply all new components required for the rehabilitation as well as provide the company with qualified personnel to oversee the project.
Two German Engineers. Water Berndt and Markus Schieffer are currently supervising the rehabilitation programme, although the actual work is being done by SLR technicians.Mr.Fernando noted that all the rehabilitated locomotives would be given the same guarantee as that for a new locomotive , which is two years.
"The requirement of SLR was that the locomotives should have 800 horsepower on the rail at all speeds between 19 and 80 km per hour. Thus, it should be capable of taking seven coaches at a speed of 19 km per hour on a gradient of 1in 44.""The earlier Paxman Venture engines installed in the locomotives between 1969-71 did not perform upto requirements as the engine developed frequent failures. The SLR subsequently had to reduce the number of coaches in order to reduce the load on the engines which had lost its original running capacity of 746 horsepower on the rail"."In order to meet the SLR's demand, we have had to replace the old engines with the latest Caterpillar 3312 series engines" explained Mr.Fernando.
He added that although the required maximum running capacity had been 800 horsepower, with seven coaches the new engines was capable of a maximum capacity of 1270 horsepower with the same load.
---
Polls climate to dictate buying terms
Market FocusBy Analyst
With the ASPI marginally declining from the gains made in the previous week, it was evident that a degree of profit taking has resumed in the CSM, with foreign and retail investors cashing-in on the recent gains, while local institutional investors were buying.The number of transactions increasing to 500 levels reflected the retail presence in the market. It is expected that retail buying interest on the eve of the election will increase price levels, depending mainly on the climate after elections in the country.
The interest rates continued to decline with two-year treasury bonds fetching only 14%. Furthermore TB interest is within 15%. It is expected that investors' interest on fixed income securities would reduce due to the decline in interest rates, which would induce them to invest in the CSM.Sectoralwise, the hotel sector is expected to perform well with improved tourist arrivals in January and February, which would be attractive for medium to long-term investors (6-12 months).
Investors' interest was focused on manufacturing sector shares which seem to attract HNI category. With large quantities trading in this sector, though its performance is unsatisfactory, expected potential for high appreciation in share price in the near future is probable mainly due to possibilities of takeover/merger etc.Recommended: Lanka Wall Tiles/Lanka Tiles/Royal Ceramics/Lanka Ceramics/CGL.
The banking sector in terms of growth and performance has not left room for capital-appreciation, only exception being Commercial Bank which has performed admirably, in this dismal period.Initial-primary offers could be expected from companies after the election, and there could be some privatization of state ventures in late April.Recommended stocks to look for: Grain Elevators/UAL/Tokyo Cement/Commercial Bank/Kotagala/MBSL.Retail investors get active
---
NAMAL pays dividends
By Asiff Hussein
National Asset Management Ltd (NAMAL) has announced a tax-free dividend of Rs. 0.75 per unit to the unit holders of the National Equity Fund (NEF).Unit holders whose name appeared in the register of the NEF as at 3.00 pm on March 18 are eligible for the divident. But those who have made an application for redemption on or before March 18 will not be entitled to the dividend, the company said.
NAMAL first declared a dividend of Rs. 0.80 per unit on the income of the NEF, floated in December 1991, earned during the first 169 days.Two dividends amounting to Rs. 2.00 per unit were also declared by the fund during the financial year 1993/94. A further dividend of Rs. 1.45 per unit was declared in 1995 and another dividend of Rs. 1.00 per unit was declared the following year. NAMAL Chairman Mr. C.A. Coorey noted that with the declaration of the new dividend by the NEF, NAMAL's original investors have so far received Rs. 6.00 per unit in respect of a Rs. 10 unit investment since the inception.He said this is the highest total dividend that any unit trust fund in Sri Lanka has paid.
He observed that with the new dividend, the NEF has paid 57 percent of all dividends paid by all unit trusts in the country.Mr. Coorey said as of January 31, the NEF had a total of 17,274 unit holders constituting 65.94 per cent of all unit holdings in the country.He also claimed the NEF was the only trust fund in excess of Rs. 1,000 million. Mr. Coorey attributed this success to prudent asset allocation.
He noted that the single most salient feature of the NEF's performance in the five years since its inception, has been the protection it has offered investors against the vagaries of the stock market which fluctuated considerably during the past few years, declining to extremely low levels in 1996. He said that in contrast, the NEF not only outperformed the industry average in terms of growth and dividends, but also that a comparison of its unit prices movements with the All Share Index bears out that the fund is even more stable than the stock market.
He added that NEF funds are mainly invested in the Colombo share market.NAMAL General Manager Nihal Dissanayake said the company plans to introduce two more trust funds to the market shortly, namely, the Income Fund, which would invest in fixed income securities and guarantee a regular income, and the High Growth Fund which will invest in stocks and shares, in high risk investments, though envisaging a potentially faster growth.
---
New head at CSE
Rienzie T Wijetilleke, Managing Director of Hatton National Bank and Chairman of Jardine Fleming HNB Securities (Pvt) Ltd., was unanimously elected as Chairman of the Colombo Stock Exchange at a meeting of the Board of Directors held on March 17.
He succeeds Ajit M. de S. Jayaratne who stepped down from Chairmanship after the Annual General Meeting. Mr. Jayaratne served as Chairman of the Exchange for around 5 years.
Mr. Jayaratne, at the request of the Board, agreed to continue as a Director of the Exchange. The Board of the Colombo Stock Exchange currently comprises:
Rienzie T Wijetilleke, Chairman; Ajit M. de S. Jayaratne; A.D. Gunewardena; C.J. Samaraweera; Eraj Wijesinghe; D.H.S. Jayawardena; G.L.A. Ondaatjie; D. Wijeyaratne; D.W. Abeyakoon.
---
NIIT teaches computer
The National Institute of Information Technology of India opened its first computer training centre in Colombo aiming to cater to a perceived void in the current education system of the country.
"A large proportion of students who complete O/Level do not qualify for A/Levels and a large proportion of A/Levels students do not qualify for University admission," says Yakesh Khanna, Director of NIIT's local partner organisation, Unisoft Institute of Technology.
"The same situation is also evident in India."Catering to this market the NIIT has grown to have more than 100,000 students a year, establishing a Guinness world record in the process.
It also has alliances with leading software developers of the world enabling it to offer courses almost on the same day a new package is launched.NIIT says it has established links with Microsoft, Oracle, Borland and NETG.Sri Lanka is not the first overseas office NIIT has set up. After its initial success in Indian it has so far set up training centres in 17 locations outside India, including wholly owned subsidiaries in USA, Japan, Singapore, Thailand and Indonesia.
---
Residual stakes to be sold
Plantations privatization is moving ahead with the PERC calling for proposals to sell residual stakes in 6 plantations companies which have already been sold to the private sector.
PERC has called for proposals from brokers to sell 3.8 mn shares or 19 per cent of Kotagala, Bogawantalawa, Kegalle, Agalawatte, Horana and Kelani Valley Plantations. In each plantation after selling 51 per cent to a majority strategic investor, 10 per cent is reserved for employees and 20 per cent is offered to the public by way of an IPO. The 3.8 mn shares for which proposals have now been called is the remaining 19 per cent.These companies are already quoted on the market.
Earlier the PERC had experienced some difficulty in getting rid of quoted shares in companies such as NDB with brokers competing to be appointed the selling broker and PERC not being able to choose among them on a satisfactory basis.Instead of choosing a selling broker, one method put forward is to introduce parcels through a custodial account of the Treasury Secretary and allow brokers to bid after selling a floor price.
Meanwhile of the remaining companies 51 per cent stakes in Malwatte Valley, Namunukula, Maturata, Kahawatte, Elpitiya and Elkaduwa plantations are in the process of being sold to the private sector after pre-qualifying the bidders, a PERC official said.Companies that were generating profits which were originally to be offered to the managing agents at a price to be determined by and IPO also remains to be sold.No decision has been taken regarding the sale of these plantations yet. Last week Deputy Treasury Secretary Dr. P. B. Jaysundera said the plantation privatization would be completed by the end of the year.
---
Tokyo Cement
By Shamindra Kulamaanage
Tokyo Cement, a joint venture between St. Anthony's Consolidated of Sri Lanka and Mitsui Mining of Japan is to commission a new 530 million-rupee production facility by October this year.
The additional cement plant is to be incorporated as a separate subsidiary and this company will qualify for a 15-year tax holiday under the BOI concessions available for large scale development projects. The dividend to be paid by the company during the tax exemption period, or one year thereafter will also be exempted.
This new facility will enable Tokyo Cement to almost double its production capacity taking its market share from the current 10% to 20% towards the end of the year, company officials said.Joint Managing Director S.R. Gnanam speaking at a press briefing to announce the bonus issue of one for three, said that 50% of Sri Lanka's cement requirement is imported mainly from India and China, thus it is evident that the Sri Lankan cement manufacturers have a lot of scope to expand the market.
Tokyo Cement has an annual production of around 240,000 metric tons while our national demand stands at around 2 million metric tons a year thus a significant rise in local production would be needed to curtail imports.Mr. Gnanam said the company was considering the introduction of bulk cement - unpacked cement transported in bulk cement carriers directly from the production facility to the construction site. The advantages of using bulk cement are that the price will be minus the cost of the paper bags as a bag costs around Rs. 20-25.One of the principal users of bulk cement would be asbestos manufacturers who consume around 300-350 metric tons a day. Bulk cement in developed countries such as Japan accounts for 90% of all construction demand, Mr. Gnanam said.
Commenting on the price of cement, Mr. Gnanam said the factory price was Rs. 277.50 for a bag of cement while the retail price was around Rs. 335. He also added that a Tokyo cement had a limited production capacity and it mainly concentrate its sales in Kurunegala, Budulla, Bandarawela and Kandy areas where it has its own stores.However during this year cement prices have come down by around Rs. 5/- and a further drop is expected. One attributed reason to this would be the low clinker prices seen in the open market.
Please send your comments and suggestions on this web site to
info@suntimes.is.lk or to
webmaster@infolabs.is.lk