Year on the Web
2nd March 1997
LTTE has been weakened, says Army chief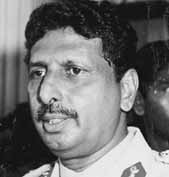 Army Commander, Lt. Gen. Rohan Daluwatte, claims that "most of the battle with the LTTE is over" and that "clearly" the Tigers have been weakened.
In an exclusive interview with The Sunday Times, he declared that the Army was "definitely winning" the war with Tiger separatists.
Here are highlights of the interview which came in the aftermath of "Operation Edibala", the military operation that established a land-based communications link between Vavuniya and Mannar.
The current situation
The situation is fairly good. We have been able to progress well at a steady pace. We had a few isolated Army detachments without any controlled areas around, in other words bases without the people around....
Today, you will see that we are controlling the whole of the Jaffna peninsula along with 450,000 to 500,000 people. This is where the bulk of the population live. The next important town of Kilinochchi is denied to them (the LTTE). It is now linked up with the peninsula.
Now, take Mannar for example. We had a little bit of control. That area was isolated. Today, it is linked up with a land line of communication. We have brought under our control some 2,000 square kilometres. Things will be normal very soon. People displaced from these areas can return and live happily. They can resume cultivation.
By re-capturing areas between Vavuniya and Mannar, we have also eased the burden on the Air Force and the Navy. They had to move supplies earlier. They are now free to undertake other operational tasks.
Earlier, people displaced from their homesteads in the Mannar district and living in camps in Puttalam complained of the absence of a road access. They said they could not return. Now they could go there easily.
From this you can see that we are working towards a set pattern and on a national strategy formulated by the Government.
Why the LTTE did not confront 'Operation Edibala'
They really did not face us in "Operation Edibala". I feel they were completely surprised and were not prepared to take us on.
On the Army's successes
"Operation Edibala" was our third major operation after Riviresa and Sathjaya.
Operation Riviresa was a great success. So was Operation Sathjaya. They were meticulously planned operations that were executed well. We achieved the elements of both surprise and speed.
The impact of military operations on the LTTE
Firstly, the LTTE has lost important ground in strategic areas. Secondly it has lost the people whom it was making use of, mainly by force, to maintain its terrorist organisation financially as well as to recruit cadres to its ranks.
On whether the LTTE is weakened
Wherever it (the LTTE) put a fight it lost its trained, experienced cadres and middle rung leadership. You can very clearly say it is weakened.
It tried to attack the Paranthan defences. It was beaten back. It had to abandon that operation. It is definitely not strong as before.
LTTE strength
According to intelligence reports, it is only 8,000 strong.
Defeating the LTTE
From the time I took over, I have never given a time frame. I must say the plans we have made are being executed accordingly. We will be able to achieve a lot fairly soon. I do not want to give a date.
Heavy losses of military equipment
You cannot fight a war without losses in this type of warfare. There is no doubt about it. But we have taken steps to cut down on these losses. We cannot look after our things and just wait. In an offensive posture, losses are inevitable. That is an area where a commander has to take decisions to win a war.
Winning the war
Of course, definitely we are winning this war. Take the three major operations we carried out. We are not just waiting.
Desertions from the army
A large number of deserters responded to our appeal and have returned. They are doing well in the field.
Since then, a few have deserted. The numbers, however, are few. This may be due to personal problems. We are going out and arresting them. Every day deserters are being arrested.
On claims that 'capturing real estate' has impeded army's offensive capability
I have always maintained an offensive capability. I keep maintaining it. That is the reason for our success.
On the war with the LTTE
Most of the battle with the LTTE is over. That was the most difficult part. Only a little more has to be completed.
Expansion of the army
Within the existing cadre we are creating new battalions for a better command and control. There was a shortfall, I have filled that.
On alleged army excesses
Allegations that the troops misbehaved after a claymore mine explosion at Punnalai causeway are not true. A Jaffna based newspaper published a report. This was a canard by the LTTE. No such incident occurred. The civilian public in the peninsula fully supported the Army.
Army discipline
I am doing everything possible to raise the standard of discipline. That is essential.
Return to the Editorial/Opinion contents page