5th January 1997
| HOME PAGE
| FRONT PAGE
| EDITORIAL/OPINION
| NEWS / COMMENT
| BUSINESS
Contents
---
By Madhubhashini Disanayaka
On Monday, December twenty third, in a day care centre for street children in Borella, rather unusual events were taking place. People drifted into the little house carrying some book or the other, children, for whom home had been a street corner at some point of their life were dressing up excitedly, putting flowers on their hair, painting their faces and humming the tunes that they had to remember, writers turned up, often holding in their hands books they themselves had written while the most prolific publisher in this country, S. Godage calm and smiling as usual, looked over the large number of books that he had brought over with him that afternoon.
The invitation said: "Gentlemen, come and visit us this one day - for a friendly meeting in a place with no carpets or airconditioning - when Sarath Yapa Bandara launches his two books for children and starts a library for street children." And a library was started - with contributions coming in from many sources - carrying with them the greatest gift that one could give a child - knowledge.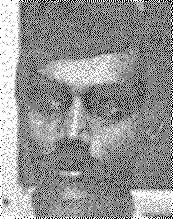 Sarath Yapa Bandara
This was the brainchild of the writer whose two new books started off the collection. Sarath Yapa Bandara is a producer of children's programmes at the National Service of the Sri Lanka Broadcasting Corporation. This young man's inherent creativity seems geared towards the world of children - where always he seeks to make a difference, to change things, to make them better.
Sarath has always had connections with the underprivileged children of this country. His first book for young children (which was his second book, since the first was written for youth) was presented in 1993 to a small girl - Nissansala - living under the clock tower in Kandy.
"I had seen her often, sitting under the clock tower and reading a newspaper or trying to study, when I went to and fro from work. It became my habit to bring her some children's newspaper when I went past. She was in the second grade then - because even with a blind father who was begging in the streets, she was still trying to keep up her education. So when I brought out my book for children I thought that I would present it to her and with the money I would earn from that book, fund her education" says Sarath. Apart from the 6,000 rupees Sarath could give her which was his complete royalty from the book, other interested persons collected about 15,000 rupees to deposit in a bank account under her name - and Nissansala was assured of a chance to continue her education without hindrance, even while living in the streets.
"Now she is in Year 10," a note of pride creeps into his voice as Sarath says this. Even though the child still lives in the streets, it seems that he is sure that her path would be more stable than most street children's would be. "You give a child self respect - a chance for them to respect themselves and feel confident about their power - and then the chance of their going astray is less," he says, explaining the philosophy that brought him again to street children when launching his two books, a few weeks ago.
This time the chair was given to 19-year-old Induka Fernando who had been connected to the centre from 1987. He had just sat for his O-Level exams and the confidence with which he spoke at the ceremony gives us a clue to the lengths that these children, who may once have been lost in the underworld connected to the streets, can go, once the basic necessities like a safe environment and caring people are given to them.
"I think every child has the inherent strength to understand something in life," says Induka, whose maturity of outlook and dignity of bearing could be realized even in one short afternoon. "We have to learn how to maximize that strength. Places like these help us to do that."
The place like this for him was the Day Care Centre for Street children run by the Sarvodaya Women's Movement at 261/5, Gothami Road, Borella, Colombo 8. It has a pre-school for small children and a literacy class that even adults can attend. Through this centre, children of school going age will be given a chance to attend the Bandaranaike Maha Vidyalaya, and enter the government education stream. "Though we have about 4,000 pre-schools cum day care centres all over the country, this one is special because this is meant for children of the streets," says Amara Pieris, the President of the Sarvodaya Women's Movement. She also emphasizes the importance of weaning children away from street life - and about the value of trying to find some sort of employment for their parents and a place for them to stay - so that there would be some sort of lessening of homeless street people.
Speaking about what his life had been upto now, Induka says, that though all children are looked after very securely when they are small, a greater freedom is given them when they enter the government schools. "But I see a slight danger in that sort of freedom because, peer pressure can be great at that age, and even then, kids need help. Apart from that, there are the material needs like exercise books, pencils and pens, etc."
Perhaps it is here that some of us can pitch in and help and should anyone be interested, a visit to this centre would tell them the ways how. And they would also be able to see the beginnings of a precious library.
Apart from hitting upon ideas like starting a library like this, Sarath Yapa Bandara uses his creativity in the medium of the radio. Starting at first in the Kandurata Sevaya of the SLBC he was then called to Colombo after his talents were recognized by those in charge. Palitha Perera, the Director of the Sinhala Service at the SLBC, who was present at the launching, spoke of Sarath with the hope that in him would be a creative broadcaster of the calibre of people like H. M. Gunesekera. Palitha himself had been instrumental in getting him transferred to Colombo, and the director spoke of finding young talent and fostering it, giving them the freedom that they deserve, so that one day they could take over the reins from the older generation.
Sarath himself is on the constant look out for very young talent to take part in his programme for children that goes on the air every Wednesday (except in the first week) at 5. 15 p. m. in the Swadeshiya Sevaya. It is a programme run completely by children - and news broadcasts, talk shows, announcements are all done by the children themselves. They also have a few minutes to run a series of mock advertisements full of their mirth and comment - on the real advertisements run in the media. "But we don't name the product, and try to restrict ourselves to advertisements that are really not very considerate of children," explained Sarath.
It is apparent that experimentation is something that is strong in this young man. Born in Kandy, in 1963, he had his education at a school in Kiribathkumbura and did his external degree in arts at Peradeniya. Always an avid listener of the radio, he joined the Kandurata Sevaya in 1983. Apart from broadcasting, he writes books for children and feels that most of the things available for children today - be it books or songs - are not really created with children in mind. They may seem more suitable for adults, he says.
His two latest books for children, "Pita lali bus eka" and "Torombal Mama" have a strong moral element in them. "Children are in the stage of being moulded," says Sarath. "Good advice will always be helpful to them. And I feel that for a small child, perhaps the greatest fulfillment of a story will come only if they feel that they have gained something from it."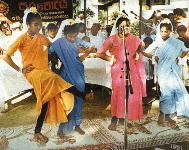 Another item presented at the function
Perhaps there is something many children will gain from the library that Sarath has started. That afternoon, the kids sang and danced between the short speeches given by adults. The afternoon sun gleamed upon their excited faces, as the music blared and more adults than they were used to, watched them. The smiles on their faces were bright and their eyes sparkled. But the smiles should remain even after the music has stopped. It would be unrealistic to say that the future is certain for any of us, even if we may not be on the streets. But by giving street children opportunities like these, we could make sure that they at least have a fighting chance of making their future brighter. Perhaps that is all we can aim for right now.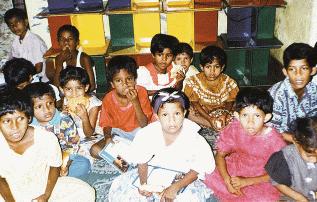 Delighted children at the opening ceremony
---
From batting to blasting
Greetings!Summertime, Brian and the living may not be easy but the cricket is, you beauty!
We may not have the "arro\" under our arms and the "vadai" and "topee" sellers by the million, nor the "bajaws" and St. Rita's band pumping out "Never on a Sunday" in funeral tempo, but we do look forward to the season of willows on leather, the dirt in our pockets and Shane Warne for once not concentrating on shopping!
But if you think we sit in our reserved seats with gin and tonics in our hands, gently applauding the finer arts of this gentlemen's game and saying "good shot, old top," you are much mistaken!
The sophisticated education our children receive here give them, apart from respect for human rights, THEIR rights that is, freedom of expression and the philosophy of looking after Number One, the right to also indulge in a "piss-up" as part of their school-leaving ceremony.
Thus you see hundreds of adolescent kids, caring and concerned about the world we live in at normal times, suddenly transform themselves when confronted by cricketers from various nations who pit themselves against each other in a vast stadium.
As in the days of yore, they shed their inhibitions (and most of their clothes), some to drink themselves under very narrow rows of seats, others to prance and sway to a music of their own which has strangely monotonous lyrics such as "Aussie, Aussie, Aussie, oi, oi, oi" or deeply meaningful messages such as "You are a wanker" and of course the deliriously original "Virgin, virgin, virgin" when confronted by a nubile young female.
In keeping with ancient traditions, they yell obscenities at the players in the middle, scream for the blood of the adjudicators and douse themselves with the ale they cannot imbibe. Sometimes their sense of Christian charity overtakes them and they throw the leftovers to those unfortunates in seats below them or, if near the boundary, at the nearest player.
They pay homage to their heroes, who bask in the glory of their achievements, even if the catch they just took behind the wickets happened to bump once on the ground and the umpire did his patriotic duty. They glare at decisions which are patently unfair, even if the stumps are lying on the ground in several pieces and they exchange pleasantries with visiting batsmen by enquiring after the state of health of the latters' parents. In victory they are gracious; defeat is always due to the vagaries of the weather, the state of the wicket and the suspect actions of bowlers who get above themselves.
It is a far cry from the game we were used to Brian, where we did not give a stuff as to who won or lost as long as the booze and the music lasted. But such attitudes apparently went out with the dinosaurs, my friend. Winning is everything and your passport to a life of sponsorships, advertising contracts and role models for the younger generation. Welcome to a brave new world.
- Mikey
Continue to Plus page 2 - LTTE women: is this liberation?
Go to the Plus Archive
Please send your comments and suggestions on this web site to
info@suntimes.is.lk or to
webmaster@infolabs.is.lk