8th December 1996
| HOME PAGE
| FRONT PAGE
| EDITORIAL/OPINION
| NEWS / COMMENT
| BUSINESS
Dismissing her glamourous image as something merely 'on the surface,' Alisha emplasised that her popularity was due to her music, its melodies, lyrics and of course hardwork coupled with loads of talent.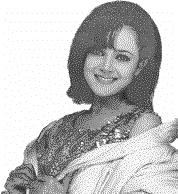 Controversy seems to be her middle name. And there's no doubt, her celebrity status at-tracts attention wherever she goes. "But I like being a star and I'm enjoying my success," Alisha Chinai, the pint sized pop princess from India declares. In an exclusive tell-all interview with The Sunday Times, she frankly talked of her success, her hopes and aspirations and her rather puzzling relationship with her ex-husband and manager, Rajesh Jhaveri.
Rajesh, it was who was by her side, as she strode elegantly into the VIP lounge at the Hotel Galadari, last week, shortly after her arrival in Sri Lanka. The elfin singer was in a full black pant suit, decked with gold jewellery. Smiling around, she said the welcome she had received on this, her first visit to Sri Lanka had been overwhelming. "I was numb first and touched by the wamth and affection the people here showed me," she said. "I had no idea I was so famous here."
Ten years since her arrival in the music arena, Alisha's track record speaks volumes. With many of her albums winning double, triple and multi platinums, she has every reason to bask in her hard earned fame. How does she handle all the attention? "I guess I waited for this so long that when it did eventually happen, I was ready for it. It's nice to be admired," she smiled.
It was the "Made In India" album, master minded by star maker and music director Biddu that skyrocketed Alisha into the mega hit market, with over 3.5 million copies sold in India alone. "I would love to work with him again," she stated. Though she has not the benefit of years of training in classical music or dance, Alisha is content doing what comes naturally to her. "My style of singing is my own," she says. Though her singing career took off after a convincing performance in the musical Evita, Alisha had earlier aspired to be an actress. "You are an actress for a few minutes even on a music video. You have to sing and act," she explained. However, with the Indian pop world virtually at a low ebb a decade ago, it was play back singing in films that paved the way for her pop career. "I have sung playback for a number of films, but I find making albums more satisfying," said Alisha who has film songs like Rukh Rukh and Sexy Sexy to her credit among others.
Having travelled all over the world with the Made in India show, Alisha is well satisfied with the response she has received from audiences in countries as diverse as Bangladesh, Khazakstan, Japan and Russia.. "In some of the countries we visited, the people have their own version of Made in India. The only thing that worried us was the number of pirated copies that were being sold in these countries."
Dismissing her glamorous image as some thing merely "on the surface," Alisha emphasised that her popularity was due to her music, its melodies, lyrics and of course hardwork coupled with loads of talent. "People are more interested in the music and not necessarily in one's image," she explained. The advent of MTV(Music TV) revolutionised the Indian music industry, she feels , paving the way for many aspiring pop musicians to carve a niche for themselves. Her earlier number, Baby Doll would have been a much bigger hit if there had been music videos at that time. "Music with visuals have a greater impact," she opined.
It was also thanks to MTV that Alisha was voted the most popular Asian artiste at the Billboard Viewers Choice Awards for Made in India which gave her the opportunity to perform in the midst of a star studded gathering in America. She is also the recipient of the inaugural Freddy Mercury award presented by the members of the group ÔQueenÕ, who were specially flying down to Indian to present Alisha with the award for the Most Popular Asian artiste. However, she was unable to accept the award in person due to her show commitments in Colombo. "It's a terrible dilemma to be in. To come or to cancel. But I wanted to honour my commitment to this show, and so we recorded an acceptance speech before coming here," she smiled, though not without a twinge of regret.
Gently brushing off the question everyone has been wanting to ask, which is that of her rather curious relationship with the equally pint sized, but pleasant Rajesh, Alisha replied with a "I am a very private person" type of line. But, in response to further prodding about her marriage to Rajesh and her later separation at the end of 1994, Alisha said, "It is better this way." How does she feel working with her ex-husband? "Rajesh and I are better off as friends.We work very well the way we are. He co-wrote my early songs and even worked on the production. I feel I am happier with the way things are now between us," she said.
And what of Rajesh ? Doesn't the personal element of their relationship interfere with their working relationship? "That is inevitable. You can't just wipe away the past. But we try to keep our working relationship strictly professional," he said. Any possibility of renewing the marriage contract with Alisha? "You should ask Alisha that," he said, half embarrassed, as Alisha nodded a slow no. Despite their broken marriage, Alisha and Rajesh continue to travel together and appear like any ordinary couple who are together. Her rather unconventional marital arrangements have confused and added to the controversies surrounding her tour battle with music director Anu Malik for harrasment and another battle with a fellow songstress over an animated video have only added to the increased public focus on her life.
Admitting she is now paying the price for her star status with the invasion of her private life, Alisha who describes herself as a very "black and white person" says she is fiercely protective of her personal life and tries to guard it as much as possible from the prying public. "It is all part of the game, in a way. I had already anticipated it, and I try to cope. But the type of attention I receive from my fans is very positive. They enjoy my music and that makes everything worthwhile," she said proudly. And as for her private self, she hates reading, but loves cooking and taking vacations. She also steers clear of hot, dusty places and cold food and drinks. An admirer of strong women, Alisha says they are her inspiration. "Their strength and courage makes one want to look up to them."
Though Alisha is fond of children, she has no intention of having her own for the time being. "I should be able to give them all the attention, care and love they need. Right now, things are hectic," she explained. With a new album in the process of being made, Alisha hopes to work with India's most sought after mega music director, A.R.Rahman. "He is bringing about immense changes to the Indian music scene. I would like very much to work with him on an album," she said optimistically.
Having watched Michael Jackson in action in Mumbai recently, Alisha speaks enthusiastically of his charm, sheer charisma and his fabulous stage presence. ÒHe knows how to keep people entertained for a few hours. That man is sheer magic, just unbelievableÓ she raved. And what of her own performance at the much talked and opposed Miss World pageant in Bangalore? Alisha feels privileged to have been included in the few celebrities who performed on stage for the event. "I was reaching out to over 3 billion people. It was just amazing! That was why I decided to mix English and Hindi in the Made in India number so most of the people could appreciate the lyrics too" she said.
With tours in America and Europe in the offing, Alisha is determined to conquer new horizons. And her advice to the Alisha clones springing up occasionally, is to "do your own thing, and you can succeed." Just like her.
Return to the Plus contents page
Go to the Plus Archive
Please send your comments and suggestions on this web site to
info@suntimes.is.lk or to
webmaster@infolabs.is.lk