24th November 1996
| HOME PAGE
| FRONT PAGE
| EDITORIAL/OPINION
| NEWS / COMMENT
| BUSINESS
Contents
---
by Tharuka Dissanaike and Arshard M. Hadjirin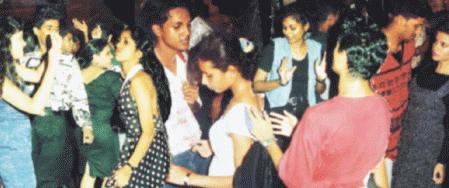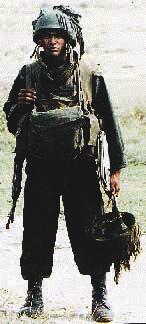 Do the majority of our urban youth really care about the war? And how far would they go to help the forces? With the issue of conscription being considered, many youth feel that while there is no denying their patriotism, political influence would be used to shield the elite from the battlefront... a sad reflection of the general malaise in the country....
How does one measure patriotism ? Or for that matter love for one's country? It is well known that the ultimate expression of love is the readiness to lay down one's life for the sake of the object of affection. In that sense would it be correct to assume that love for one's country could be measured by the willingness to sacrifice life for the land ?
Even while the armed forces are launching massive recruitment drives and re-enlisting deserters by granting amnesty, there is no question that the forces are facing a dearth of fighting cadre. Therefore in order to reinforce the war effort the issue of conscription or compulsory national service comes into focus again. Earlier, the idea of conscription was raised in parliament over one year ago when several ministers debated whether the country should be put on a war footing while intense fighting was going on in the north. But though it seemed that the idea in general was rejected by the government, recent newspaper reports pointed out that the authority is still toying with it. Military Spokesman Brigadier Tissa Jayatunga speaking to "The Sunday Times", said that so far he has not heard of any immediate conscription moves by the government, but said that this topic had been taken up earlier though no concrete decisions were taken at that stage.
We threw the question of conscription at a large, diverse range of young people - most of whom had different ideas and definitions of patriotism. The question was- finally- how the youth of today would respond to a call for compulsory military service if such a need arose. It appears that the urban youth interviewed by The Sunday Times had negative feelings towards being forced into serving the country in the armed corps at the war front. They did not profess a lack of patriotism, but offered a plethora of reasons as to why they did not believe in conscription. Most appeared to think that the country lacks a military goal especially since the government still believes in a political solution. Others seemed to think that the government should tread the path of a political solution and abandon plans of war. Very few thought that conscription would be successful. Even less were those who wanted to join up for compulsory service.
Shiran Perera, an executive working for a large garment exporter said that he would go to the war front if conscription was brought in. "I will enlist if the need arises," he said gallantly. The majority of people in the cities, he felt, have no access to what happens in the war front and this has led to a situation where most are cocooned in their own world far removed from the horrors of the battlefield. "If this country is to prosper we need to end the war. If the government feels that conscription is the only way we could win the war, then it is our duty as citizens to come forward," he said.
But very few share these sentiments. Among the cross section of school or university students and employed young people we spoke to, it was difficult to find those who volunteered for battle with the same amount of enthusiasm as Shiran. In fact most were well settled in their chosen careers or studies and only thought of the war when there was a particularly intense battle that stayed in the media limelight for a long time or when one of the casualties was someone known to them and they personally came into contact with grief and suffering.
"If there ever is a move to bring in compulsory service, it must be fair," one 22-year-old young man said. "They must bring down all those who are abroad and recruit everybody regardless of political and other pressure." He said that the fact that the conflict is a civil war is a deterrent to possible conscription. "If it was an international war, no doubt there would have been enough recruits, but fighting our own countrymen is a different thing altogether," he said.
Damith, a university student who is just completing his degree in a scientific field said, "I believe there are more ways to serve one's country than by going to war. The love for a country cannot be measured by willingness to fight or kill." He said that he'd been studying for five long years in his chosen field and was hoping to join a reputed scientific institution and do research. "I am opposed to conscription in general. In this country it would never work in a fair way like it did during the World War times in the west. There will be all kinds of political maneuvering."
Hamsa, a 24-year-old businessman was most adamant that the country should abandon all plans for war and seek a political solution. "This war is draining the country, economically. It has to stop. And it is obvious that only politicians gain through the war." He said that conscription is tricky because of the multi-ethnic society in the country. In a civil war, conscription would only create rifts in the existing social setup, he felt.
Conscription seemed a tall order for party goers and night clubbers, enjoying Colombo's entertainment spots last week. Talking to Gladwin Ludewyke, 21, at the Karaoke Bar at Hilton, it seemed quite obvious that the war and conscription were far away. "It's not a cause worth fighting for and besides the government is just dragging on the war. We wouldn't think of going to the war front," he said.
"People wouldn't sight the night clubs if they didn't have a craze for it or a craving for high-life," said Ludewyke and added that it would be asking for more if they are forced into the army. "Besides they are the sons of highly influential people and it would be a matter of a telephone call for them to evade any conscription if it ever occurs". But are these young dancers bold enough to fight a real war ? "We are certainly brave, but fighting our own country's people is totally against our concept," said a regular party- goer at the Valentino.
Harith Kotandeniya, a D.J. at the Blue Elephant for the past three years expressed a different point of view. "Though I don't fall into the 18-25 year age group I would greatly appreciate conscription for the security forces if the government ever requires it," he said.
Another youngster taking a break at one of Colombo's top night clubs turned out to be an officer of the special Commando Regiment. "I think conscription might be a good idea, as the security forces have often found it impossible to consolidate the positions captured by them. If the government wants to exert military pressure on the terrorists, conscription is the best option," he said. However the young officer who did not wish to be named said that people are not going to like this idea, as life with the forces is certainly not like the action depicted in Hollywood block-busters. "It is certainly bitter and a large scale conscription would mean yet another JVP-like upheaval," he said.
Nilantha Perera 24, an executive working for a leading accounts firm, accepted that it is mostly the rural youth who are recruited, but when it comes to the English speaking elite they hardly ever concentrate on war related topics. "School work or their profession is the first priority and then relaxation and other recreational activities follows. If the government tries to forcibly recruit youth into the army, I am sure there could be a massive exodus of youth seeking foreign employment or political asylum", he said.
How much does the ongoing war in the North and East of our country really affect the rest of the populace? Not much, going by what these youth had to say. Daily we are bombarded by visuals of other countries at war. Scenes from Bosnia, Rwanda flash across our TV screens regularly. But how much do we see of the warfront in our own country? State censorship and strict regulation of war related news has ensured that the people in the south are shielded from the horrors of the conflict a few hundred miles north. The attempt to deny the gravity of the situation just so that the rest of the country's activity is not affected by the war has boomeranged. It has created apathy in an entire populace. Is the war really ours? The state has to decide.
Continue to Plus page 2- Dagabas, giant rocks and caves
Go to the Plus Archive
Please send your comments and suggestions on this web site to
info@suntimes.is.lk or to
webmaster@infolabs.is.lk