3rd November 1996
| HOME PAGE
| NEWS / COMMENT
| BUSINESS
| PLUS
| TIMESPORTS
Contents
---
PA-UNP clash over JR's remains
By M. Ismeth, Kshalini Nonis &Arshad M. Hadjirin

Five UNP controlled Provincial Councils yesterday decided to declare a public holiday within their provinces tomorrow to enable people to go for former President, J. R. Jayewardene's funeral as the opposition and the government clashed over the arrangements.
Government decided after a special Cabinet meeting on Friday night to accord a state funeral to Mr. Jayewardene, but refused to declare tomorrow as a public holiday. Cabinet also decided that all state institutions should fly the national flag at half mast.
Former Minister and UNP frontliner John Amaratunga, who is coordinating the funeral arrangements with the government told The Sunday Times, a request for a day of state mourning, a public holiday and full military honours for the former Commander-in-Chief of the armed forces had been turned down by the Cabinet.
Senior UNP members, hurt by the government's attitude decided to call on the provincial councils controlled by the UNP to declare tomorrow as a holiday in their respective provinces Ñ the Central, Uva, Sabaragamuwa, North-western and North-central - a large part of the country.
A statement from the Chief Minister of Central Province said they had decided to declare a holiday for all institutions within their purview tomorrow in view of Mr. Jayewardene's funeral and postponed all other functions on that day.
The North Western Province Chief Minister Nimal Bandara and the North Central Province Chief Minister Jayasena Dissanayake also said all institutions and schools in their respective provinces would be closed tomorrow.
The government had decided that the state funeral be held at Independence Square, where Sri LankaÕs greatest leaders have been cremated. UNP leader Ranil Wickremesinghe also was known to be in favour of having the funeral at Independence Square. But Mr. Jayewardene's only son, Ravi, has found an entry made in the late President's diary in 1991, asking that his funeral be held in Kelaniya, his original electorate.
Ravi Jayewardene produced the diary entry in which Mr. Jayewardene had said: "Please cremate my body within 24 hours of my death on the Kelaniya river bank," but the UNP leader appealed to Ravi Jayewardene to put off the funeral for tomorrow as the necessary arrangements could not be made within 24 hours. Due to practical reasons the cremation will not take place on the Kelaniya river bank, but somewhere close to it.
Meanwhile, the UNP has requested live coverage of Mr. Jayewardene's funeral on state TV and Radio, but no decision had been taken till yesterday and SLBC Chief Janadasa Peiris said they were awaiting instructions. UNP officials said the Jayewardene government had given live TV and Radio coverage for the funeral of Vijaya Kumaratunga even though he was not even a member of a local council.
---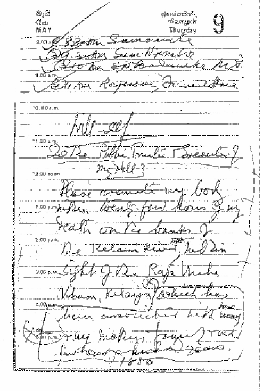 To the Public Trustee
Please cremate my body within twenty-four hours of my death on the banks of the Kelani River, within sight of the Rajamaha Viharaya, Kelaniya, which has been associated with my mother's family and me. My ashes may be scattered into the Kelani River, near the spot where the Buddha bathed on his visit to Kelaniya and among the people of Kelaniya whom I love so well, for whom I have worked since I began my public life in 1936.
---
Though Mr. Wickremesinghe and others tried to persuade Ravi Jayewardene to have the funeral at Independence Square, he insisted that his father's wish must be respected and the UNP organising committee yesterday afternoon decided that the funeral should be held in Kelaniya. Accordingly, the funeral will take place in Kelaniya town near the historic Rajamaha Viharaya. The cremation will take place in an ancestral land owned by the Jayewardene family.
The route for President J. R. Jayewardene's funeral is as follows:
Cortege leaves "Braemar", Ward Place at 2 p.m. to Kelaniya. Kynsey Road, Borella Cross Street, Maradana Road, Panchikawatte Road, Sangharaja Mawatha, Armour Street, Jethawana Mawatha, Prince of Wales Avenue, New Kelaniya Bridge, Kandy Road, Biyagama Road and then to the site of the cremation.
The cortege is scheduled to reach the cremation site at 4 p.m.
Mr. Amaratunga yesterday morning met a team of government officials led by the Home Affairs Ministry's Acting Secretary, Y.B. Pussadeniya, to finalise funeral arrangements.
The UNP went into action immediately after the death of Mr. Jayewardene on Friday to organise the funeral and set up nine committees.
Earlier Mr. Wickremesinghe told reporters at the Nawaloka Hospital, soon after Mr. Jayewardene's death, that it would be fitting to have the cremation at Independence Square where so many other great leaders had been cremated.
Asked whether Mr. Jayewardene had spoken any final words, Mr. Wickremesinghe said the elder statesman had not spoken to anyone from 10 a.m. on Friday till he died in his sleep soon after noon.
However, on Thursday, when Mr. Wickremesinghe had visited him, he had seemed very cheerful and told his visitors that he was now getting better. On occasions he had even wanted to know what was going on in parliament.
The Sunday Times also spoke to a young nurse who had been present at the time of Mr. Jayewardene's death. She said that by around 10 a.m. Mr. Jayewardene seemed to be very much in pain. His three grandsons had been around him till he passed away, and his son and daughter-in-law had been called minutes prior to his death.
Elena Jayewardene had only been able to come and visit her husband on about two occasions, another source said, as she was ill herself and unable to move about much.
Mr. Jayewardene died of cardio-respiratory failure, doctors said, after he developed intestinal cancer.
---
Concern over duty-free car scandal
By Arshad M. Hadjirin
The government is unable to prevent a major racket where public servants are selling vehicles bought in duty-free, earning a big profit in the process, the Import and Export Controller Gamini Wickramasooriya said.
The virtually lenient laws pertaining to the purchase and selling of duty-waived vehicles have prevented Mr. Wickramasooriya's officials to lay hands on this multi- million underhand business.
"We cannot do anything unless an illegal owner is taken to courts", he said. It is a punishable offence, if a public servant, who enjoys the privilege of buying a duty-free vehicle, sells his vehicle to another, within five years.
Mr. Wickramasooriya said if an owner was caught, he would be required to pay the full duty, but added that his department was able to penalise only three persons in the past two years.
"This is very dissappointing as neither we nor the registrar of motor vehicles have the proper machinery to monitor activities of persons purchasing vehicles on duty-free basis" he said.
Meanwhile several vehicle operators have suggested that the government should make provisions for those who are interested in selling their vehicles before the five year period. They had also shown willingness to pay a resonable amount as duty to the government while purchasing.
"The Sunday Times" reliably learns that besides some public servants, the major players in these shady deals are politicos who are entitled luxury vehicles.
---
Police probe shady children's homes
Police have begun investigations into the two children's homes allegedly involved in procuring children for sexual abuse, DIG M. Nizam, head of the children's desk said.
Police sources revealed that a team of investigators had been sent to the homes to question the children and the management. The investigation is still in the initial stage, as the villagers claim that they have only heard about children being taken to the three star hotel. The children too are being interviewed.
Sources revealed that a team has also been sent to investigate another recently opened home, which is also alleged to involve a tour operator.
Meanwhile, the Commissioner of Probation and Child Welfare, S. Ranugge, said he had ample proof to support the investigations.
Maureen Seniviratne of PEACE, an organisation for the protection of children, told The Sunday Times that the article has further broadened investigations both here and in Belgium. Ms. Seniviratne said the orphanages alleged to be involved in these activities had been under surveillance from the beginning of this year. She said a few other children's homes in the down south were also being investigated.
Meanwhile, the board of management of "Sal Sevena" an orphanage in Mattegoda area in a letter to The Sunday Times said the orphanage referred to in an article last week was not the Sal Sevena orphanage.
---
Ranil: the flame is not extinguished
UNP leader Ranil Wickremesinghe in an emotional tribute to his revered guru described J. R. Jayewardene as a trail-blazer who lived ahead of our times, made the world aware of Sri Lanka and made our people proud to be Sri Lankans.
J. R. Jayewardene's favourite song was the Sinatra classic, "I did it my way." Indeed J. R. did it in his own wonderful way, Mr. Wickremesinghe said in a statement yesterday. He said: "President Jayewardene was not only a great leader but also one who was responsible for far-reaching changes in our society. His 50 years of Public Service showed not only dedication to public welfare and commitment to democratic ideals but also had a strong will power and was able to fight alone, when others had given up hope.
He advocated ideas which were ahead of their time and finally he succeeded in achieving his objectives.
And to his favourite song, "I did it my way", the modern Sri Lanka we see today is a result of his vision. He laid its foundation.
The free economy, the foreign investment, factories, hotels, the Mahaweli scheme completed in little over a decade, electricity to the ordinary household, vehicles, improvement in health, upgrading of rural schools, the teaching of science, free text books, etc. He made the world aware of Sri Lanka.
He made us proud to be Sri Lankans. He ensured that all the people of this country were better off than earlier.
He made life meaningful for millions of people. He showed a future for the youth.
President Jayewardene was a trail-blazer. The flame is now extinguished, the lamp will burn no more.
To lay up lasting treasure of perfect service rendered; duties done,
In charity, soft speech and stainless days;
The riches shall not fade away in life;
Nor any death displaced.
(Light of Asia)"
Former President D.B. Wijetunga, who had been closely associated with Mr. Jayewardene for several decades issued a message yesterday hailing him as a unique personality whose contribution to the development of the country was inesteemable.
---
Terse note
The govt. in a terse note issued yesterday evening said at the request of the UNP organising committee the funeral of Mr Jayewardene will be held in Kelaniya It said tomorrow,the day of the funaral, would not be a public holiday
---
CBK vs Sunday Times trial
Defence moves to summon Chandrika
The defence has moved to summon Chandrika Kumaratunga, Sirimavo Bandaranaike and K. Balapatabendi in the criminal defamation case filed by the Attorney General against the Editor of The Sunday Times on a complaint made by Ms. Kumaratunga.
Defence attorney Kumar Ponnambalam moved to summon the three witnesses after Deputy Solicitor General Rienzie Arsakularatne wanted certain documents produced by the defence proved.
The Deputy Solicitor General objected to the list of witnesses saying that Ms. Kumaratunga enjoyed immunity.
The High Court Judge, Upali Gunawardena, said he would make his order after legal submissions have been made by the defence and the DSG.
Meanwhile, The Sunday Times Editor has concluded his evidence. Rohan Edirisinha of the Colombo University is the next witness for the defence.
Go to the Front Page Archive
Please send your comments and suggestions on this web site to
info@suntimes.is.lk or to
webmaster@infolabs.is.lk