25th, August 1996
| HOME PAGE
| EDITORIAL/OPINION
| NEWS / COMMENT
| BUSINESS
| PLUS
Contents
Sachin, Mark shine despite bad weather
By Marlon Fernandopulle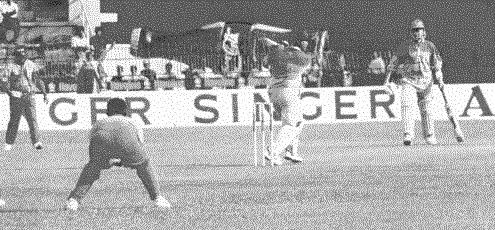 Rain proved to be the spoiler of the one day charity game between World Champions Sri Lanka and a World XI team. The game was called-off in the 22nd over.
After heavy rain on Friday and on early Saturday, the Premadasa Stadium ground staff did a splendid job getting the match started at 5.05 p.m.
The game was reduced to 45 overs a side and commenced in front of an appreciative crowd. However, the players were forced off the field when a heavy shower came down around 6.40 p.m.
According to informed sources the benefit game will not be played today.
World XI Skipper Mohamed Azharrudin won the toss and had no hesitation in taking first lease of the wicket.
Openers Mark Waugh and Sachin Tendulkar started off cautiously playing the bowling on merits. However with Pramodaya Wickremasinghe and Ravindra Pushpakumara not being able to maintain an accurate line, both the World XI openers got into top gear executing some delightful strokes.
Tendulkar with some lovely strokes raised to his half century, lofting leg spinner Upul Chandana for a six.
Mark Waugh was in his inimitable style driving and cutting with power and precision.
Waugh's stylish knock included four boundaries and a towering six over mid-wicket.
Tendulkar chisled his runs off 71 balls which contained one six and five hits to the ropes.
When the heavens opened up the World XI were 101 without loss. Tendulkar was on 56 and Waugh on 39.
Score Board
World XI
Mark Waugh not out 39
Sachin Tendulkar not out 56
Extras - (o3 LB 04w) 07
Total (for no loss) 102

Bowling
Wickremasinghe 6-0-29-0,
Pushpakumara 7-0-31-0,
Dharmasena 5-0-20-0,
Upul Chandana 3.2-0-16-0

---
Anwar keeps Pakistan on top
Pakistan tightened the screws on England on the third day of the final test at the Oval today as opener Saeed Anwar moved relentlessly towards the first double century of his test career.
Adopting a more restrained approach than on the previous evening, the Pakistanis added another 89 runs in the morning session to reach 318 for two at lunch, a deficit of just eight runs. Anwar was unbeaten on 169 and Inzamam-ul-Haq 30 not out.
The left-hander has already equaled his previous test best against New Zealand in Wellington in 1993-94 and looks well capable of becoming the sixth Pakistan batsman to score a double hundred against England.
---
Truant Aussies captain angers Sri Lankans
Australia's stand-in captain Ian Healy almost ruined his team's peace mission in Sri Lanka by failing to attend an official function on Friday night.
Healy, deputising for the injured Mark Taylor in the four-nation Singer Cup starting here on Monday, preferred to work out in the hotel gymnasium while officials gathered for a press briefing called by the sponsors.
Healy's absence was conspicuous at the function, attended by the managers and captains of the rival teams from India. Zimbabwe and hosts Sri Lanka.
Healy is in the gym. Australian manager Cam Battersby told reporters at the briefing. But I am here to answer any questions you may have for him or the Australian team.
The manager's pleadings failed to appease reporters and officials from the Board of Control for Cricket in Sri Lanka.
I thought the Australians were here to make friends, an official said. I doubt if Healy did himself a favour there.
The Australians are keen to mend strained relations with their hosts after Sri Lanka's acrimonious tour down under last year and Australia's refusal to play their World Cup match here in March for security reasons.
The Australian high commissioner in Sri Lanka helped ease the tension between the two nations by hosting a lunch for both teams on Wednesday.
What happened was in the past, we are going to concentrate only on the cricket, Sri Lanka's World Cup winning captain Arjuna Ranatunga said.
Sri Lankan officials were amused at discovering a badly-guarded secret that an Australian federal security officer Reg Dickson was travelling with the team in the guise of assistant manager.
They are obviously not convinced that we can look after them here, a local official said. I am confident that no team will face problems here.
The hotel where the four teams have been lodged resembles a fortress with gun-toting commandos having taken up positions both inside and outside the premises.
Heavy security is also in place on the approach roads to the well-guarded match venues.
I am not worried about the security. Indian captain Sachin Tendulkar said. We have been here in the past and there have been no problems. I look forward to playing here now and again in the future.
Few Sri Lankans have forgotten last year's troubled tour of Australia, where Arjuna Ranatunga's boys were first accused of ball tampering before frontline spinner Muttiah Murlitharan was branded a chucker.
Then came the ultimate humiliation as the Australians boycotted their World Cup match in Sri Lanka fearing the safety of their players after a bomb in central Colombo killed 91 people.
Sri Lanka took revenge by defeating Australia in the World Cup final in Pakistan on March 17.
---
Azhar praises new captain
Deposed Indian captain Mohammad Azaharuddin openly backed Sachin Tendulkar the man who got him the sack.
Azaharuddin India's most successful captain with 11 wins, but who was bitterly criticised after the team's semi-final exit from the World Cup this year, said of his successor: He has a very good cricketing brain. I hope he carries on and on.
Sachin is like my younger brother. I really admire the way he carries himself. He is such a nice bloke. he told a television channel.
The right-handed batsman, whose fate was sealed by further defeats in two limited over tournaments in Singapore and Sharjah as well as Test and one-day series defeat to England has been dogged by scandal this year divorcing his wife Naureen earlier this month after a romance with film star and former Miss India, Sangeeta Bijlani.
But Azaharuddin (33) who asked to be judged only as a cricketer said: I have come out well. Whatever I have done is of my own free will.
He added his commitment to Indian cricket was total.
Tendulkar is leading the Indian squad which includes Azaharuddin, on a four-nation limited over tournament in Sri Lanka which begins on Monday. The team then flies on to Canada next month to take on Pakistan in a five-match head-to-head.
---
Lanka losses eighth match
By Roger Canagasabey reporting from Toronto
The Sri Lanka netball team suffered their eighth defeat in the World Youth Netball tournament, when they were beaten 19-87 by Jamaica last Thursday. The match was played at the University of Toronto indoor courts. Jamaica fielding a strong team earlier humbled host country Canada by winning the game by 107/7.
Sri Lanka will meet Canada in an exhibition match today (Sunday). Sri Lanka drew into a tough group. The Lankan girls lacked height and were physically too small.
In the match against Western Samoa they had to defend Samoan goal shooter Manika Gabriel who is 6'2" in height. The goal shooters from most of the other countries playing, were over 5 feet tall.
Sri Lanka played their best match against Cook Islands losing 35-67. They also put on a spirited performance in their first match against Canada. They are however expected to win the exhibition match against Canada.
---
Nirosh Chess Championships
Eighteen-year-old Nirosh de Silva, a student of Royal College, has been selected by the Chess Federation to participate in the Aisan Junior under-20 championships which is in progress in Macau.
Nirosh recently took part in the Asian team championships in Dubai and performed well. His tour was sponsored by Ajith Dias, Managing Director, Jewelknit Limited, Gamini Ranasinghe, Managing Director, Middle Eastern Airways and Anil Munasinghe, Managing Director, Aristons Travels.
Nirosh who has yet to achieve an international rating will be competing with players of vast experience and high international ratings.
---
Police beaten in Kandy
By M.E. Marikar - In Kandy
It was sudden death in the Clifford Cup Rugby this season for Police SC when a penalty kick put over from 32 metres out by full back Nilantha Welagedera hit the cross bar and sailed over during extra time to give the Old Trinitians Sports Club a grand 10 (a goal, a penalty) to 7 (a goal) win over the Police in their Carlsburg Trophy Clifford Cup quarter final match played at Nittawela yesterday.
Police led 7 to nil at the half and the OTSC equalised shortly after the turn around with a goal. Earlier in the initial half ace place kicker Nizam Jamaldeen of the Police who had a off-day with his kicking beat saw an easy penalty kick taken by him hit the upright and rebound into play. In the same fashion in the second half Welagedera of the OTSC fluffed an easy penalty and the scores were deadlocked at 7 all at the long blast.
At this stage referee Asela de Silva ordered extra time which meant victory for the side that scored first and sudden death for the other side. So the Cops were unfortunate to see the penalty taken from just behind the centre line by Welagedera grace the cross bar and sail over to give the Old Trinitians the day.
Kelum Gunaratne scored the solitary try for the Cops and Nizam Jamaldeen added the extra points. For the OTSC Fijian J. Koro scored the try and Welagedera added the extra points. He also put over the match winning penalty.
League Champion CR&FC scored an easy 53 (4 goals 5 tries) to 8 (a try a penalty) win over Kurunegala RFC in the second quarter final match also played at Nittawela. The Red Shirts led 31-3 at the half.
CR proved their all round superiority against a weak but gutty Vayamba XV which showed much fight against heavy odds until the last. The try scorers for CR&FC were Shantha Rohana, K. Musafer, Shane de Silva, Ajantha Cooray, Azad Junkeer, Tavita Tulagase, Champika Nishantha, K. Musafer and Shantha Rohana in that order.
Jagath Piyaratne scored the try for Kurunegala RFC and Saranga Jayakody put over the penalty. The matches were played under the patronage of Nimal Mediwake, SSP, Kandy Division and SSP Ibrahim Hamid, Secretary of the SLRFU. Old Trinitians will take on CR&FC in the first semi-final on August 31 at Nittawela. Kandy's Fijian centre Mellie Nakauta is to fly back to Fiji Islands following his poor performance in the match against Kandy SC and CR&FC at Longden Place when they clashed in the League final round match.
---
Rupavahini C Div. Champs
Sri Lanka Rupavahini Corporation beat People's Bank by 2 wickets to emerge C Division knock-out champions in the tournament conducted by the Nationalised Services Cricket Association played at the NSCA grounds, Ratmalana.
People's Bank 132 all out in 29.4 overs. (C. Weerasinghe 38, S. Dilruk 25, R. Somatilleka 20, Samantha Jayadheera 4/29, Upali Arambawela 3/22).
Rupavahini Corporation 133 for 8 in 35 overs. (Champika Wickremaratne 53, C. Fernando 2/12, R. Wijesuriya 2/27.)
---
Shane, Reyaz fastest at Foxhill
Shane Gunawardena on his two wheeler and Reyaz Farook on his four wheeler recorded the fastest timings at the Foxhill Supercross concluded at Diyatalawa.
Gunawardena timed 1 minute 44.94 seconds on his Yamaha 350 CC while Farook clocked 1 minute 43.67 seconds on his Subaru Imprezza RS Turbo with Nisan Weerasuriya, coming in a close second in 1 minute 44.19 seconds in his Subaru Legacy 2000.
Results of the other events worked off are:
Motor Cycles - Novices, Milan Abeykoon, Anura de Silva, Chaminda Subasinghe.
Motocross Bikes, P.J. Jayasuriya, Suraj Perera, Upali Wanigasekera.
Group A Cars, Romani de Silva, Sadath Nizar, Dhammika Peiris.
Street Trail Bikes, Sajitha Wedasinghe, Sanjeewa Perera, Luck Karunaweera.
Modified Cars, Anil Jayakody, Deshan de Silva, Hafiz Kader.
Group A Cars, Dinesh Senanayake, J.R.U. de Silva, Nazar Sakkaf.
Motocross Bikes,Ananda Wedasinghe, Rakitha Wijetunge, Udesh Wedisinghe.
Turbo Cars, Malik Zaveer, Shamraz Yahiya, Shantha Suraweera.
Modified Cars, Omar Lebbe, Reyaz Farook, Prasanna Munasinghe.
Street Trail Bikes, Jeffrey Buultjens, K.P. Jayasundera, Sajith Wedisinghe.
Trucks, Feroz Mohammed, Shantha Suraweera, Upul Perera.
Group A Cars, Rizvi Farouk, Reyaz Farook, Buddhika de Silva.
Fourstroke Bikes, Ananda Wedasinghe, Amanda Pilapitiya, A. Klaus.
Modified cars, Reyaz Farook, Omar lebbe, Prasanna Munasinghe.
Group A cars, Romani de Silva, Rizvi Farook, Mario Dias.
Street Trail Bikes, Ananda Wedasinghe, Jeffrey Buultjens, Sajitha Wedasinghe.
Turbo Cars over 1500 cc, Malik Zaveer, Sharasz Yehiya, Shantha Suraweera.
Motocross Bikes, Ananda Wedasinghe, Udesh Wedasinghe, Rakitha Wijetunga.
Truck Super Charged, Feroz Mohammed, Upul Perera, Shantha Suraweera.
Modified Cars, Reyaz Farook, Omar Lebbe, Cassim Wahab.
Motor Bikes - unlimited, Ananda Wedasinghe, Rakitha Wijetunga, Shane Gunawardena.
Motor Cars - Group A TM, Reyaz Farook, Malik Zaveer, Romani de Silva.
---
Sports in brief
Fourth year win for B of C
Bank of Ceylon won the Nationalised Services Cricket Associations Veterans trophy for 1996 which is the fourth year in succession. The defeated SLTB by 56 runs at the NSCA grounds at Ratmalana.
For the champions, Ranjith Wijekulasuriya, W. D. L. Fonseka, Sumithra Fernando, Sarath Premasiri batted best, while Jayampathi Weerasekera and M. M. Mikdar fared well in bowling.
Bank of Ceylon 235 for 8 in 40 overs. (Sarath Premasiri 35, Ranjith Wijekulasuriya 64, Sumithra Fernando 63, W. D. L. Fonseka 25 not out, Kamal Dissanayake 4/26.)
SLCTB 179 all out. (Kamal Dissanayake 48, Pala Wijesekera 72, J. Weerasekera 3/35, M. S. M. Mikdar 3/18).
In the semi-finals, Bank of Ceylon beat People's Bank by 57 runs at the NSCA grounds Ratmalana.
Bank of Ceylon 223 for 6 in 35 overs. (Sarath Premasiri 20, Ranjith Wijekulasuirya 40, Sumithra Fernando 33, Sujith Paranawitharana 43 not out, W. D. L. Fonseka 29, M. Goonatilleka 2/25.)
People's Bank 156 all out. (M. Kitchilan 24, Gaya Perera 23, Anura Fernando 2/20, Sujith Paranawitharana 2/27, Jayampathi Weerasekera 2/25, Sarath Premasiri 2/13.)
Travel trade Hockey and Netball C'ships
The 16th Travel Trade Hockey sevens, and netball championships conducted by the Travel Trade Sports Club will be held on August 28 at the NCC grounds at Maitland Place.
LTI Asia Private Limited will sponsor this events for the second successive year.
Cricket sixes at Ragama
The all Island six-a-side soft-ball cricket tournament for the Nimal (Keerthi) Silva Memorial Trophy organised by Sussex Sports Club Ragama will be held on September 14 and 15 at the Sussex Sports Club grounds Ragama. The winners will be awarded Rs. 3000/= and the runner-up Rs. 2000/=.
In addition cash prizes will be awarded to the Best Batsman, Best Bowler, and the Man of the Final.
---
Struggle for Singer surpremacy starts
By Marlon Fernandopulle
An absorbing contest, unleashing the thrills and spills of one day cricket by a galaxy of stars, awaits the Singer 4 nation tournament when it opens tomorrow at the R. Premadasa Stadium.
World champions Sri Lanka, two former world champions Australia, India and an emerging force Zimbabwe will battle for supremacy during the next two weeks.
All preparations have been finalised for the four nation tournament which will see a galaxy of world stars in action.
Reigning champions India will be hardpressed to repeat their success again as they confront the mighty Aussies and the World Champions Sri Lanka.
All in all the next two weeks is bound to provide exhilarating entertainment for the eagerly awaiting large crowds that are expected at the venues to catch the action of this tournament.
Sri Lanka
A rousing welcome awaits the Sri Lanka team as they take the field for the first time on home soil after winning the world cup earlier this year. Arjuna Ranatunge, one of the most experienced one day cricketers in the world (who has over 180 one day games under his belt) is determined to stretch his team's winning streak and maintain the status of world champions.
Sri Lanka is today the most experienced one day team in the world with six of their players recording over 100 one dayers. In addition they posses two lethal openers in the calibre of Sanath Jayasuriya and Romesh Kaluwitharana both capable of sending shivers down the spine of any bowler with their cavalier approach.
They have taken the one day game to a new dimension and will hold the key to Lanka's success at the singer tournament. With Asanka Gurusinha, Aravinda de Silva Arjuna Ranatunge, Roshan Mahanama and Hashan Tilekaratne to follow Lanka's batting looks formidable as ever.
Chaminda Vaas will once again be the home side's main strike bowler. Vaas has got the ability to get his line and length right from the beginning, which should help the home side to contain their opposition. However he will have to be well supported by his new ball partners Wickramasinghe or Pushpakumara.
Spinners Muralitharan and Dharmasena should find the tracks at home in their favour. Together with part timers Jayasuriya and Aravinda de Silva Lanka's bowling department has a good variety that should restrict their opponents, from piling huge totals.
India
India under new captain Sachin Tendulkar will be looking to redeem lost prestige. After their poor show at the World Cup and the England tour, Indian cricket has reached a low ebb.
According to skipper Tendulkar all these are history and the team is keen to perform and restore their rightful place in the game. The tournament will also be a big challenge for Tendulkar himself. Sachin who had carried India's batting on his shoulders in the past is out to prove that the additional pressure of captaincy will not effect his batting talents.
India have a host of new faces in their side. However some have already proved their class with Ganguly and Dravid coming out on top in the recent England tour. Once the side settles in they are sure to give their opponents a good run.
Deposed skipper Mohamed Azharuddin will be all out to silence his critics. The wristy right hander who is ranked among the best in the world will be looking to regain his lost touch. The return of Vinod Kambli will also strenghten the batting.
Once again the Indians will rely on their new ball bowlers Javagal Srinath and Venkatesh Prasad do bear the brunt of the attack.
Australia
Australia's decision to go ahead and came to Colombo is a welcome sign. Authorities down under and in Colombo must be congratulated for all the efforts done to persuade the Aussies to take part in the tournament.
The kangaroos will have an old score to settle when they take on the home side. Led by wicket keeper Ian Healy Australia are determined to avenge their defeat in the World Cup. Coach Geoff Marsh has already stated that it will be nice to beat Sri Lanka as they are the world champions.
No doubt the Australians have a well balanced and talented side that is capable of beating any country, although they are minus two of their key players, Shane Warne and Mark Taylor. Taylor in particular will be missed as he is an aggressive opening batsmen and also an experienced and astute leader.
Apart from the Waugh twins the Australian batting lacks experience at the highest level. However the talents of Michael Slater, Michael Bevan, Ricky Ponting and Steuart Law, should overcome this problem. Bevan and Law are fresh from the county season where they had a field day with the bat.
Zimbabwe
Twenty four year old Alastair Campbell will lead a relatively young Zimbabwe side. A stylish left handed batsmen Campbell is well remembered by cricket fans in Sri Lanka for his top score of 75 in the world cup game at the SSC grounds.
The Zimbabwe side comprises a couple of stylish and hard hitting batsmen in the calibre of Andy and Grant Flower, Eddo Brandes and Guy Whittal. Although lacking in experience Zimbabwe will be looking at turning tables on their more fancied opponents. Lumelelo Mbangwa, will be the second black to be playing for Zimbabwe. Henry Olonga who was the first is also included in the Zimbabwe Squad.
---
Sudden death Rugby is tricky
With the conclusion of the Carlsberg League Rugby Tournament, the stage is set for the two Knock- out Rugby Tournaments. The first one will be for the Clifford Cup which will be kicked off this week at Nittawela, Kandy followed by the President's Trophy Rugby which will be played at Sugathadasa Stadium, Colombo.
The quarter finals of the Clifford Cup Tournament will be played on the August 24 and 25, the semi- finals on September, the final on September 8 at Nittawela.
In the first quarter finals Police will take on the Old Trinitians on Saturday at 3.30 p.m and the next will be CR&FC playing Kurunegala at 5.15 p.m on the same day.
On Sunday it will be CH&FC clashing with Havelocks at 3.30 pm followed by Kandy taking on the Army at 5.15 pm.
Unlike in the League Tournament, the knock out tournament is bound to produce some breath-taking rugby as all teams will struggle to win to survive. Defeat will mean instant death and being kicked out of the tournament. Even the best of teams can be surprised by the worst. That is where the thrill lies.
CR&FC which was unbeaten in the league tournament to become the winners of the Carlsberg Trophy will be the centre of attraction in the Clifford Cup knock out tournament. But Kandy who are smarting under the terrific defeat they suffered in the hands of the Red Shirts will go all out to avenge their defeat in this tournament and that too in their own terrain. But these two clubs are in two different halves and for them to clash again they must win their quarter-finals and semi-finals, and who knows what will befall them in these games?
On Saturday the Police who have a very strong set of forwards and a suspect back division will take on a fast improving Old Trinitians side and the exchanges should be even. But the Police with their experience and the kicking ability of Nizam Jamaldeen should get the better of the Old Trinitians, in spite of Orissa Kunaleca who with his individual brilliance had made defeat into victory for the OTSC on several occasions.
On the same day CR&FC, the champs will take on Kurunegala RFC and should win this game without a sweat. Kurunegala who are still struggling to get their act together will do well to contain the Red Shirts from running up a record score.
On Sunday CH&FC will be clashing with the Havelocks and these two teams have been very inconsistent during the league tournament and what the outcome of this game will be anyone's guess. The side that makes the most mistakes will lose. But my guess is that the CH, which is better equipped, should have the edge. The Havelcoks are making a last minute effort to play two foreign players and have made an application to the Union. But some clubs are against this move as they feel that they should have made this application at the beginning of the season like all other clubs and furthermore unlike the Police and the Services teams, they have a wide variety of choice from the many schoolboy rugby players who are available and are languishing on the sidelines.
The second game on Sunday will be the home team Kandy taking on the Army who will be having in their ranks two foreign players for the first time in their rugby history. One is an American attached to the American Embassy and the other is an Englishman attached to the British High Commission. It will be interesting to see how these two will mesh with the local lads. Will they be productive or will they only add colour to the Army team is still to be seen. But Kandy is too good a side to be beaten by the Army even with the presence of the two foreigners.
---
Inter-Corp TT Tournement
The Nationalised Services Table Tennis Associations Inter Corporation knock-out tournament is to be conducted on September 3 and 4 at the Carey College TT Hall sponsored by National Savings Bank.
The Corporations participating are Mens A division - Rupavahini, Ruhunu Cement, Bank of Ceylon, Water Supply, SLTB, Peoples Bank.
B division - EDB, Insurance Corporation.
C division - Naita, Peoples Bank, SLTB, Insurance A, Rupavahini A, Insurance C, IDB B, Rupavahini B, CPC, NSB A, IDB A, Steel Corporation, EDB B, Water Board, SLBC, Insurance B, EDB A.
Womens A division - Rupavahini, IDB, NAITA, EDB, SLTB, SLBC, Peoples Bank.
Mixed doubles - Rupavahini, IDB, EDB.
The chief guest at the finals will be the Chairman National Savings Bank, Cyril Herath.
Go to the Sports Archive
Please send your comments and suggestions on this web site to
info@suntimes.is.lk or to
webmaster@infolabs.is.lk